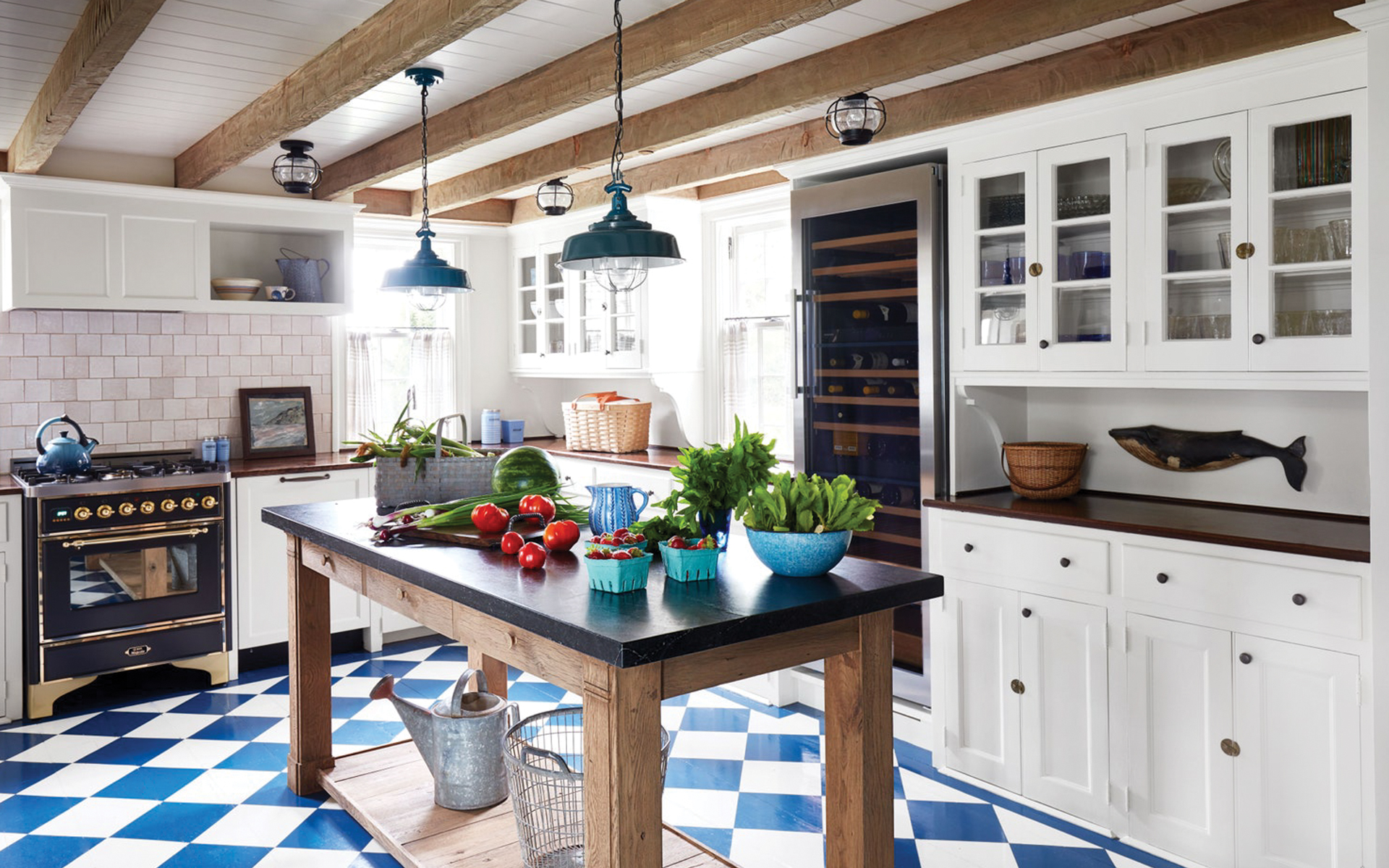 9 Interior Design Experts Detail How to Create a Functional Yet Fabulous Kitchen
From coolly minimalist to warm and cozy, the kitchen offers a diverse menu of options for expressing personal style
Host a party and inevitably all your guests will wind up in the kitchen. Perhaps that's why so many designers prioritize aesthetics just as much as function. Or maybe the kitchen's good looks are the very reason everyone's there to begin with. "The kitchen first and foremost above all other things has to be a beautiful room," advises Bobby McAlpine, whose timeless designs regularly feature countertops of soapstone or white marble, fad-resistant appliances in stainless steel, and eye-pleasing, exclusively lower cabinetry. "I try to avoid trend in all products because it ultimately gives the date of the house away. I want the inception date of any house that I do to be vague, so I tend to err on the side of classics."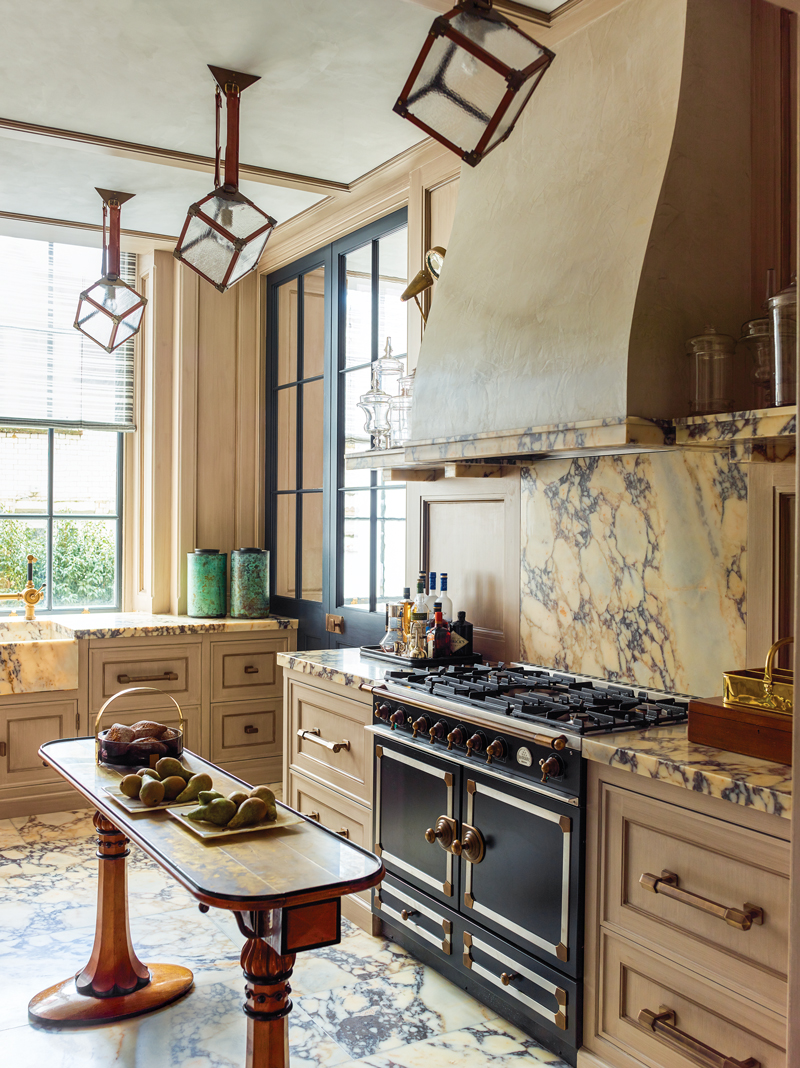 Appliances
To be seen or not to be seen is one of the first questions regarding major kitchen appliances, which can either create a focal point or be obscured with panels that match the cabinets. "When I'm working in more modern settings, I like to veneer all appliances in the same finish to produce a very clean aesthetic," says Washington, D.C., designer Darryl Carter. "Conversely, in more traditional settings, I am a fan of commercial brands with more utilitarian stainless or pargeted hoods."
Ranges very often set the tone of the space, and the options are vast. "We're seeing more requests for cooktops over traditional ranges, which allows us to design kitchens with cleaner lines that are more integrated into the architecture of the home," says Olson Kundig principal Kevin M. Kudo-King. "Clients are looking for 'quiet' kitchens, with minimal clutter, concealed hardware, and appliances that can be hidden when not in use."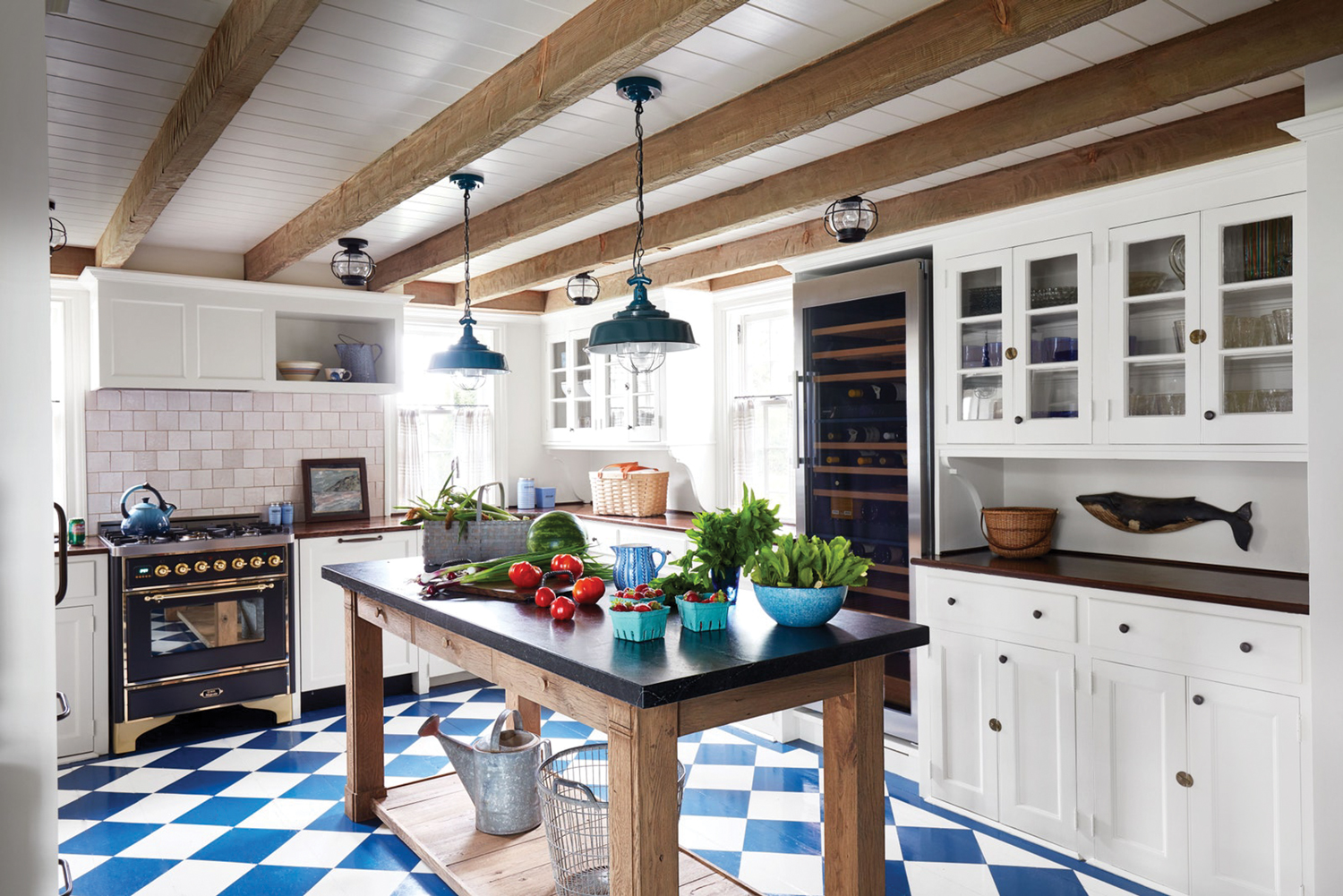 New appliances with an antique or a classic aesthetic such as La Cornue, Bertazzoni, Sub-Zero, and Wolf ensure long-lasting style. "We've done a couple of kitchens now using True appliances, and they have a line that is matte black that's very cool," says Kathleen Clements, whose firm, Clements Design, is releasing its debut monograph in September with Rizzoli.
Whatever the style, size matters when selecting an oven. "Scale appliances to the size of a piece of furniture that you'd have in that location," advises McAlpine. "I wouldn't put a small range in a large kitchen any more than I would put an out-of-proportion server in a dining room."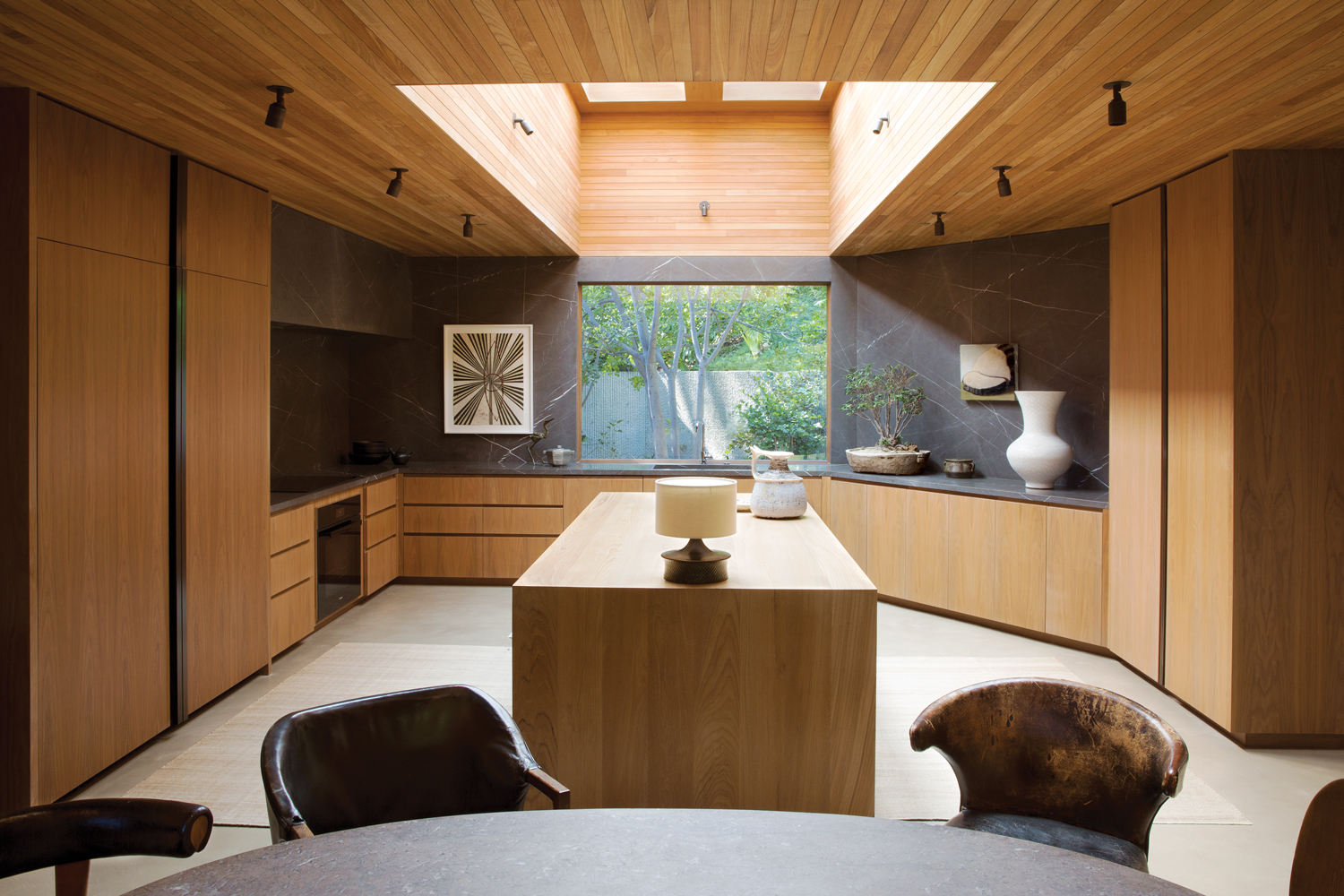 Materials
Ingredients like wine and vinegar, hot pans, and the wear and tear of meal prep can wreak havoc on a kitchen countertop. "For people who are into cooking, we always love stainless steel," says Tommy Clements of Clements Design. "The look is amazing, and you can do anything to it. The more scratched and beat-up it gets, the more character it develops."
"Clients will show me pictures of kitchens with Calacatta or Carrara—those are really popular, but they're fragile and they require major upkeep," says Los Angeles designer Jeff Andrews. "Caesarstone, Silestone, and EuroStone, things that are man-made out of natural materials and are virtually indestructible, are in high demand, as well as quartzite. It's all about trying to get the look that we want with complete function."
"The kitchen is just an extension of the house so I think that the materials that go into a kitchen should be as complex and considered"

Steven Gambrel
Others opt for organic elements and play up their aging process. Revered for creating unique, showstopping spaces, designer Steven Gambrel has mastered using natural materials in large-scale ways, such as running a heavily veined marble up the walls. "The kitchen is just an extension of the house so I think that the materials that go into a kitchen should
be as complex and considered," says the designer, who puts stone through a heavy process call sueding, or leathering, to add texture. "I'm always looking for inconsistent beautiful irregularities that come with nature."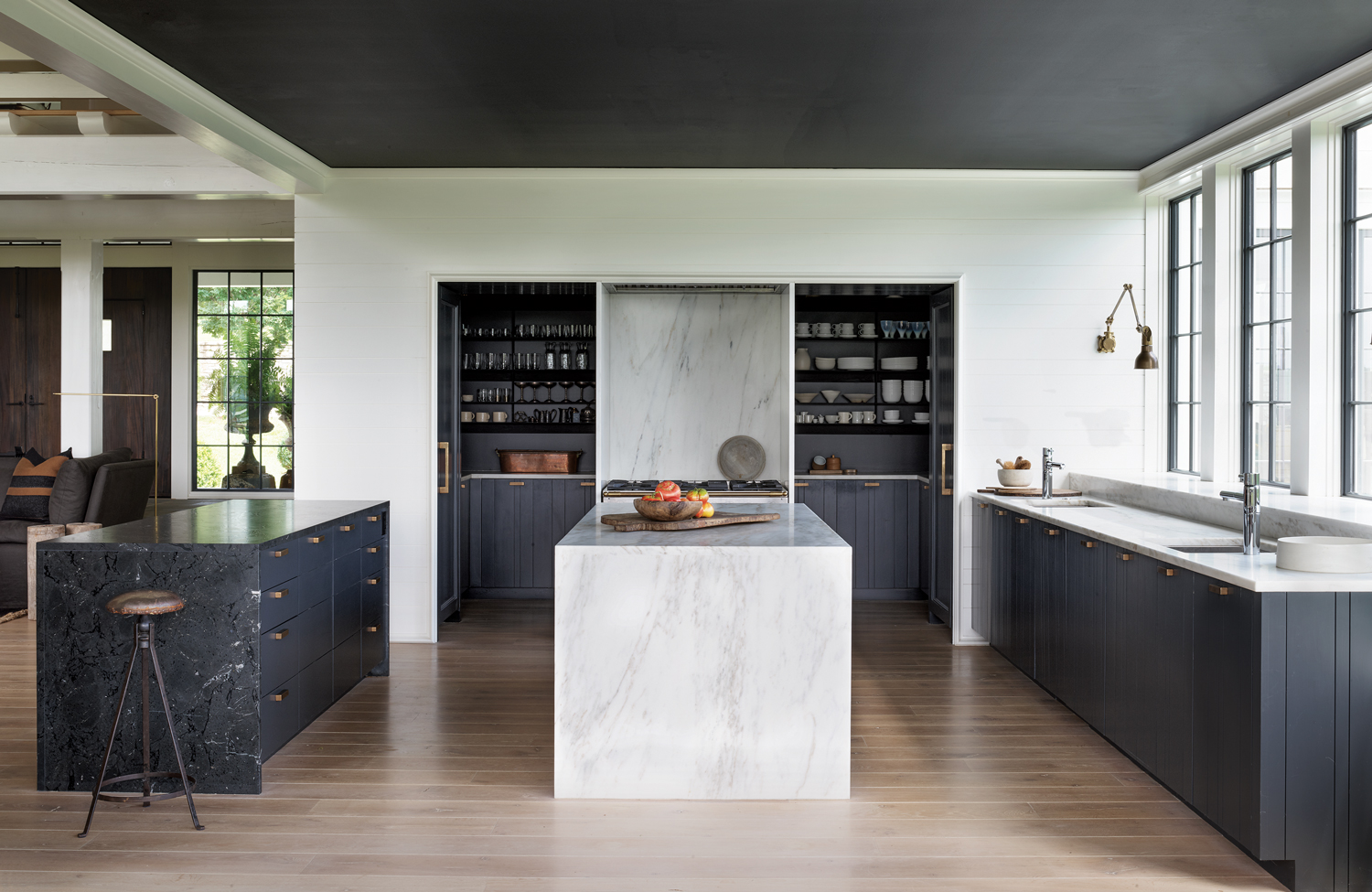 Storage
Allotting space for a walk-in or working pantry or even a separate catering kitchen can help manage disarray, offering out-of-view areas to stow dry goods and small appliances, provide prep area for dinner parties, or designate a zone for a private chef and staff. "Traditionally, where you'd have a pantry for storing china and extra things, we're now packing with warming drawers, ovens, dishwashers, and refrigerators," says Victoria Hagan, who features a range of kitchen styles in her upcoming book, Live Now (Rizzoli). "There's a focus on minimizing the mess, so the cleanup is in a separate area."
Storage is also essential in the main kitchen, but whether clients choose to hide things away or display tableware is a personal choice. Many times, it's a combination of flat-front and glass cabinet doors that strikes the perfect balance. "It's pretty to see glasses and plates, and I think it opens up the view of the kitchen and offers an interesting dimension," says Hagan. "I like the reflective quality as well as knowing where everything is. It feels more open and helps make a kitchen more inviting."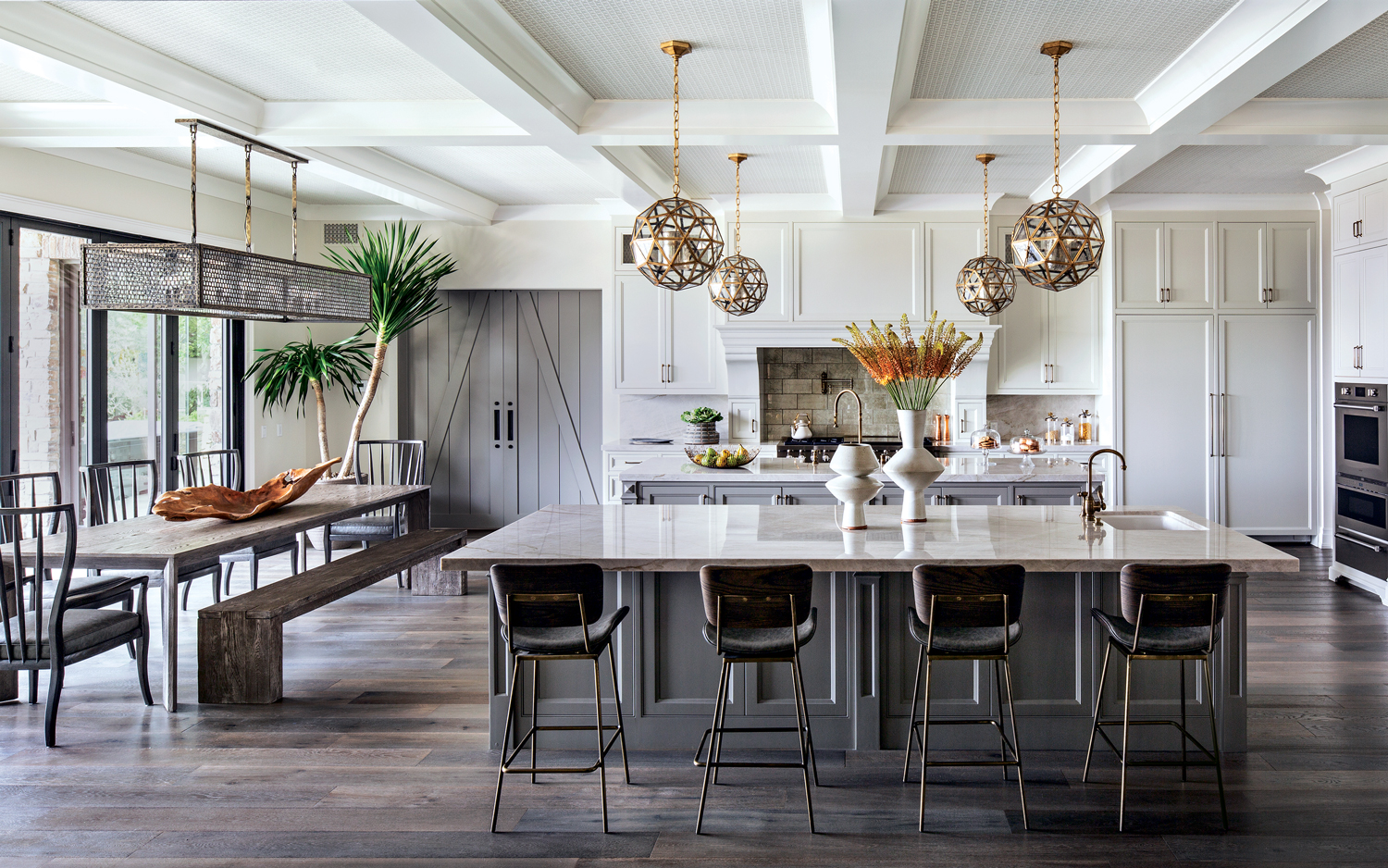 Furniture
Adding furnishings and objects not typically used in kitchens boosts the space's welcoming appeal. In his own Atlanta home, McAlpine stores all his tableware in freestanding glass-front industrial cabinets, while Gambrel has found success repurposing vintage console tables as islands. Carter's own kitchen features an antique pastry cabinet and an heirloom grandfather clock. "Yes, a microwave can double as a timepiece, but I'm kind of old-school. I prefer a case clock," says Carter, who also installed an antique étagère above his kitchen island.
So don't be afraid to take a few chances—including art or whimsical accessories keeps the space from skewing too commercial. "You can have fun with all the elements that go into a kitchen," says Andrews. "Sometimes it's just the cabinet hardware where you do something funky and cool, or you bring in vintage lighting or vintage-looking appliances. It's a good mix of elements that ultimately makes design work."
A version of this article first appeared in print in our 2021 Fall Issue under the headline "Made to Order." Subscribe to the magazine.
Next Post