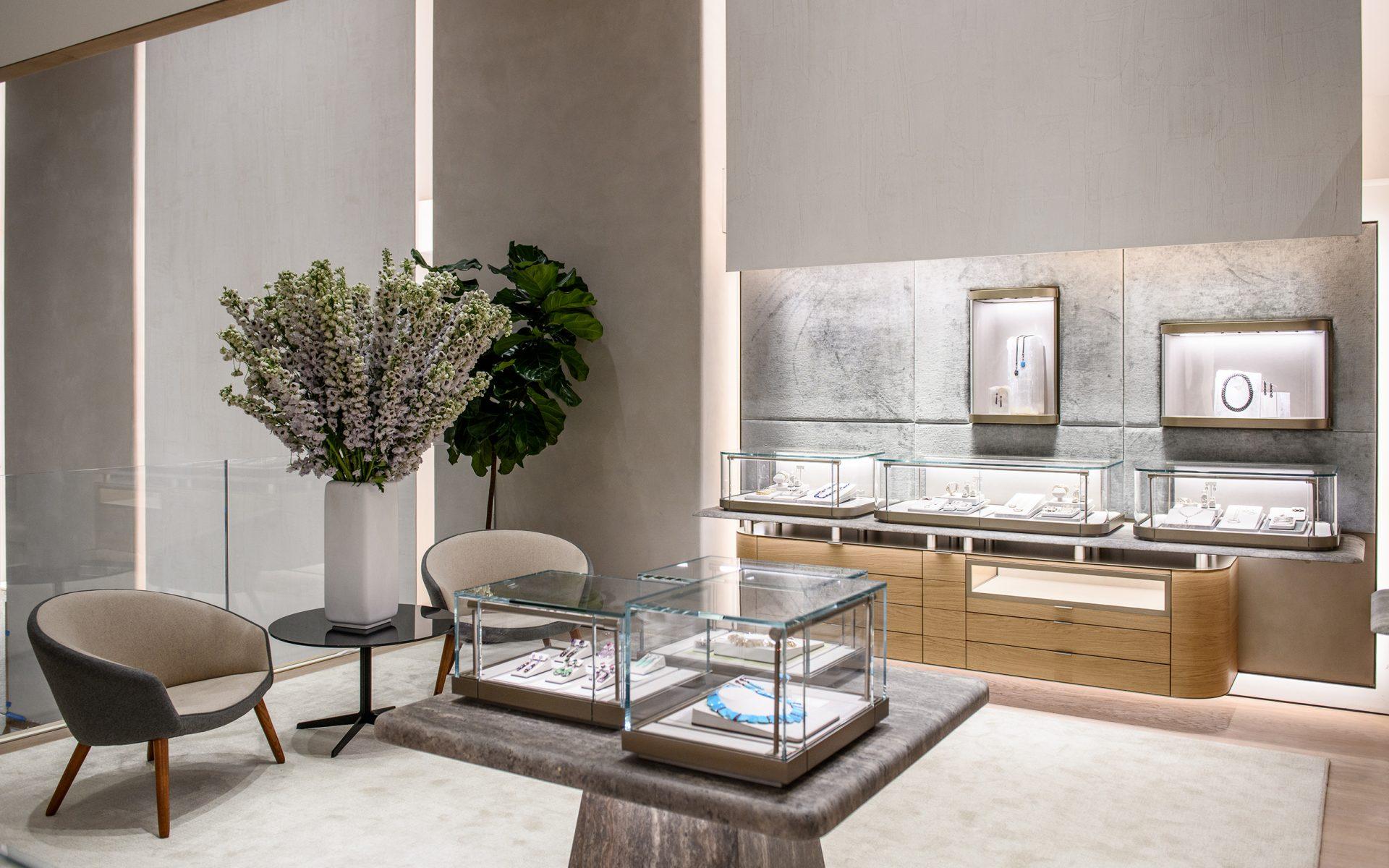 Inside David Yurman's New Manhattan Flagship
Gabellini Sheppard Associates designed the modernist 'theater' that celebrates the jewelry brand's artistic heritage
Boasting a rose-gold-colored facade and iceberg-inspired holiday window displays, David Yurman's new flagship projects sleek, modern luxury from its location on the north side of 57th Street, just steps from bustling Fifth Avenue. Once inside the 5,000-square-foot space, guests ascend a sculptural French oak staircase surrounded by the full range of the brand's stunning creations.
The upper floors of DY57, as the flagship is known, gradually step back like mezzanines in a theater, borrowing the aesthetic from midcentury masters like Richard Neutra and Frank Lloyd Wright. In this case, however, the architect is Michael Gabellini, of Gabellini Sheppard Associates, an award-winning New York firm that has collaborated with fashion heavyweights like Jil Sander, Salvatore Ferragamo, Nicole Farhi, and Giorgio Armani, as well as the Solomon R. Guggenheim Museum; the Cooper-Hewitt, Smithsonian Design Museum; and a number of well-known contemporary art galleries.
Chief creative officer Evan Yurman, son of founders David and Sybil Yurman, led the design of DY57 in collaboration with Gabellini. "The store was built around the idea of the theater, with transformable walls, large-format LED screens, and suspension structures that will allow for Evan to engage and collaborate with artists in the future," Gabellini tells Galerie. "These collaborations will completely change the character, emotion, and thematic layering of the store to accompany new collections and seasonal changes."
Recommended: Holly Hunt Debuts Jeweler Eva Fehren's First Home Collection
"It's an open, optimistic, airy, inviting place, just like our business, just like our jewelry, just like our family," says Yurman, who currently takes the lead in designing the men's collections and important high-jewelry pieces.
Before launching their jewelry brand in 1980, David and Sybil began as a welder and a studio artist, respectively—and the new store endeavors to capture the prolific rise of the brand from its artistic beginnings to the present day and beyond.
"As one of the few remaining family-run companies with a distinctly artistic and sculptural background, creativity flows like a river through the family and into the collections they craft," says Gabellini, who also designed the David Yurman Townhouse on Madison Avenue and 63rd Street, which opened in 2010 but has since shuttered. "While embedding artistic work is important for any space, it was absolutely critical for this flagship because artistry is intrinsically linked to the DNA of the Yurman family."
Iconic David Yurman designs, like the first-ever Renaissance cable bracelet that David designed for Sybil as a one-off bauble, are displayed like ancient artifacts, each in its own glass case. Jewelry that encapsulates the brand's identity inspired the general interior design strategy, with careful attention paid to decorative finishes, textures, and patterns, and the way surfaces, like so many gemstones, catch and reflect light.
Recommended: Tiffany & Co.'s Exquisite Blue Book Collection Features One-of-a-Kind Jewelry Creations
On the main floor, a compelling marquetry pattern of Bardiglio Rambisserra marble and Pietra Cardosa limestone guides the eye visually from the front to the back of the store.
Gabellini alludes to the famed light artist James Turrell when describing the store's dynamic wood ceiling. "We've tried to develop an elevated retail experience using ethereal, ambient lighting techniques," he says. "The ceiling is backlit in a way that creates the illusion that it's floating in midair, creating a sense of endless height in this atmosphere of boundless volume."
The inlaid panels of rose gold that greet visitors on the street reappear at every level of the store, deepening to a rich, coppery hue at the very top. There, the men's collection is showcased against the dramatic backdrop of a Japanese woodcut mural and ancient Japanese warrior curiosities from Evan's personal collection.
Two private VIP rooms are found on the second- and third-floor mezzanines, each concealed behind a sliding mirrored door, evoking the intimacy of a luxury train compartment. Styled with a residential feel, the spaces feature vintage pieces from Evan's trove of midcentury-modern furnishings upholstered in caramel-colored leather or cozy Sherpa.
"I look at this store as an extension of a piece of jewelry that I might create," reflects Evan. "Something both familiar and modern." It's a fitting analogy on many levels, one that also foretells the next chapter in the brand's narrative. In any event, the stage is set.
Next Post