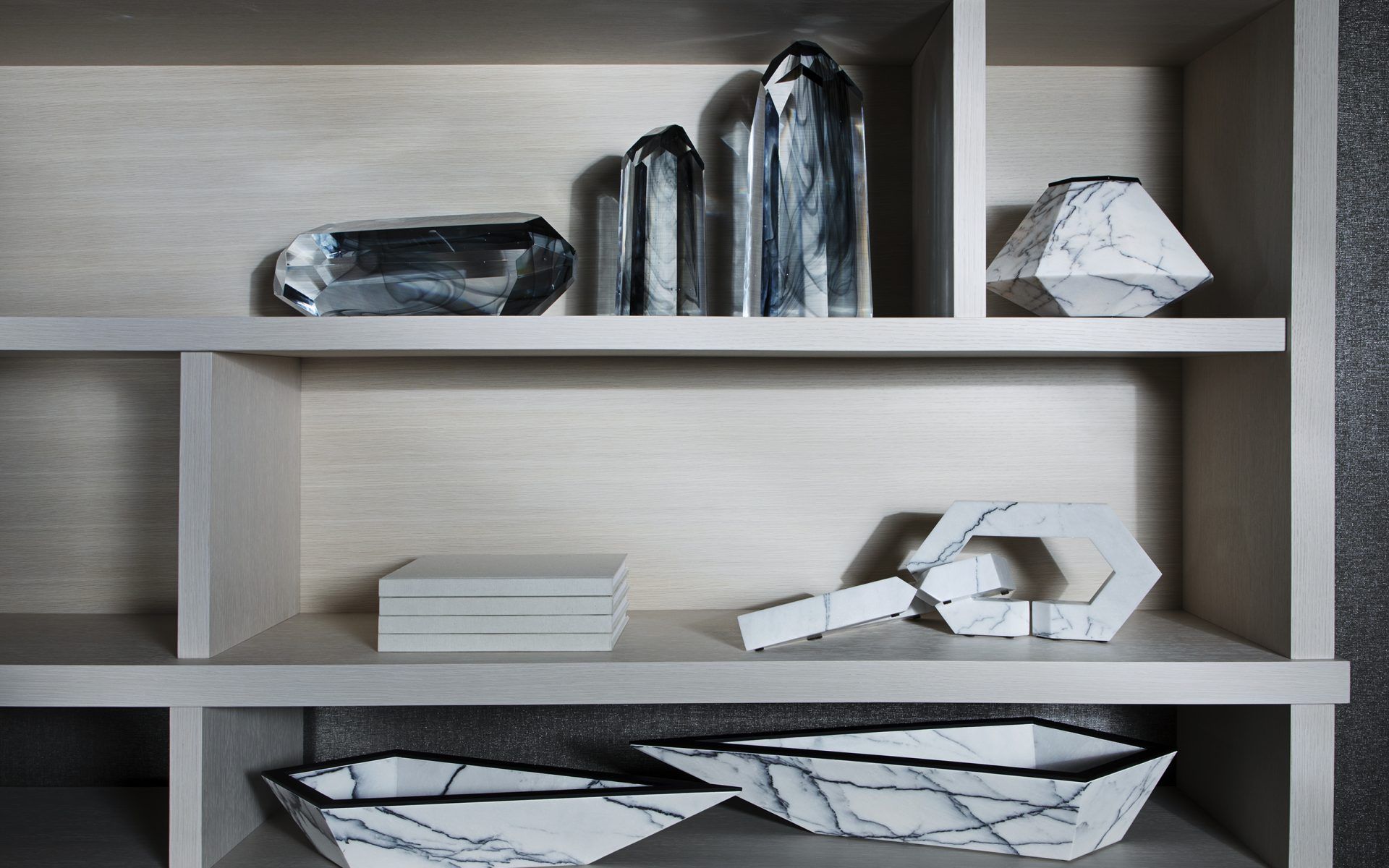 Holly Hunt Debuts Jeweler Eva Fehren's First Home Collection
Jewelry designer Eva Zuckerman reinterpreted her geometric pieces into an array of striking home accents
The rocker-chic geometric designs from Eva Zuckerman, the artist behind minimalist jewelry brand Eva Fehren, have been seen on the ears, fingers, and wrists of some of Hollywood's leading trendsetters, among them Ruby Rose, Jennifer Lawrence, Halsey, and Olivia Munn. Now Zuckerman's creative shapes have been reimagined on a larger scale for Eva Fehren's first home collection, which made its debut with Holly Hunt during Miami Art Week.
"Her creative eye and expertise in fine jewelry and design—and in her art, I later discovered—are a great representation of the quality, craft, and authenticity we strive for here at Holly Hunt," the brand's executive creative director, JoAnnah Kornak, tells Galerie. "The Holly Hunt + Eva Fehren collection incorporates some of her most recognizable design principles—like the angular details, the high contrast, and architectural patterns—and materials that Holly Hunt is known for in our aesthetic."
Introduced to Zuckerman by a mutual friend, Kornak knew a collaboration would be a success after visiting the jeweler's showroom, where her talent for design was on full display in her jewelry, custom-crafted mirrors, and her own original paintings. "When you look at her shapes—the architecture behind it, the angles, and the detail, it just felt like the perfect fit to do something bigger," explains Kornak.
Recommended: Designer Marc Ange Unveils Dazzling Peacock-Inspired Chairs in Miami
"I love the idea of playing with scale to create a piece that feels as precious and unique as a piece of jewelry, but instead of accenting your personal style, it can accentuate your home," Zuckerman tells Galerie. "My interest started with my own work space, where I wanted to create an entire environment that was marked by my unique aesthetic. My jewelry is quite architectural, linear, and graphic, and these qualities translated clearly into furniture and home accessories."
Currently available online and at Holly Hunt's Miami showroom, the Eva Fehren pieces include a series of modular Ezzat trays made from Slovenian white lilac marble with distinct black veining. The marble Hero Link large-scale decorative objet was inspired by the clasp from Eva Fehren's unisex XX/XY collection. Warrior vases reimagine the sharp angles of the jewelry brand's cut gems in a series of different sized and shaped vessels. Rounding out the capsule collection is a series of one-of-a-kind, handcrafted Venetian glass sculptural gems, in both clear and smoke, that take inspiration from the swirls that appear in Zuckerman's artwork.
During Miami Art Week, Kornak says the installation at Holly Hunt's showroom was designed to "celebrate the intersection of art, design, and fashion in a livable luxury format." Incorporating angular shapes made from crystal, metal, and stone, Zuckerman's creations felt perfectly in tune with the refined atmosphere, as did the display of the jewelry designer's paintings, which had previously not been seen outside of her atelier.
"When I can successfully combine both facets of my creativity into a singular piece, I feel I have done something special—especially since the spirit of the work is the opposite," says Zuckerman. "My paintings are large scale, gestural, and very instinctual, while the jewelry is precise and highly meticulous. I feel that when my artwork and my jewelry designs can exist in the same space, it is the fullest expression of who I am."
Next Post