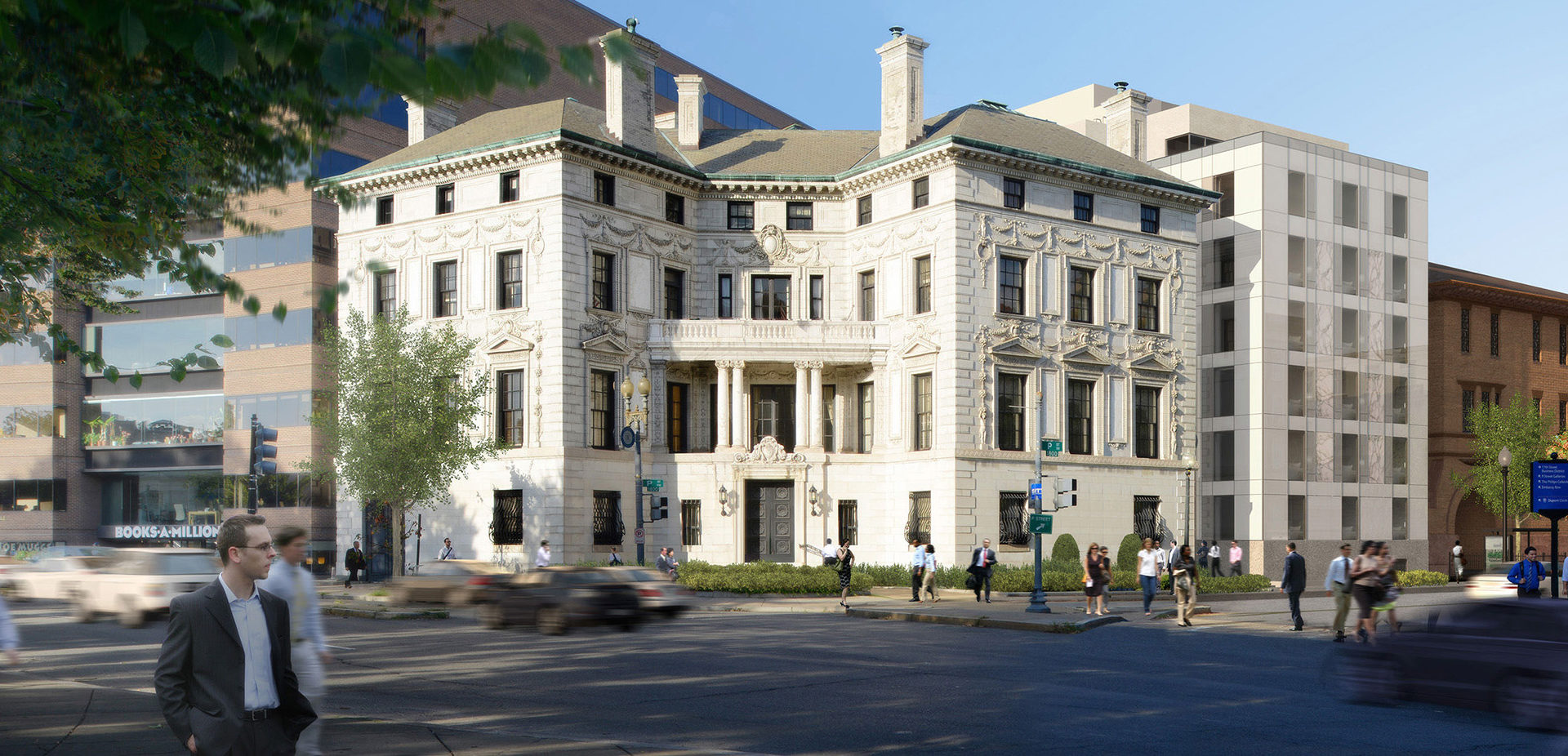 Designer Darryl Carter Helps Give New Life to a Washington Landmark
The stately Patterson Mansion in Dupont Circle has been reborn as one of the city's hottest new apartment buildings
The daunting task of transforming Washington, D.C.'s only Stanford White–designed building into a modern apartment house didn't deter development firm Saul Urban, which sought to do precisely that three years ago, after buying the 36,000-square-foot Dupont Circle landmark for $20 million. "We wanted to pay homage to the property's spectacular architecture without recreating it," says Daniel Rigaux, an SVP at the company.  Along with co-developers Rooney Properties, they assembled an A-list team of talents—including Darryl Carter, Rockwell Group, and Hartman-Cox Architects—to overhaul the 1903 structure into what is now dubbed Ampeer, a 92-unit residential community that opened over the summer.
Looking to appeal to the city's rich supply of transient workers, the team decided to build compact units with flexible leasing options, putting an emphasis on shared amenity spaces, which include a ballroom-turned-lounge, a library, and a kitchen. "The common areas are being activated with specialized programming so people can interact and see the city," says Rigaux, referring to prominent guest speakers, happy hours, and other curated social events that are offered exclusively to residents. "We wanted the spaces themselves to feel homelike and comfortable," he adds. To that end, the team turned to Carter, a local design star known for seamlessly blending classical and contemporary looks. "Darryl appreciates historic aspects while bringing in modern elements," he says. "It's fun, fresh, and exciting."
A native Washingtonian, Carter had long admired the Gilded-Age mansion—originally a grand single-family home—and happily signed on. "The building is an architectural gem," says the designer, "and my inclination was to respect its infrastructure. There was tremendous purpose in honoring that architecture, so the infusion of the modern was stark in contrast, but always sublimating to the building." One such modern infusion was carried out in the library, which Carter wanted to sheathe in an adventurous hue. "I woke up one morning, and I thought to myself: Dare I ask my client to paint the original library walls in a black lacquer?" he recalls. (They consented after 15 minutes.)
For the room's art, Carter turned to one of the mansion's original occupants, Cissy Patterson, who famously lent the home to President Coolidge in 1927 while the White House was being renovated. (She bequeathed the estate to the Red Cross in 1951.) "From what I gathered Cissy was colorful, spirited and irreverent, which inspired the portrait that I commissioned and executed through my office by taking photography in the public domain and distorting it," says Carter. The resulting Warhol-esque print hangs near a lively painting by American abstractionist Mindy Weisel and a sculpted paper work by Manfred Müller. Elsewhere in mansion are pieces by Lindsay Cowles, who conjured the marble lobby's immense black-and-white abstract painting; Edward Finnegan, whose graphite-on-paper works enrich the ballroom; as well as Chilean-born artist Joan Belmar.
Meanwhile, local architecture firm Hartman-Cox designed a new wing, known as the "Tower," that connects to the rear of the original structure and contains the bulk of the project's units. "We didn't want to detract from the beauty of Stanford White's design, so the Tower takes cues from the mansion, even though it's glass and masonry," says Rigaux. New York–based Rockwell Group, known for its vast portfolio of luxury developments, handled the schematic design for the residences, which include studios and one-bedroom lofts, all of which come fully furnished—down to the tableware. Such attention to detail helps make the mansion, once again, one of the District's most stunning places to call home.
For availability, go to ampeerresidences.com.  
Next Post