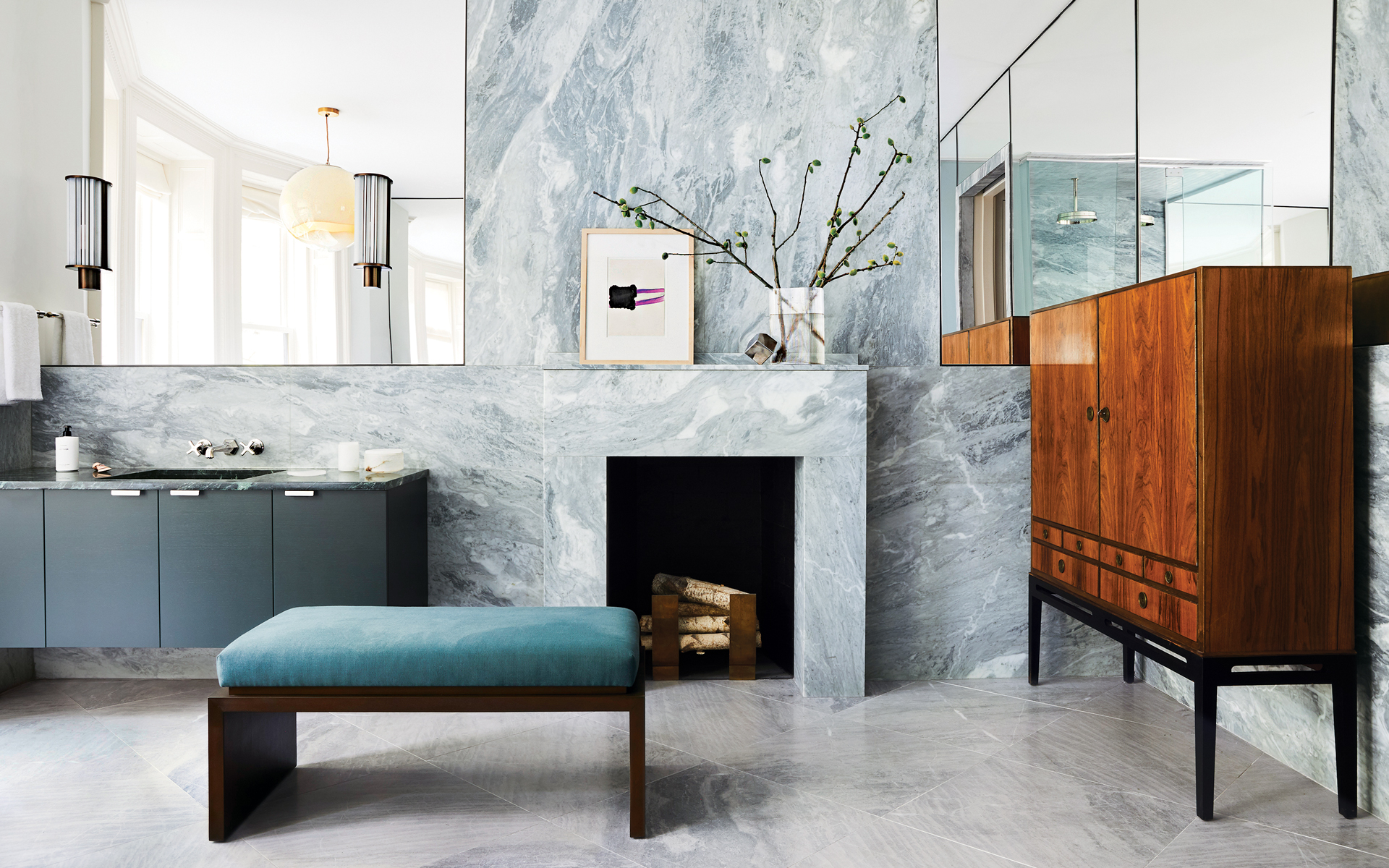 8 Leading Interior Experts Detail How to Design a Fantasy Bath
Shawn Henderson, Eric Egan, Kara Mann, and more share tips and tricks for turning the bath into the real heart of the home
Clients asking for their main bath to be a refuge is a common refrain, but how that looks is different for everyone. For some, a bath should be a glamorous dressing area, for others a tropical retreat. Some look to divide the space into his and hers; others treat the room as a place for conversation. "People spend a lot of time in their bathrooms and it's not just about getting ready or the daily routines—it's a sanctuary, it's an escape, it's a therapist's office," says Gachot Studios principal Christine Gachot. "Bathrooms get personal in the best way."
Function comes first and foremost in any design as does the "framed view"—what people see when the bath door is left open—but once the necessities are met, the details add a layer of personality. Bold marble, unique wallpaper, vintage lighting, and a garden's worth of plants can all make a main bath a private oasis.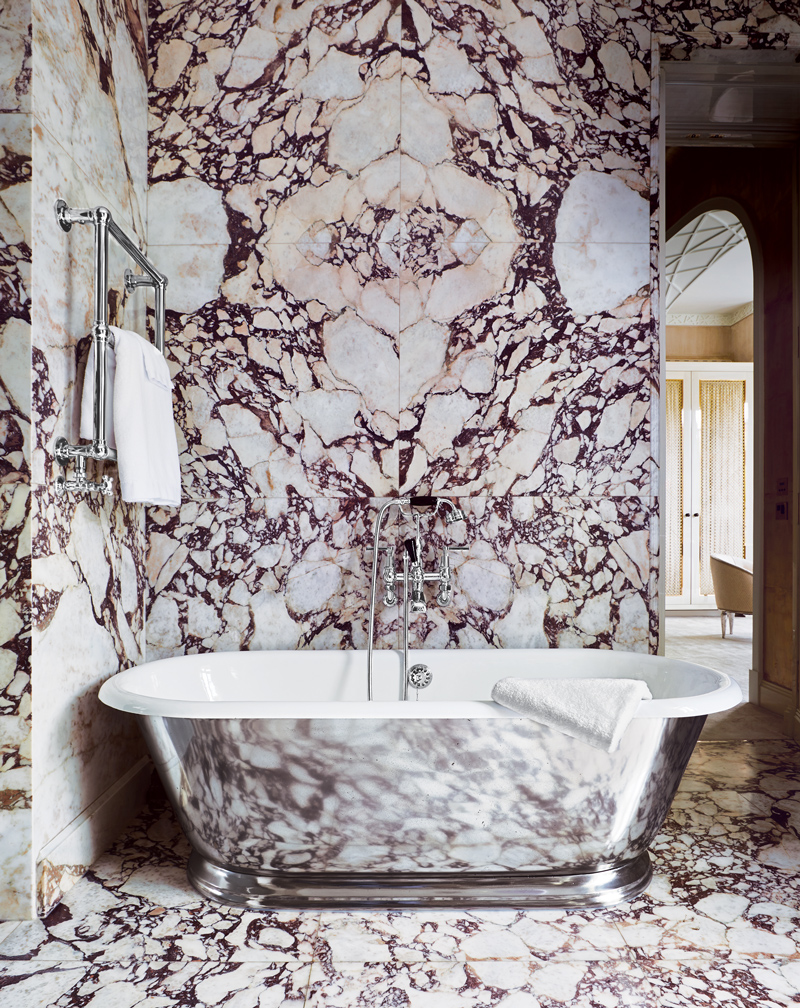 Tubs & Sinks
Given the luxury of space, most dream baths include both a walk-in shower and freestanding tub. Whenever possible, Brooklyn architect Elizabeth Roberts forgoes a shower door. "I think a walk-in shower is really an extension of the room, especially when you don't clutter up the connection with a bunch of hardware," she says.
Making the most of the California lifestyle, designer Jamie Bush uses glass panels to create an indoor-outdoor effect, most notably in a reimagining of a John Lautner residence where retractable panes connect a custom shower to a plant-filled courtyard. "It makes a smaller space exceptional and memorable," says Bush.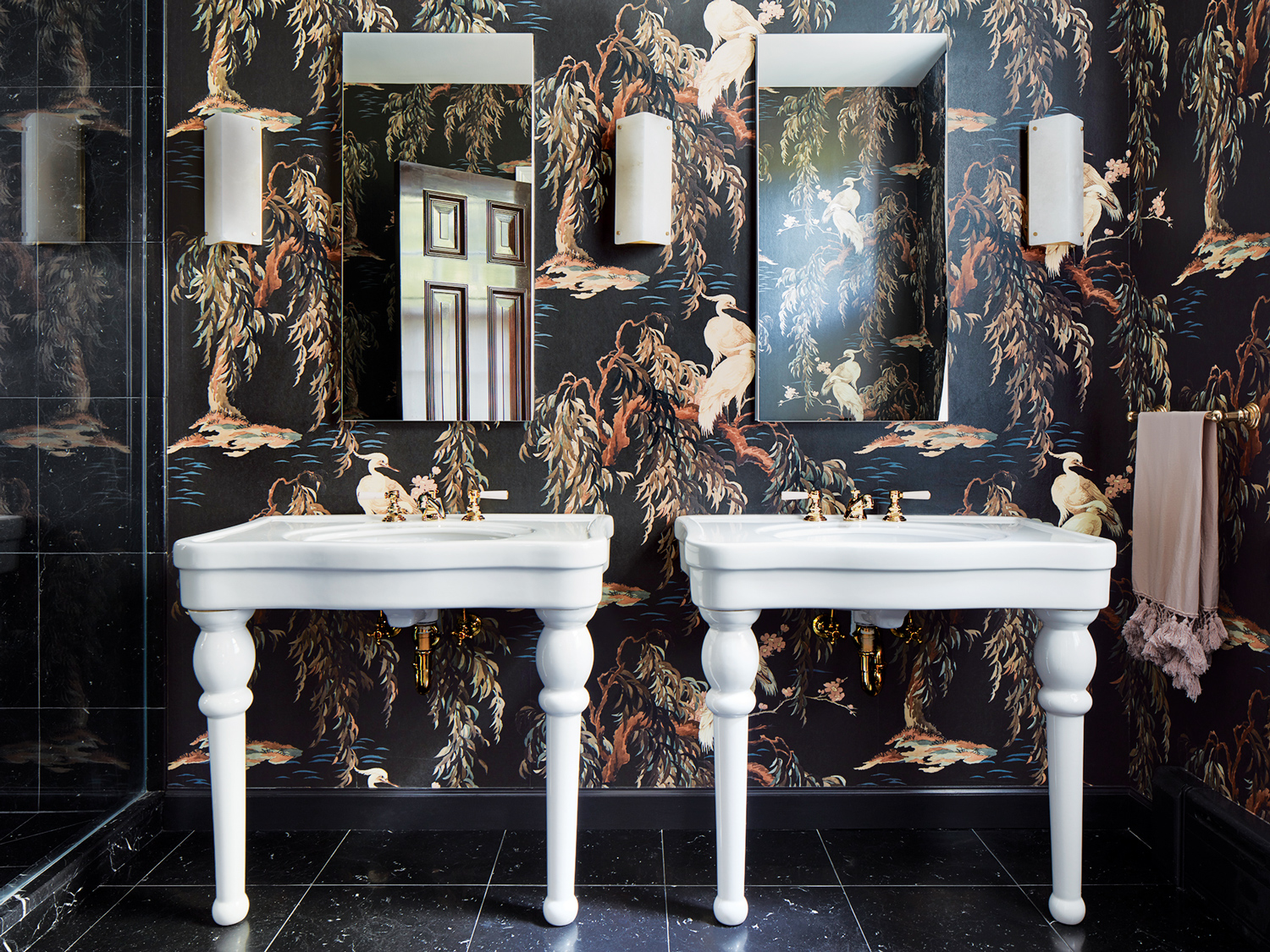 Fittings are the jewelry of the room, and placement is just as critical as the style. Unlacquered brass faucets and knobs patina beautifully over time, suggests Roberts, while valves and fixtures outside a shower allow the water to warm up before anyone steps into the spray. Heated towel bars and radiant floor heating have become almost de rigueur in a renovation, while infrared saunas, speakers, and shower televisions are frequent wish list items. The popularity of rain head showers often falls down gender lines, with men advocating strongly while women prefer to protect their blowouts. As an alternative, multiple sprayers make sure everyone is blissfully appeased.
"To be able to create a bathroom that at first read doesn't necessarily define itself as a bathroom is the ultimate luxury"

Jamie Bush
Materials
Spalike baths often lean toward palettes of whites and grays, but many designers have found adventurous clients willing to make a bold statement in a room reserved for just themselves. "I'm always looking for stones that are not the 'you've seen it a zillion times' materials," says Milan-based designer Eric Egan, who covered every surface in plumy Calacatta Viola marble in the remodel of a London townhouse. "We often start the design of the bathroom from the slabs that we find."
Architect Steven Harris prefers Corian for how it holds light in a lovely way, while Gachot sees Calacatta Borghini as a popular and increasingly hard-to-find choice. "I'm really starting to see a trend in going for it with more figurative stone and having the stone act as art in the room," she says.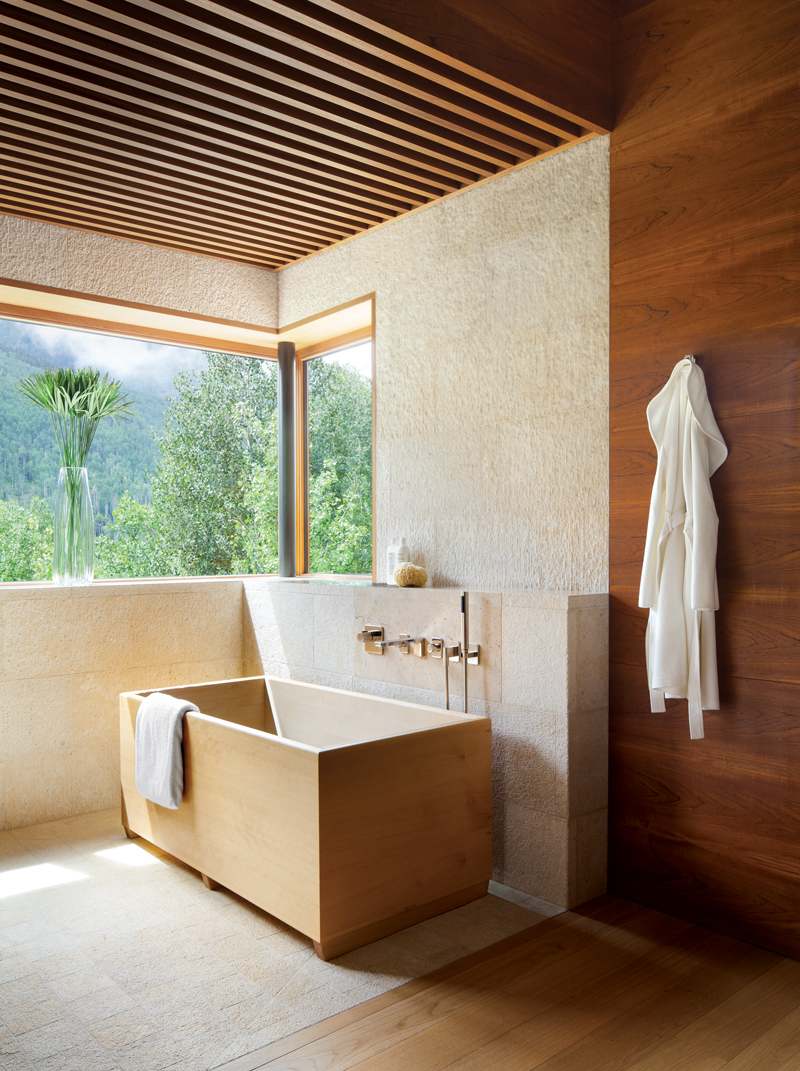 New York designer Shawn Henderson is known to create a textural juxtaposition in his baths, mixing woods and stone or artisanal zellige tiles to add visual interest. "With zellige, there is such a variety to the specific colors. If you're doing a green, there's a range within the green," he says.
Designer Joy Moyler suggests advancements in textiles, particularly new options from Perennials that are soft yet resilient, offer a unique opportunity to lend contrast. "I also love faux horsehair because it's wipeable and you can maintain it easily," she says.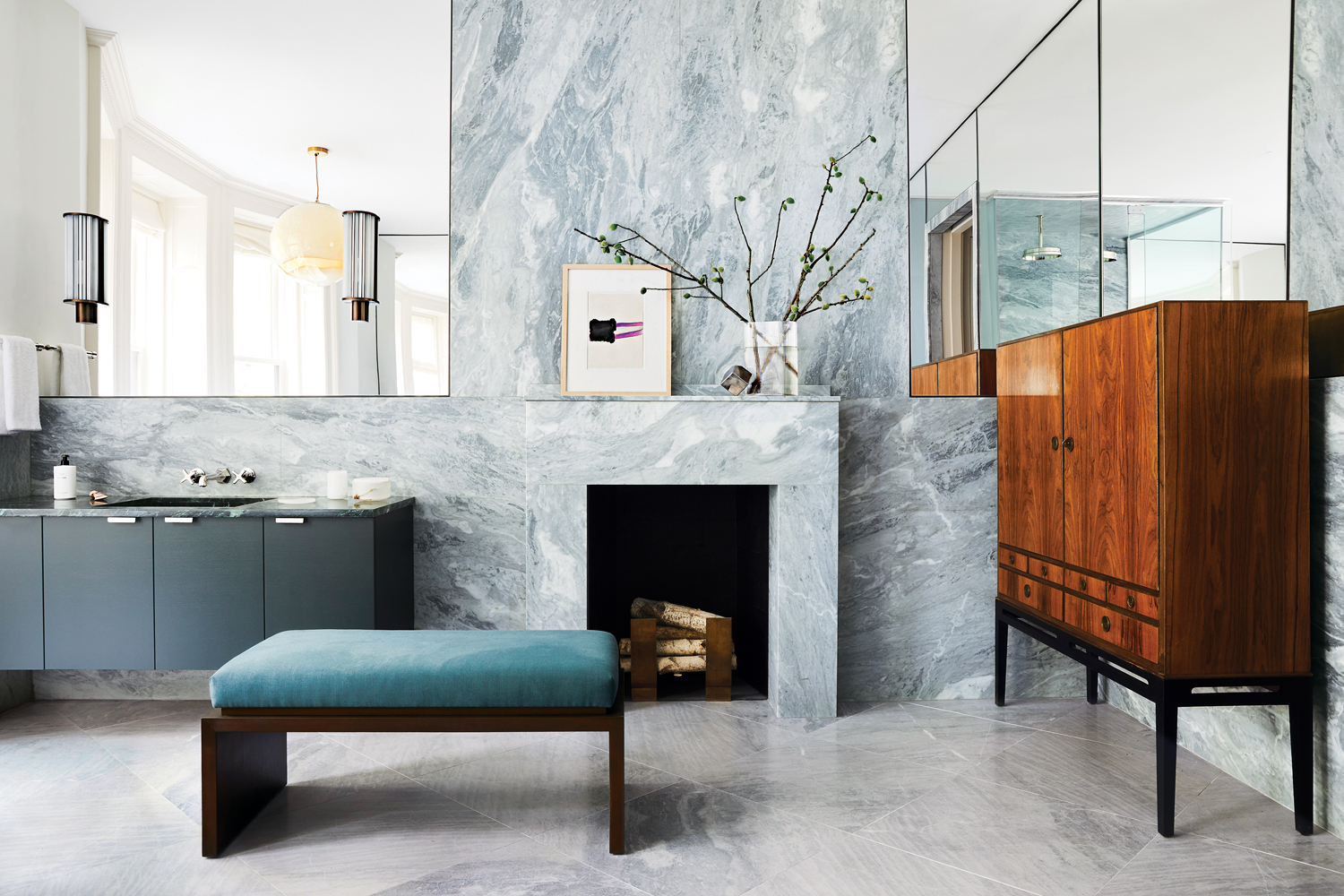 Accessories
Vanities offer clients zones to manage their personal products, but baths regularly require storage for towels and other sundries. To offset "leggy" console sinks in her own bath, Kara Mann added a vintage lacquer cabinet to display her fragrances and store jewelry. "I love putting furniture into a bathroom," she says. "The unexpected element softens the space and makes it feel even more residential."
Greenery, too, can help mitigate all the hard stone surfaces. "We're doing some bathrooms where we have trees in there, and it brings life to these spaces," says Bush, who introduced climbing plants in the shower of his 1930s Spanish home, which he is renovating.
In many of his residential projects, Harris installs switchable glass on windows, shower stalls, and water closets to allow for both natural light and privacy. The architect, who likes to center a mirror over a window with the sink situated below, says, "The opportunity to have natural light behind the mirror is very useful—it's flattering and gives you an even light on both sides."
Dividing the space into wet and dry areas, the latter featuring plush seating and other soft goods, can also transform the atmosphere. "To be able to create a bathroom that at first read doesn't necessarily define itself as a bathroom is the ultimate luxury," says Bush.
A version of this article first appeared in print in our 2021 Summer Issue under the headline "Vanity Domain." Subscribe to the magazine.
Next Post