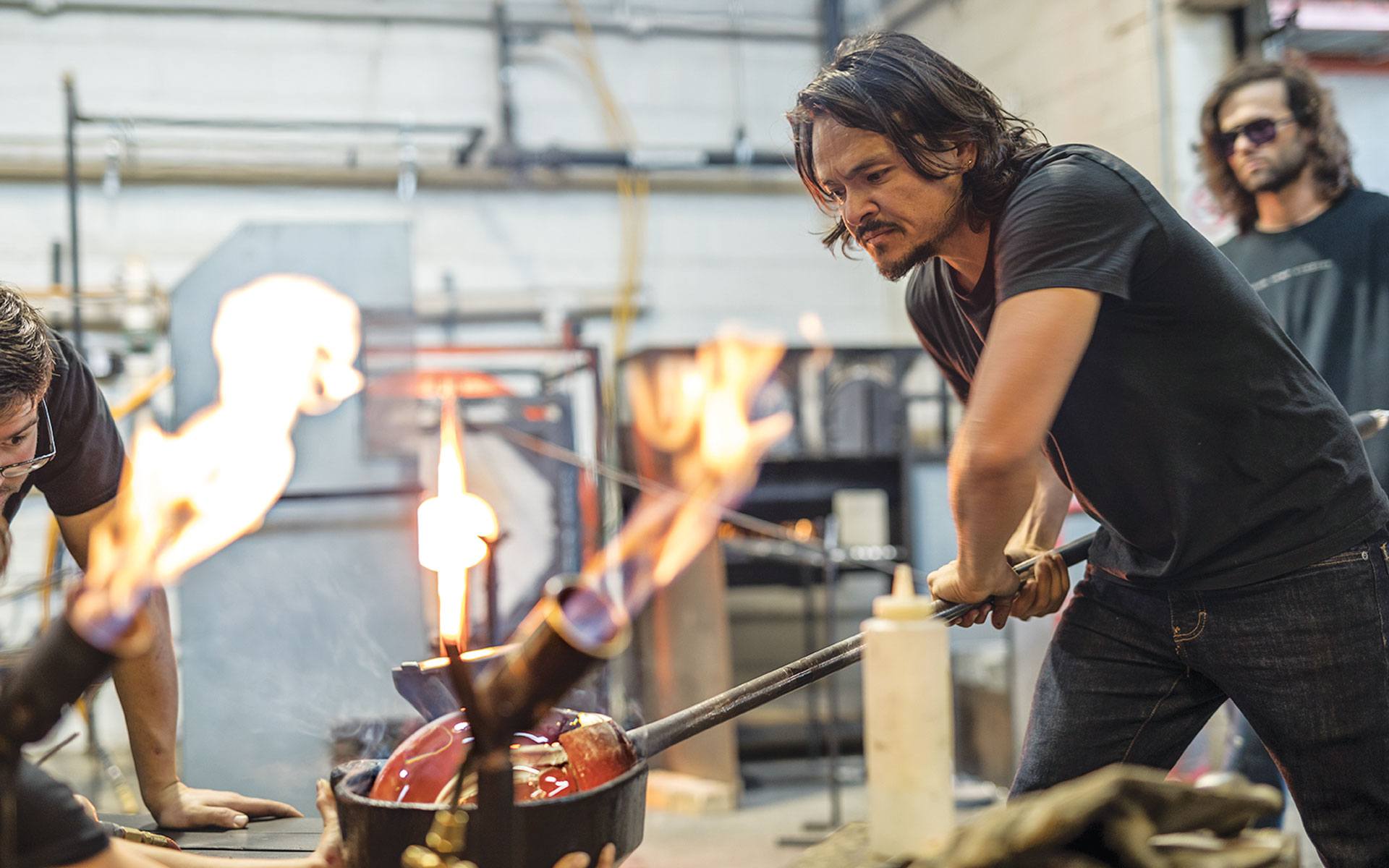 Creative Mind: John Pomp
The inspired glassblower and furniture maker is launching his first LED lighting collection, Radiant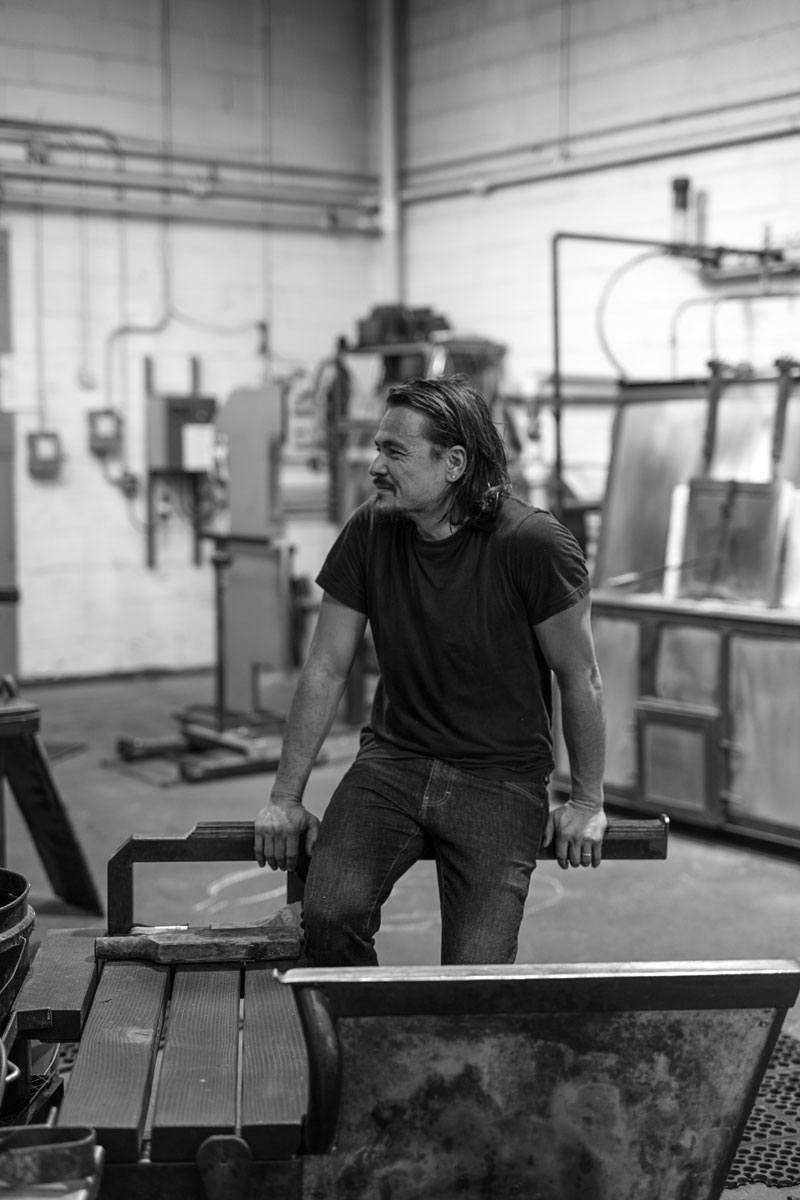 "Learning craftsmanship and to build useful things with your hands was all around me," says glassblower and furniture designer John Pomp of his upbringing in Johnstown, Pennsylvania, where his father, a steelworker and carpenter, frequently made toys and other goods for their home.
Passionate about fine arts from an early age, Pomp discovered glassblowing at the Columbus College of Art & Design. "I touched molten glass and I was like, Boom—this is what I'm going to do the rest of my life. It felt like all of my favorite things piled into one action, so I devoted my life to it."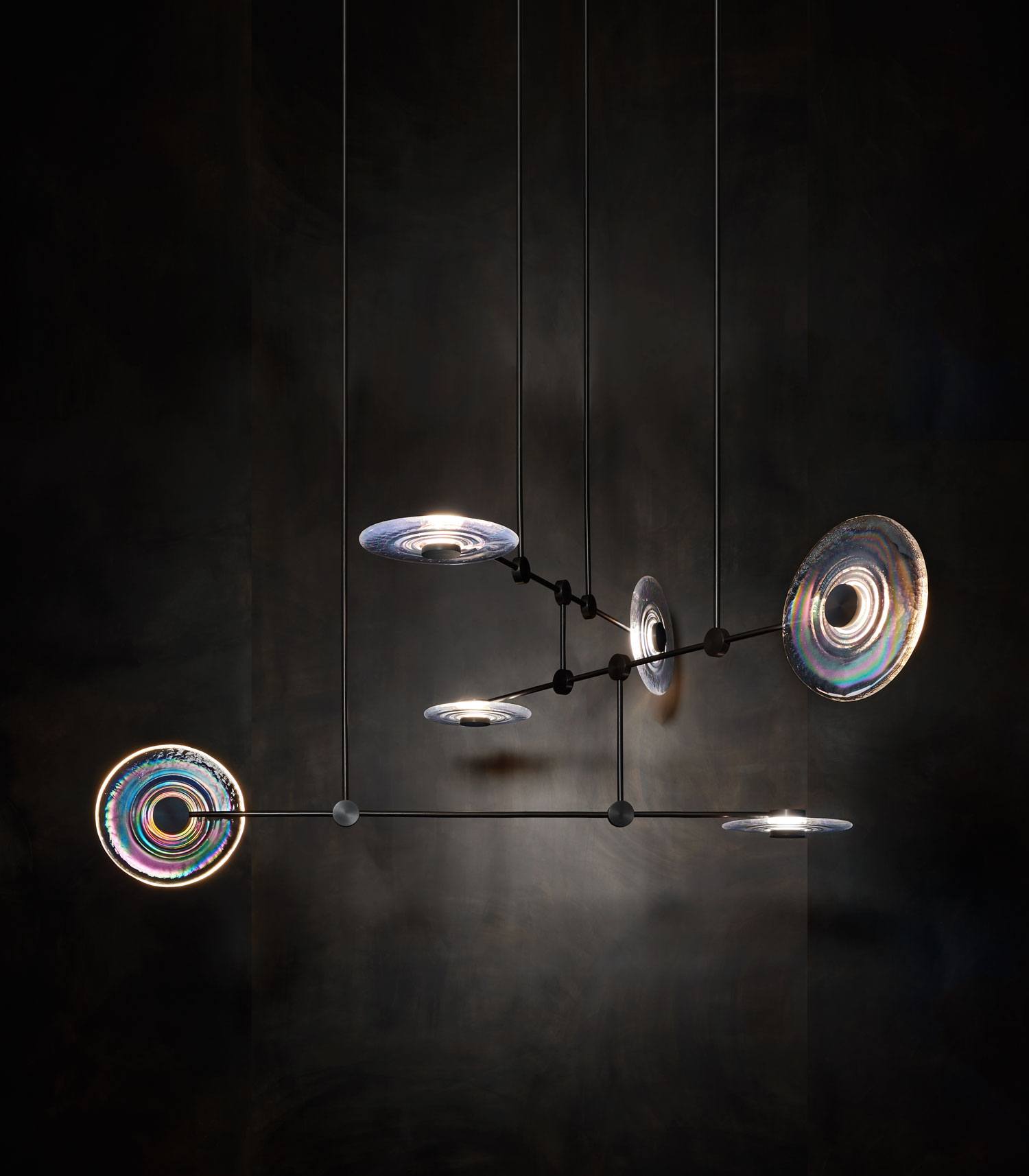 New development: Just before the pandemic, Pomp purchased a 100,000-square-foot building in Philadelphia that's allowed him to artisanally produce every one of his designs, including his recent 12-foot Tidal dining table—a new addition to a collection that already includes console, cocktail, and side tables. The new space also has room to experiment with one-off art series, host a ceramics studio for his wife, and have an indoor skate park—all under one roof. "Some of my collection is about crafted detail and very geometric but then you'll see a lot of the newer work is getting very fluid," says Pomp.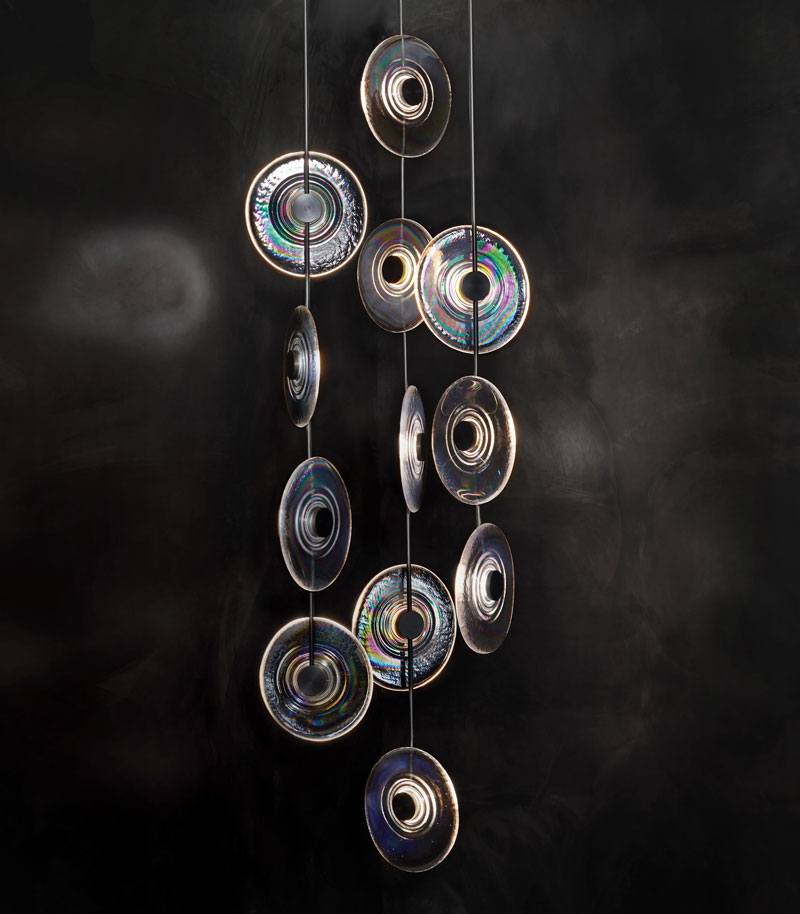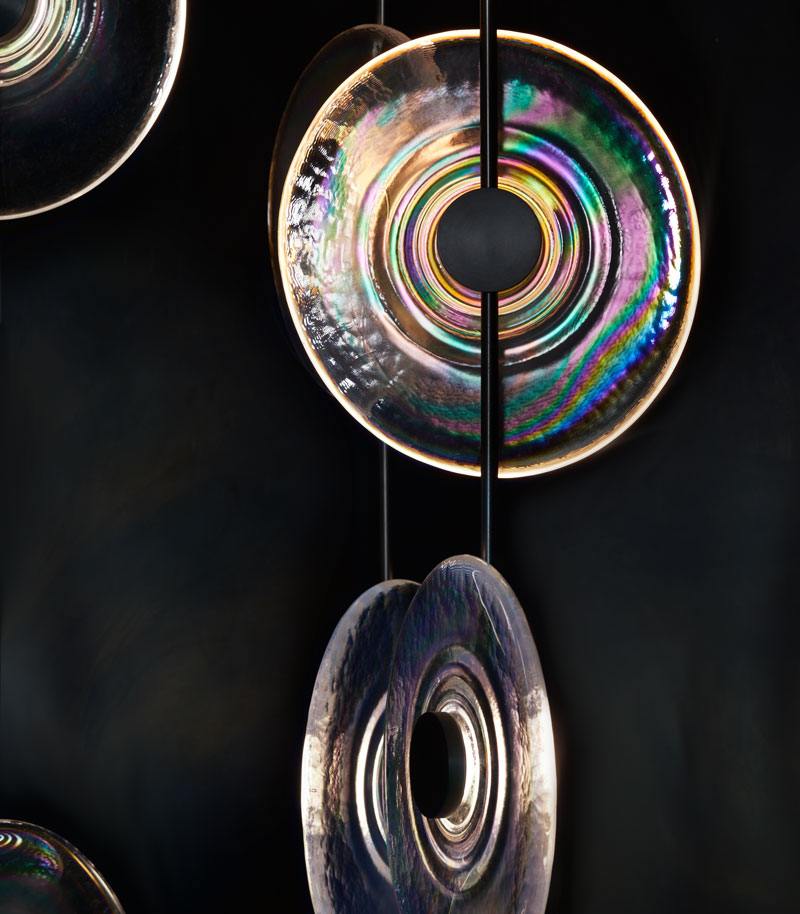 Light the way: Contrasting with the massive volume of Tidal, Pomp's debut LED collection, Radiant, consists of "small, illuminated cosmic puddles." Modular and customizable, the pieces combine layers of tint and a reflective iridescent coating for a unique effect. "It's starting to get me closer to my liquid-furniture dreams, coming back to my love for molten glass and reimagining the future all in one with that piece."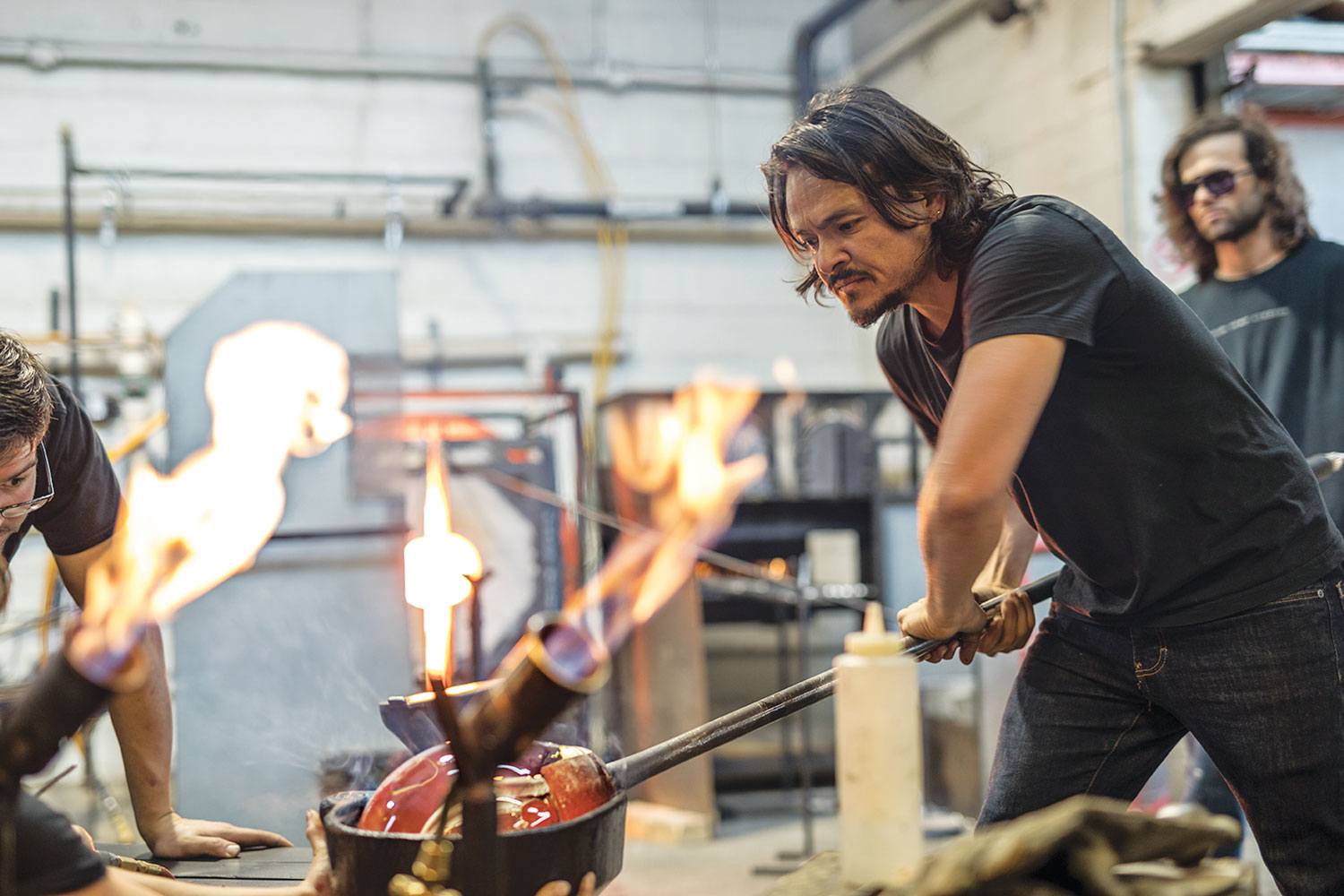 Design network: Pomp collaborated with designer Amy Lau on a hand-carved rose quartz ring for Milan Design Week, his Infinity sconces appear on the cover of Nicole Hollis's recent monograph, Curated Interiors, and his Tidal console was featured in Jeff Lincoln's room in the 2019 Kips Bay Decorator Show House. "When we make all of our products, I'm really proud to say we make it from raw materials to finished goods inside our own facility," says Pomp, who designed his own kilns to create his studio's large-scale glass pieces. "We don't have any other shops make any parts of our pieces."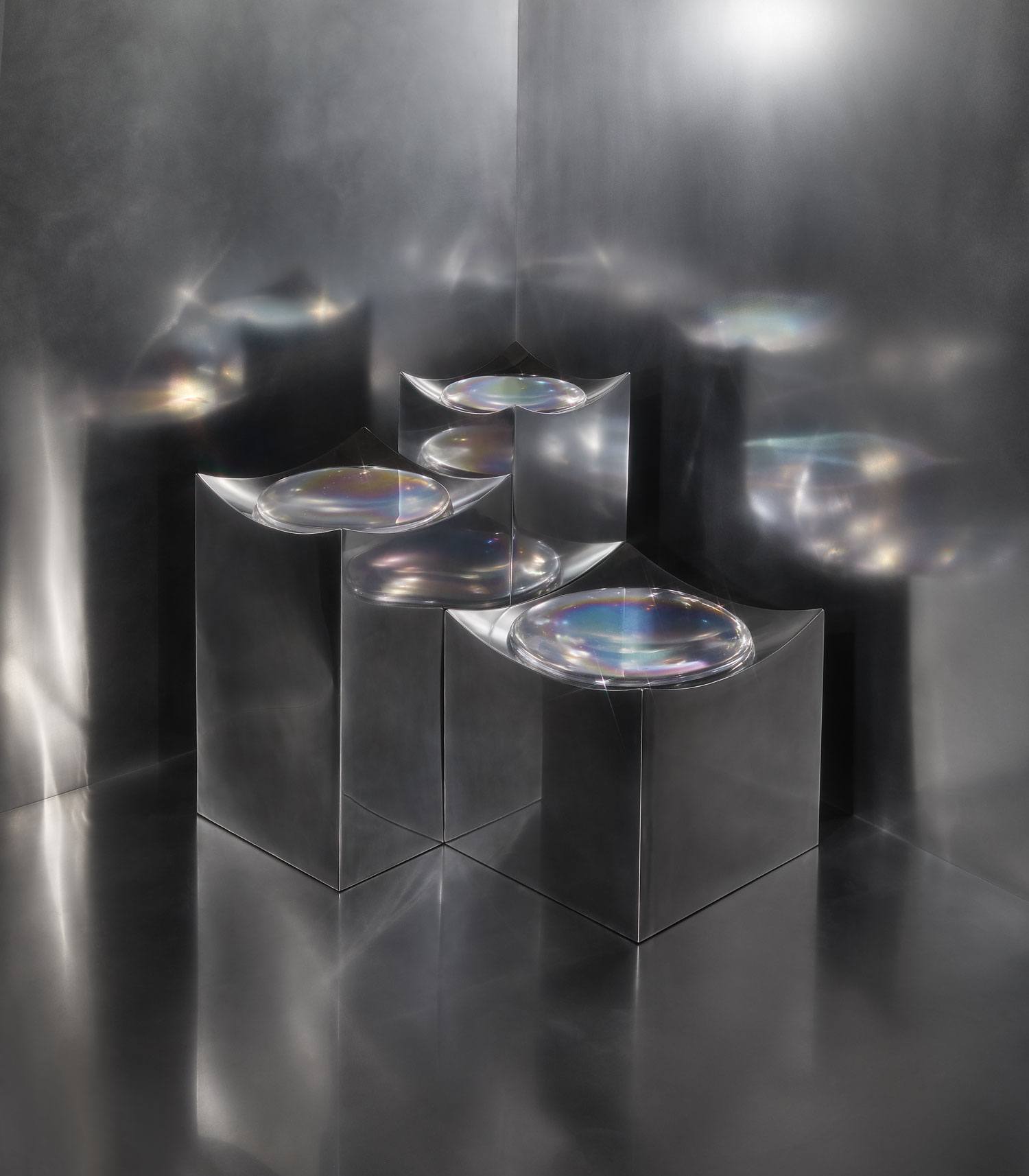 Water world: An avid surfer, Pomp sees myriad parallels in the sport and his art. "I found that surfing is the closest thing that I've ever done to glassblowing, which is so wild and very unexpected," says Pomp, who was set to debut many of his new creations for the first time at last year's PAD London before the lockdown. With the fair canceled, pieces like Radiant are just now coming to light. "Everything I love about liquid glass, I'm trying to express it now with my latest collections and a lot of these one-off works."
Next Post