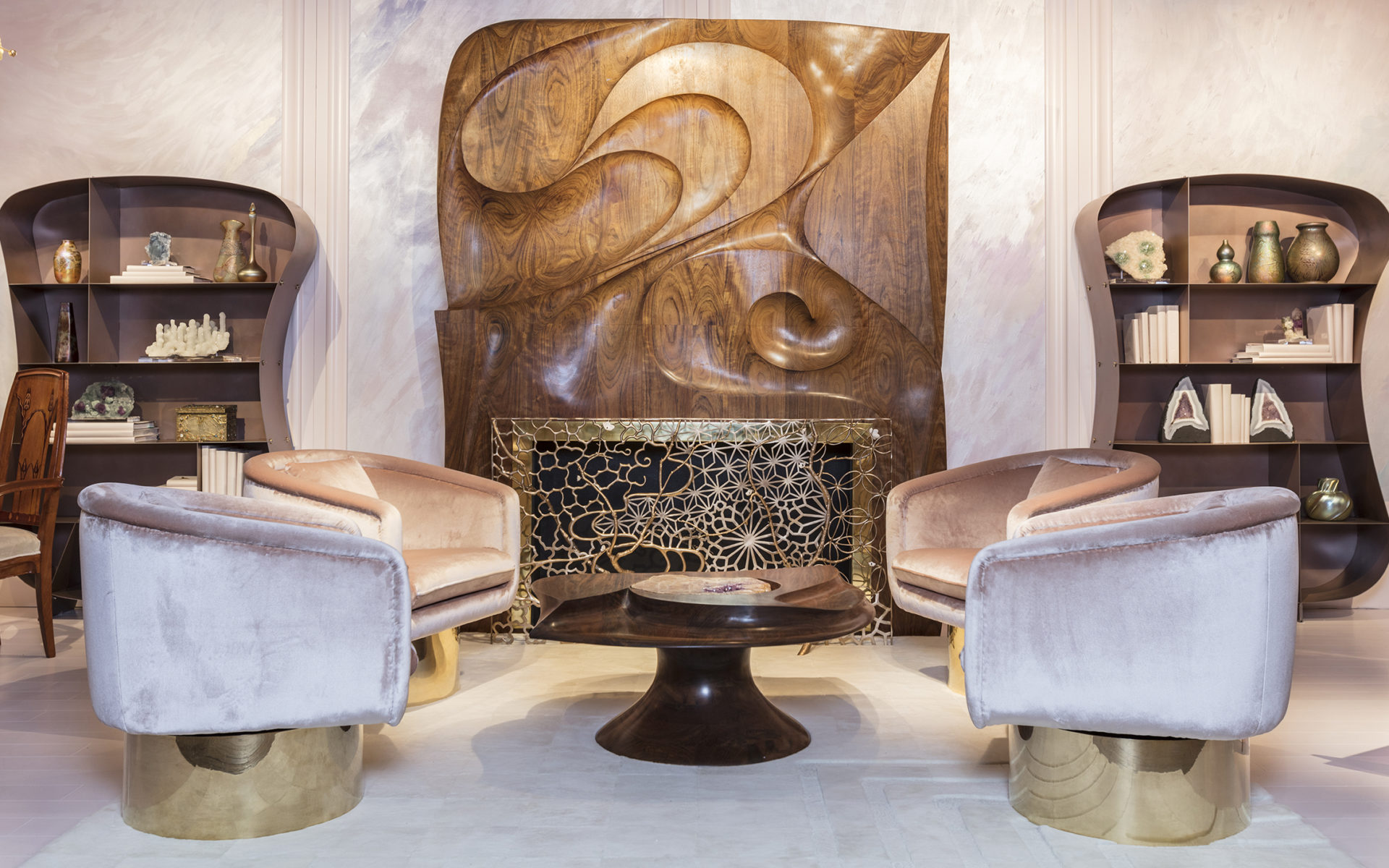 Designer Amy Lau Channels Art Nouveau at the Salon Show
One-of-a-kind treasures find a glamorous home at the interior designer's show-stopping Salon Art + Design booth
As the first interior designer to exhibit at the Salon Art + Design fair in its six-year history, Amy Lau set out to do something totally different. Given her talent for conceptualizing glamorous rooms filled with her clients' enviable art and design collections, it's not surprising that her booth at the Park Avenue Armory comes together as a glamorously unified space. The result is an environment that feels nothing like a typical design show installation. The space could be one of the ultrachic living rooms she has designed. And the best part is that everything is for sale.
Her concept, entitled the "New Nouveau," celebrates the originality and beauty of the Art Nouveau period, which spanned roughly from 1890 to 1910, as well as designs the movement has since inspired. Lau curated a selection of luxe design objects and jewelry that embody the French era's naturalistic forms and rounded edges, all in a sumptuous palette of soft pinks, creams, and warm wood tones.
Calico Studio, for instance, designed panels covered in a rose-quartz paper that envelop the room. The company custom-created a surface with a thick, micalike finish that has an iridescent quality inspired by the Louis Comfort Tiffany–designed glass known as Cypriote. Mimicking the shimmering tones of the wallpaper is a striking artwork by New York–based artist Nancy Lorenz.
The most dramatic piece is the S-shaped walnut fireplace crafted by Michael Coffey, which is beautifully complemented by a bespoke David Wiseman screen made of bronze and porcelain. A set of four swivel armchairs—clad in a plush Dedar velvet—make a fitting companion to a newly designed cream sofa by fast-rising Irish designer Joseph Walsh, who found inspiration for the shape in the metamorphosis of butterflies. Lau is even considering commissioning one for herself. "There is nothing like this sofa," she gushes.
Cabinets of curiosities conjured by Xavier Lust are also remarkable additions, especially as they are filled with whimsical ceramics, limited-edition books on the period, and glittering rare minerals. Jewelry also makes an appearance with a covetable selection of vintage pieces, including a show-stopping 300-carat opal necklace made by Roberto Burle Marx that has never been shown before. Naturally, there's a luxe vintage mirror on the wall nearest the jewelry, perfect for admiring the baubles while trying them on.
With so many pieces—both vintage and contemporary—to bring her concept to life, Lau marvels at how a movement that only lasted 12 years could inspire so much. Beyond that, she thinks now is the perfect time to rediscover its magic. "The designers of the period brought the outside in so lyrically and poetically as a reaction to the Industrial Revolution," she explains. Looking at the finished result, Lau muses, "Looking to nature is a retreat. It softens the heart and makes us breathe, and I really want to embrace that."
The Salon Art + Design fair is open through November 13 at the Park Avenue Armory, 643 Park Avenue, New York City.
Next Post