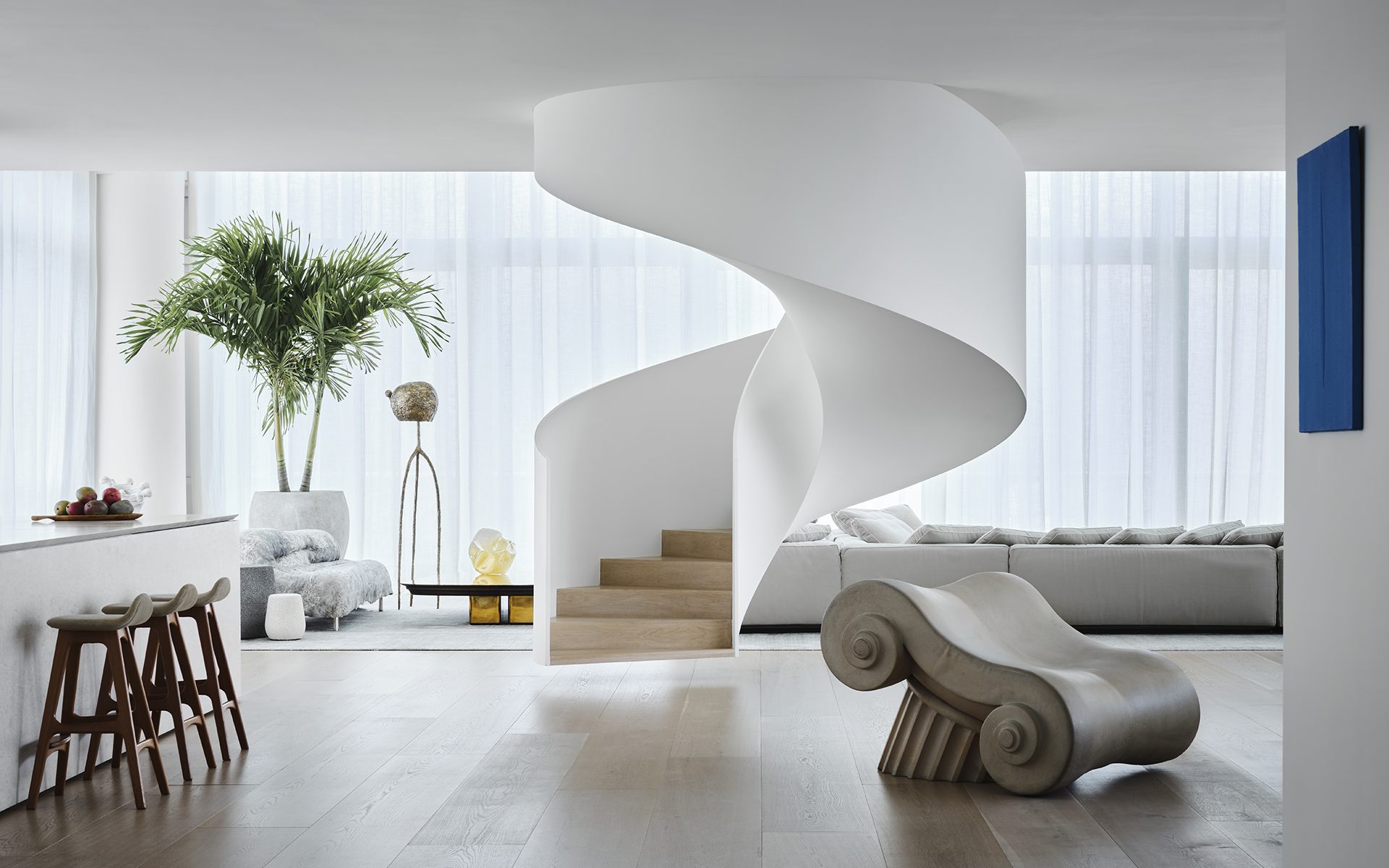 Tour a Seductive Miami Beach Apartment That Embraces Italian Modernism
Conceived by Oppenheim Architecture and Collarte Interiors, the light-filled aerie balances major works of art and design with architectural panache
An architect and designer's next big project can often come from an unexpected source, with social media or referrals from past clients regularly resulting in exciting new commissions. Oppenheim Architecture principal Chad Oppenheim first met a couple looking to upgrade their Miami aerie in the most unlikely of locales—deep in a South Florida swamp, when their child was a guest at his son's birthday party, an immersive tour of the Big Cypress National Preserve.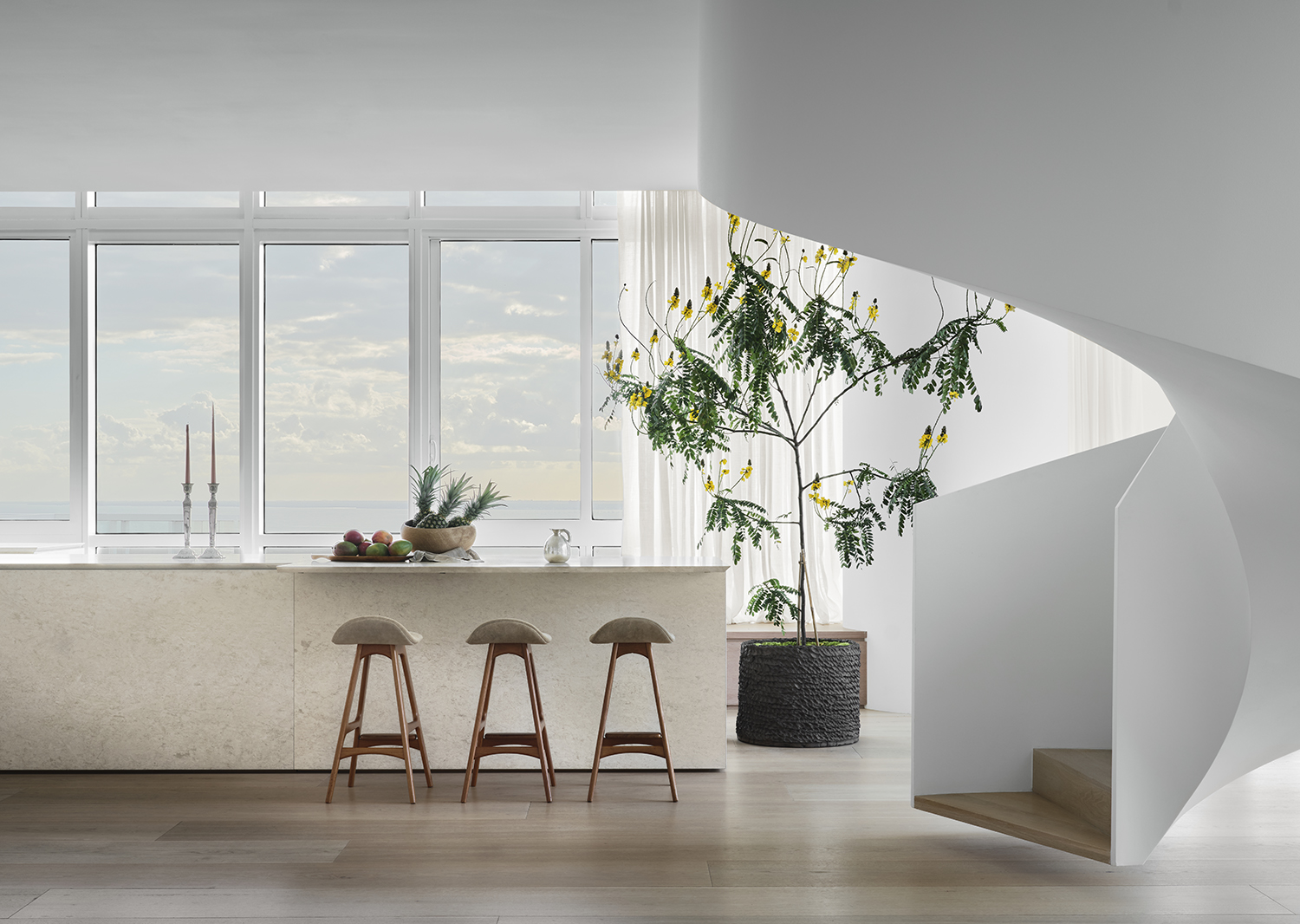 Relocating from Milan, the homeowners had purchased a penthouse unit with breathtaking views. Gutting the unit down to the studs, they recruited the firm to complete a total overhaul of the three-story space, which included replacing a bulky elevator with a sexy spiral stair that appears to float weightlessly above the floor. "I'm always trying to strip things down to their essence," says Oppenheim, who was inspired by picturesque steps famed Miami architect Morris Lapidus would create in destinations like the Fountainebleau and Eden Roc to allow guests to make their grand entrance. "We were able to open up the space and create a very experiential way to travel between the floors."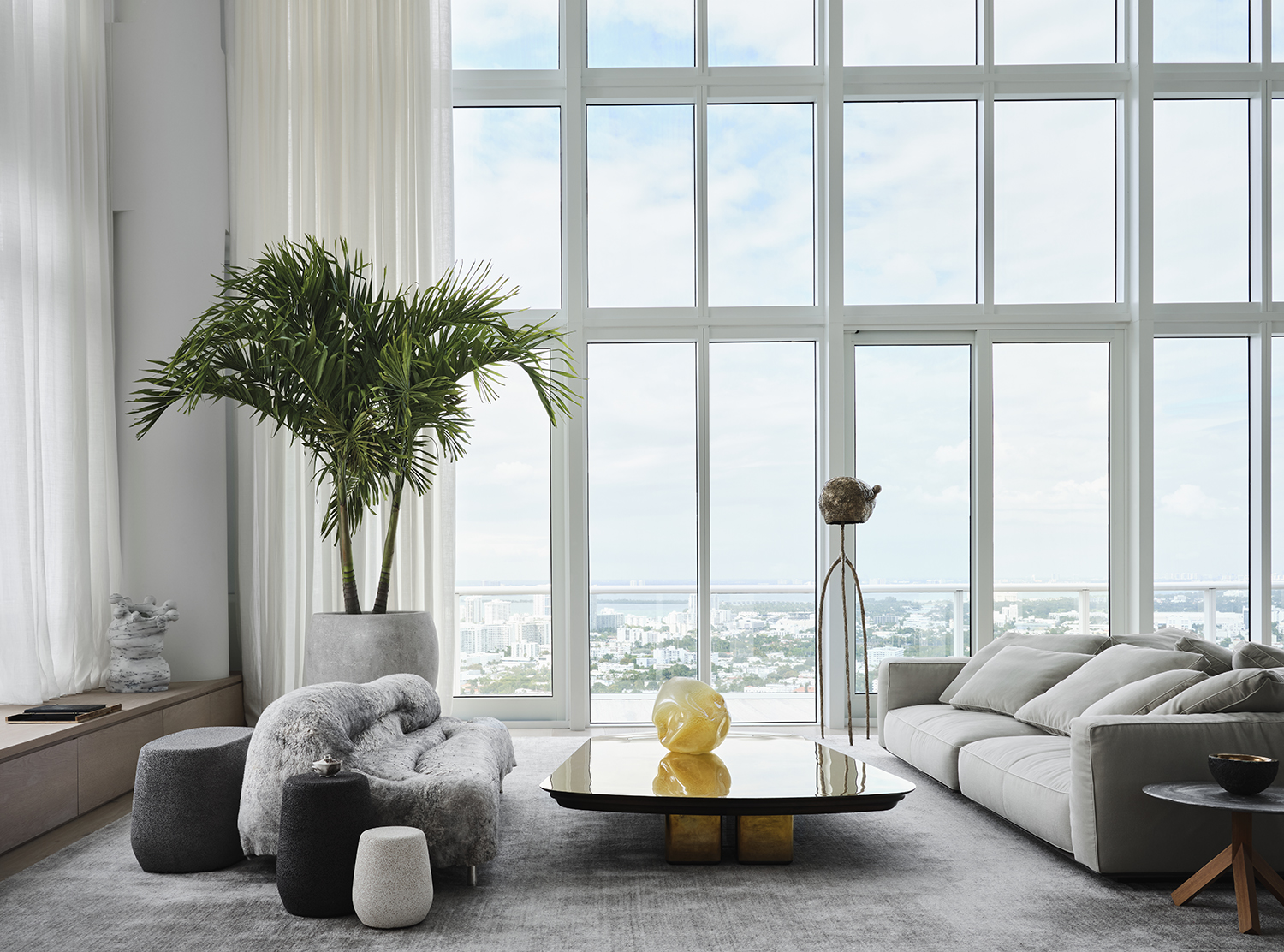 With the nautilus-like staircase as the focal point, the remaining areas were left open for unobstructed access to the 270-degree views, maximizing the apartment's potential for entertaining. "The challenge was how do we break up these spaces to make them feel intimate," says Collarte Interiors principal Constanza Collarte, who orchestrated various conversation areas using robust Italian furnishings from Flexform, B&B Italia, and Studio 65, the latter's Capitello chair featuring swirl details that echo the curves of the nautilus-like stair. The installation gave the designer a first-hand education in the oeuvre. "Going into this project, I didn't know enough about Italian modernism," she says. "But coming out the other side, it made so much sense."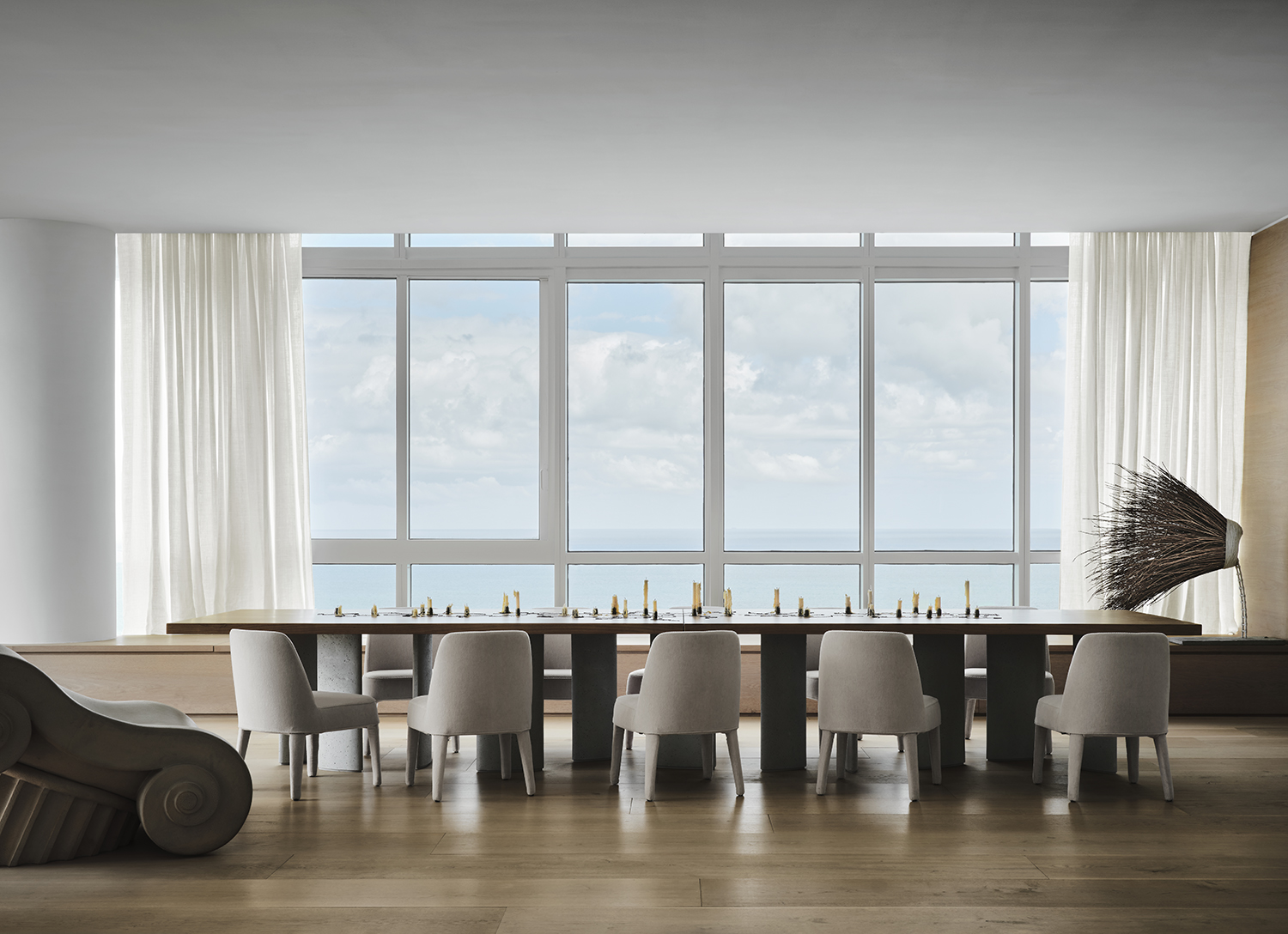 The design team consciously kept the furnishings to a minimum to add to the overall sense of airiness, but selected pieces that were uniquely sculptural to maximize their impact. In the living room, a plush Ayala Serfaty sofa is paired with monolithic stools by Djim Berger, playful lamps by Misha Khan and the Haas Brothers, and a striking Vincenzo de Cotiis cocktail table topped with an amber hued glass work by Jeff Zimmerman.
In the dining room, Oppenheim collaborated with Claudia Moreira Salles on an expansive dining table that is topped with a chain of noirish Carlo Trucchi candleholders; an early Nacho Carbonell sculpture providing a burst of energy and texture. "We were bouncing so many ideas off so many galleries," says Collarte of the dynamic art and collectible design pairings that inform each of these curated vignettes. "We had a lot of input on everything to make every piece very intentional."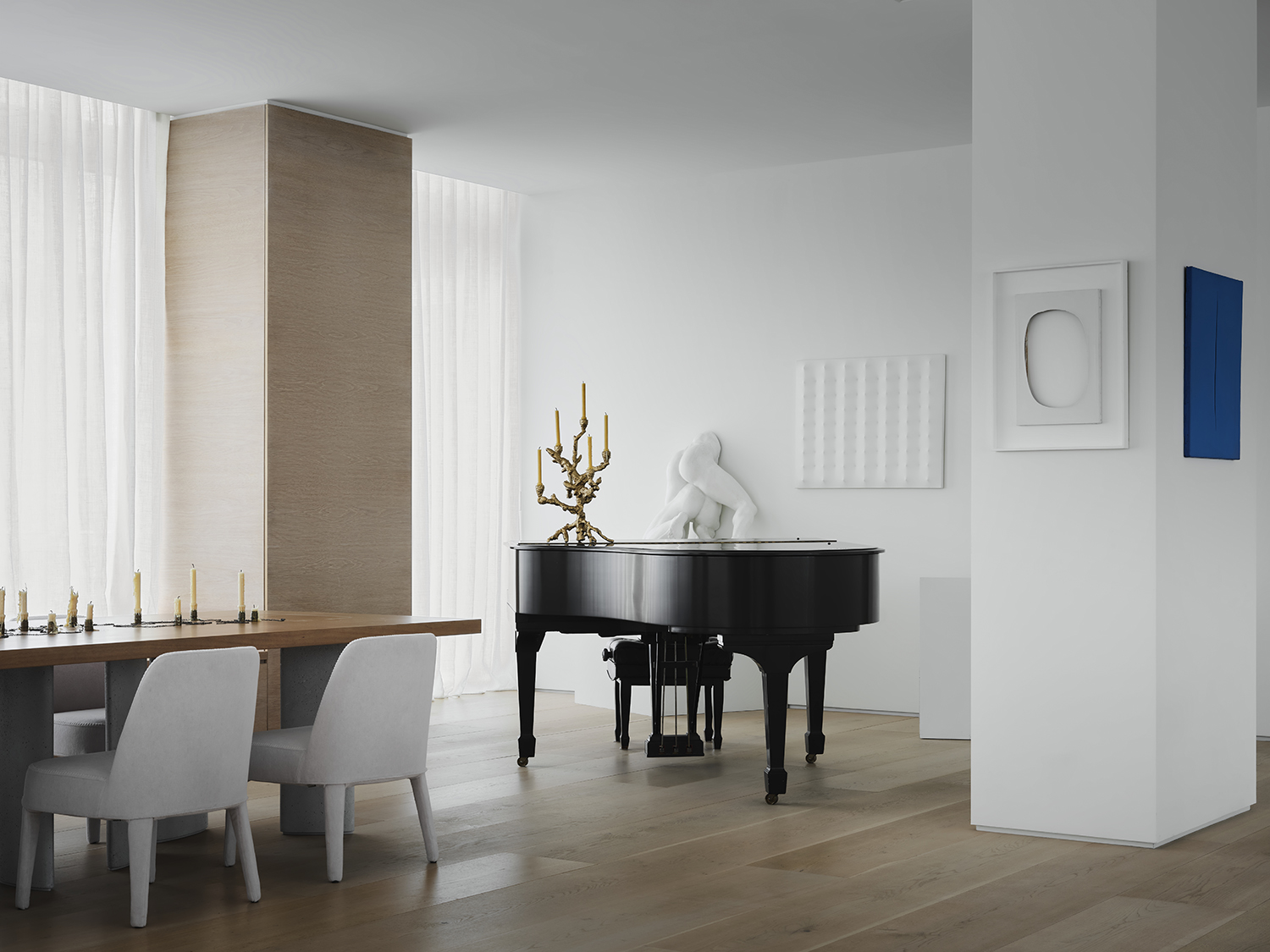 The couple, who are heavily involved in a number of Miami philanthropies, often host concerts and receptions at home, hence, an alcove at the foot of the dining area is situated with the client's other die-hard need for the space—a baby grand piano. However, here it's surrounded by provocative works by Giulio Paolini, Enrico Castellani, Dadamaino, and Lucio Fontana, that transform the extremely traditional instrument into installation art.
The upstairs pool lounge, which Oppenheim refers to as "a beach cabana in the sky," is another popular spot for entertaining with low-lying B&B Italia sofas and Hans Wegner chairs allowing for unobstructed views out to the rooftop pool, where the family often gathers to watch outdoor movies. "It feels like a gallery in some ways, because these are all museum-worthy pieces, but she really wanted to live among her art," Collarte says.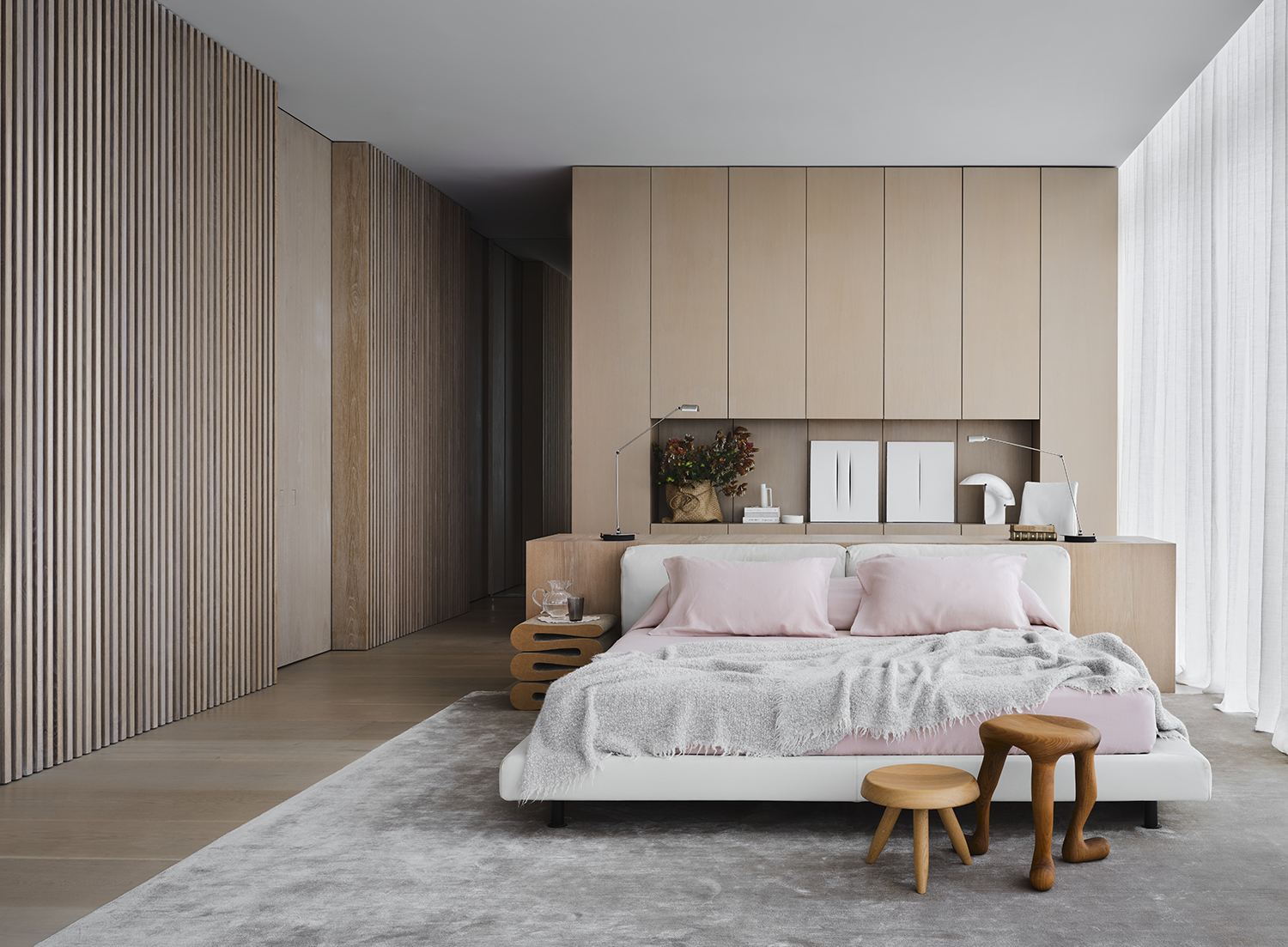 While overall the home is relatively minimalist, the tight edit allows the artworks to have maximum impact. "The client is very interesting in the sense that she really doesn't want to follow the expected," says Collarte. "It is a project that's so subdued, but when you start to dissect it, when you look at the pieces and how they all relate to one another, it starts to be so interesting. That's really what I loved about putting it all together."
"Projects have a certain context, and that's the client, the site, the place," adds Oppenheim. "We try to take all those ingredients and create the poetry."
Next Post