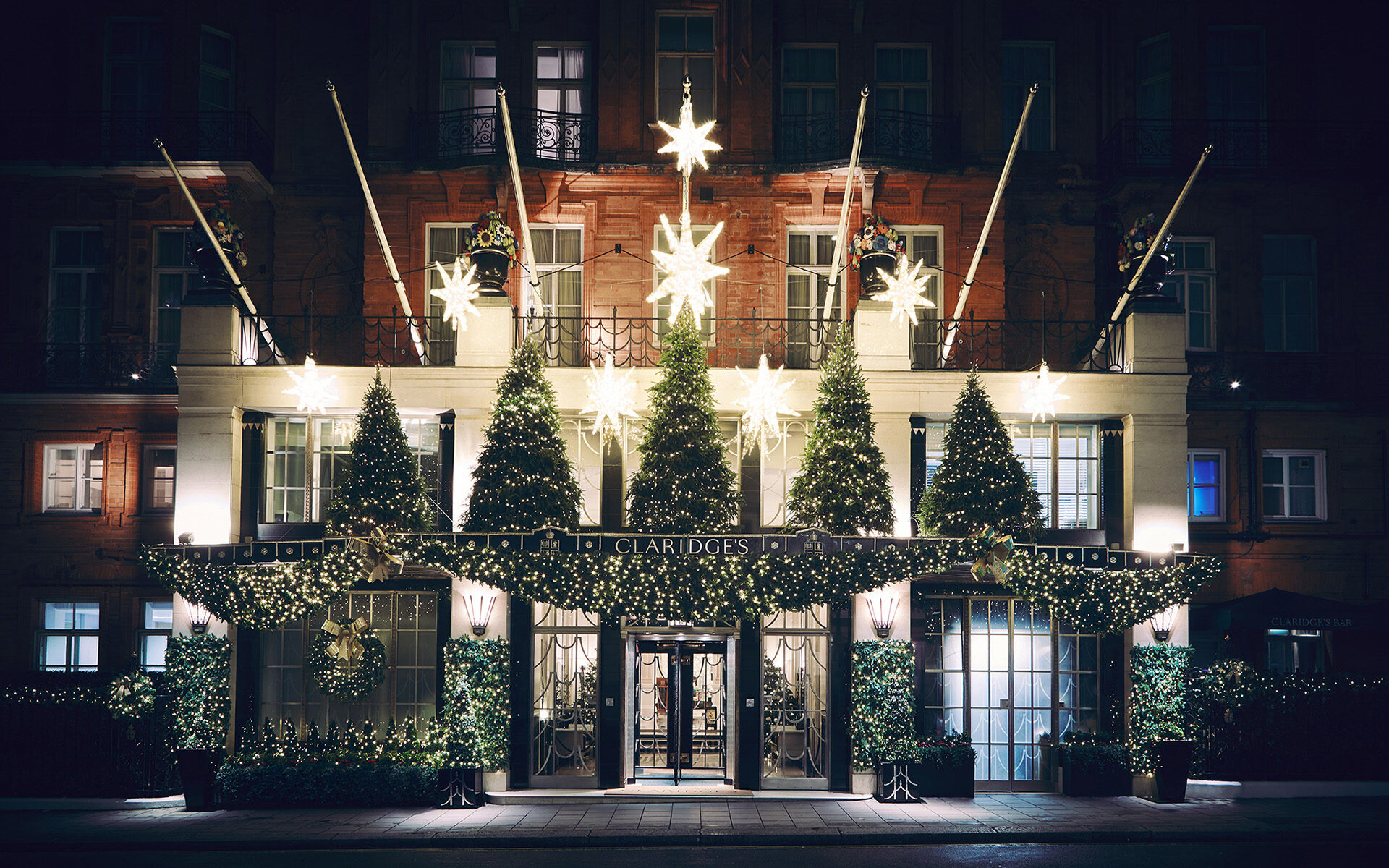 7 Christmas Trees Around the Globe Guaranteed to Get You in the Holiday Spirit
From a Norway Spruce decorated by Annie Morris and Idris Khan to a transparent tree by Dior's Kim Jones, these magical conifers celebrate the most wonderful time of the year
It's the most wonderful time of the year—when the façades of all our favorite hotels, boutiques, and restaurants around the globe are adorned with lush garlands bursting with gold and silver ornaments, a constellation of twinkling lights, and miles of velvety ribbons and bows. Inside, Christmas trees shimmer and shine, elevating everyone's holiday spirit. Many places have collaborated with significant artists and designers to create otherworldly installations so beautiful that people often travel just to marvel at their glory. Here, a look at some of the most wondrous conifers sure to make your Christmas season merry and bright.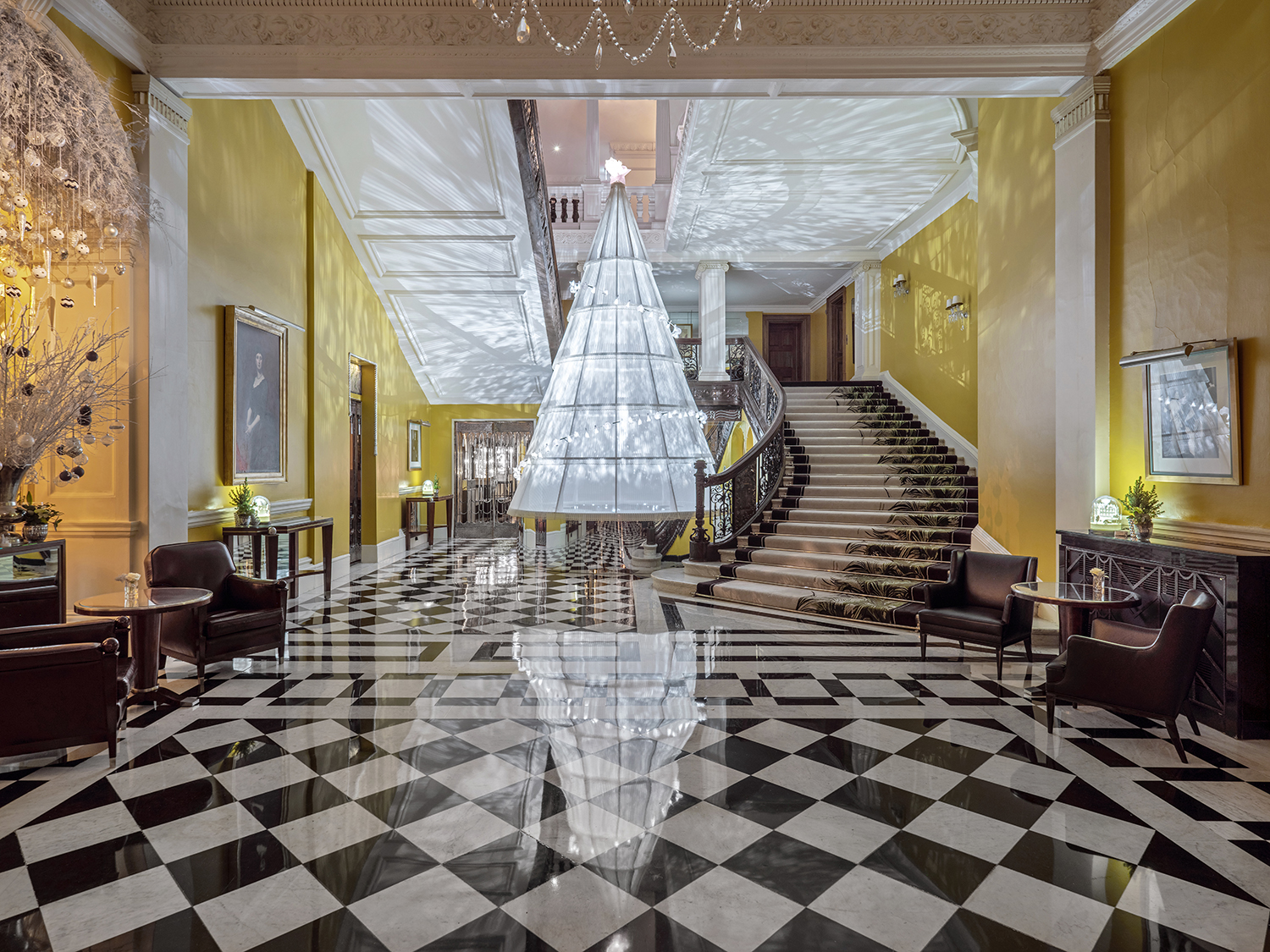 1. Claridge's, London
You'll have the sensation of being swept up in the swirl of a holiday snow globe when you take in the dazzling Christmas tree by Dior menswear designer Kim Jones. Reflective snowflakes and state-of-the-art holographic technology bring the towering tree to life, while layers of toile and artful pleating nod to the fashion house's haute couture atelier. Just as many people collect ornaments as mementos of family milestones, Jones has adorned the tree with baubles significant to Dior's history, like Monsieur Dior's lucky stars and playful puppy, Bobby, who was previously recreated as a fragrance bottle.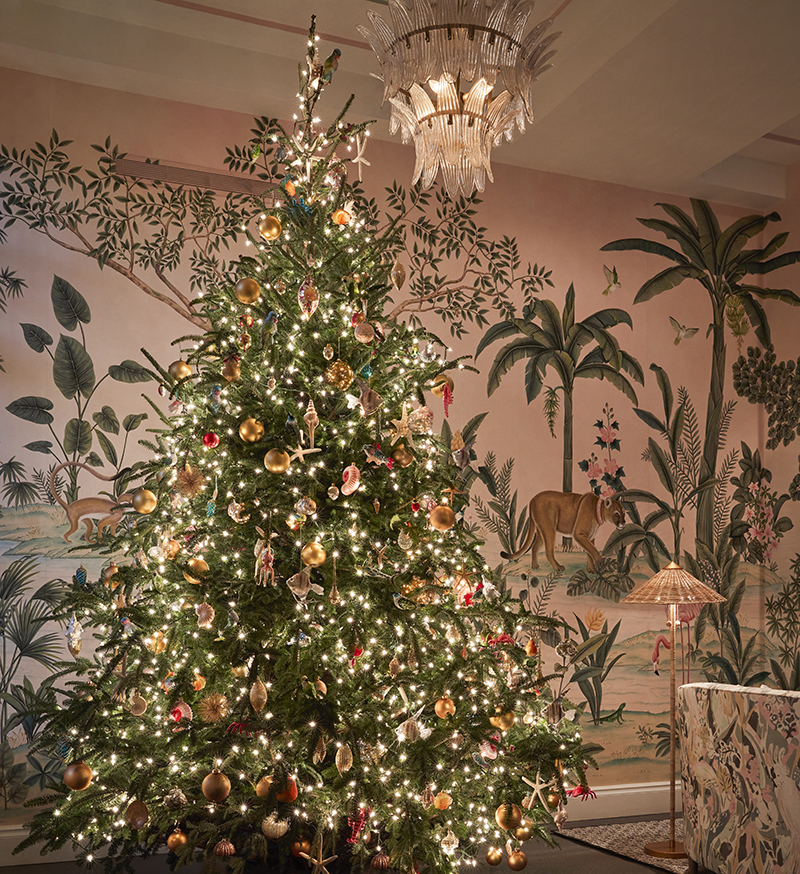 2. The Colony Hotel, Palm Beach
Of course the pinkest boutique hotel in South Florida would have a 12-foot Christmas tree that skews more blush and mint than red and green. In the recently revamped Living Room lobby, Aerin Lauder cultivated a playful holiday display featuring elegant coastal-style ornaments like seashells, tropical birds, and undersea creatures mixed with gleaming gold balls and tons of glowing white lights.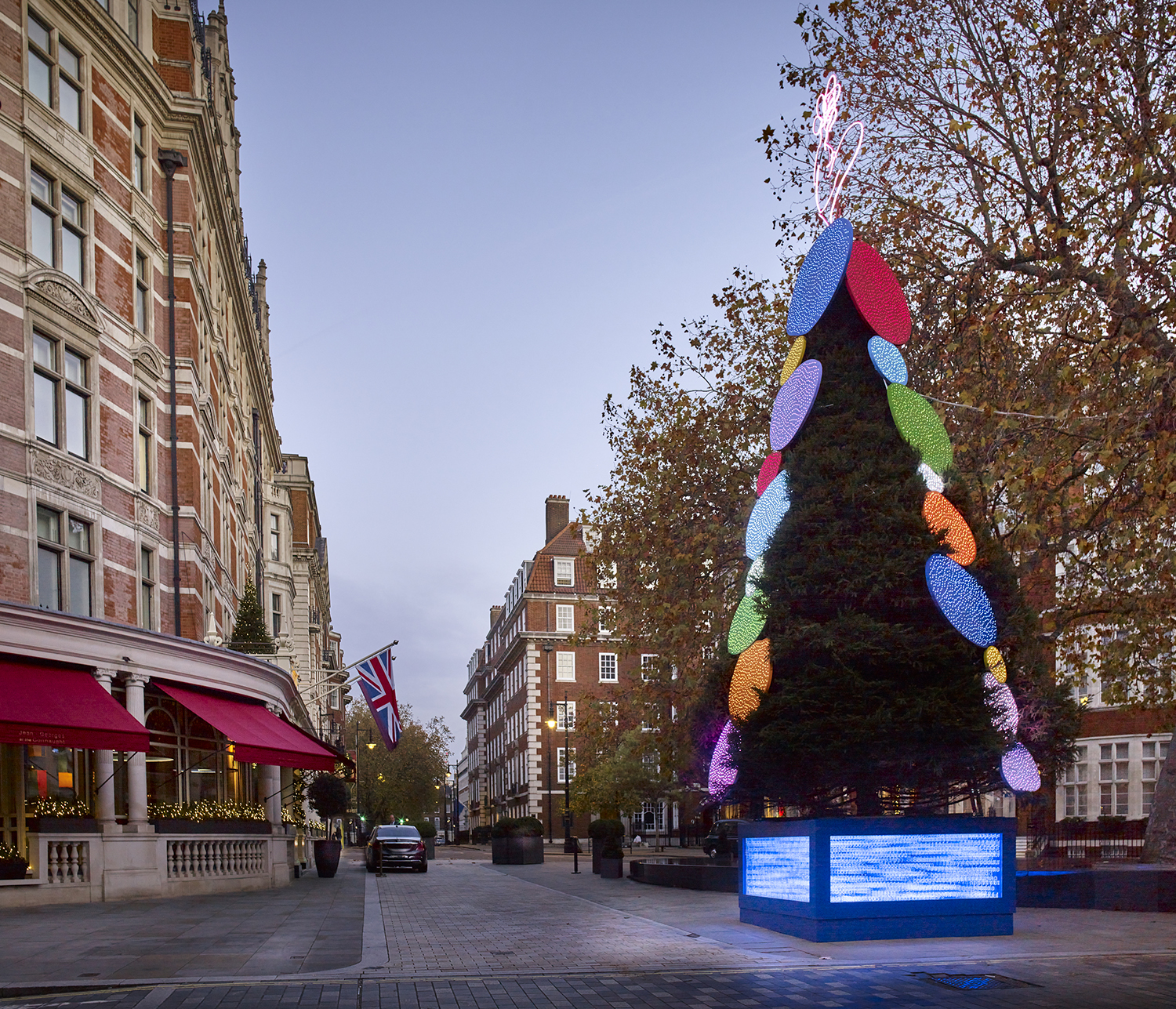 3. The Connaught, London
London's famed Connaught hotel has a long-standing tradition of recruiting an artist to decorate its annual Christmas tree, proudly glowing outside the property's Mayfair location and alongside the Tadao Ando fountain, Silence. This year's 30-foot tall Norway Spruce has been designed by Annie Morris and Idris Khan. Reminiscent of Morris's stack sculptures, gleaming spheres made using 1,600 colored lights climb three sides of the tree while a neon star harkens to the artist's "Flower" figures. Meanwhile, Khan turned the base into an eye-catching element using a two-way infinity mirror, lighted in the artist's signature blue shade, etched with Merry Christmas translated into more than 100 languages.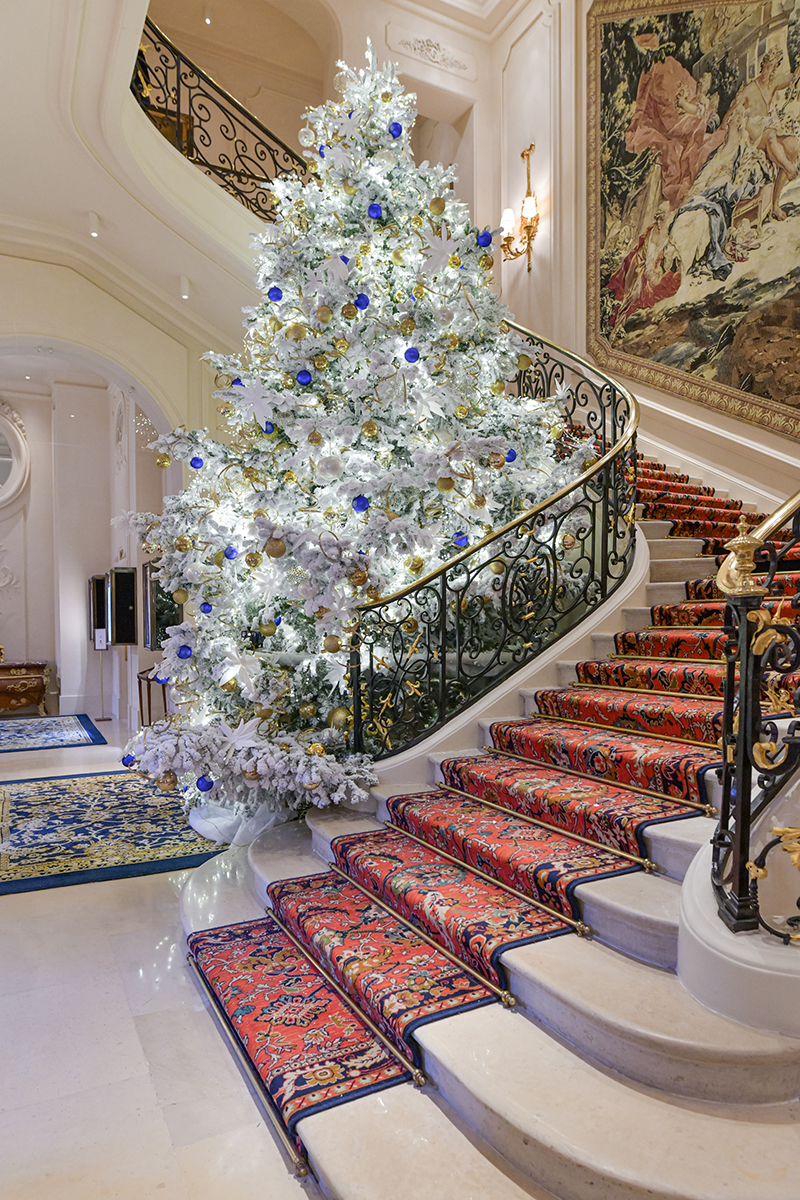 4. The Ritz, Paris
Named the Ritz Paris's "Lady of the Flowers" in 2015, Anne Vitchen creates the storied property's annual holiday tree. This year's glowing "snow covered" conifer sports a delicate array of blue and gold ornaments, shimmering gold ribbons, and white seasonal adornments while a playful Christmas Express train weaves through the lower branches on an elegant gold track.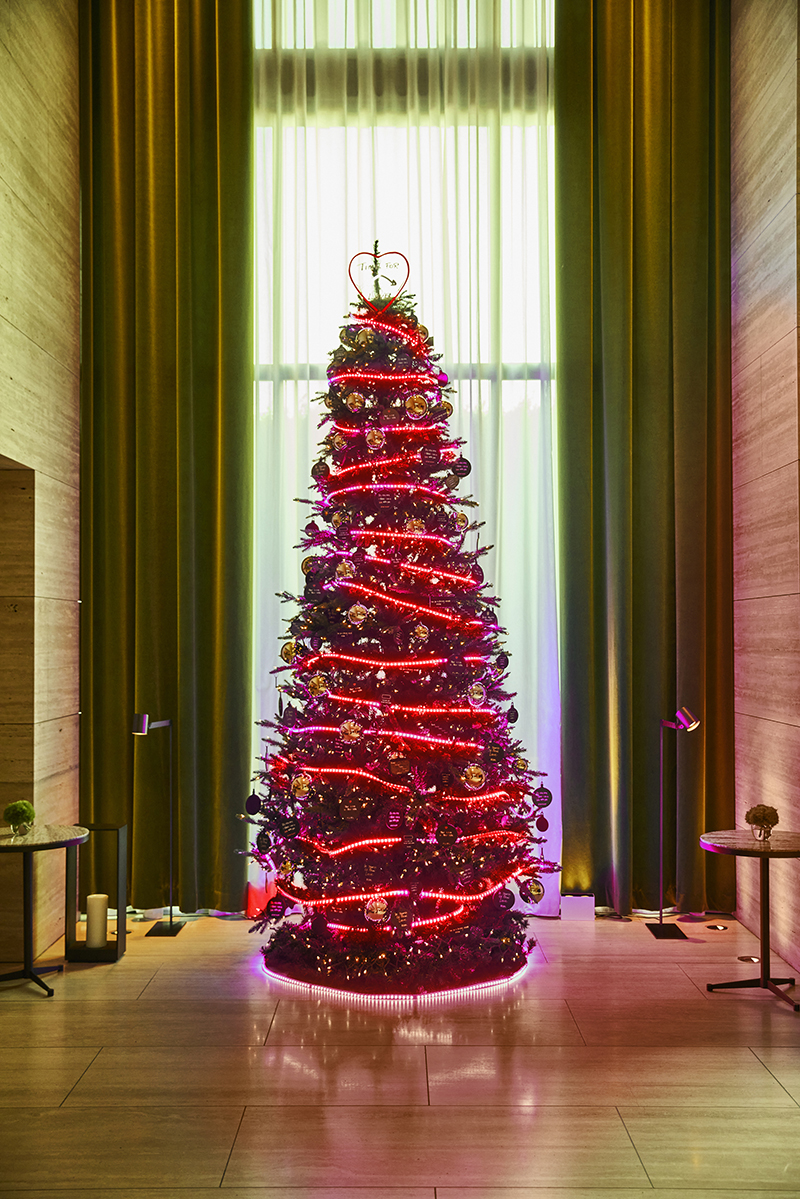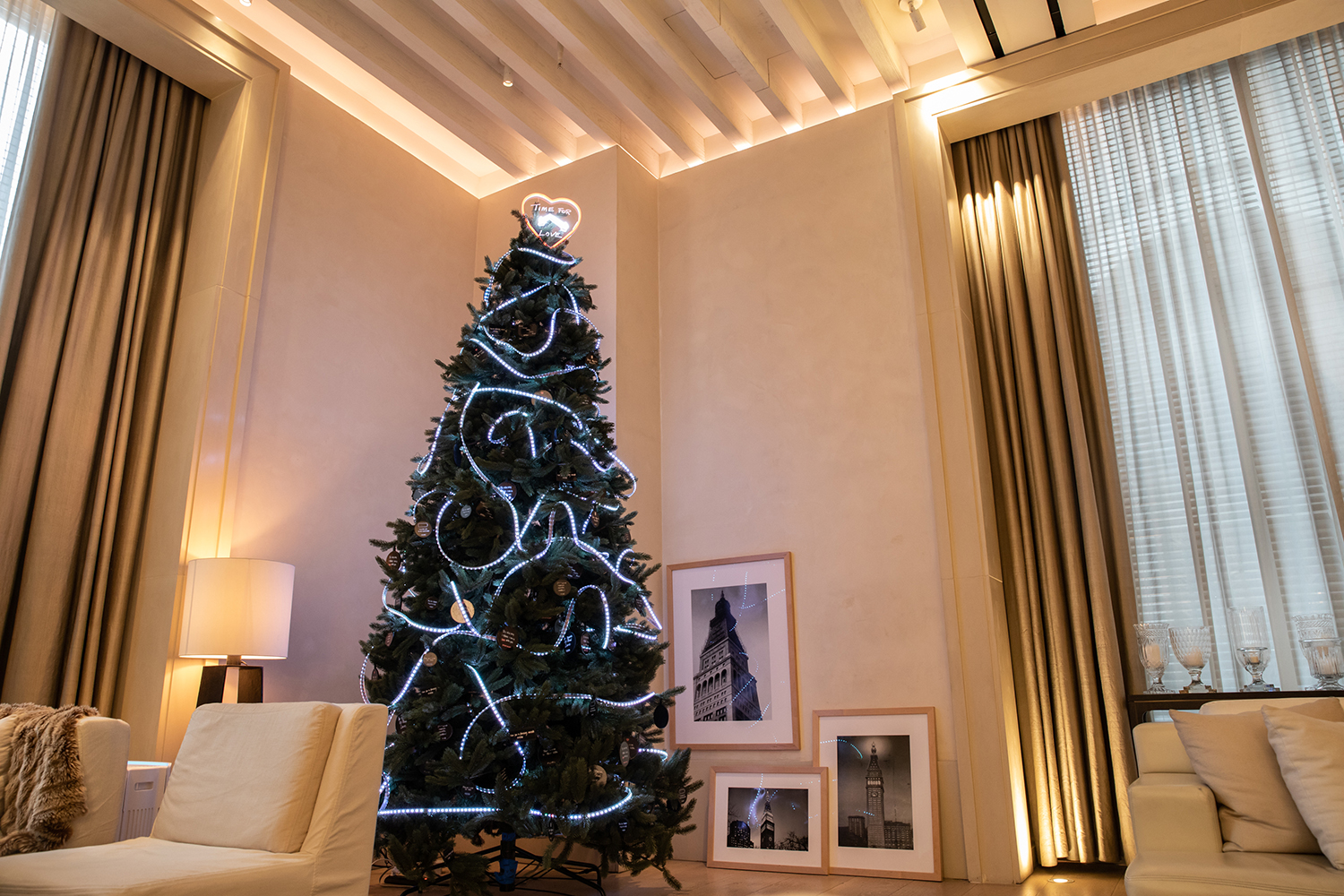 5. Edition Hotels, West Hollywood, Miami, and New York
Edition hotel properties across the country are featuring a neon tree installation by artist Rachel Hovnanian that will help support Project Healthy Minds, a nonprofit building the first digital mental-health marketplace. At locations in West Hollywood, Miami, New York, and Manhattan's Time Square, a towering tree will glow with the artist's "Time for Love" piece from her Acronym Neon series while ornaments feature messages of friendship and love, like "Delete Negative Thoughts" or "Feel Love in Real Life." At the bar, a new Time for Love cocktail is being introduced to coincide with the installation—purchasers can select the color of the tree lights and a portion of the sale will go to the charity organization.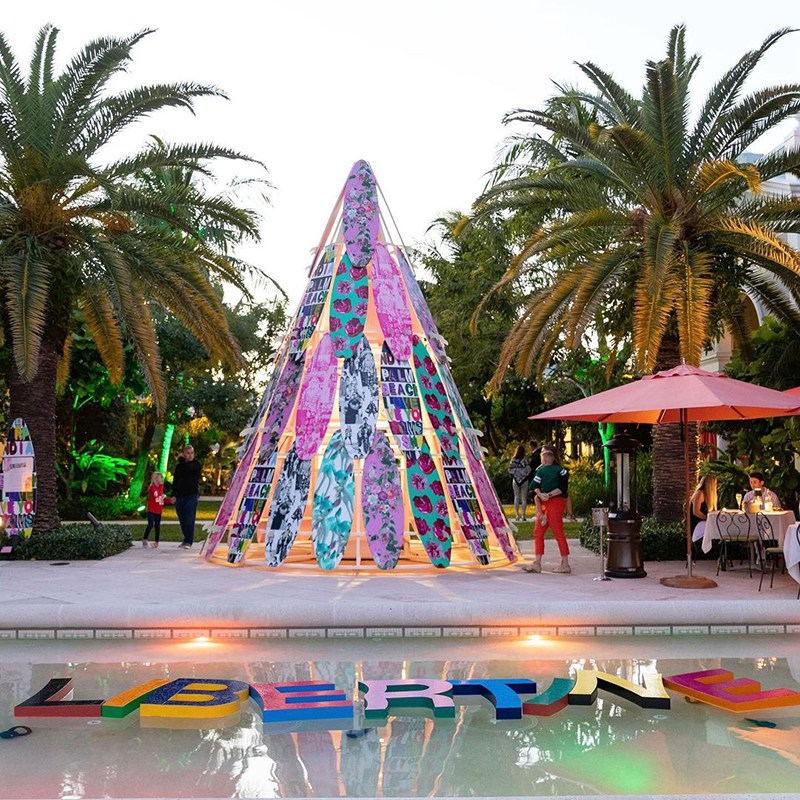 6. Royal Poinciana Plaza, Palm Beach
Libertine designer Johnson Hartig's colorful patterns and prints have been reimagined on a collection of 50 surfboards that form the conical shape of this year's Christmas tree in the Royal Poinciana Plaza in Palm Beach. Always a colorful creation, this year's holiday "tree" boasts bold designs not uncommon for Libertine, which is celebrating its 20th anniversary this month. Look for the pretty lavender Hamish Floral print inspired by florist Hamish Powell, a poetic design in homage to lyricist Robert Burns, and collages featuring Hartig's rescue dog Flower mixed with classic Palm Beach hues of turquoise, pink, and green.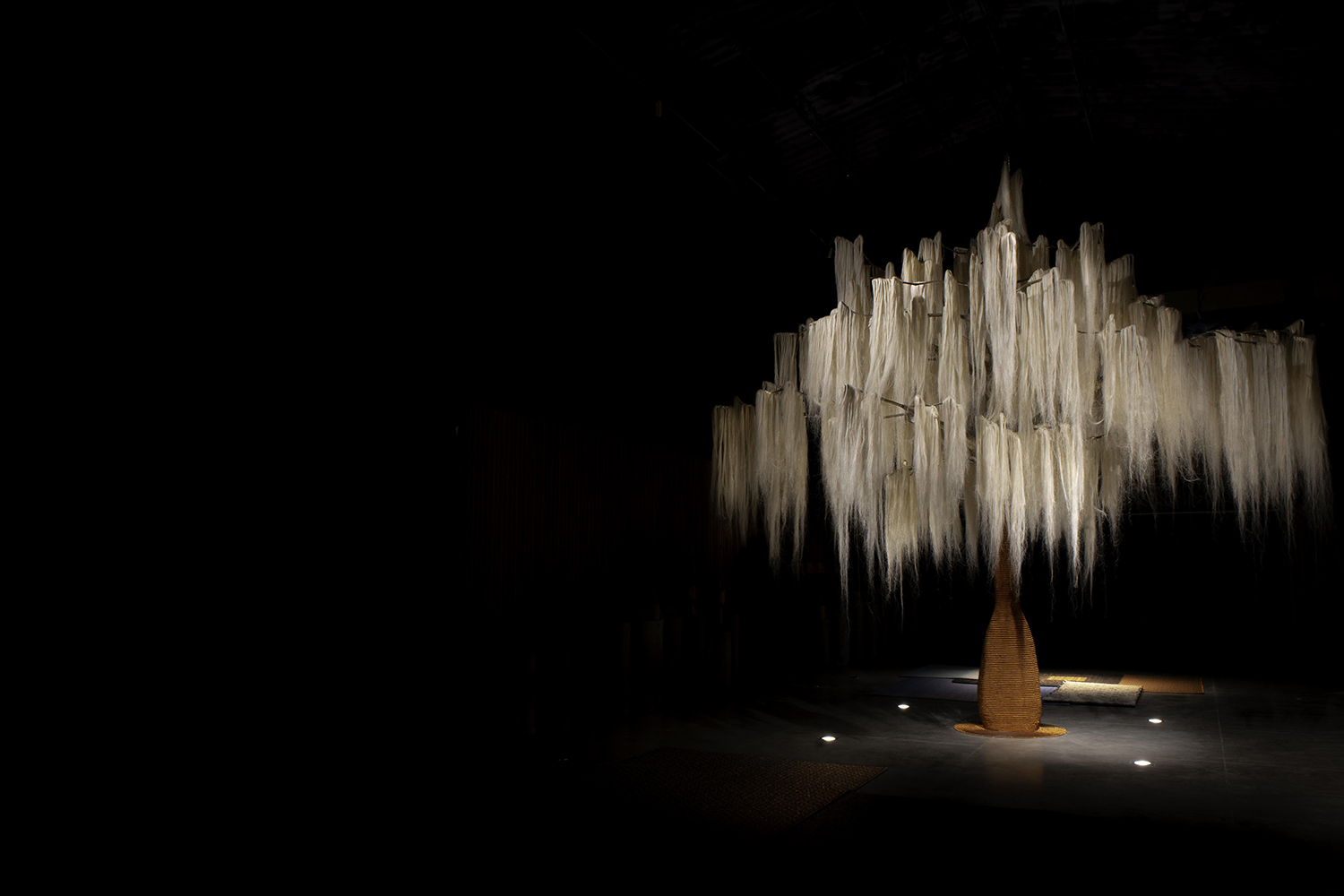 7. Amangiri, Canyon Point, Utah
Desert hideaway Amangiri resort is reimagining the traditional Christmas tree with Colombian textile company Verdi, which created one of the most captivating installations at the recent Design Miami/ fair. Making its North American debut on December 16, this unconventional holiday tree, entitled Tree of Life, combines sustainable fiber, copper, and straw to otherworldly effect. On view in the hotel's lobby through mid-January, the work is placed in direct view of the Grand Staircase-Escalante National Monument.
Next Post