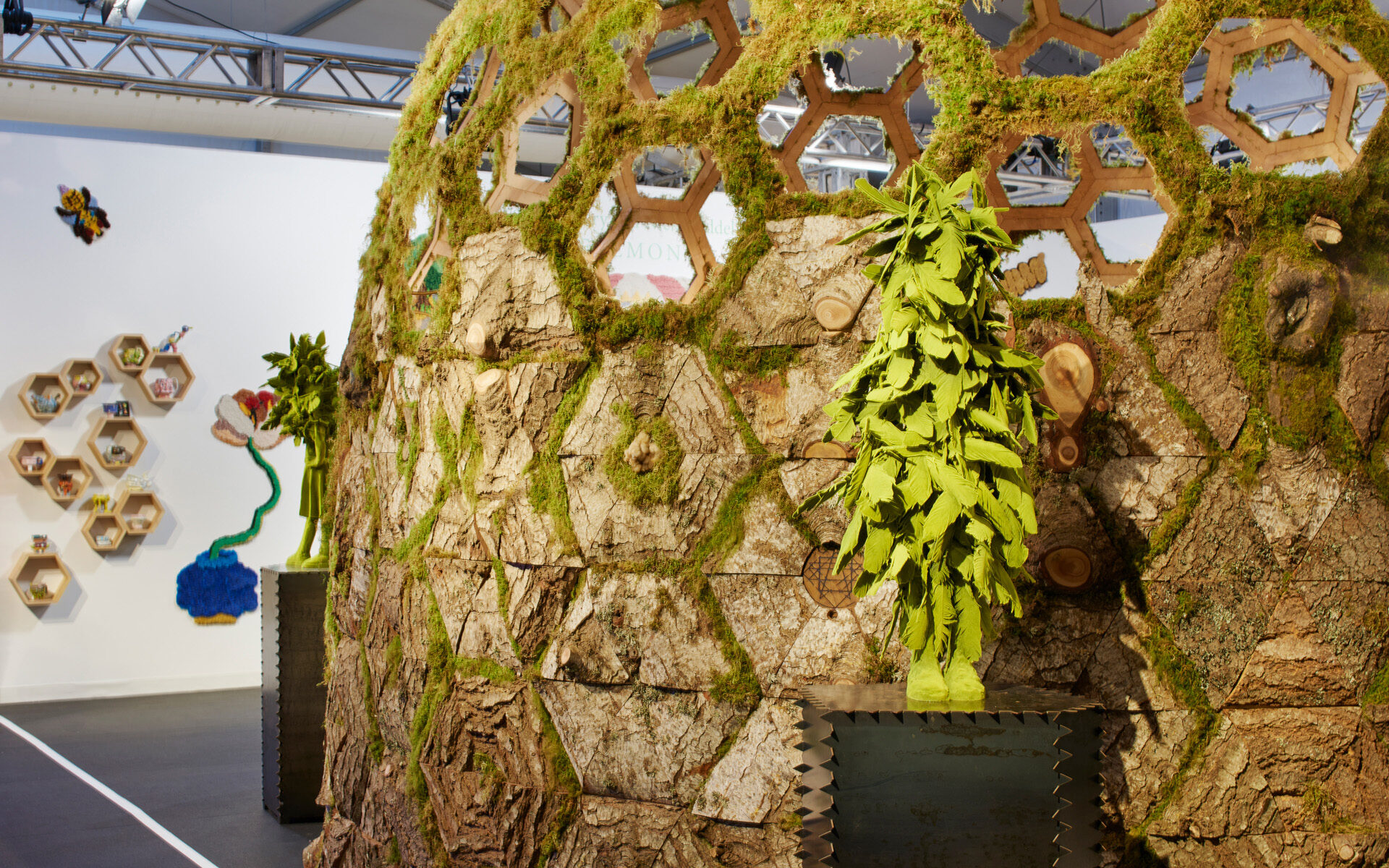 6 Captivating Discoveries at Design Miami/ This Year
Returning with high-octane presentations by today's leading creative talents, the 17th edition of the collectible design fair shined a light on the crises affecting humanity
A throng of VIP collectors and design enthusiasts returned to Design Miami/ with kinetic force last week, as the celebrated fair embarked on its 17th edition, following a COVID-hiatus. For five days each winter, the premier, collectible design show spotlights the world's cutting-edge artistic talents with immersive installations, limited-edition accessories, futuristic lighting, and modern twists on classic furnishings.
But this year stands out as one of the best yet: curatorial director Wava Carpenter embraced the theme "Human Kind," with a design-led vision for a more inclusive, interconnected future for women, LGBQT communities, developing nations, and displaced populations. Twenty-one months into a persistent global health crisis, topics of interdependence and humanity couldn't resonate more deeply. Across the street from Miami Beach's Convention Center and Art Basel, the result was a miraculous display of objects that blur distinctions between sculpture and design, form and function.
Below is a list of some of our favorite Design Miami/exhibitors who straddle creative boundaries, dazzle our imaginations, and hint of an equitable tomorrow.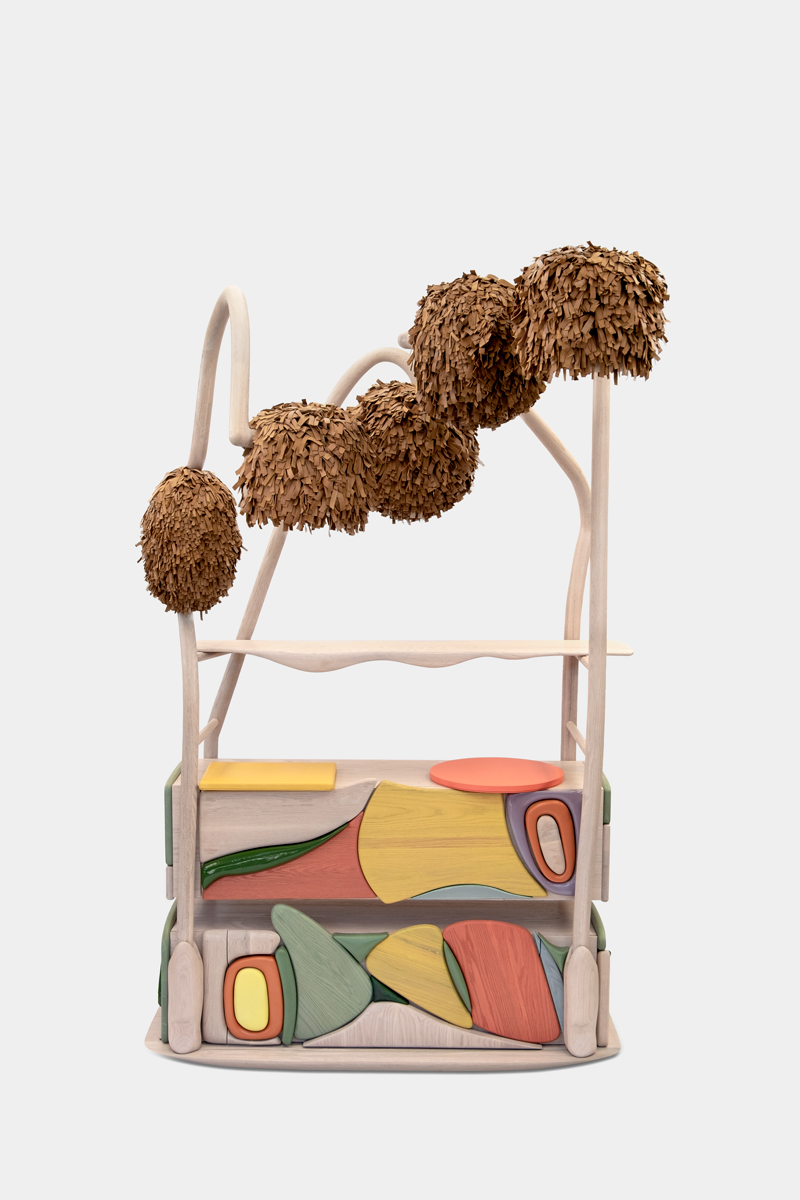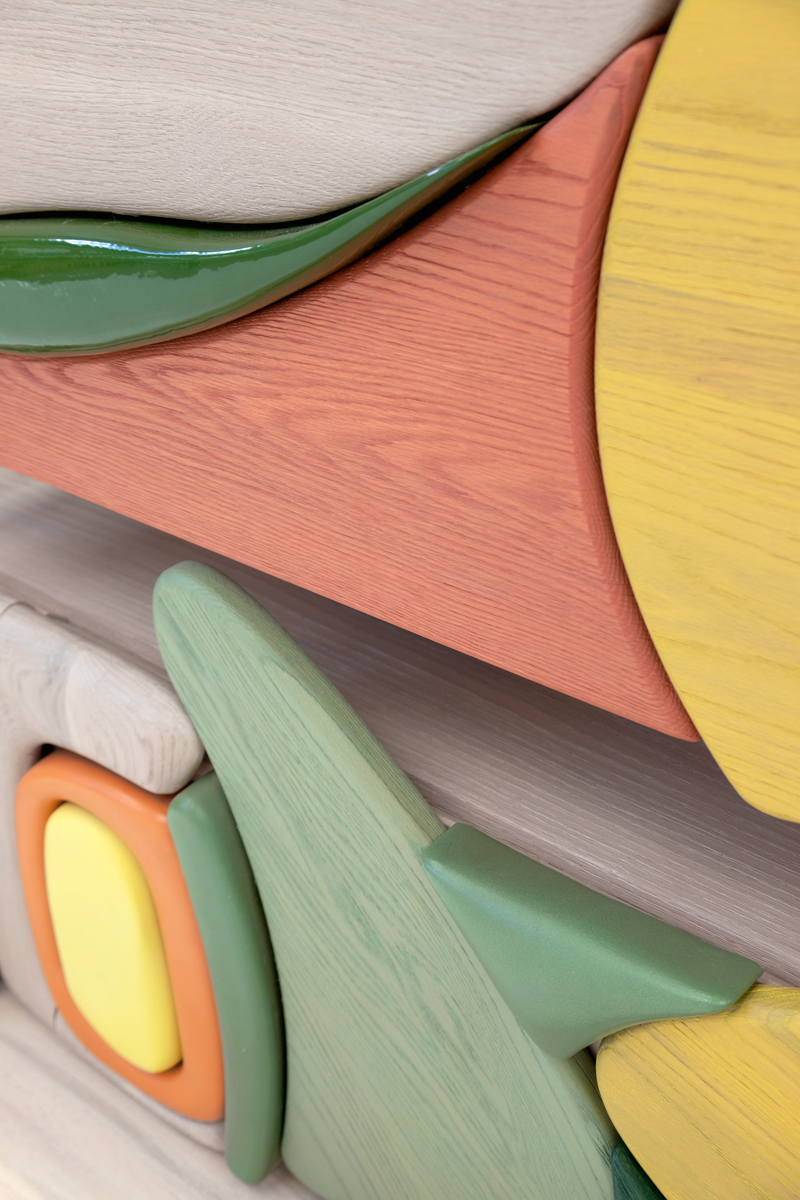 1. Khaled El Mays at House of Today
Lebanon's House of Today returned to Design Miami/ with the show stopping "New Nature" by Khaled El Mays, a five-piece series fusing ceramic, leather, and oak. Produced by Mexico City artisans, El Mays's latest collection—two mirrors, a coffee table, a cabinet, and the designer's first-ever chair—harkens Art Nouveau, with a hint of Surrealism and indigenous high craftsmanship. Emblematic of the show's arching theme, House of Today is a non-profit organization that nurtures design, mentoring impassioned creatives in Beirut and beyond.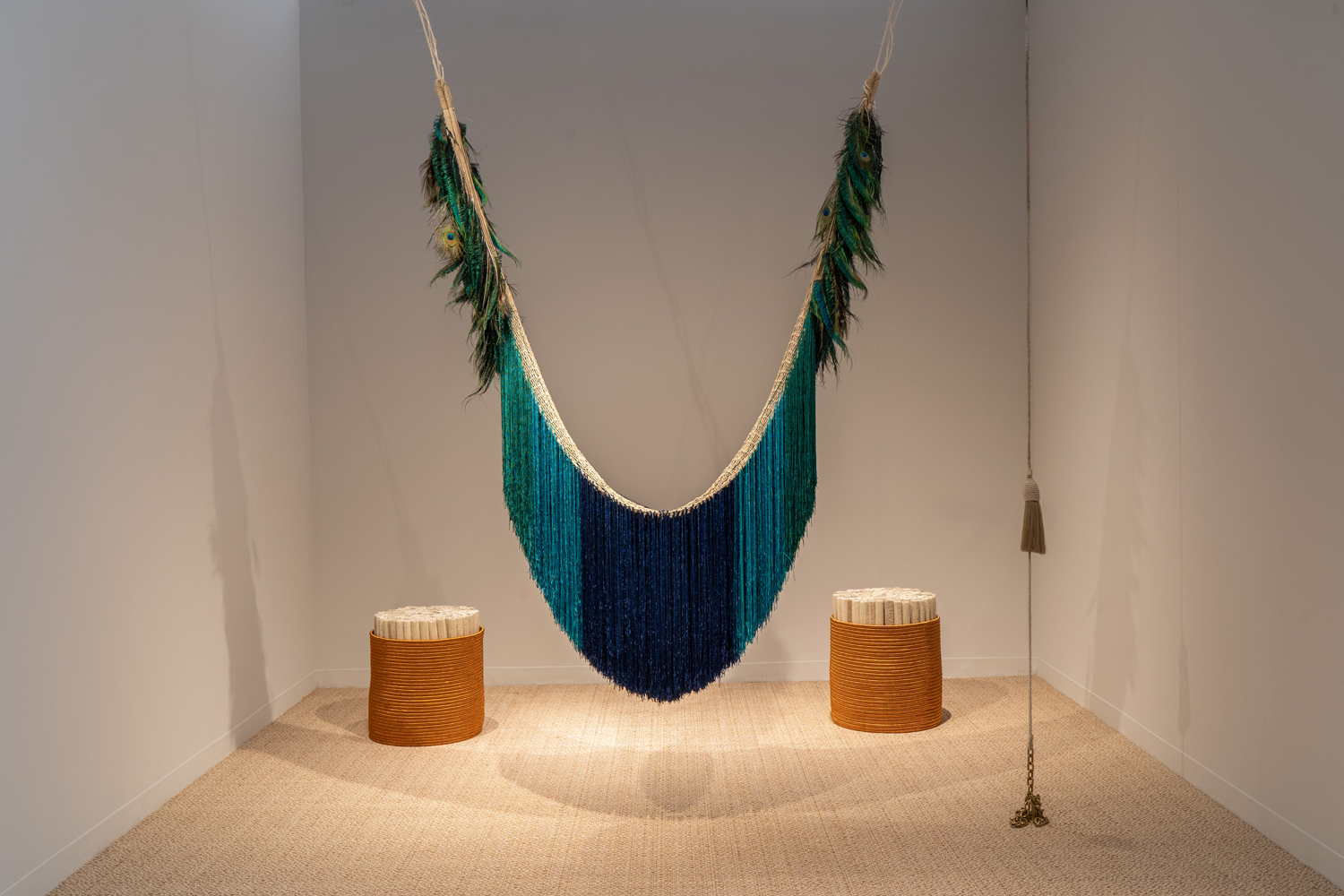 2. Verdi
Colombian textile studio Verdi makes its Miami debut with La Macorina, a limited-release design by the brand's co-founder Tomas Vera. Painstakingly fashioned with over 4,000 hand-tied knots of Cumare fiber, avian feathers, nylon, and leather shell, La Macorina is a pendulum sculpture that surprisingly transforms into a hammock, mirroring a brilliant Colombian peacock preening its tail in courtship. With its siliconized wire system of steel and tension springs, the piece is as much a feat of engineering as regal artistry.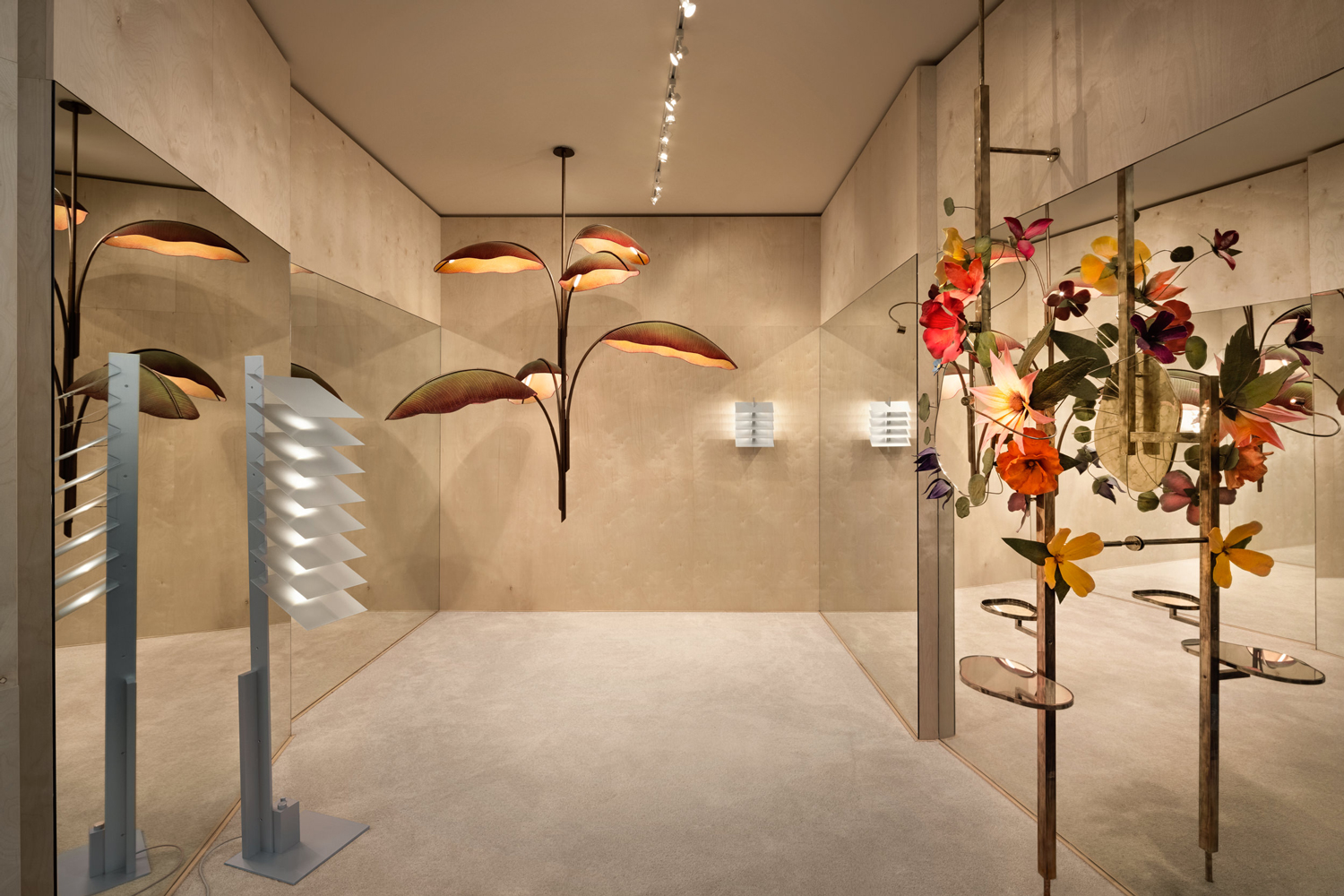 3. PELLE
Brooklyn-based PELLE joins the fair for the first time with luminous works from its signature Lure Collection. Husband-and-wife design duo, Jean and Oliver Pelle—who met pursuing masters degrees in architecture at Yale—created an infinite, mirror-clad visual landscape to accentuate their six-frond Nana Lure chandelier and one-of-a-kind Lure Eden Mirror Post. Using cast cotton paper, Jean Pelle captures the delicacy of flora. For the Lure Post, each individual petal and carpel is carefully hand cut and colored in the couple's Red Hook studio. The outcome is visionary—highly covetable, architectural light forms that double as objets d'art.
4. Chris Schanck at Friedman Benda
Gearing up for his winter retrospective at the Museum of Arts and Design in New York, Chris Schanck, who holds degrees in sculpture and design, beguiled visitors at Friedman Benda's booth. Based in Banglatown, a neighborhood outside Detroit with a dense immigrant population, engaging his surrounding community and outsiders in design culture, is key to the artist's egalitarian studio practice. Known for his laborious Alufoil process—where discarded materials are sculpted, covered in aluminum foil, and sealed with resin—Schanck unveiled another iconic work of art with his Mumsy chandelier. Evoking a massive sea coral tendril, he attains the sublime and the practical.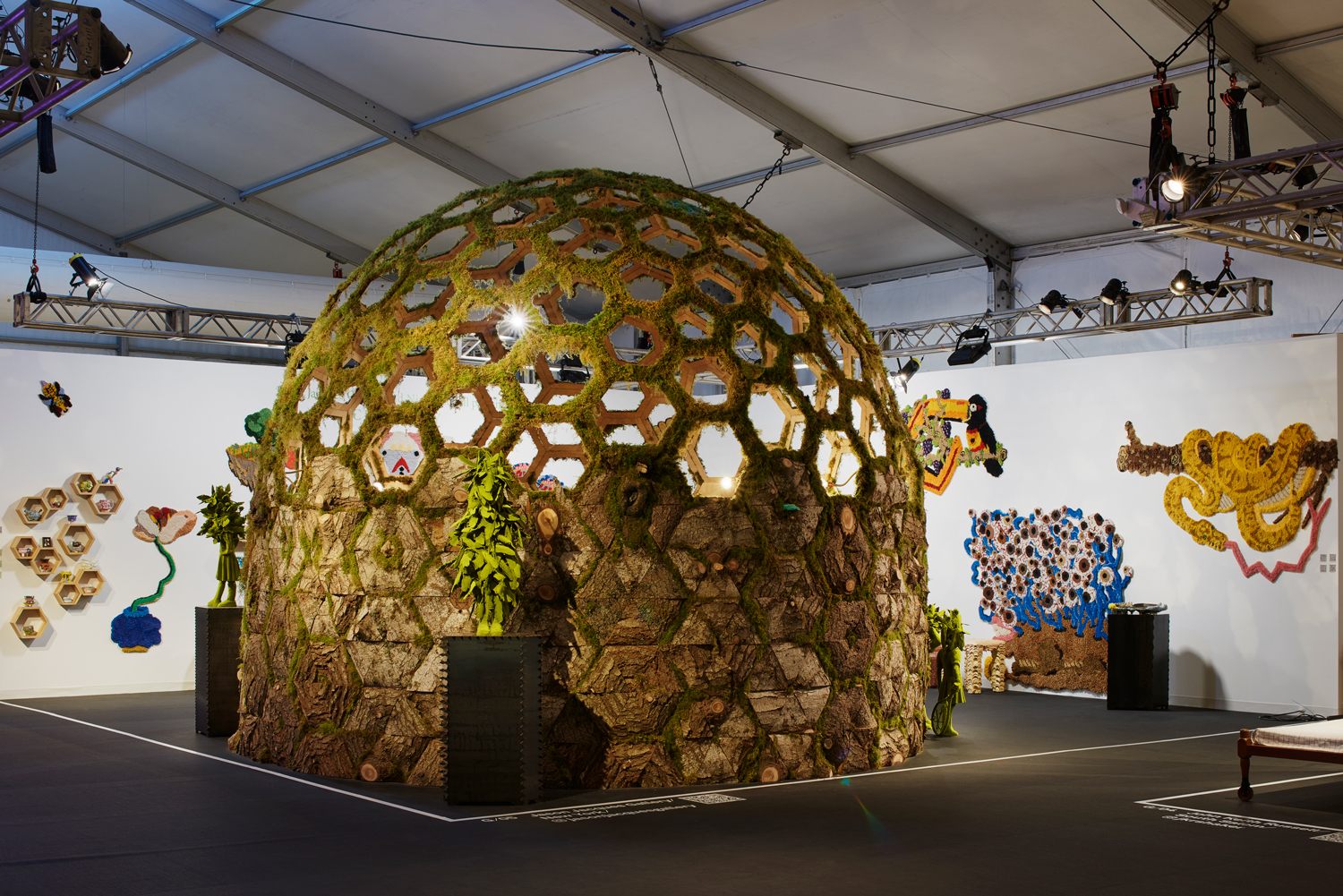 5. Kim Simonsson at Jason Jacques Gallery
On display at Jason Jacques Gallery, Kim Simonsson's life-sized ceramic "Moss People" bring high art and sculptural integrity to land gnomes. With exceptional whimsy, Simonsson evokes a lush phantasm of camouflage children like no other. Handmade in the artist's Fiskars Village studio, "Moss People" blend stoneware, paint, and nylon fiber to enchant and inspire with a conjured forest-scape of Finland.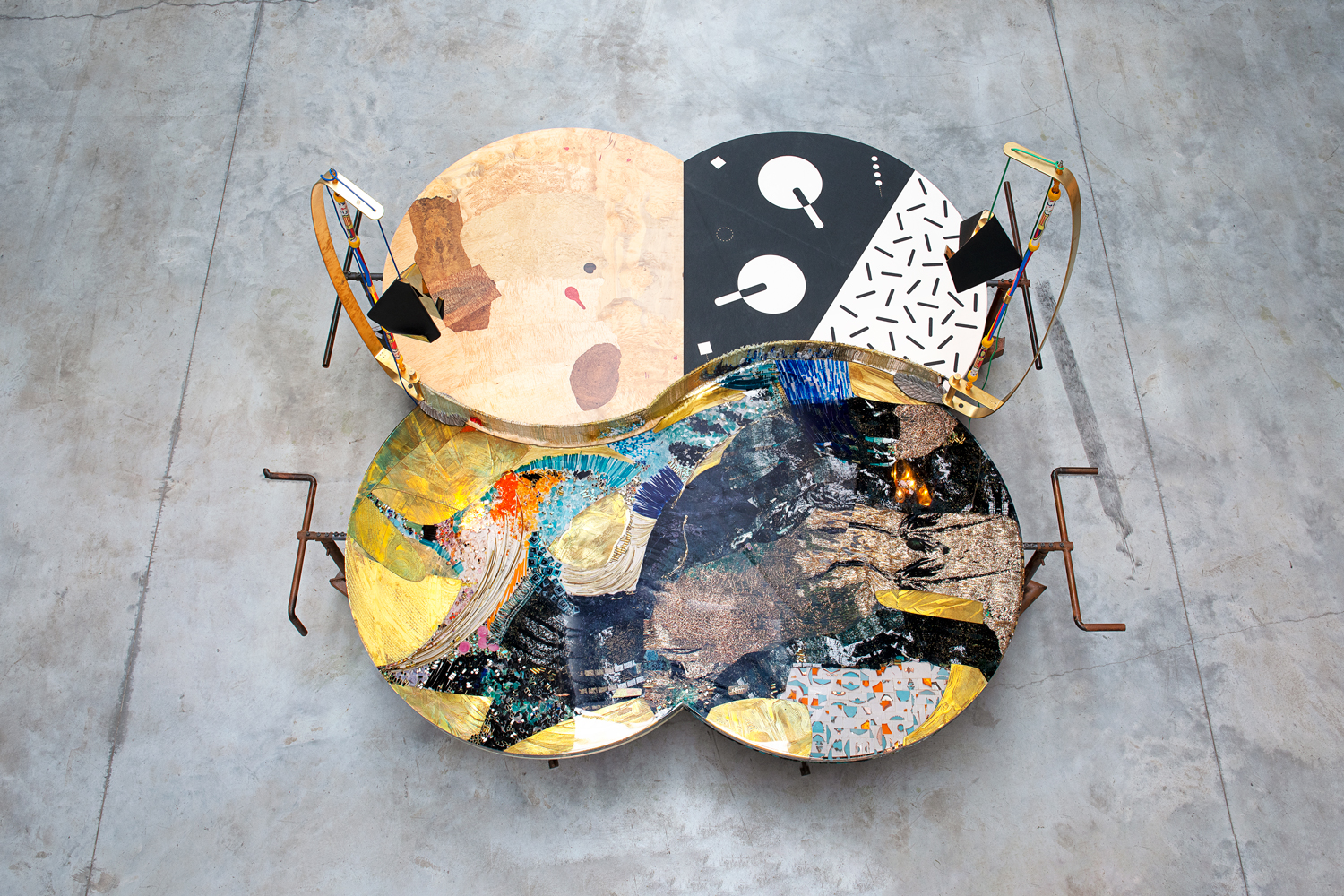 6. Zaventem Ateliers at Todd Merrill Studio
"Spin Love" caused quite the logjam: no one could walk by without watching or requesting a turn at the paddle. Presented by Todd Merrill Studio and conceived by Belgian designer Lionel Jadot, whose Zaventem Ateliers brings together European artists across the design spectrum, the crazy fun, multi-functional ping pong table stole the show. Jadot launched his experimental artist workspace outside Brussels, committed to old-world craftsmanship and idiosyncratic thinking. Rec room staple, sculpture, screens, or dining table, "Spin Love," made by 15 resident craftspeople, is Zaventem Ateliers incarnate. Featuring black and white geometrically patterned leather collages from custom French design house Niyona, metalwork by Maison Jonckers, and textiles from Studio Krjst, "Spin Love" defines inter-discipline and defies category.
Next Post