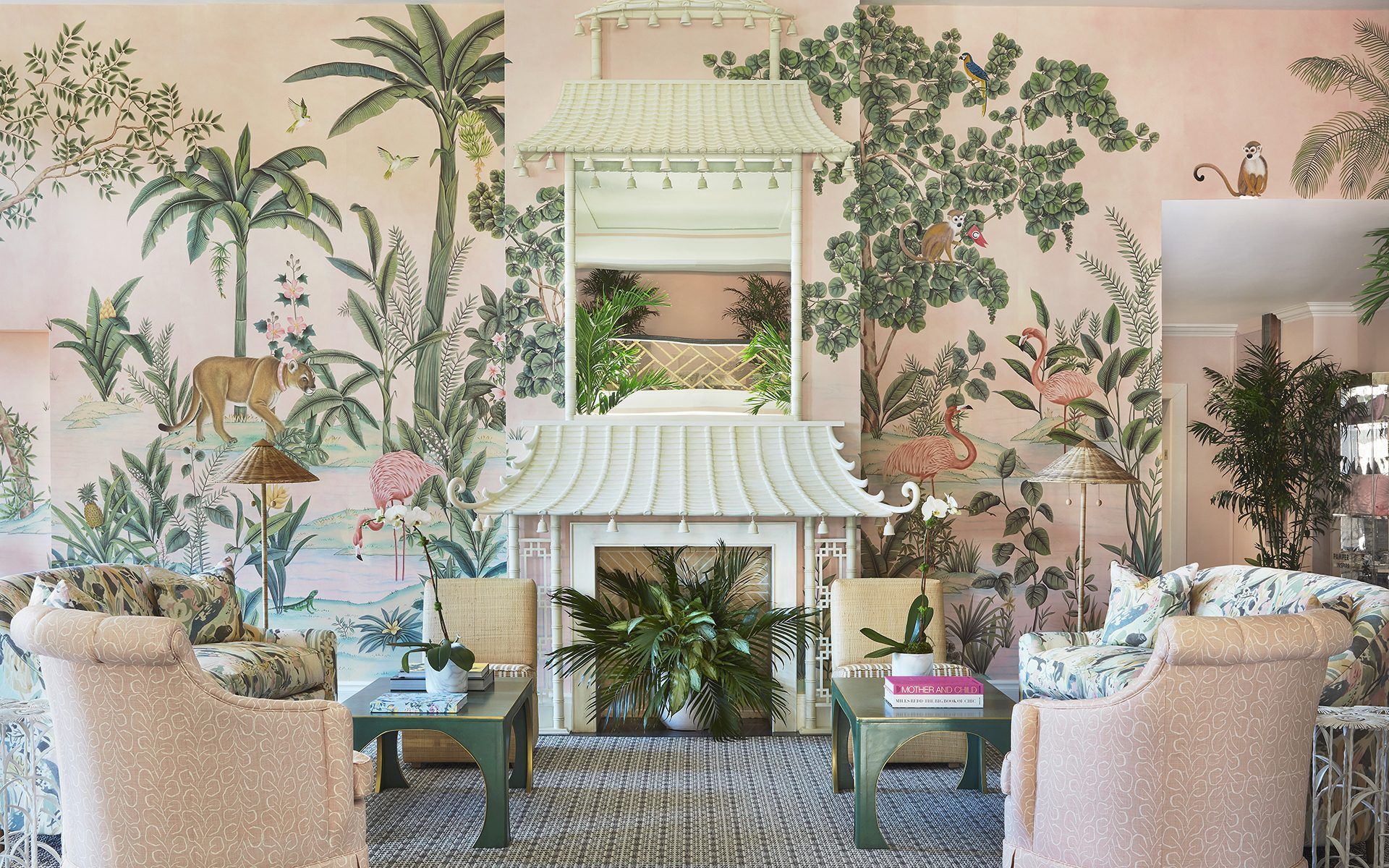 Kemble Interiors Reveals Whimsical New Spaces for Colony Hotel in Palm Beach
The spirited renovation includes custom de Gournay wallpaper, a new guest villa by Aerin Lauder, Swifty's poolside boîte, and art installation from Voltz Clarke Gallery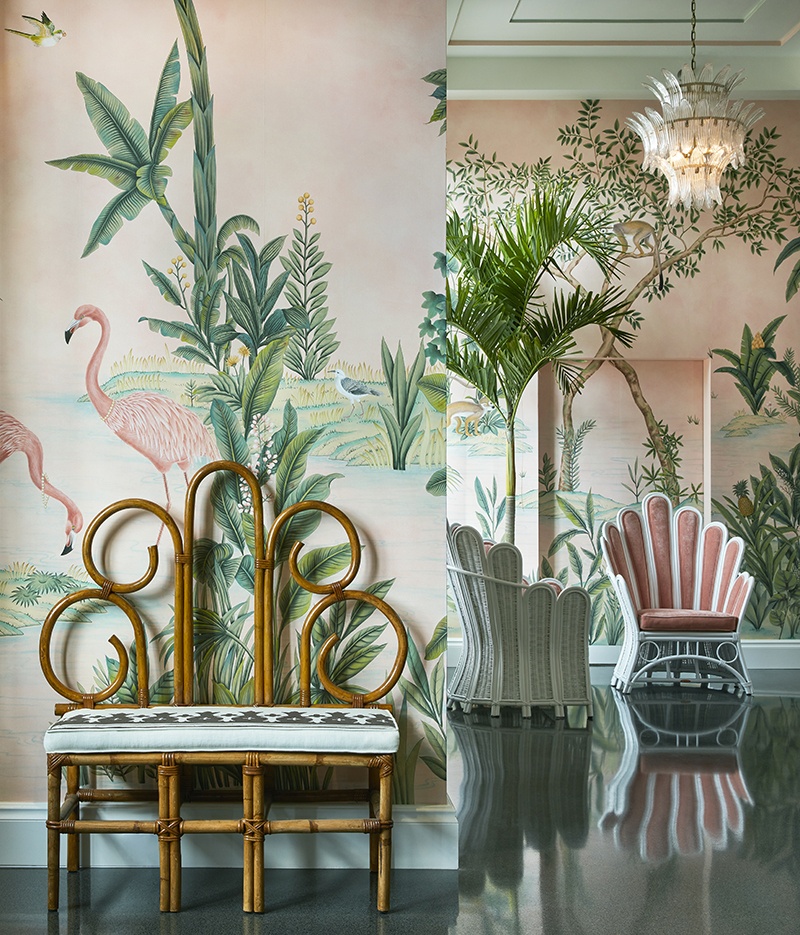 Known since its 1947 opening as "the pinkest boutique hotel in Palm Beach," the Colony is now blushing bright with a spirited redesign courtesy of Kemble Interiors. Completed in January, the 'Living Room' lobby features a custom de Gournay wallpaper inspired by a vintage postcard discovered by Colony owner Sarah Wetenhall.
"The entry lobby was the perfect place to create a welcoming new living room since all of the necessary architectural items were there," says Kemble Interiors founder Mimi McMakin, who worked alongside the firm's Cece Bowman and Mackenzie Hodgson to create the space. "The height of the room would easily accommodate a jungle mural of hand-painted flora and fauna depicted in the wonderfully whimsical Palm Beach style."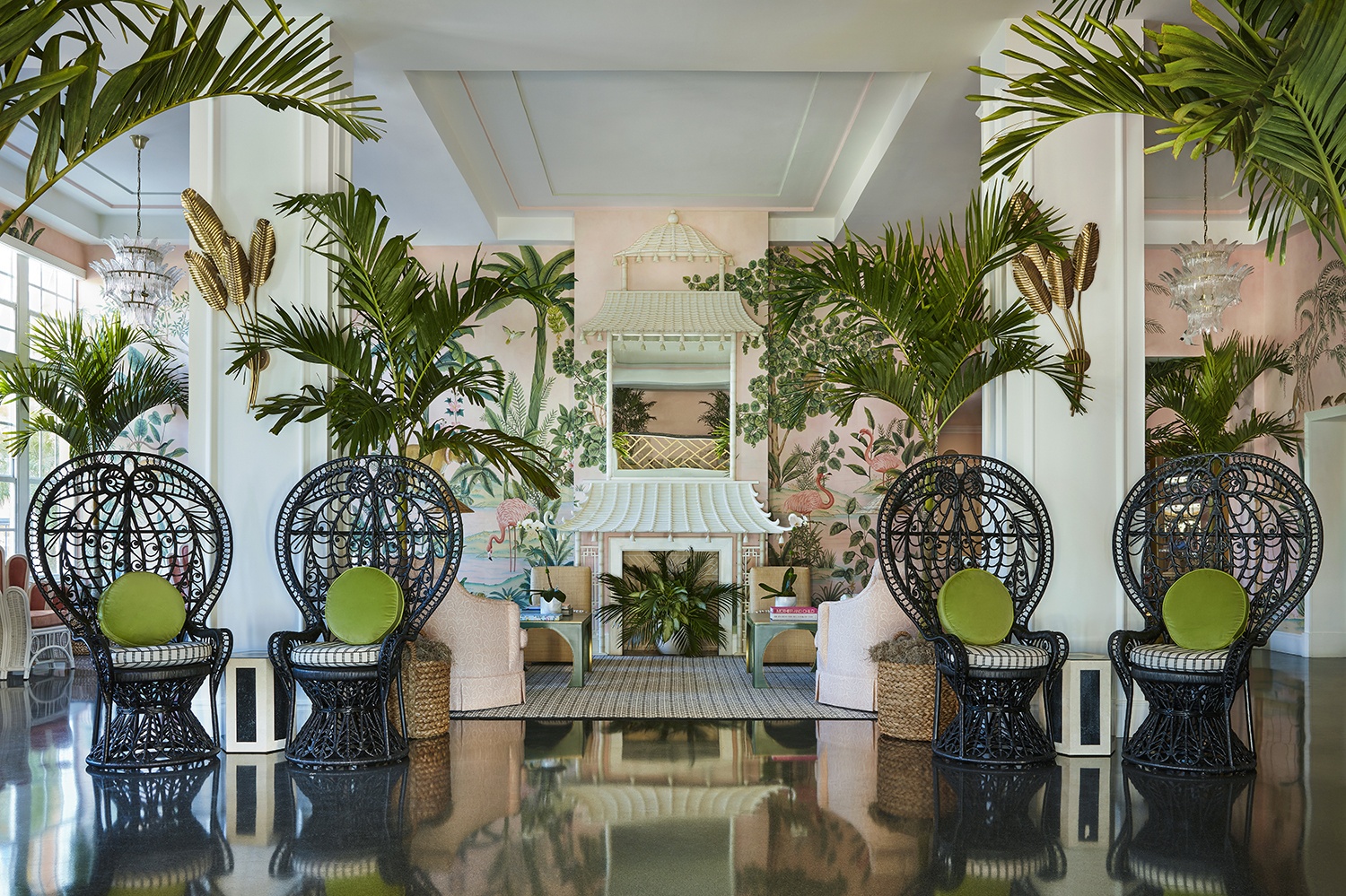 With a shell pink backdrop that echoes the 89-room hotel's iconic exterior, the cheerful de Gournay wallpaper is dotted with hidden moments of jaunty South Florida fun. Illustrations of indigenous flowers and plants stretch from floor to ceiling, offering playful perches for tropical birds, lurking alligators, and diamond-adorned panthers. The hotel's spider monkey mascot, Johnnie Brown, waves a Colony pennant. "It was most important for the furniture and the mural to form a partnership," says McMakin, a Palm Beach native. "Alligators, birds, turtles and flying fish, all were strategically placed so none were able to hide."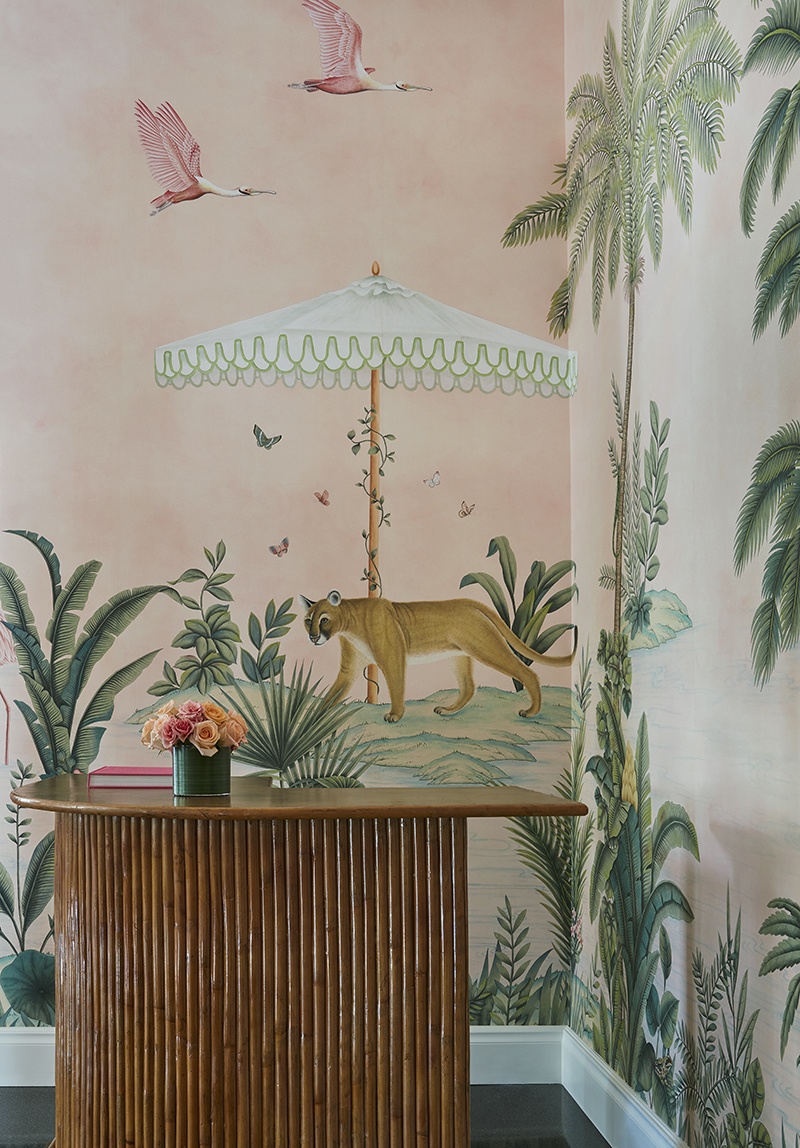 The de Gournay wallcovering indeed incorporates images of the many vintage furnishings that dot the grand space, creating a Mary Poppins-like feeling of floating within the art. "When planning the mural, we would have been remiss to not delight the eye with a sense of play," says McMakin. "The peacock chairs and the vintage wicker chair are both available for a guest to sit, but we wanted the mural to feel like the room had no physical walls and continued into a space that blurred the constraints of reality and imagination."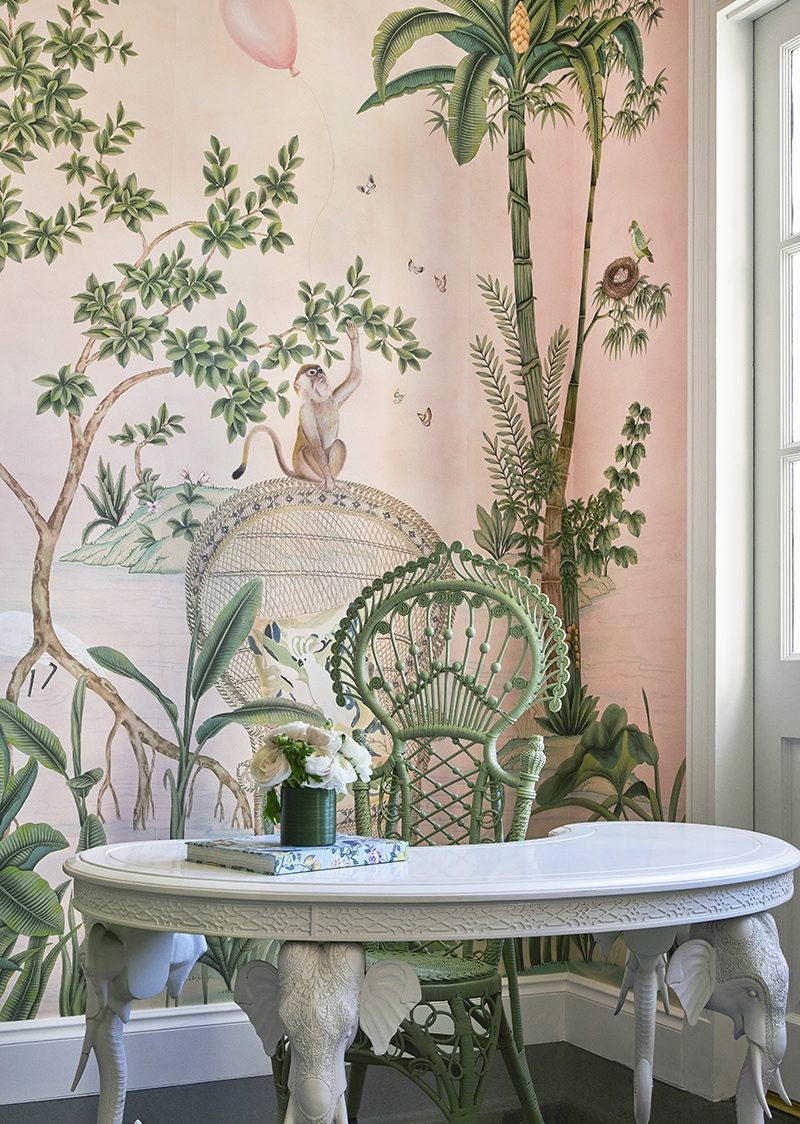 The masterful mix of furniture and wallpaper sets a jubilant scene, particularly where it surrounds a towering new hand-carved mantel—a three-tiered pagoda topped with three-dimensional roofs edged in a trimming of wooden bells. "The mantel is a nod to chinoiserie style and to the architecture of Brighton Pavilion, which has been a favorite reference in folly architecture in gardens across Palm Beach," explains McMakin.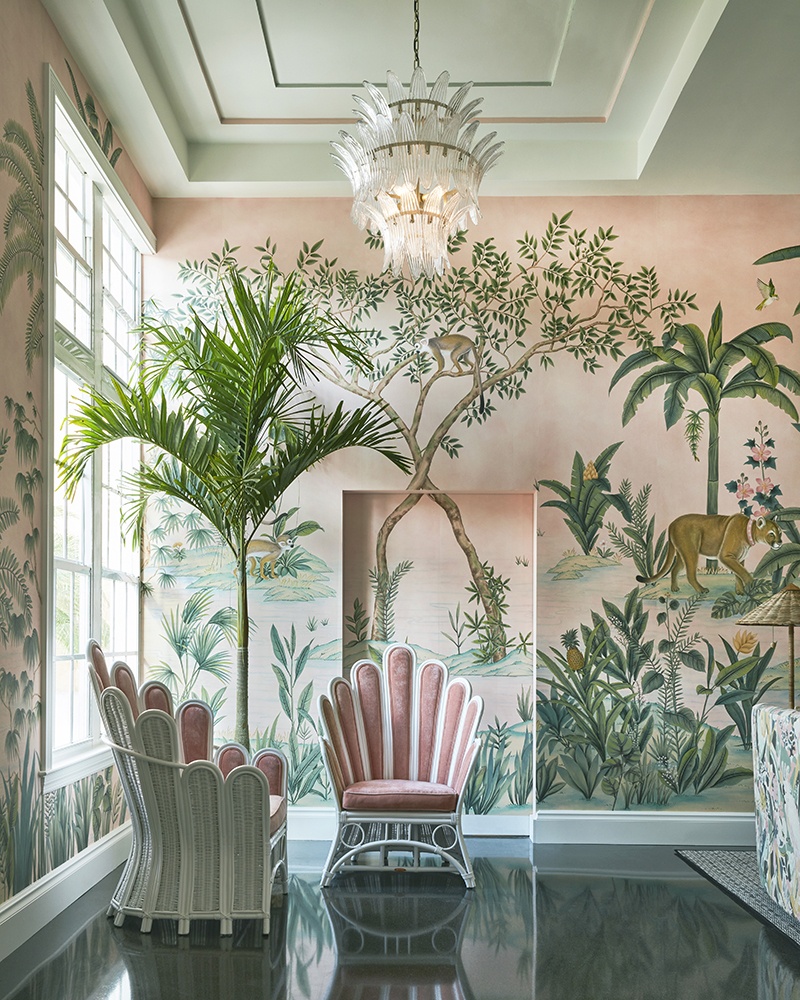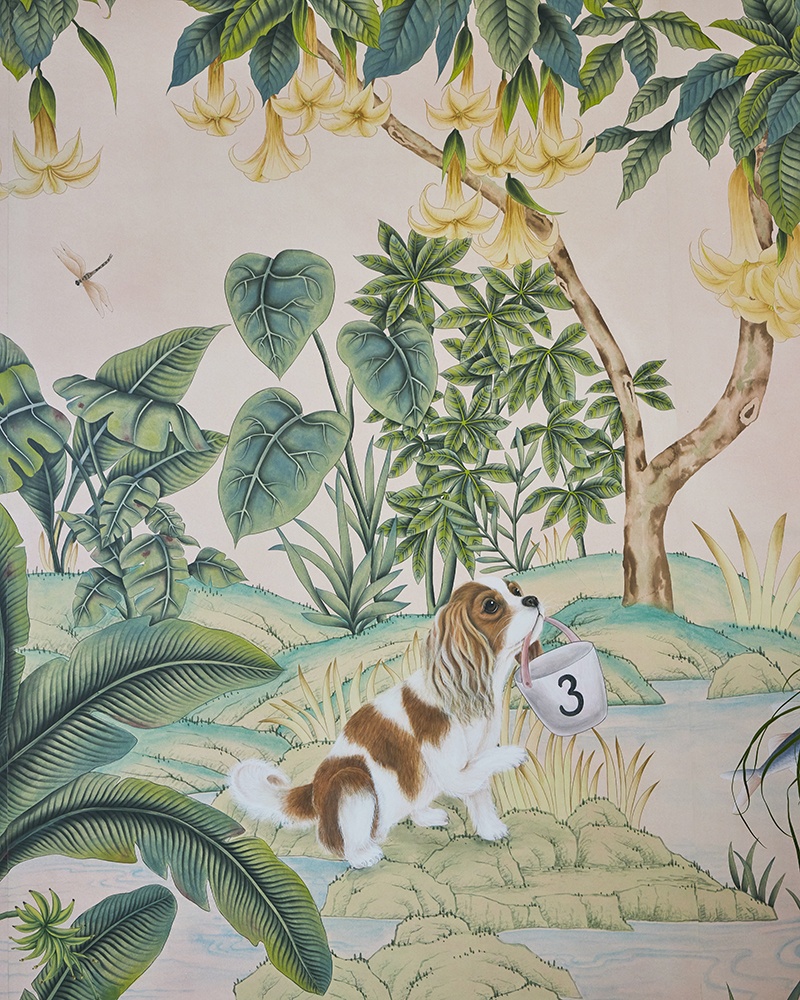 Further supporting the wondrous atmosphere are palm-shaped golden sconces and a stunning Art Deco glass chandelier that captures the essence of a robust canopy of palm leaves. The fixture's twinkling lights are reflected in the original black terrazzo floor, which was reinstalled during the restoration of the landmarked property.
"We wanted each element to intertwine and coalesce as though naturally connected," says the designer. "The mural and the mantel are both ideas we dreamed and brought to life. Both elements take the rigid geometry away from an otherwise square lobby and create a depth and perception shift. The result is an almost wall-less room that lets fantasy and garden take over."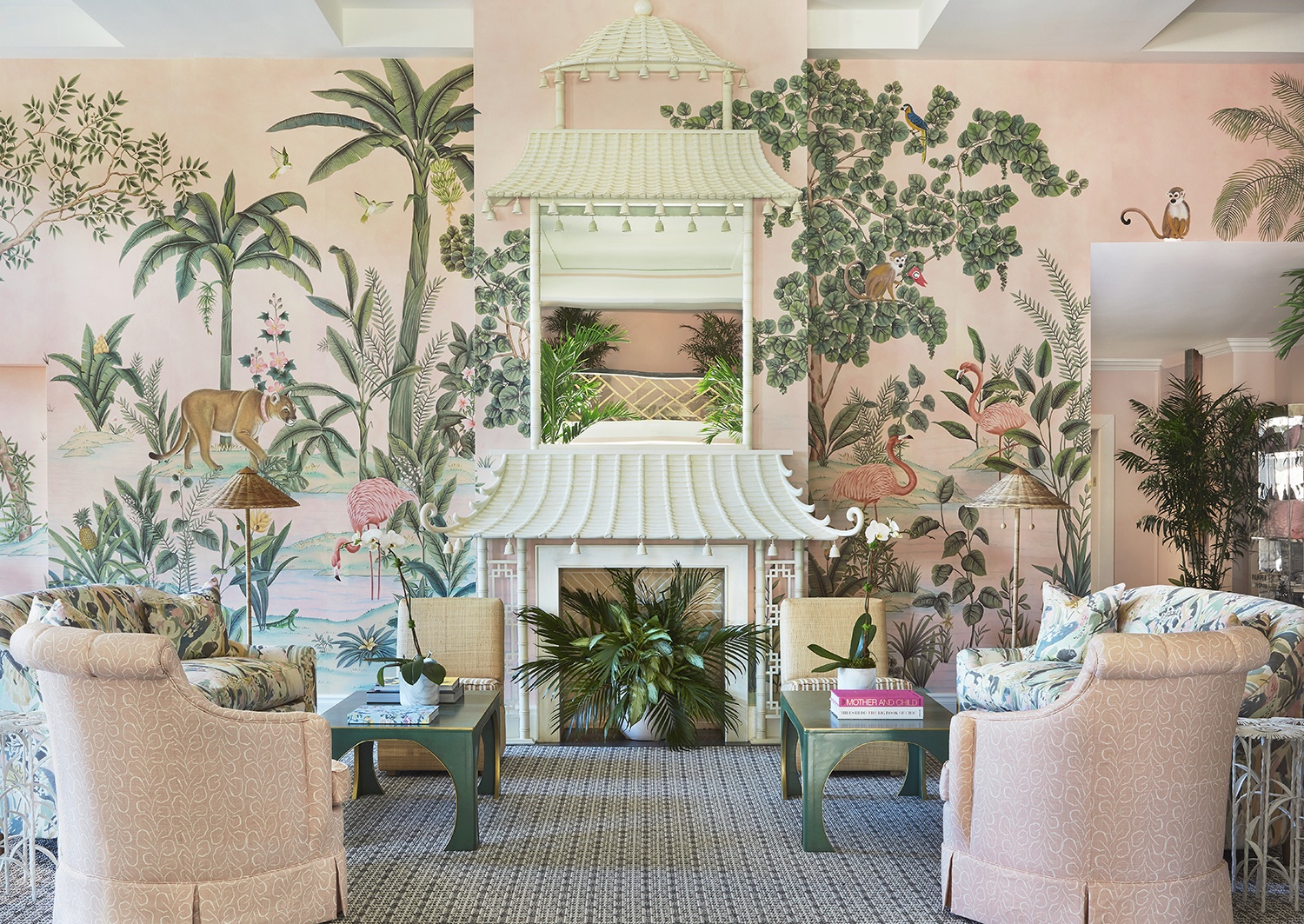 Also included in the extensive refurbishment is the AERIN Villa Jasmine, a new 2,100-square-foot escape curated by tastemaker Aerin Lauder that offers its own private entrance, two master suites, living and dining areas, and direct access to a bucolic fountained courtyard. New York high-society hot spot Swifty's is set to open a waterside hangout offering lunch, dinner, and drinks as well as live music. SMI Landscape Architecture has cultivated the secluded East Garden event space, while New York's Voltz Clarke Gallery is mounting "Variations," an exhibition of linear paintings by artist Joshua Avery Webster, on view in the solarium throughout the Palm Beach season. Additionally, a work entitled Hammon Avenue by Voltz Clarke artist Bradley Sabin adorns the Colony mezzanine, surrounding a scalloped-back love seat upholstered in an exuberant print featuring a swirl of 150 sculptural magnolia blossoms.
Combined, the hotel shines in all its luxuriant glory while keeping its bon vivant air graciously intact. See more of the refreshed interior below.
Next Post