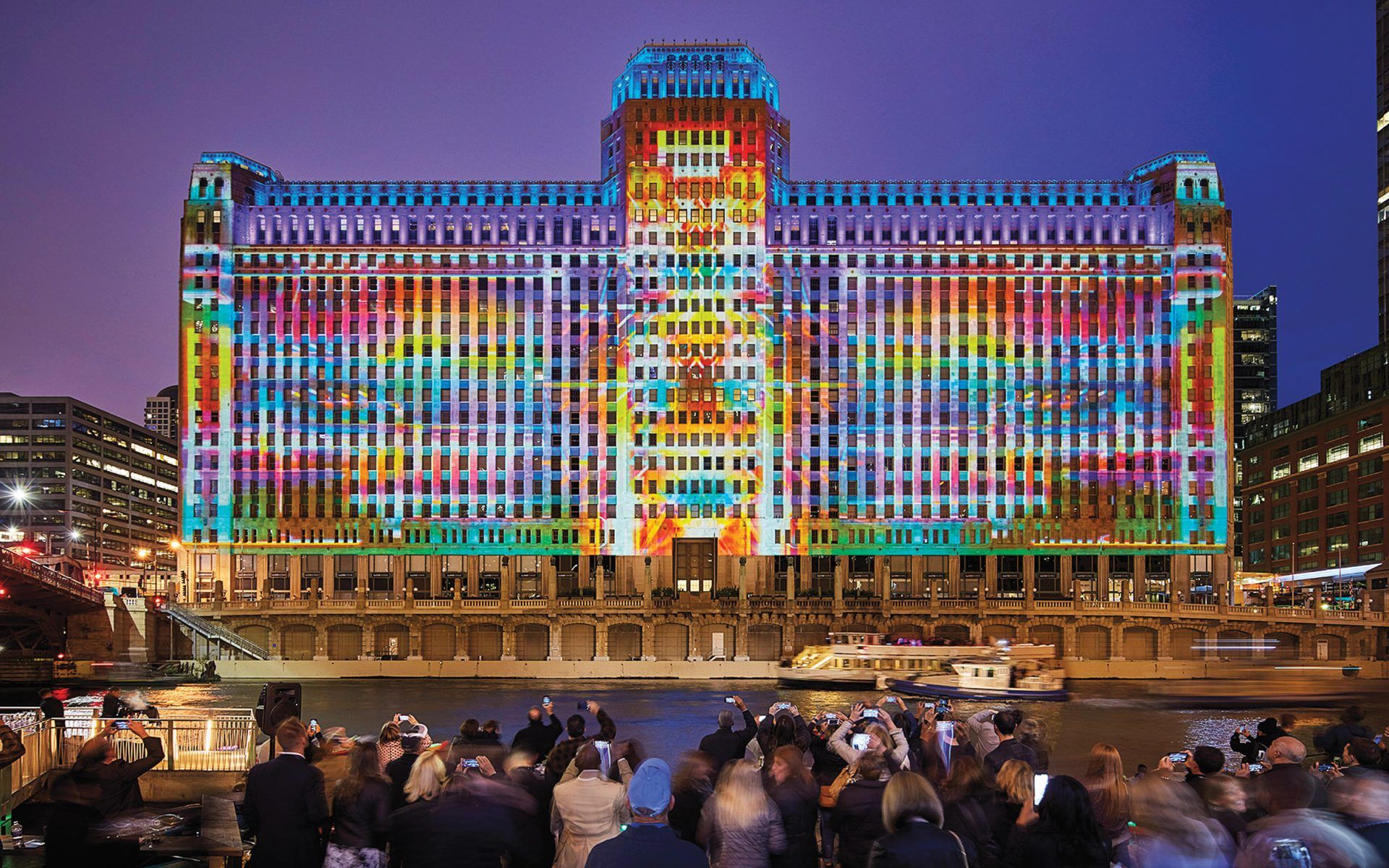 12 Great Reasons to Visit Chicago This Fall
The Chicago Architecture Biennial, Art on theMART, Expo Chicago, and a number of new exhibitions, hotels, and restaurants are luring a creative crowd to the city
There's no doubt about it—Chicago is a "second" city no more but a cultural powerhouse on par with other worldly hubs that draw the cognoscenti. This fall's staggering lineup of art fairs, exhibitions, and an architecture biennial makes Frank Sinatra's lyrics ring truer than ever: "Chicago is one town that won't let you down."
Dynamic, internationally recognized visual artists, including Jessica Stockholder, Cheryl Pope, and Amanda Williams, maintain Chicago studios. Illinois native Virgil Abloh, perhaps the most in-demand man in fashion, mounted an all-encompassing exhibition, "Figures of Speech," at the Museum of Contemporary Art Chicago. And more than 80 contributors from across four continents will soon join local participants at this year's Chicago Architectural Biennial.
"The cultural scene in Chicago is constantly undergoing an evolving dialogue, promoting creatives across disciplines to collaborate and innovate, while reflecting on the city's broader culture, history, and heritage," says Yesomi Umolu, artistic director of this year's architectural biennial. Themed "And Other Such Stories . . . ," the event will host talents from across the world alongside esteemed locals like Theaster Gates, the Chicago Architectural Preservation Archive, and the American Indian Center, among others.
Zoë Ryan, the John H. Bryan chair and curator of architecture and design at the Art Institute of Chicago, has also witnessed this citywide propensity toward collaboration and the influx of emerging and established talent. "Chicago very much wants to be a city on its own terms," says Ryan, whose upcoming exhibition at the Art Institute, "In a Cloud, In a Wall, In a Chair: Six Modernists in Mexico at Midcentury" (September 6–January 12, 2020), will highlight six women pivotal in uniting traditional craft with modern techniques, including Cynthia Sargent and Sheila Hicks.
Recommended: Here's What to Know About the 2019 Chicago Architecture Biennial

This fall, the city will give myriad artists the opportunity to display groundbreaking work in ways only Chicago can. Art on theMART will project the pioneering work of film and video artist Charles Atlas on theMART, a massive commercial building on the city's riverfront. "It's my first public art commission," says Atlas. "In my recent installation work, I've been working at a large scale but never at nearly the scale of this upcoming piece."
Collectors and connoisseurs are also planning trips to the Windy City for Expo Chicago (September 19–22), a gathering of more than 135 galleries on the Navy Pier; "Andy Warhol—From A to B and Back Again," a major retrospective of more than 350 works spanning 30 years by the master of Pop, which debuted at the Whitney Museum of American Art in New York and will be on view at the Art Institute from October 20 to January 26, 2020; and Japanese artist Tetsuya Ishida's show "Self-Portrait of Other" (October 3–December 14) at Wrightwood 659, a new Tadao Ando–designed gallery and foundation in Lincoln Park.
Recommended: Why Istanbul Is This Season's Must-Visit Art Destination
To house the massive influx of visitors, the city will debut several new luxury hotels, including Nobu Hotel Chicago in the West Loop and the art-driven 21c Museum Hotel, just steps from Michigan Avenue. Of course, the five-star Langham, which took over the Ludwig Mies van der Rohe–designed former IBM regional headquarters, is still the place to check out a museum-worthy collection, including works by Jaume Plensa, Peter Halley, and Monique Prieto, while sampling enticing elixirs like the Spanish Physician, a blend of red wine, sherry, and amaro inspired by Max Ernst's 1940 oil on canvas.
Cocktails that take their cues from masterworks aren't the only innovation on the city's dining scene. Home to the annual James Beard Foundation Awards, Chicago touts a number of chefs who are redefining Midwestern cuisine in masterfully thought-out spaces. Stephanie Izard's latest venture, Cabra, a Peruvian cevicheria located on the terraced roof of the newly minted 182-room Hoxton hotel, is designed by AvroKO. Rugo/Raff Architects' Steve Rugo conceived the artful eatery Virtue and installed the space with works by Gates and other locals. "We endeavored to create a background for the food and the burgeoning art collection, each with an intertwining story," says Rugo, who also designed local culinary temples Alinea and Next for wunderkind chef Grant Achatz.
Erstwhile Chicago resident Frank Lloyd Wright once remarked, "Eventually, I think Chicago will be the most beautiful great city left in the world." Clearly, the famed architect—whose legacy is omnipresent with his Prairie-style buildings such as the recently restored Frederick C. Robie House, his Oak Park studio and home, and career-defining Unity Temple—knew Chicago not only held promise for greatness but also possessed the ability to spark great creativity.
A version of this article first appeared in print in our 2019 Fall issue under the headline "Blown Away." Subscribe to the magazine.
Next Post