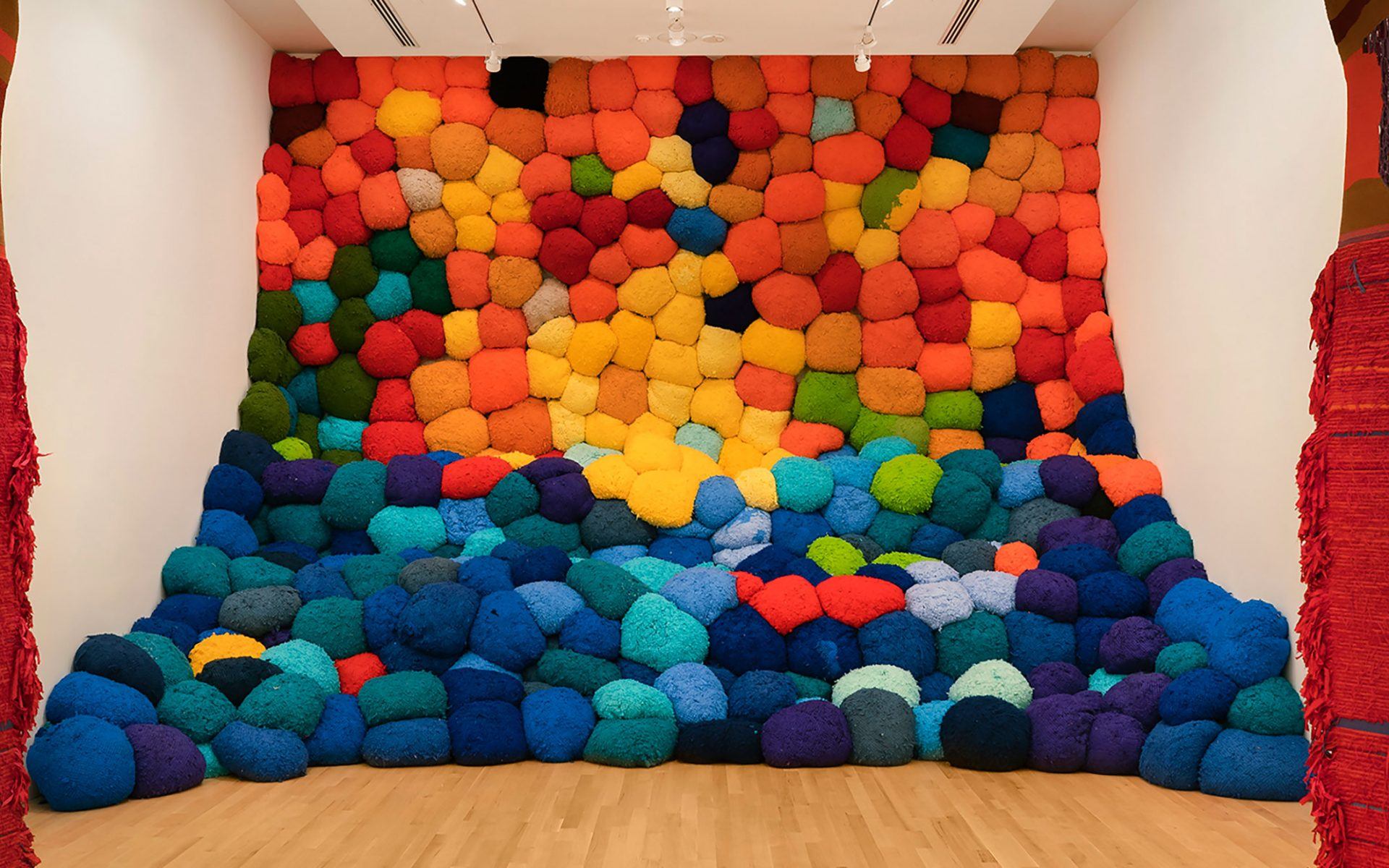 Sheila Hicks Transforms the Bass in Miami with a Dazzling New Show
The fabric-art pioneer shares her thoughts with Galerie
The walls at the Bass in Miami are an explosion of dazzling hues as artist Sheila Hicks's latest exhibition, "Campo Abierto (Open Field)," takes over the South Beach museum. An adaption of her crowd-pleasing 2017 Venice Biennale tour de force, "Escalade Beyond Chromatic Lands," the presentation of colorful textile works on view from April 13 to September 29, is its first full-scale unveiling since it made its Italian debut. (She previously displayed edited-down versions of the immersive installation of fiber bales in Belgium and France.)
"The Bass space lent itself perfectly to the work, even better than Venice, because there are no leaks on the ceiling or paving stones people struggle to walk onto," Hicks tells Galerie. 
Recommended: A New Collaboration at The Shed Offers an Elegy for Artist Gerhard Richter
At 85, the pioneering artist is currently at her most productive. The exhibition joyfully manifests the artist's commitment to build a nonhierarchal visual lexicon that taps into aesthetic and sensory pulses of a broad viewership, transforming familiar objects into mesmerizing works that resist being categorized under what Hicks calls "art with capital A." A recent work, Varmayana—a series of woven solar-shaped wall pieces in bright colors—will be the subject of a workshop Hicks will host with a group of local students during the opening day.
Questioning Column (2016), which formerly shrouded one of the hefty columns at the entrance to Sydney's Art Gallery of New South Wales with strips of rainbow colors, will form an architectural accent to the museum building. "I am competing with the beach here," says the artist, who is no stranger to the southern climate, having lived in Mexico during the early years of her career.
Now splitting her time between Paris and New York, Hicks does not hide her fascination with the natural Floridian light occupying the museum, which experienced a substantial face-lift by architects Arata Isozaki and David Gauld in 2017. The new Art Deco space varnishes her famously lustrous renditions in linen, silk, wool, cotton, cashmere, and bamboo with a layer of spark, coined here as "various discoveries." According to Hicks, those discoveries "depend on each viewer's sensitivity to see beyond the visible."
Hicks's career now exceeds five decades of experimentation with formative and textural limits of organic materials. Since the early 1960s, mysterious natural elements have provided Hicks with a vibrantly tactile practice, through which the artist assumed and dismantled social conations attached to craft and its associated media.
Recommended: How the Pink Panther Inspired Katherine Bernhardt's New Paintings
"If we fast-forward to future excavations, we would witness archeologists judging our level of sophistication and intelligence through materials we today use," Hicks says, pointing to manual aspect of her practice. "Mankind has been interpreted by how they invent ways to protect and express themselves, and I tend to leave behind objects archeologists can observe traces of the hand with."
"Campo Abierto (Open Field)" is on view at the Bass from April 13 to September 29.
Next Post