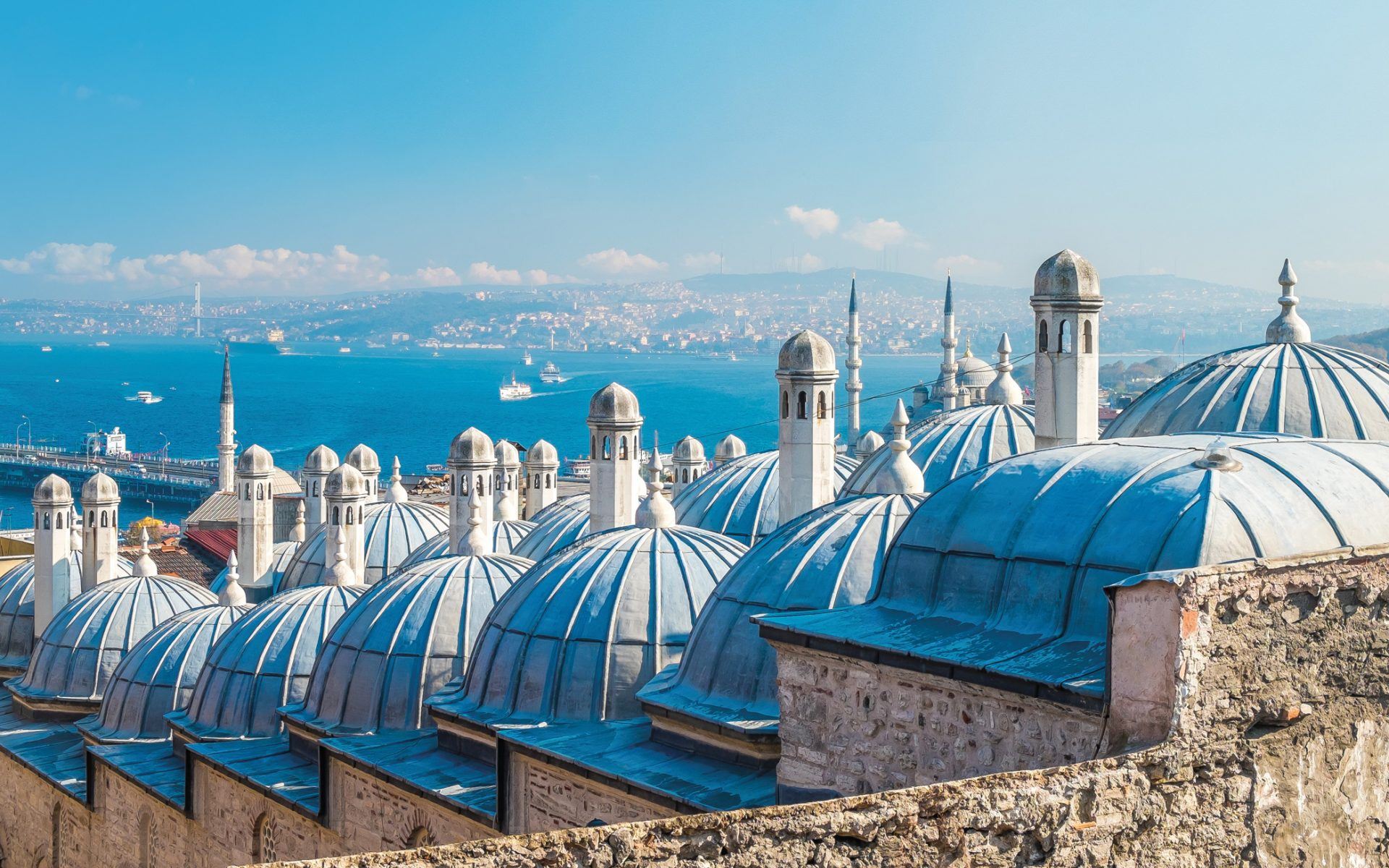 Why Istanbul Is This Season's Must-Visit Art Destination
With a major biennial, a buzzy art fair, and a new museum, the Turkish capital is mounting a renaissance
Flocks of seagulls gliding through the tender September winds of the Bosphorus guide visitors to Istanbul's Büyükada, the largest of a group of nine islands in the Sea of Marmara and one of the sites of the 16th Istanbul Biennial, which runs September 14 through November 10. Entitled "The Seventh Continent," this year's iteration visits themes of environmental collapse and human numbness toward amassing waste, adopting its title from the seven million tons of plastic—considered "a continent of debris"—discovered drifting across the Pacific Ocean.
Curator Nicolas Bourriaud picked another curious location, the Istanbul Shipyards, which were founded 600 years ago during the rise of the Ottoman Empire, as the biennial's main hub, as well as the Pera Museum, home to a broad array of historical regional art and artifacts. True to its theme, the biennial prompts minimal travel time and waste, occupying these three significant sites, which are within a small radius—a serendipitous plan, considering the Eurasian metropolis's colossal spread across both sides of the Bosphorus.
Bourriaud's choice of a man-made continent as a metaphor for this year's biennial speaks to a broader statement on the fluid way histories, materials, and identities are intertwined without a geographical or thematic core. Take, for example, New York–based Polish painter Piotr Uklański's "Ottomania" portraits, which study overlooked ties of Slavs to the East and subvert the tradition of "Orientalist" painting with depictions of European men in overtly Eastern attire. (Other big-name international artists showing at the fair are Glenn Ligon, Rashid Johnson, and Haegue Yang.)
Recommended: The Ultimate Art Lovers' Guide to the Berkshires
Coinciding with the biennial for the second time is Contemporary Istanbul, a remarkable art fair—now in its 14th edition—that brings together galleries from the East and West from September 12 to 15. The organization's new artistic director, Anissa Touati, is spearheading a program that includes an exhibition of recently acquired artworks by 40 private Turkish collectors. "The fair has played an integral role in developing the city's thriving art scene, growing art market, and collector base, offering a platform to present contemporary art to both local and international audiences," says chairman Ali Güreli. "In 2018, we saw an increasing number of international collectors and groups visit."
This fall is indeed crucial for the city's cultural scene, which suffered greatly as a result of the country's declining political profile and President Erdoğan's crackdown on free speech. The 2012 heyday, when Istanbul was overrun with galleries and expats charmed by the city's eclectic vibrancy and nightlife, is firmly in the past; however, there's great determination to mount a renaissance.
The grandest manifestation of private funding for the arts in recent years is the reopening of Arter at its new, 193,000-square-foot, Grimshaw Architects–designed building in the city's gentrifying Dolapdere neighborhood. Dedicated to the private collection of the Vehbi Koç Foundation, which was established 50 years ago by one of Turkey's richest industrialists, the massive nonprofit contemporary art space has been on hiatus since 2018, after hosting nearly a decade's worth of exhibitions at its Beyoğlu location. This September, its inaugural exhibition features works by Turkish and international artists, including Banu Cennetoğlu, Ayşe Erkmen, Alicja Kwade, On Kawara, and Sigmar Polke.
"Arter's influence on the future of the Istanbul contemporary art scene will be enhanced even more, as exhibitions curated from its collection will provide a number of generations with the opportunity to discover the rather untold story of contemporary art in Turkey since the 1960s," says Arter founding director Melih Fereli.
Recommended: Diedrick Brackens Weaves Powerful Stories Through Tapestry
With so much to discover, travelers to Istanbul this fall will enjoy a busy itinerary, mild fall weather, and plentiful cups of traditional Turkish coffee, the ideal accompaniment to an exploration of the city's reviving cultural moment.
A version of this article first appeared in print in our 2019 Fall Issue under the headline "Turkish Delight." Subscribe to the magazine.
Next Post