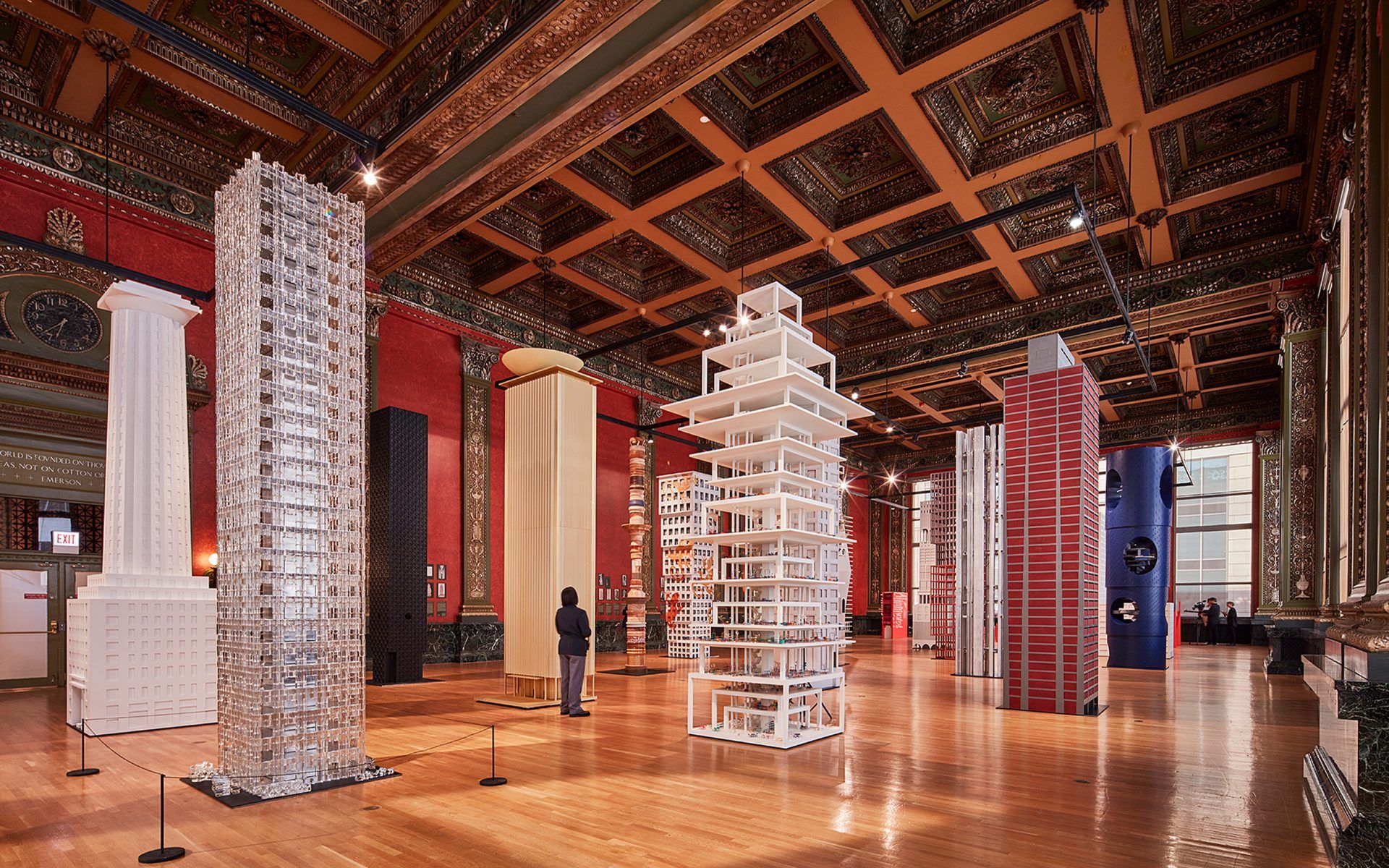 Here's What to Know About the 2019 Chicago Architecture Biennial
Artistic Director Yesomi Umolu talks to Galerie about her new approach, Frank Lloyd Wright, and the next generation of Chicago leaders
When the third edition of the Chicago Architecture Biennial (CAB) debuts September 19, it will showcase contributions from over 80 participants representing 20 countries including Palestine, India, South Africa, and Brazil. Themed "and other such stories…," the biennial encompasses over 100 activities ranging from civic and educational events including films, workshops, performances, and lectures, presented at more than 50 venues around the fair's central hub, the Chicago Cultural Center.
Chicago-based art academic Yesomi Umolu is this year's artistic director. Along with co-curators Sepake Angiama and Paulo Tavares, Umolu will guide the events that explore four key areas: No Land Beyond, Appearances and Erasures, Rights and Reclamations, and Common Ground. Each tier of the program—which runs through January 5, 2020—highlights global themes while emphasizing nature, ecology, landscape, property ownership, monuments, social history, reclamations, and civic architecture stressing affordable housing.
Here, Umolu gives insight into the upcoming fair:
Galerie: What makes Chicago's cultural scene distinct when juxtaposed against other urban art and architecture centers like Los Angeles and New York?
Umolu: Quite unlike any other city in North America, architects here have a major role, not only in the execution and design of cultural buildings, but in the formation and ideation of cultural space. Everyday Chicagoans are deeply aware of their city's architectural history and significance. This symbiotic relationship creates a nexus across the fields of art and architecture, resulting in a distinct cultural landscape, which is currently flourishing. Notable examples are the Chicago Cultural Center (home of the biennial); the Sweet Water Foundation, headed by architect Emmanuel Pratt; and the Madlener House, a classic Prairie-style mansion that houses the Graham Foundation.
Recommended: Frank Lloyd Wright's Only Synagogue Gets a Major Art Installation
The environment of Chicago itself is also critical to its psychology and foundation. It is a frontier city, a settler city, and a city built around an awe-inspiring natural landscape. The city of Chicago, as it exists today, is deeply informed by its natural history, as well as the waves of migration and surges of industry that shaped its development. This multiplicity of narratives and histories that shape contemporary cities is at the foundation of this year's biennial.
How does this iteration of CAB distinguish itself from the previous gatherings?
This third edition of CAB will be distinct in a few key ways. One is the research-based approach that we took in developing the biennial's theme. Our research phase took us to São Paulo, Johannesburg, and Vancouver, in addition to Chicago, where we explored topics such as land, memory, rights, and advocacy with local practitioners, activists, and other experts. Additionally, many of the projects in the biennial will be collaborative by nature and will bring together participants from multiple countries and perspectives to create work together. This prioritization of research and collaboration will really form the hallmarks of this year's biennial.
Founding organizers Sarah Herda and Joseph Grima positioned the 2015 inaugural Biennial as a "civic" and "public" discourse. How would you describe the 2019 version?
I would say that the key words for the 2019 edition are "collaboration" and "learning." Visitors will witness many projects that are collaborative and involve multiple participants learning from one another, and learning from different communities. For example, Chicago's Borderless Studio will collaborate with Herkes İçin Mimarlık of Architecture For All (Istanbul, Turkey), studioBASAR (Bucharest, Romania), and Zorka Wollny (Berlin) to activate the site of the decommissioned Anthony Overton Elementary School in the Bronzeville neighborhood to explore how art, design, and architecture create more inclusive approaches to repurposing civic spaces.
The late Chicago legend Stanley Tigerman, who was a participant in the first CAB, and Frank Lloyd Wright were groundbreaking in their own way. Who do you consider leaders in the next generation of talented Chicago builders?
A few come to mind—Jeanne Gang, Emmanuel Pratt, and Future Firm, to name a few, but our team is more interested in how leaders across fields are addressing spatial conditions and the practice of making space. Great architects don't always build buildings; they build communities, they repurpose space, and they change our ideas of what it means to inhabit a city. Someone like Emmanuel Pratt, whose Sweet Water Foundation focuses on education and neighborhood stabilization, is a terrific example of someone working outside the traditional bounds of architecture, while reconsidering space in a way that is significant and meaningful.
Recommended: Inside Tadao Ando's Latest Art Space in Chicago
There appears to be a flourishing art community in Chicago. I'm interested to hear about the artists whose trajectory you've impacted.
Yes, Chicago's artistic community is thriving and vibrant. We are lucky to have world-class museums and galleries alongside a grassroots community of artists and their studios. Chicago artist Maria Gaspar is one that I'm particularly excited about, and our work with her is helping her really synthesize some of the key aspects of her practice. For the biennial, she will develop a piece that is an extension of her work at the Cook County Jail, the largest single-site jail in the United States. The work will explore the jail as an architectural building and discuss the dynamic of power and architecture and its impact on daily life.
Almost 60 years ago, Frank Lloyd Wright said, "Eventually, I think Chicago will be the most beautiful great city left in the world." What is it about the 20th-century version of the city that inspired Wright to say so, and what would his critique of Chicago be today?
One of the pillars of Frank Lloyd Wright's love for Chicago was the realization of the immense transformative power that the built environment can hold. And essentially, Chicago was the birthplace of Wright's vision for a modern American way of living–the existing architectural fabric of the city was devoid of preconception and allowed him to design and create, unfettered by historical European styles. During his time residing in Chicago, Wright had a front-row seat to witness the ideation of some of the most groundbreaking architectural landmarks, and urban planning systems devised globally at that time.
His critique might revolve around the realities of public housing, which is one of the key topics of this year's Biennial. Social and public housing around the world has such beautiful and inspiring ambitions, and yet so often falls short of the intended goals. In many cities this is an issue that is increasingly urgent, and one that the field should continue to prioritize. We're so excited to bring global perspectives, offering different takes on public housing, that we hope will contribute to envisioning a future of Chicago as the most beautiful, and the most equitable, great and diverse city in the world.
Next Post