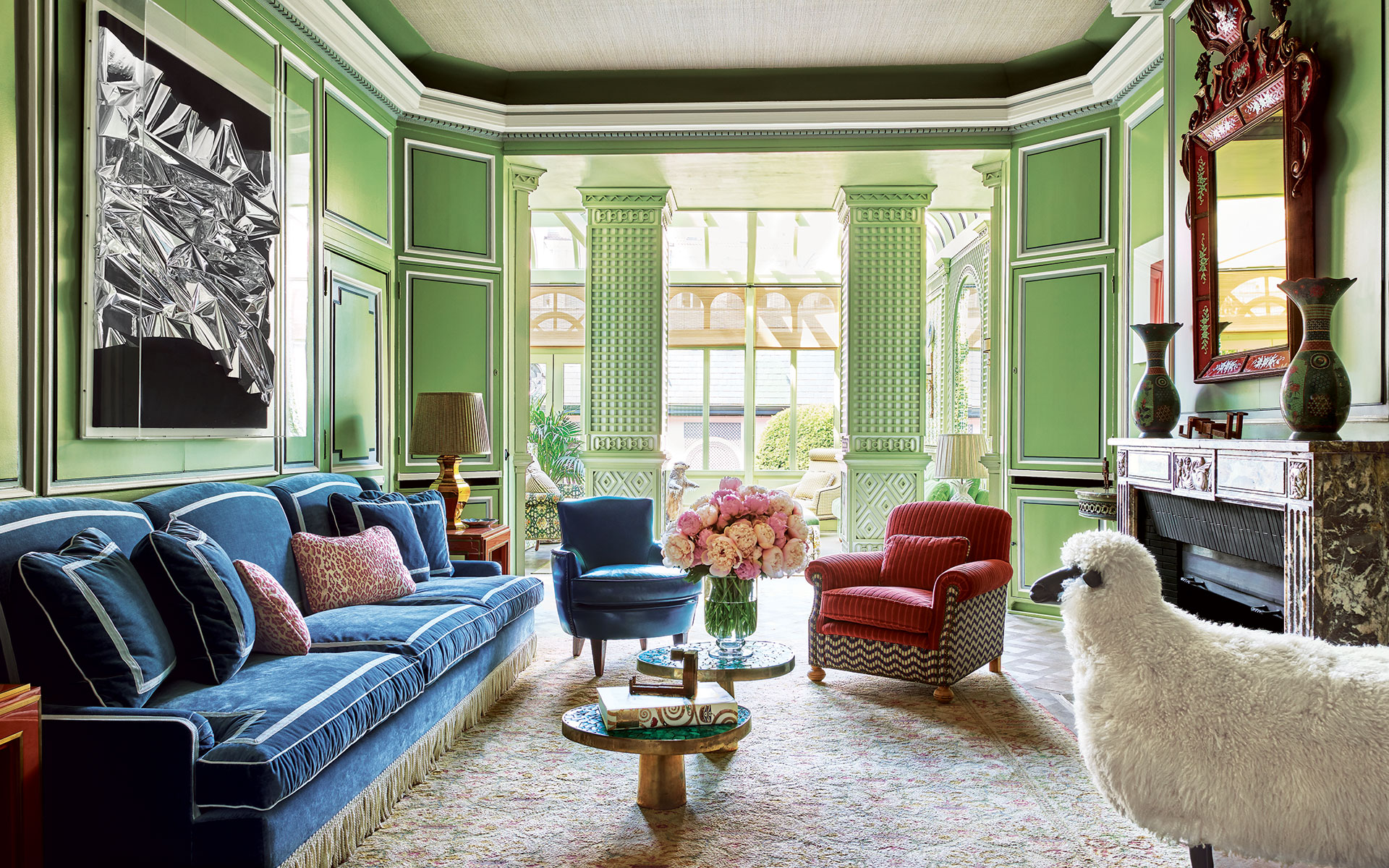 Step Inside a Fanciful Brussels Residence Crafted by Lorenzo Castillo
The Madrid-based designer rejuvenates a family's historic townhouse with a lively mix of old and new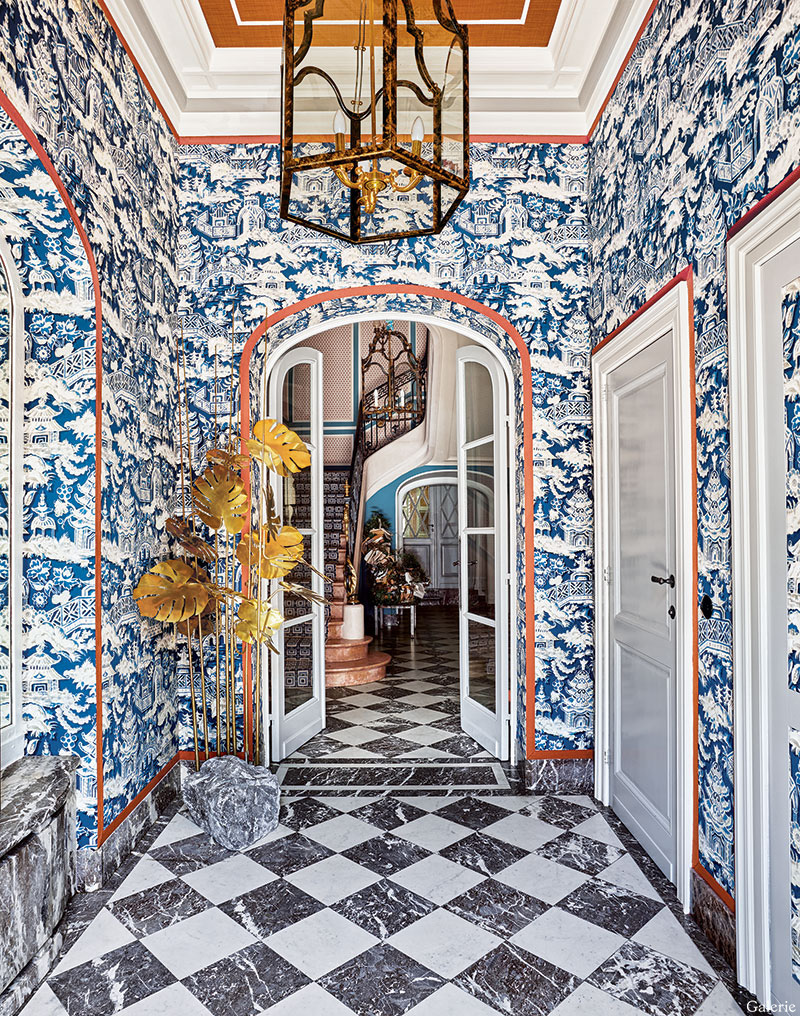 When leading Madrid-based interior designer Lorenzo Castillo first laid eyes on a long-term client's Brussels home, located near the leafy Bois de la Cambre, he was crestfallen. Although it had been built in refined sandstone and noble marble, "in an incredible Louis XVI hôtel particulier style," he says, the interior had been modernized with a rather depressing palette of black and white with touches of silver and red. "It was totally anachronistic with the original spirit and period of this beautiful building."
Tasked with bringing renewed vibrancy to the five-story house, Castillo says the challenge wasn't simply "an issue of changing colors and surfaces" but also of rethinking the way the young family of five could better use and enjoy every room. The designer's first step was to view it as his own home. "I imagined how I would live there, how to enjoy it privately as much as how I would host dinners and parties, one of my favorite hobbies," explains Castillo, whose work includes hotels such as Majorca's Finca Cortesin and its new sister, Son Net, as well as Loewe boutiques and his own collection of fabrics and wallpapers distributed in the U.S. by Kravet.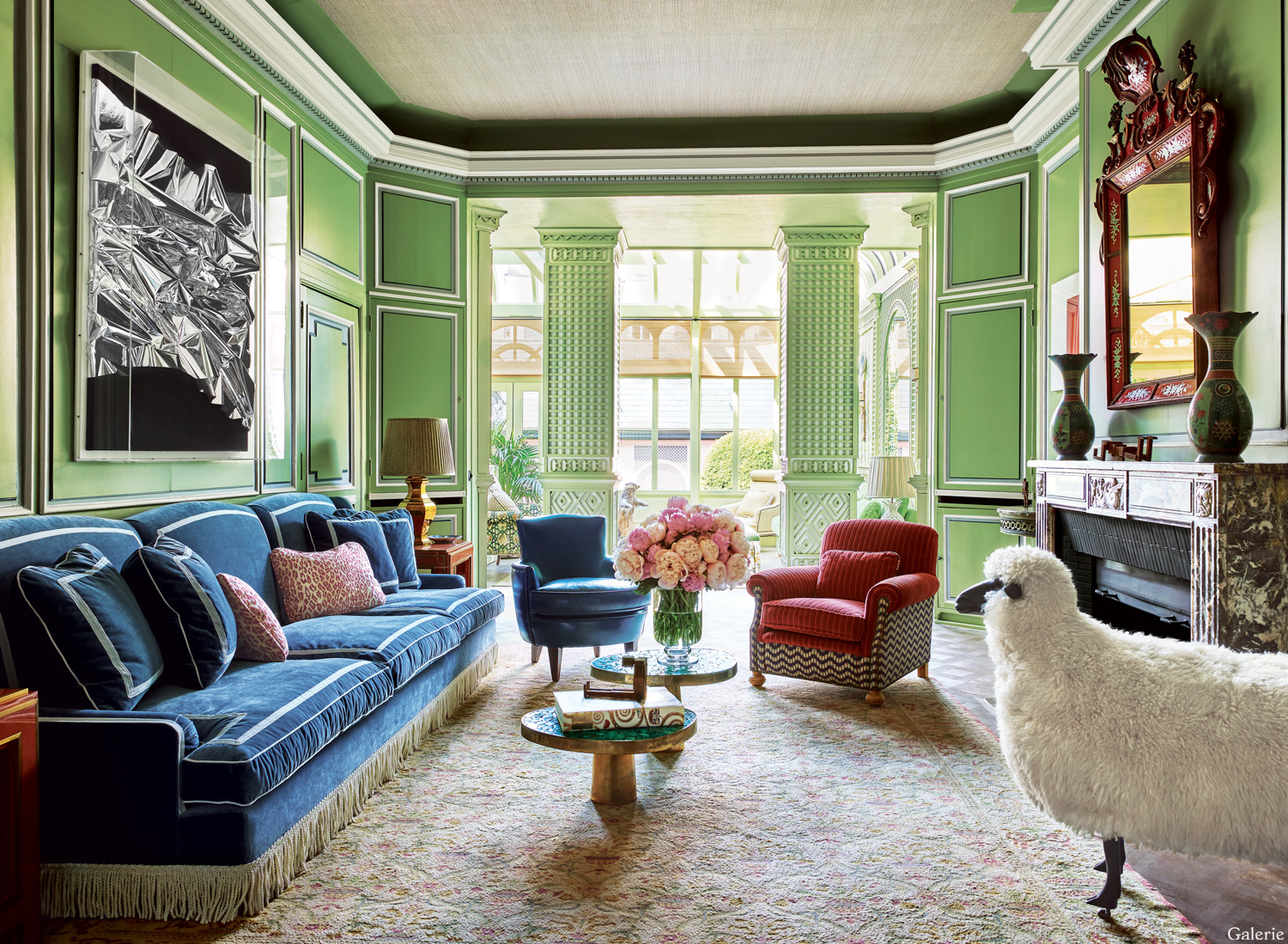 Castillo set about reimagining the house, which benefited from high ceilings, gracious proportions, and sound structural bones. While the ground floor features the sweep of entertaining spaces, including the library, drawing room, and conservatory (with a chic bar converted from a kitchenette on the side), the basement level below contains the kitchen, pantry, laundry, and staff areas. On the second floor, a generous primary bedroom with its own sitting area connects to his and her baths and dressing rooms. The top two floors, meanwhile, accommodate four additional bedrooms, two baths, a playroom, and nursery.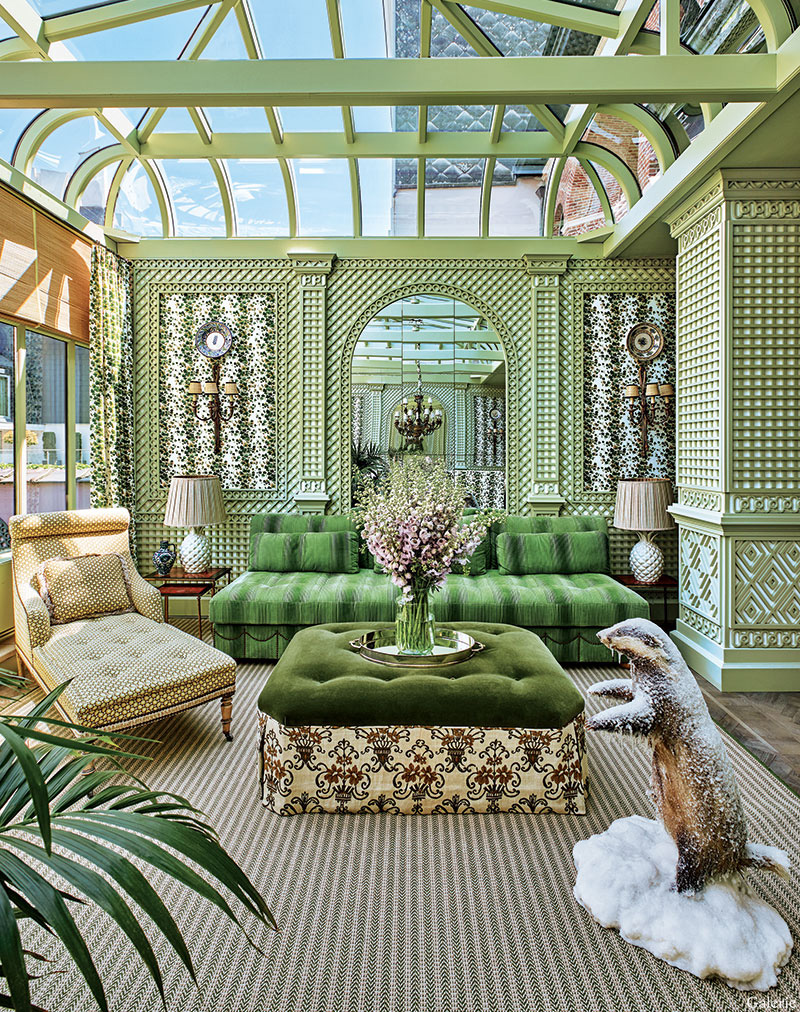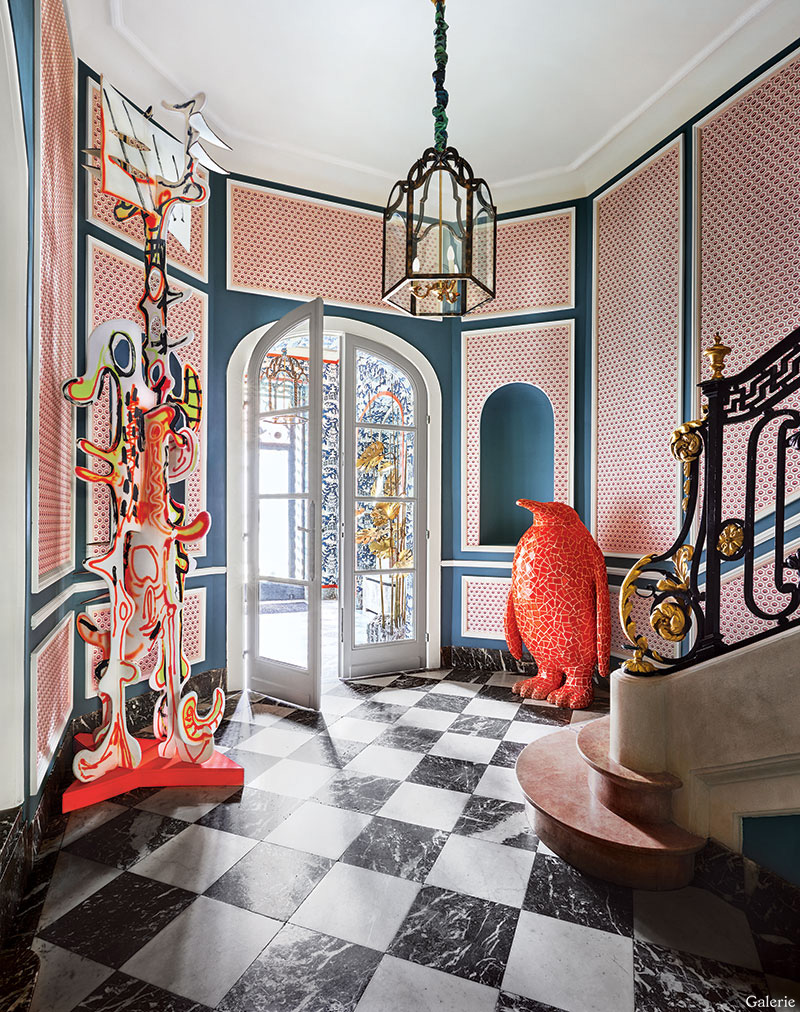 Castillo's most dramatic intervention was transforming the formerly all-black, glass-and-metal conservatory into a resplendently verdant greenhouse. Fashioning it as both a sitting room and a dining space, he embellished the walls and columns with latticework designed in alternating geometric patterns, adding intricate texture without distracting the eye. The lattice wraps around mirrors and panels of an 18th century–inspired ivy chintz that Castillo also used for the curtains, while the seating is upholstered in an array of rattan prints and garden greens that are in constant dialogue with the outdoors through the expansive windows and a glass roof that takes its cues from an orangerie. "My idea was so successful," the designer says, "that the family now uses this room the most."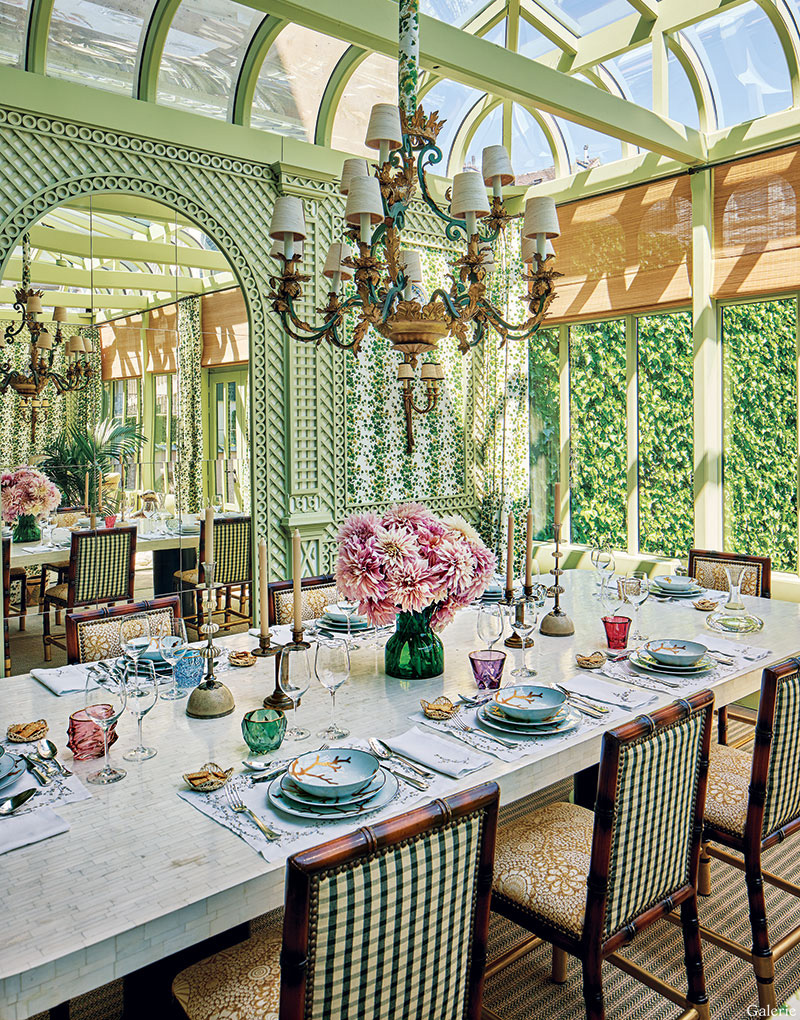 Castillo's adventurous eye for bold color and flamboyant pattern is immediately evident in the foyer, where walls clad Castillo's adventurous eye for bold color and flamboyant pattern is immediately evident in the foyer, where walls clad in an intense lapis-blue chinoiserie cotton are trimmed with bands of incandescent orange grosgrain, giving the traditionally inspired print a feel that is "modern and fresh," he says. Throughout the residence, walls, chairs, ottomans, benches, and cushions are upholstered in a mélange of antique stripes, florals, and other historical motifs, as well as Castillo's own graphic designs. The effect is what he calls "a new classicism, refreshing and updated."
"I know how to play with different styles, eras, and languages with no fear"

Lorenzo Castillo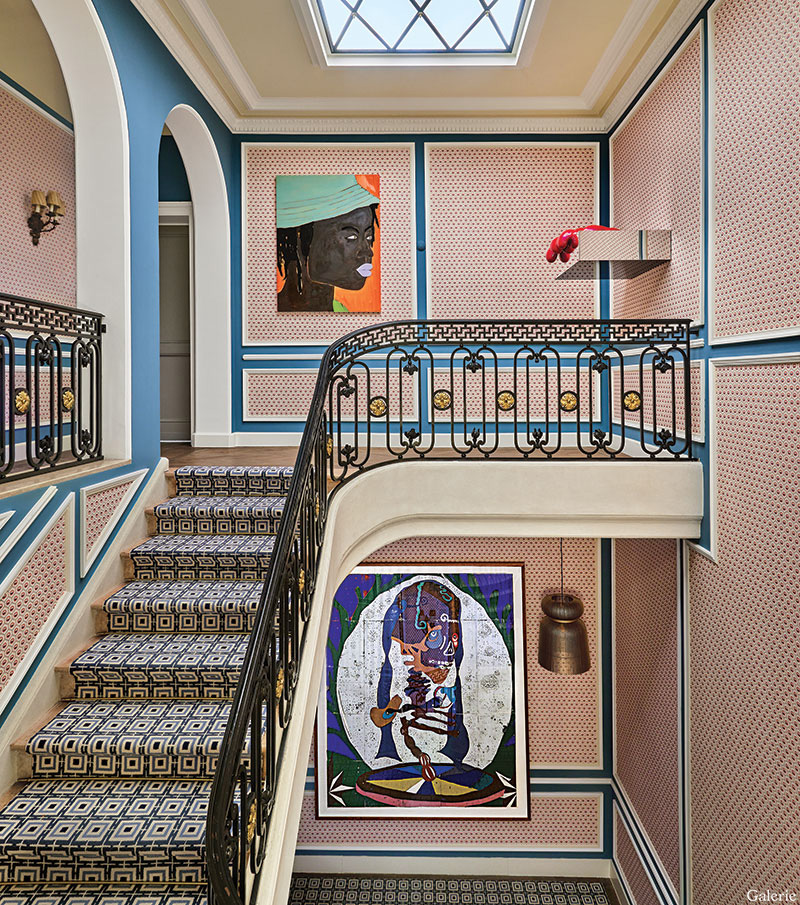 Clever visual tricks include using four different paint colors to help vividly define the paneling and cornice moldings in the drawing room. To enliven the millwork that runs along the central stairwell, Castillo papered the inset panels with a joyful Robert Kime sunburst pattern and painted the surrounding edges in a rich, steely blue. His revisions not only contemporize but also amplify the elegance of the house's architecture, which had previously been lost in a sea of white.
Paintings and sculpture have been playfully placed to ensure "they are shown as art and not as decorative objects," Castillo says. "While other designers think of objects, rugs, paintings, and lamps as finishing touches, I always think about what I am going to use from the very beginning of a project."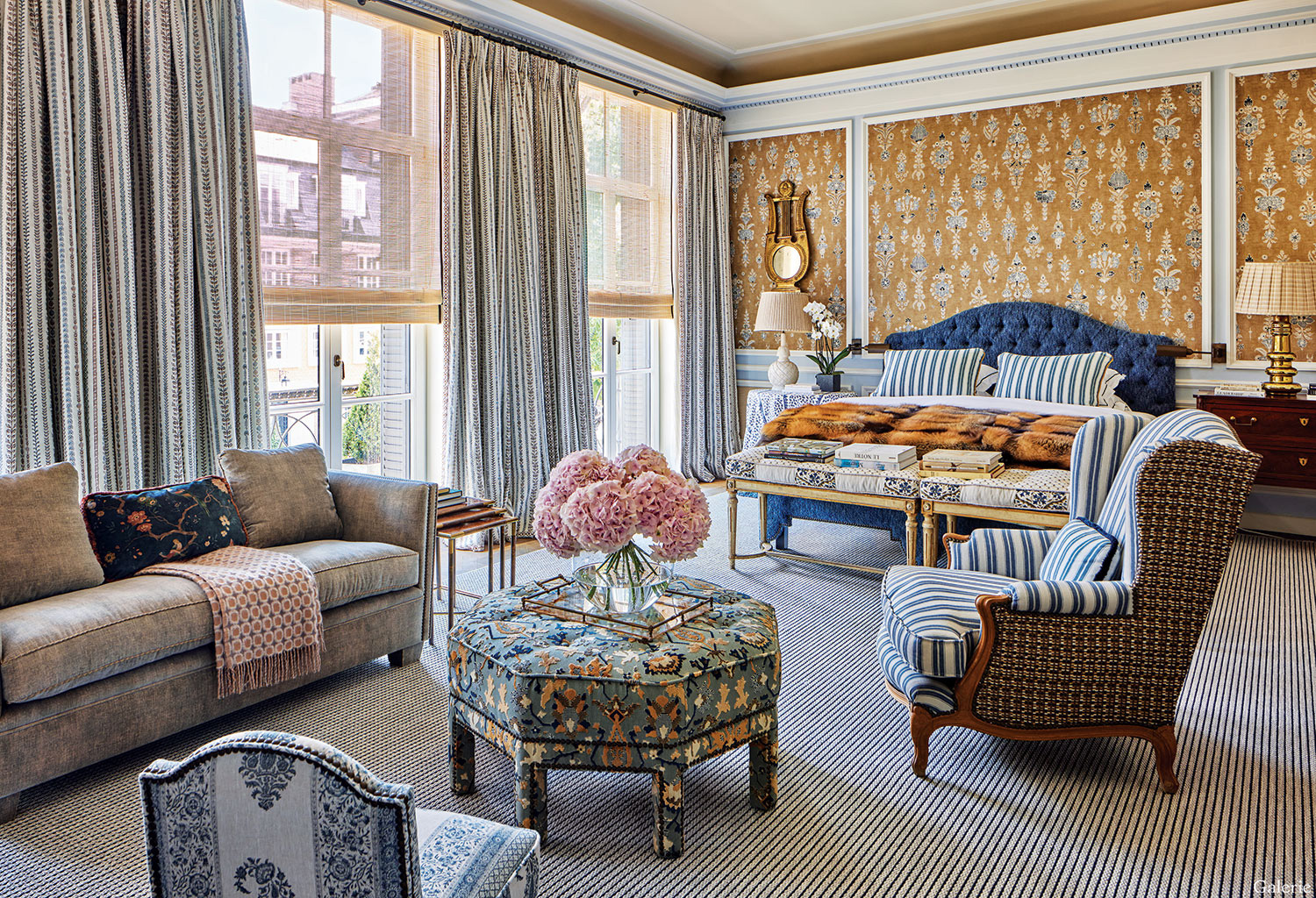 A Venetian rococo-style mirror designed by Pierre Lottier in the 1940s, antique rugs, and vintage Maison Jansen table lamps are layered with editions from Josef Albers's "Homage to the Square" series, Antony Gormley's "Memes" miniature models, and one of François-Xavier Lalanne's famous sheep sculptures. Works such as Gerard Tomballe's oversize mosaic penguin and a "frozen" badger by Laurent Pernot lend a touch of the surreal, or, as Castillo puts it, "a sensation of incredulity or shock."
"I studied the history of art at university and started my career dealing in antiques, so I know how to play with different styles, eras, and languages with no fear," Castillo says. "Following my instinct for beauty should be my only and last goal."
A version of this article first appeared in print in our 2023 Fall Issue under the headline "Spirited Revival." Subscribe to the magazine.
Next Post