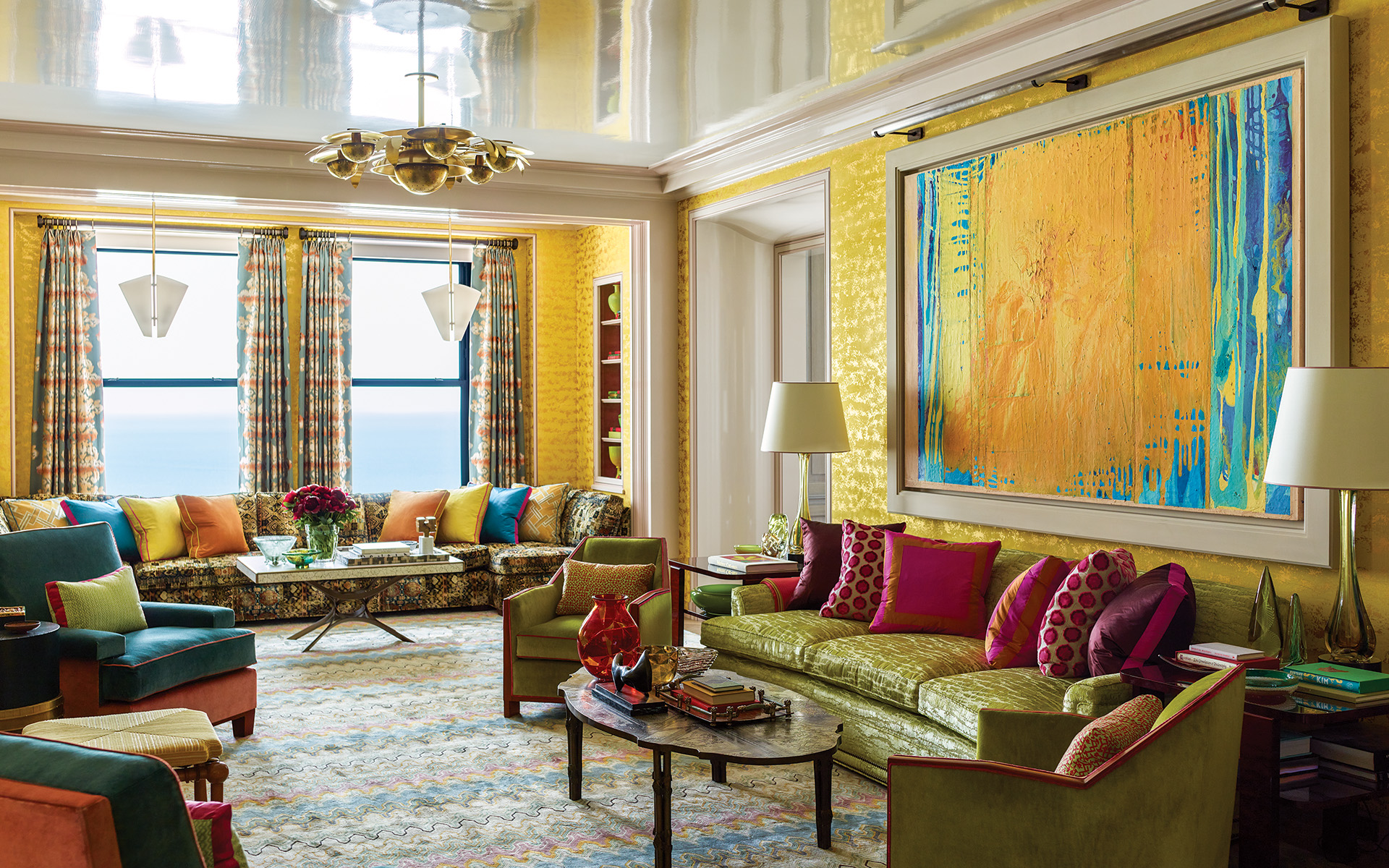 Steven Gambrel Crafts a Bold Chicago Residence with an Audacious Palette
For an apartment in a historic Chicago tower, the designer worked alongside architect Phillip J. Liederbach to compose high-impact rooms that sing with sumptuous details
Winters in Chicago are not for the timid. "You can live for a hundred straight days beneath an iron-gray sky that claps itself like a lid over the city," former first lady and native Chicagoan Michelle Obama wrote in her 2018 memoir, Becoming. For one local couple, the solution for getting through those innumerable gray days was to live with color—lots of it.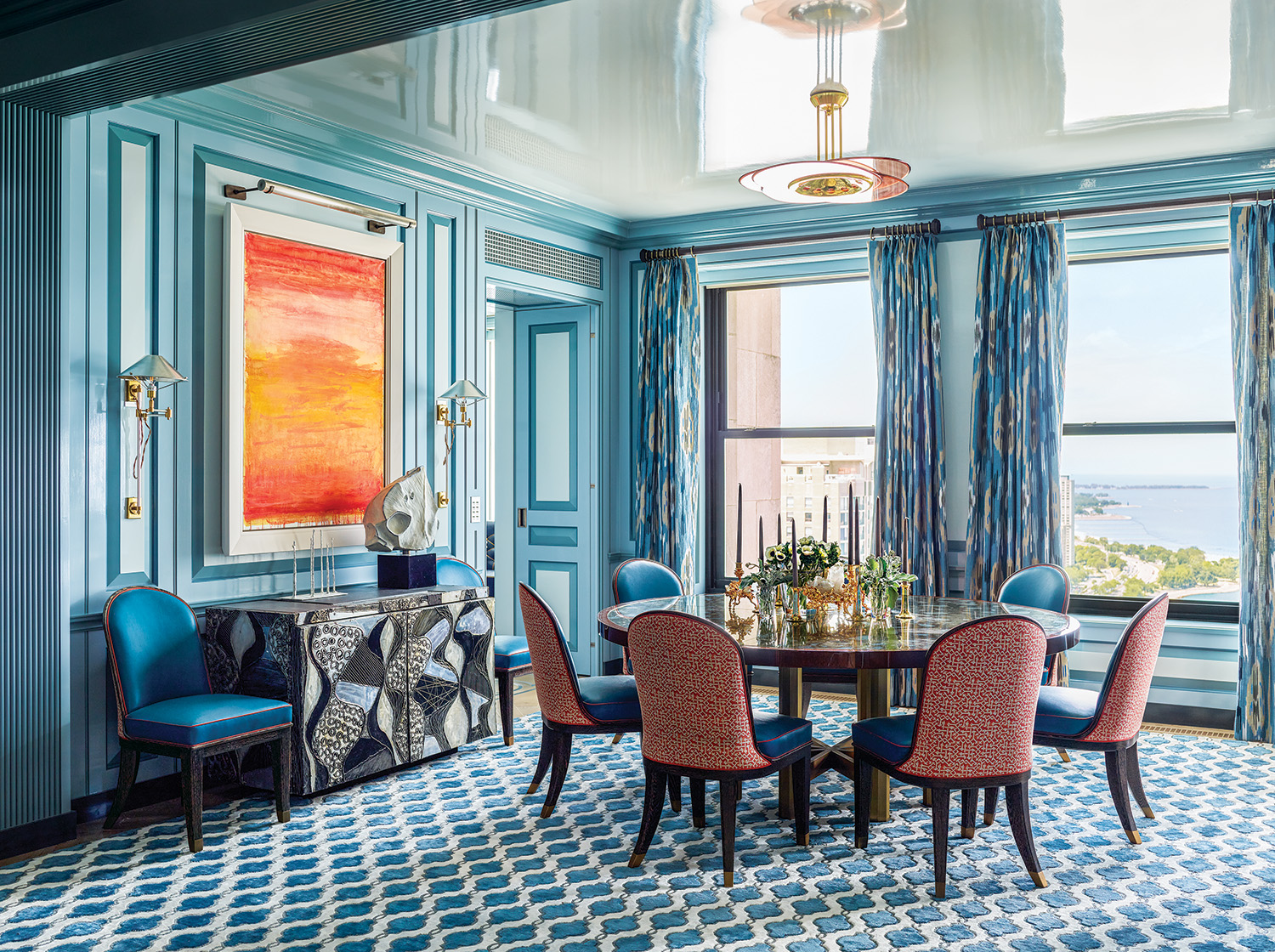 After purchasing a full-floor apartment in the Palmolive Building, an Art Deco landmark overlooking Lake Michigan, they enlisted Steven Gambrel, a New York–based interior designer who is adept at crafting magnetic spaces, to infuse their new home with ebullient hues and rich layers of texture and pattern. But even Gambrel's color wheel was too tame for this family. "I had laid out what I thought were all these sexy, compelling schemes," he recalls, "and they said, 'No, let's do something wild.' " They offered up references that included the opium dens of Sherlockian London and the far-flung atmosphere of Morocco, while proposing colors such as chartreuse, hot pink, and orange. "This was a palette I had never done before," Gambrel admits.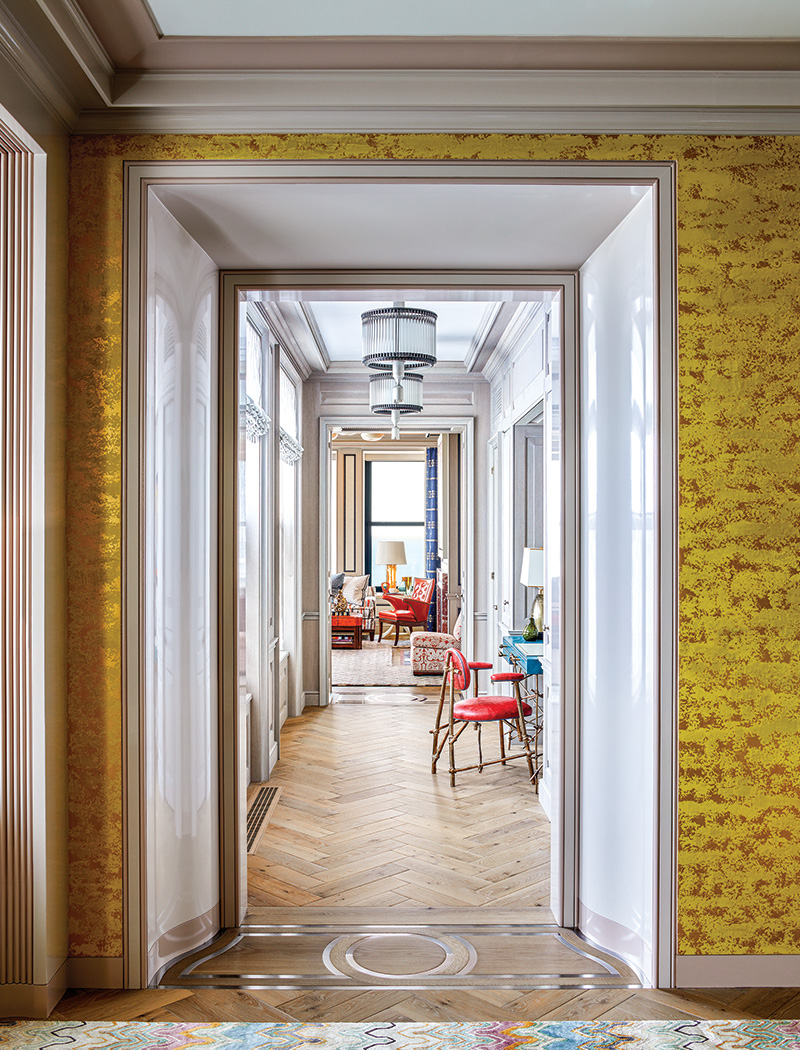 For the gut renovation of the 5,500-square-foot, three-bedroom apartment, Gambrel teamed with Chicago architect Phillip J. Liederbach of Liederbach & Graham Architects. It was the fifth collaboration between the firms and their second project in the 37-floor high-rise, one of the most coveted addresses in the city. Built as an office tower in 1929, it was jazzily rebranded the Playboy Building when bought by the media company in the 1960s, before being converted to luxury condominiums in the early 2000s with its original name restored.
The plan that Gambrel and Liederbach devised was to imbue the apartment, which until then had retained the look of a commercial office space, with prewar elegance and character translated for contemporary living. In the entry, Liederbach reimagined a plain elevator landing as a glamorous octagonal vestibule, featuring coat closets concealed behind wrought-iron panels inlaid with mirror-finish fluted glass and framed by reeded moldings. Robust door casings and moldings define every room in the apartment because, as Liederbach explains, "moldings can help animate a room. They also create a structure for Steven's designs, which are very decisive and brave."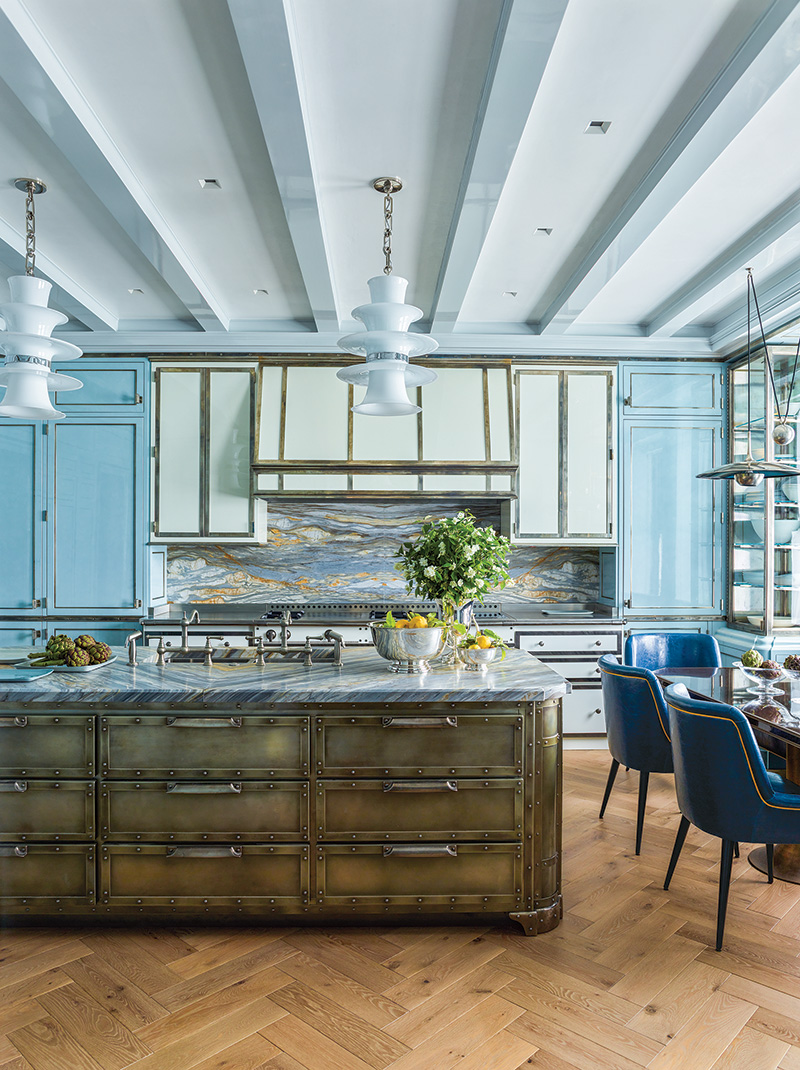 The collaborators share what Liederbach describes as a "passion-slash-obsession for materials," and just about every element in the apartment, down to the door levers and hinges, is a bespoke creation. For the blue-lacquered kitchen, Gambrel took inspiration from 19th-century French designs, anchoring the space around a custom-made island with metal cabinetry that nods to an industrial range. The primary dressing room's verre églomisé panels were hand-painted by New York artist Miriam Ellner with a vibrant Moroccan motif based on an antique textile. And the marble for baths and fireplaces wasn't selected in a stone showroom but rather handpicked by Gambrel and Liederbach at an Italian quarry. 
"The clients had such a definitive direction.  'Keep the colors vibrant and clear. Keep the patterns strong' "

Steven Gambrel
"We lived the dream," says Gambrel, recalling their field trip to Carrara. "We stayed in an old hotel, drank wine with the [marble-cutting] team, and then went inside this mountain where they marked off the blocks we wanted right on the mountain wall." Their haul included expanses of Breccia Capraia marble, strikingly veined in painterly swirls of gray, which clads the primary bath.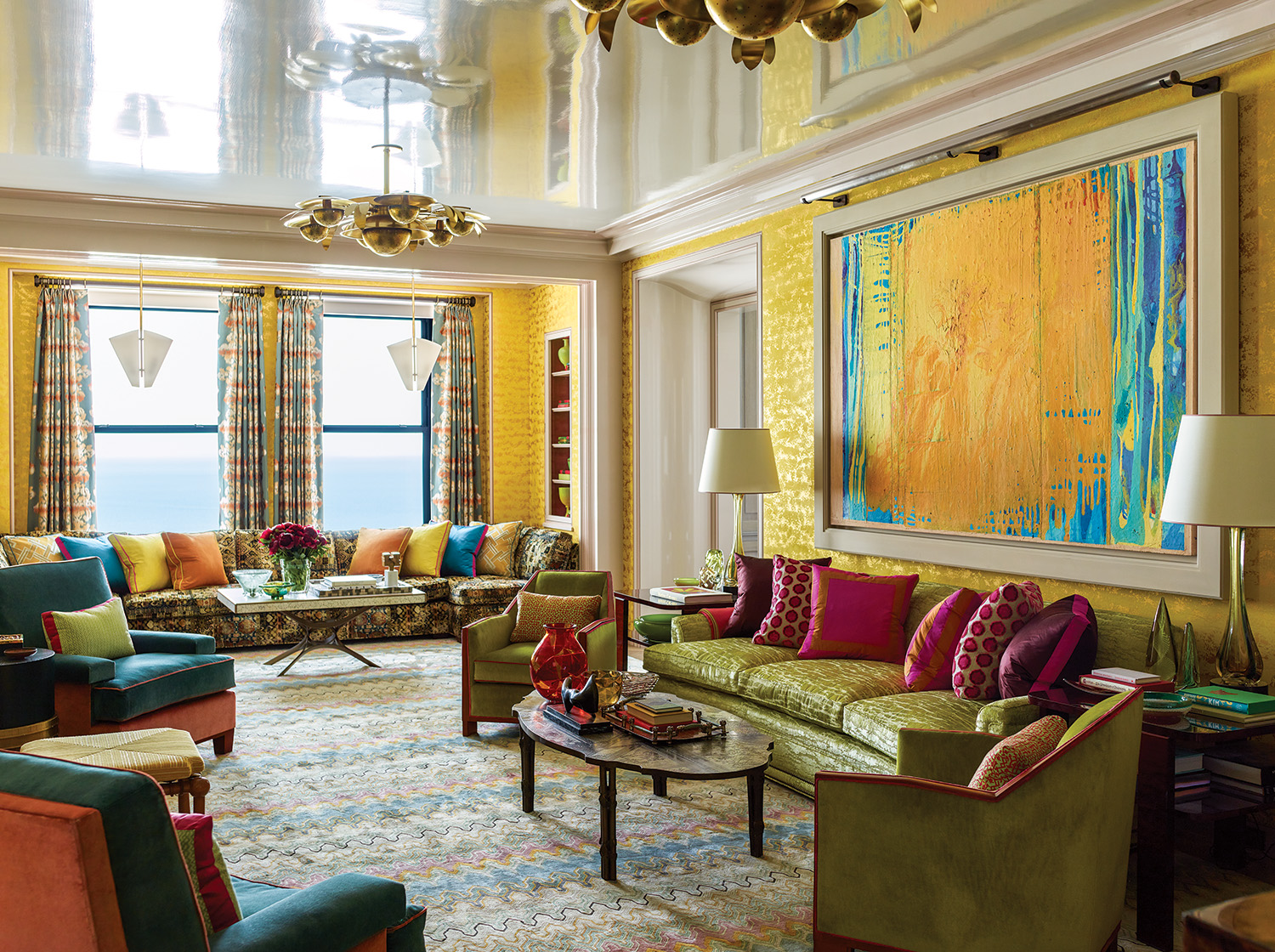 The approach to the apartment's color scheme was just as zealously undertaken. The owners wanted to go bold, and Gambrel delivered. The jewel tone living room is a magic carpet ride to Rajasthan, India, or Marrakech, with Venetian plaster walls in acid yellow, shimmering velvet upholstery in teal and rose, citrine and raspberry. The walls of the butler's pantry are painted a high-gloss fiery red under a tangerine ceiling. A daughter's bedroom is a paradise of purple and pale blue.
Throughout the apartment, furnishings custom designed by Gambrel mingle in eye-catching combinations with distinctive vintage cabinets, tables, and lighting, including pieces by Paul Evans, Philip and Kelvin LaVerne, and Aldo Tura. The couple's art collection, meanwhile, which spans everything from landscapes to still lifes to abstract paintings, creates surprises of its own. One of the best examples can be found in the living room, where a tranquil 19th-century painting of birds is paired with an engrossing abstract work by the late African American artist Joe Overstreet that appears to erupt from the golden walls. "It's like oil and vinegar," Gambrel explains of the incongruous yet mellifluous matching of old and new, serene and explosive. 
"The clients had such a definitive direction that it was easy to just listen," he says of the project, which wrapped up in late 2021. " 'Keep the colors vibrant and clear. Keep the patterns strong. Get us through winter.' " Check, check, check.
A version of this article first appeared in print in our 2023 Spring Issue under the headline "Perfect Punch." Subscribe to the magazine.
Next Post