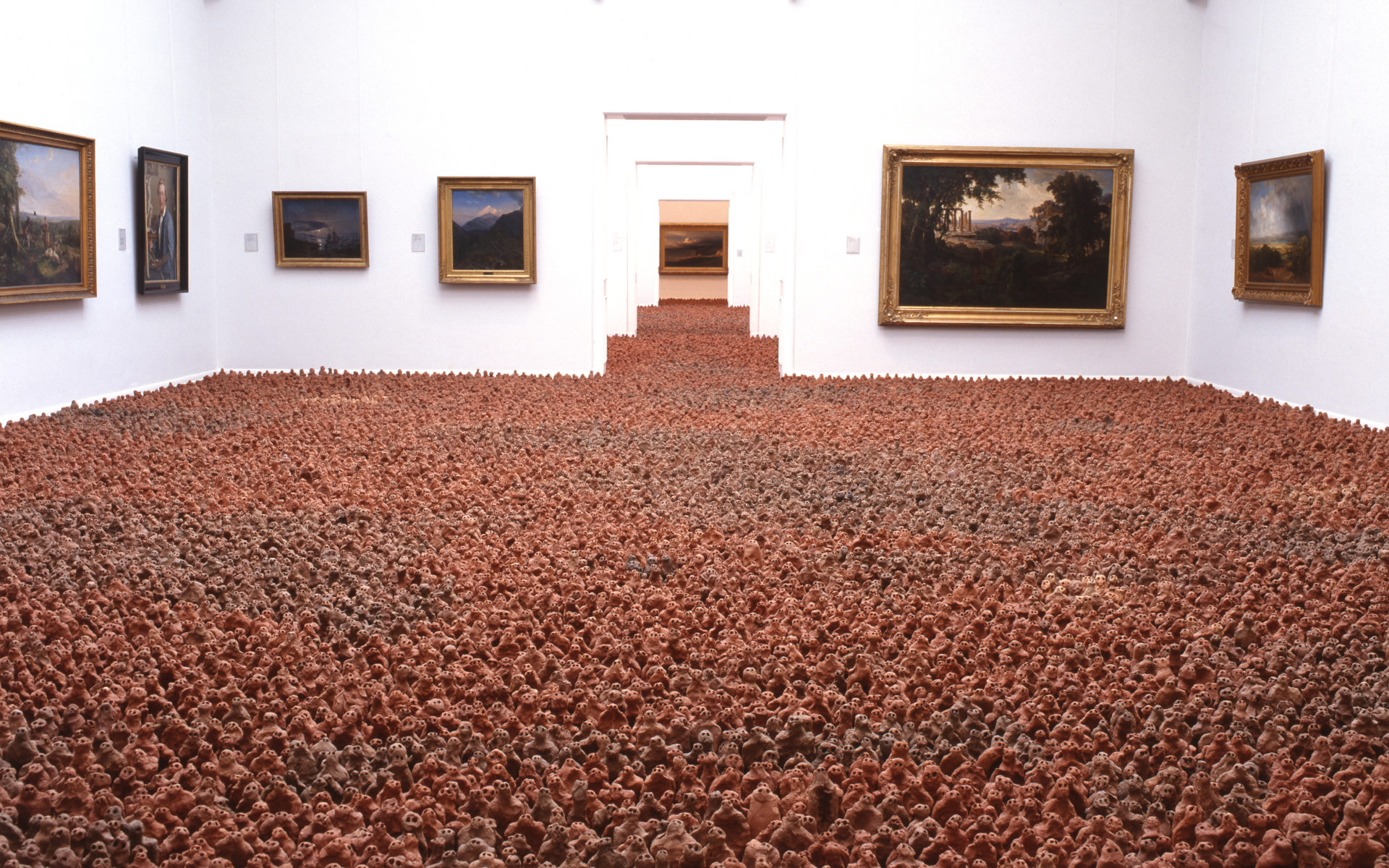 6 New Art Books to Cozy Up With this Fall
From an insightful look into the history of clay to Andy Warhol's whimsical art books, these titles make the perfect fall reading companions
Vitamin C: Clay and Ceramic in Contemporary Art (Phaidon, $69.95)
The handsome, textured cover of Vitamin C is just as tactile as the art covered inside: clay and ceramics. The book is the first survey of its kind to round up the work of some of today's most important ceramicists. One inventive form after the next, every page is dedicated to a different artist and interpretation of the potential of ceramics—102 to be exact. It's the latest iteration of the "Vitamin" series—books celebrating the diversity of a single medium. (The first debuted in 2002 and was devoted to painting.) You'll find everything from Italian artist Marisa Merz's highly personal ceramic heads from the 1980s to the contemporary porcelain installations of China's Liu Jianhua. Ultimately, Vitamin C beautifully reveals how ceramics shifted from craft and functional objects to high art, particularly with the help of a well-penned essay by Claire Lilley, director of programs at the Yorkshire Sculpture Park and curator of Frieze London Sculpture Park.
Sheila Metzner: From Life (Rizzoli, $90)
Sheila Metzner: From Life presents a deeply personal side of famed art and fashion photographer Sheila Metzner. Memoir-like vignettes and family portraits are juxtaposed with her professional editorial and advertising photography. The American photographer's career at Vogue, where she worked with Alexander Liberman, took her around the world on assignments for major fashion brands, while her personal photographs revealed a sensibility toward the human form and love of the natural world. This book covers the entire spectrum, from her nudes and sacred landscapes, fine art photography, and fashion editorials to sneak peaks into her life as a mother of five. With essays by art critic Hunter Drohojowska-Philp and Metzner's oldest child (and regular photographic subject), it is sure to appeal to fashion and photography lovers alike.
Antony Gormley (Rizzoli, $100)
This monograph encapsulates the expanse of Antony Gormley's incredible 35-year career, from his earliest sketches to his best-known public installations. The definitive tome includes photos of some of his most remarkable installations in the most surprising locations, such as Angel of the North, a public sculpture in Gateshead in the North of England, commissioned in 1994. The volume also offers an unprecedented look into Gormley's studio and life, including personal tidbits like childhood photographs and sketches, giving an all-encompassing view of the man behind the masterpieces. The hundreds of images—many never published before—are complemented with Martin Caiger-Smith's insightful narrative. The book will be available from November 19, 2018.
Tina Barney (Rizzoli, $100)
As the subjects of Tina Barney's photographs stare directly at you, a dimensionality emerges, pulling you into their private worlds. Such engagement marks Barney's strikingly intimate and unparalleled examination of the social and cultural lives of predominantly middle-upper-class American and European families, for which she uses photography as her tool. Famed for her large-scale 4×5 photographs using her signature Tovo camera, her work is visually arresting, hovering between highly choreographed tableaux and candid documentary. Tina Barney includes 150 images covering three decades of Barney's career neatly divided into six sections.
The first chapter, "Home," includes some of her most iconic early images. The final section, entitled "Youth," brings the book full circle as she shoots the grandchildren and great-grandchildren of her original subjects.
The Sixty-Nine Stations Along the Kisokaido (Taschen, $150)
At once an artifact and an artistic feat, The Sixty-Nine Stations XXL collection ($150) is bound in the Japanese tradition with uncut paper, representing the work of two master print practitioners, Hiroshige and Eisen. With bold compositions and experimental uses of color, Hiroshige and Eisen bring us on a journey through the Kisokaidō route from Edo (present-day Tokyo) to Kyoto. The arduous journey, chronicled here in its state prior to industrialization, is lined with inns, shops, and restaurants, which provided sustenance and lodging to weary travelers.
Andy Warhol. Seven Illustrated Books 1952–1959 (Taschen, $200)
Before Andy Warhol rose to superstardom, he crafted handmade artist books filled with quirky images and texts, which he used to successfully woo his most valuable contacts. Today these originals are auctioning for thousands of dollars, and in November, Taschen will republish the entire suite of seven—five of which have never been republished before. In this collection, the titles play with styles and genres as much as with design, materials, and formats. This colorful compilation contextualizes Warhol's 1950s decade, offering a glimpse into his early creative process as well as his eccentric persona. "These rarely seen gems provide a unique perspective on one of the world's most fascinating artists," says Michael Dayton Hermann, director of licensing of the Andy Warhol Foundation.
Next Post