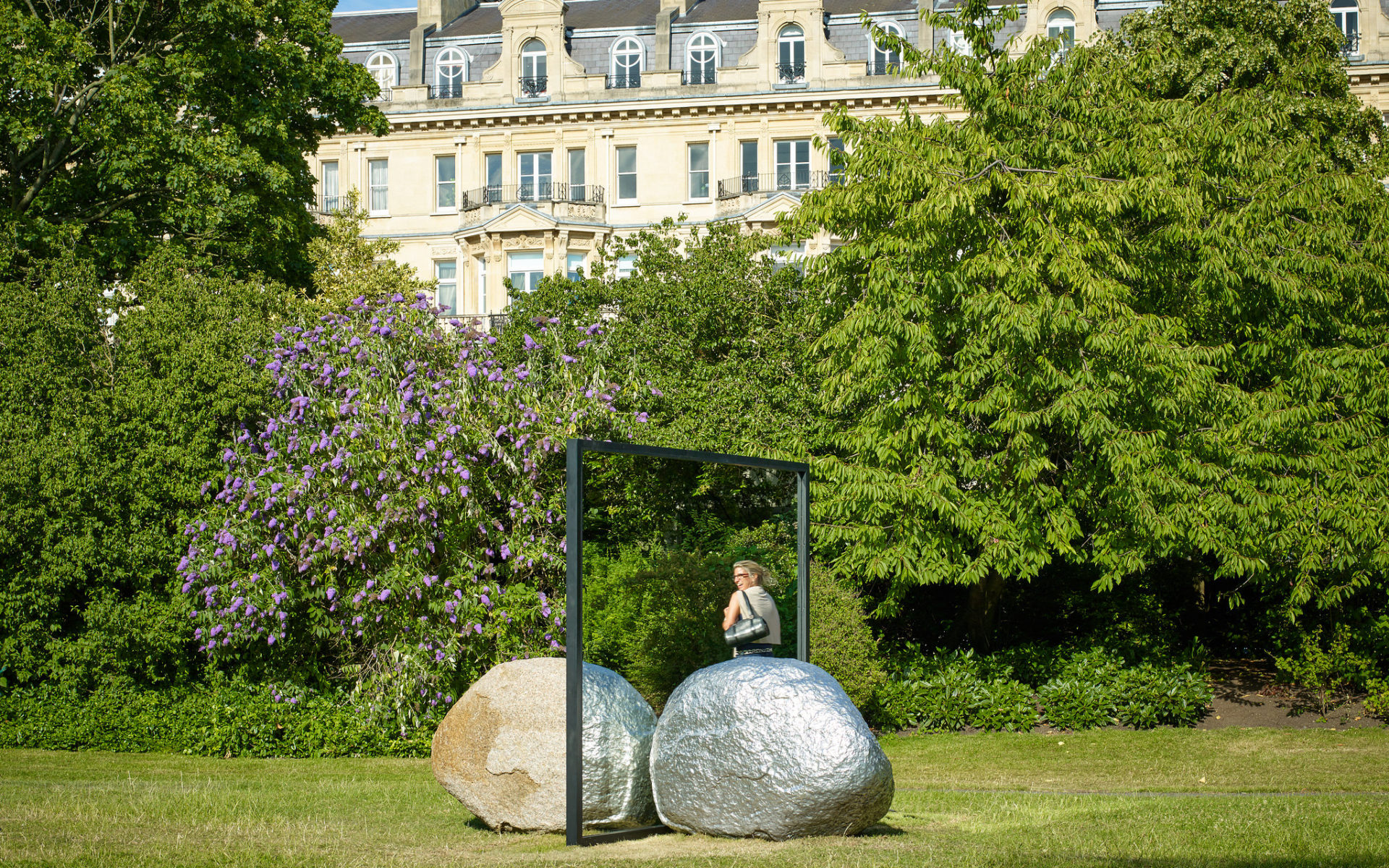 See Who's Causing a Buzz at this Year's Frieze London
Including the up-and-coming galleries to know, a curated section on feminist art, spectacular booth designs, and the emerging artists to know now
White tent peaks peeping through the amber autumn leaves of London's stately Regent's Park can only mean thing—it's Frieze week. Comprised of two art fairs in one, Frieze London and Frieze Masters, the annual event routinely brings hundreds of galleries and thousands of collectors, curators, and various other VIPs from around the world and this year is business as usual.
Stationed at the north end of the park, Frieze Masters, which showcases art made any time before the new millennium including Old Masters and ancient works, boasts 130 participating galleries and spans 6,000 years in its fifth edition. Per usual, if not a little conservatively, it skews painting and drawing heavy. But it wasn't without its highlights, such as Waddington Custot's recreation of British Pop artist Peter Blake's studio. Blake himself was in situ in the studio, along with his drawing table, various potted plants, and his favorite jazz tunes to work to that lured visitors in.
The intimacy of the scene enticed collectors, as well, as the gallery reported selling four works ranging in price from £22,000 to £290,000 in the first hour of the October 5 VIP preview alone. Meanwhile, David Zwirner's Masters booth had fairgoers aflutter with excitement, presenting Dan Flavin's first-ever fluorescent work from 1963, The diagonal of May 25, 1963 (to Constantin Brancusi).
Now in its 15th iteration, Frieze London has nearly 160 galleries from over 30 countries participating this year. The fair may be large, but it's clear that it has hit a comfortable stride thanks to over a decade of fine tuning, evidenced in the number of high-profile returning galleries including Gavin Brown's Enterprise, Marian Goodman, Anton Kern, Gagosian, Karma International, kurimanzutto, Esther Schipper, Sprüth Magers, and White Cube; along with a number of repeat participants in its strong "Focus" component—which highlights up-and-coming galleries—like 47 Canal, Antenna Space, and Carlos/Ishikawa.
Oslo's VI, VII gallery returned to the fair's Focus section again, this time letting British multimedia artist Than Hussein Clark turn the booth into a fashion atelier inspired by the intrepid early 20th-century Irish-English female designer Eileen Gray. The booth's interior, beset with mirrors, gowns, and bright pink walls, can be closed off from the public by a built-out door on the front of the space.
"Art fairs can be kind of, well, boring," Clark says. "I wanted to have fun with the space and do something interesting, plus Eileen has been such an icon for me in my own practice." The booth also generated more work for Clark, who measured visitors who made fitting appointments for a handmade gown from the artist's new line, JEAN DESERT, to be fabricated in Rome after Frieze ends.
For New York's Jack Shainman gallery, however, this year marks their first foray into Frieze London. According to director Tamsen Greene, the gallery hasn't participated prior to this simply because they've been busy doing other fairs. However, Greene says she's very impressed by how easy it's been to integrate into the established fair groove, noting that the gallery felt "welcomed with open arms."
Apparently the gallery waited just the right amount of time to make the trip across the pond, since their booth was barraged with collectors during the preview day on October 5, reporting sales of works by Yiadom Boakye, Hank Willis Thomas, Kerry James Marshall, Yoan Capote, and Titus Kaphar ranging from $35,000 to $1.5 million each. "The energy of the fair is tremendous and we are so pleased to have taken part," says Greene.
Perhaps the biggest success of the Frieze London is the specially curated section on pioneering feminist art from the 1970s and '80s. Titled "Sex Work: Feminist Art and Radical Politics" and organized by New York and Warsaw-based curator Alison Gingeras, it features sex-positive works by female artists who have been subject to censorship in the past, such as Marilyn Minter (Baldwin Gallery, Regen Projects, Salon 94, New York), Dorothy Iannone (Air de Paris), and Renate Bertlmann (Richard Saltoun).
While the majority of art fairs now tout their specially curated sections to highlight specific issues, movements, or themes, they often come off as overly reductive or pedantic, like a flaccid and under-researched museum show, which ends up inspiring the ire of critics and leaving collectors unenthused, if not just confused. "Sex Work," however, toes the line of being too on the nose and perfectly cohesive. While many of these artists are known among historians and critics, and are finally getting their institutional due—the Brooklyn Museum's recent critically acclaimed retrospective of Minter is a prime example—they have yet to hit the market mainstream.
According to Niamh Coghlan, associate director of Richard Saltoun, "Sex Work" was a great opportunity showcase the work of Austrian artist Renate Bertlmann, who has "been around for a while" but lesser known among collectors. "I think a lot of curators and historians know who she is and how to place her work, but this platform has appropriated contextualized the importance of her work while introducing her to a whole new demographic of collectors and art enthusiasts," Coghlan says.
Bertlmann works—which range from a series of small round cacti sculptures blooming with bright pink dildos to photographs of condoms inflated like balloons with their tips sensuously touching, are at once cute and critical—and the undeniable fair Instagram favorite.
Frieze London and Frieze Masters is on view at Regent Park through October 8.
Next Post