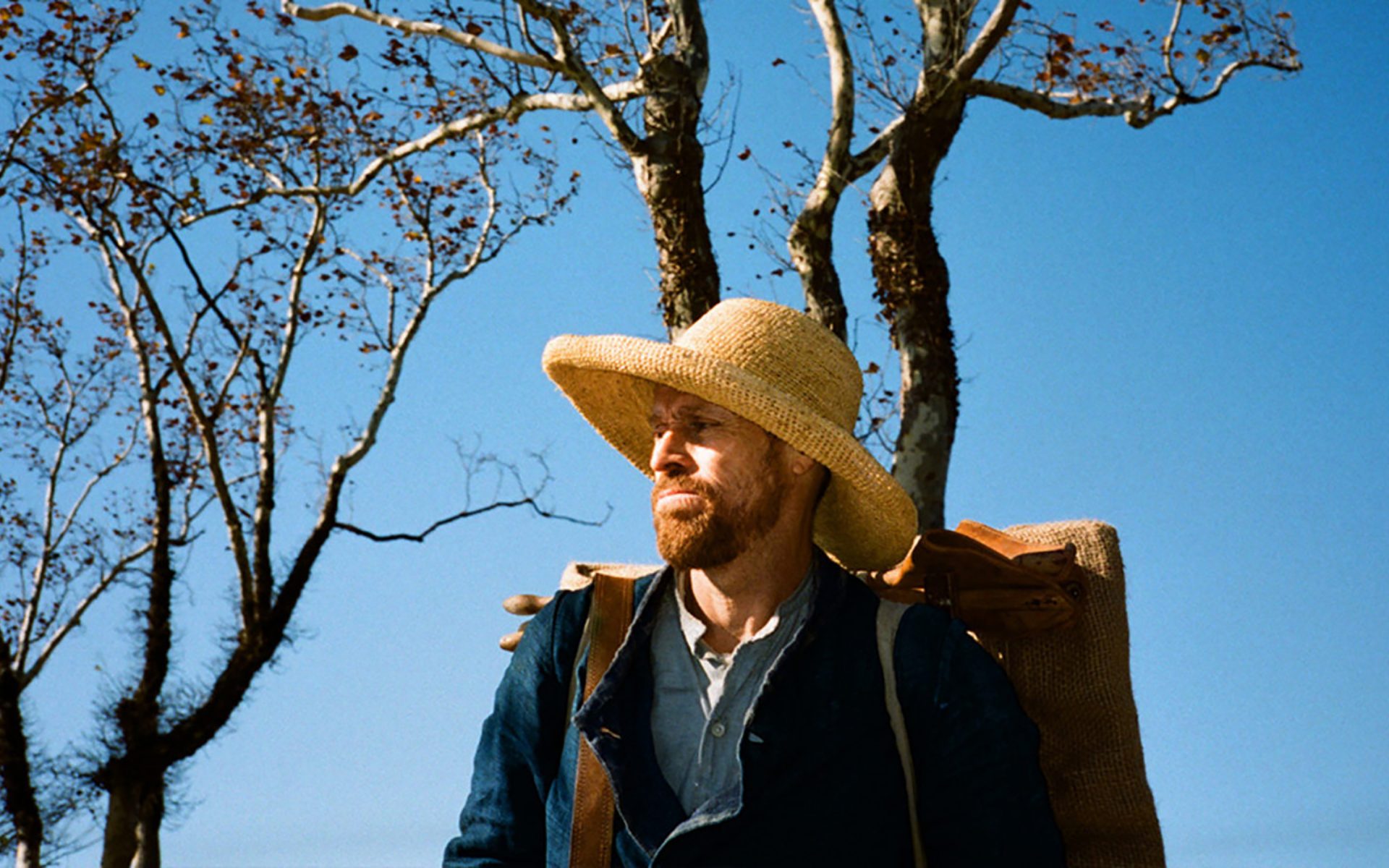 11 of the Best Portrayals of Artists in Movies
Galerie takes a look at some of the most celebrated portrayals of real artists in cinema history
With the enduring beauty of their works and often tumultuous lives, artists are an endless source of material for filmmakers. In recent years, famous painters such as Frida Kahlo, Jackson Pollock, and Vincent van Gogh, have been resurrected by some of today's most beloved actors, who have breathed new life and a fresh perspective into these art-world luminaries.
Ahead of this weekend's Oscars ceremony—where Willem Dafoe is up for his fourth Best Actor nomination for his role as Vincent van Gogh in At Eternity's Gate—we take a look back at some of the all-time best artist portrayals in film.
At Eternity's Gate
Willem Dafoe as Vincent van Gogh
Filmmaker Julian Schnabel's take on the life of Van Gogh casts Dafoe as the turbulent post-Impressionist artist. Viewers follow the painter through his time in Arles, France as well as at the Saint-Paul de Mausole asylum, where he made some of his most famous work. Dafoe's critically lauded performance—for which the actor learned to paint in the style of Van Gogh through lessons with Schnabel—earned the leading man a Best Actor nomination at this year's Academy Awards.
Recommended: Go Behind the Scenes of the Dazzling Swarovski-Adorned Oscars Stage
Rodin 
Izïa Higelin as Camille Claudel
Higelin shines as Camille Claudel in this film centered around sculptor Auguste Rodin. The film begins in 1880 with Rodin, played by Vincent Lindon, receiving his first state commission for one of his most well-known works, The Gates of Hell. Their relationship begins as student and teacher; later, Claudel becomes Rodin's assistant and then mistress while also evolving over a decade into a talented sculptor in her own right.
Final Portrait
Geoffrey Rush as Alberto Giacometti
Directed and written by actor Stanley Tucci, Final Portrait focuses on American critic James Lord, played by Armie Hammer, who sat for a portrait by Alberto Giacometti, played by Rush, in 1964. Written from Lord's perspective, the movie offers fascinating insights into both his friendship with Giacometti and the acclaimed artist's disorderly artistic process.
Recommended: Alberto Giacometti's Paris Workspace Is Gloriously Recreated
The Danish Girl
Alicia Vikander as Gerda Wegener 
After dressing as a woman to model for his wife's sketches, Einar Wegener begins to question his gender identity, eventually leading him to undergo one of the first-ever sexual reassignment surgeries. In an Oscar-winning turn, Vikander plays Einar's wife, the artist Gerda Wegener, with a moving combination of strength and vulnerability.
Basquiat
Jeffrey Wright as Jean-Michel Basquiat
Written and directed by artist Julian Schnabel, Wright stars as the famed street artist. The film, which was nominated for a Golden Lion at the 1996 Venice Film Festival, follows the young artist as he navigates New York's art scene in the 1970s and '80s, rises to fame with his Neo-Expressionist paintings, and battles an addiction to heroin.
Never Look Away
Tom Schilling as Kurt Barnert (inspired by Gerhard Richter)
In a role inspired by contemporary artist Gerhard Richter, Schilling plays the fictional painter Kurt Barnert. The movie follows Barnert from his early childhood during World War II, through his time studying art in socialist East Germany, and eventually, escaping to West Germany with his wife, where he developed his artistic practice at the radical contemporary art academy in Dusseldorf. The film earned an Oscar nomination in 2019 for Best Foreign Language Film.
Renoir
Michel Bouquet as Auguste Renoir
French actor Michel Bouquet portrays the Impressionist painter in the summer of 1915, living in the Côte d'Azur and struggling to paint due to the arthritis afflicting his hands. Only four years removed from the artist's death at age 74, the film shows Renoir's renewed vitality upon the arrival of a voluptuous young model recommended by the artist's friend, Henri Matisse.
Recommended: Take a Sneak Peek Inside the 2019 Oscars Rolex Greenroom
Frida
Salma Hayek as Frida Kahlo
Hayek gave a powerhouse performance in Julie Taymor's film about the famed Mexican artist who channeled her crippling pain, sexuality, politics, and tempestuous relationship with fellow painter Diego Rivera into her artworks. The film garnered six Oscar nominations, clinching two for the makeup and the score.
Pollock
Ed Harris as Jackson Pollock 
Actor and director Ed Harris did all of the painting in this sleeper hit that chronicles Jackson Pollock's creative process, alcoholism, and fraught relationship with his wife, artist Lee Krasner played by Marcia Gay Harden, who took home an Oscar for Best Supporting Actress for the role.
Big Eyes
Amy Adams as Margaret Keane
Adams takes on Margaret Keane in Tim Burton's biopic about the artist and her contentious relationship with her second husband, Walter, played by Cristoph Waltz. Believing that no one will buy art by a woman, Walter takes credit for his wife's paintings—a lie that results in a volatile legal battle between the couple. Both Waltz and Adams picked up Golden Globes for their performances.
Girl With a Pearl Earring
Colin Firth as Johannes Vermeer
This 2003 movie imagined the backstory for one of Vermeer's most famous masterpieces, Girl With a Pearl Earring, with Firth tackling the role of the Dutch Baroque painter, and Johansson his maid, turned assistant and muse, Griet. The film, based on author Tracy Chevalier's work of historical fiction, earned three Oscar nominations for best cinematography, art direction and costume design.
Next Post