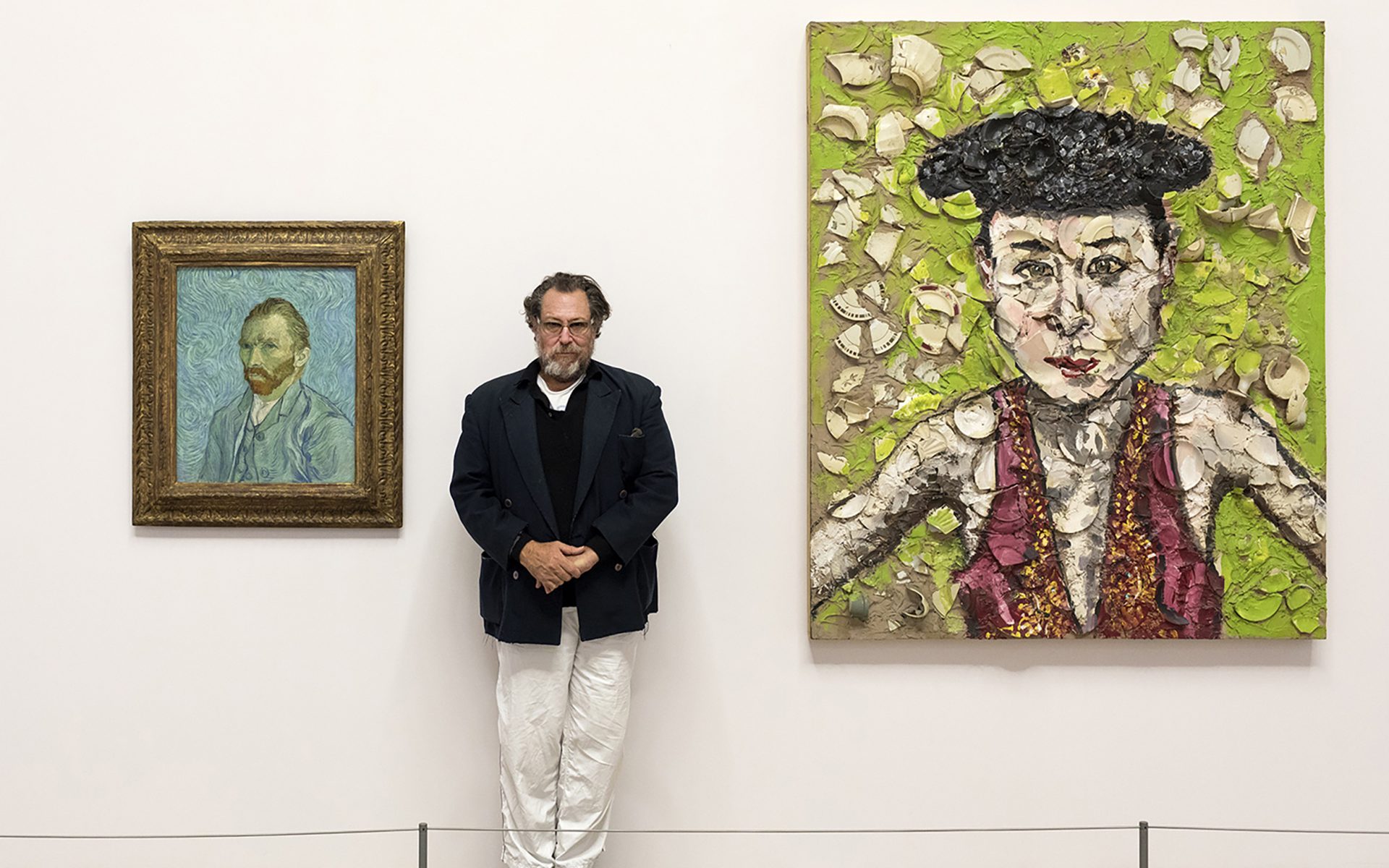 Julian Schnabel on the Life of Vincent Van Gogh and His Sweeping New Film
Galerie caught up with the artist and director about his new film, At Eternity's Gate, and his exhibition at the Musee d'Orsay
More than 20 years after artist Julian Schnabel made his directorial debut with the biographical film Basquiat, he's exploring the life of another art-world icon, Vincent van Gogh. The film, At Eternity's Gate, which made its debut at the Venice Film Festival earlier this year, stars three-time Oscar nominee Willem Dafoe as the Postimpressionist painter alongside Rupert Friend as the artist's brother and Oscar Isaac as Van Gogh's contemporary Paul Gauguin.
"Everybody thinks they know Vincent van Gogh, and one of the reasons to do the movie was to present him in a way that he hadn't been seen before," Schnabel tells Galerie. "The fact that everybody thinks they know everything about him was kind of a good thing to push up against. It seemed to be such a mine field of clichés and bad endings. I thought, if you could get through it without getting blown up, something interesting might happen."
The film, which Schnabel accurately describes as "experiential," shows the world from Van Gogh's perspective, including his time in Arles, France, and the Saint-Paul de Mausole asylum in Saint-Rémy-de-Provence, where he created some of his most famous works. Viewers are taken on an uncomfortable journey as Van Gogh searches for his place in the art community and the world at large, and explores what it means to truly be an artist. And while At Eternity's Gate is based on Van Gogh's letters and generally agreed-upon history, much of the film is what Schnabel imagines could have happened. "I got to say a lot of things about painting that I wanted to say through him," says Schnabel, who agrees that the film is his most personal to date. "I am my paintings, and I am this film. Everything I really have to say I've said in the movie. Why do people do interviews after they make something? Once you explain the reasons for doing something, it's already a lie."
Recommended: Preview the Whitney's Major Warhol Survey, in Photos
Schnabel was drawn to Van Gogh through his paintings, and he spent significant time taking them in at the 2014 Musee d'Orsay exhibition "Van Gogh/Artaud: The Man Suicided by Society" alongside one of his two cowriters on the film, Jean-Claude Carriere. Scenes for the film are shot in saturated colors, with wide panoramic views and unconventional camera angles, which capture the frenzy of Van Gogh's painting style as viewers watch the artist create many of his most famous works, including Portrait of Postman Joseph Roulin (1889) and Shoes (1886).
"Van Gogh desperately needs to work. Even when he gets recognition, I think he's longing for a sense of community; he's longing for a dialogue," says Schnabel. "Nobody should be prepared for what happens in the film because we were not illustrating what we know. We changed things all the time and found new things to shoot spontaneously. It evolved, a living breathing thing that is an organism unto itself. I think if you talked to Willem, he'd say he doesn't look at a tree the same way anymore."
Dafoe so fully embodies Van Gogh in the film that he earned two prizes at the Venice Film Festival and is generating Oscar buzz. "We've known each other 30 years, and he's a very physical actor," says Schnabel of the actor, who also had a role in Basquiat. "I gave him an opportunity to do something, and he gave me the greatest gift that he could. I guess it was about trust and understanding, ultimately."
In conjunction with the release of the film, Schnabel was invited by the Musee d'Orsay to be the first contemporary artist to select paintings from the Paris museum's permanent collection to be presented alongside his own artworks. The exhibition, "Orsay vu par Julian Schnabel," which runs through January 13, 2019, mounts some of Schnabel's most well-known paintings, such as Rose Painting (Near Van Gogh's Grave) (2015) and Tina in a Matador Hat (1987), alongside pieces by Van Gogh and his contemporaries such as Gauguin, Cézanne, Manet, Daumier, and Courbet.
Schnabel's At Eternity's Gate cowriter Louise Kugelberg, who is also an interior designer, helped transform two rooms at the Musee d'Orsay for the exhibition, covering the concrete-and-steel galleries with softer white walls so, in a sense, each wall appears like a painting.
"It's amazing to see all this stuff together and obviously to make a movie that sort of is relatively unconventional," says Schnabel. "Van Gogh never saw a Goya painting in his life or a Velázquez painting, but he did see Frans Hals and Veronese and Delacroix. What I wanted to do was show that when you get up close to a Goya painting or a Velázquez, it breaks up into a bunch of little marks also that are quite abstract, and those paintings are painted fast. So for me, it was an opportunity to make up things that would illustrate what I wanted to say."
"Orsay vu par Julian Schnabel" is on view through January 13, 2019, and At Eternity's Gate opens nationwide on November 16.
Next Post