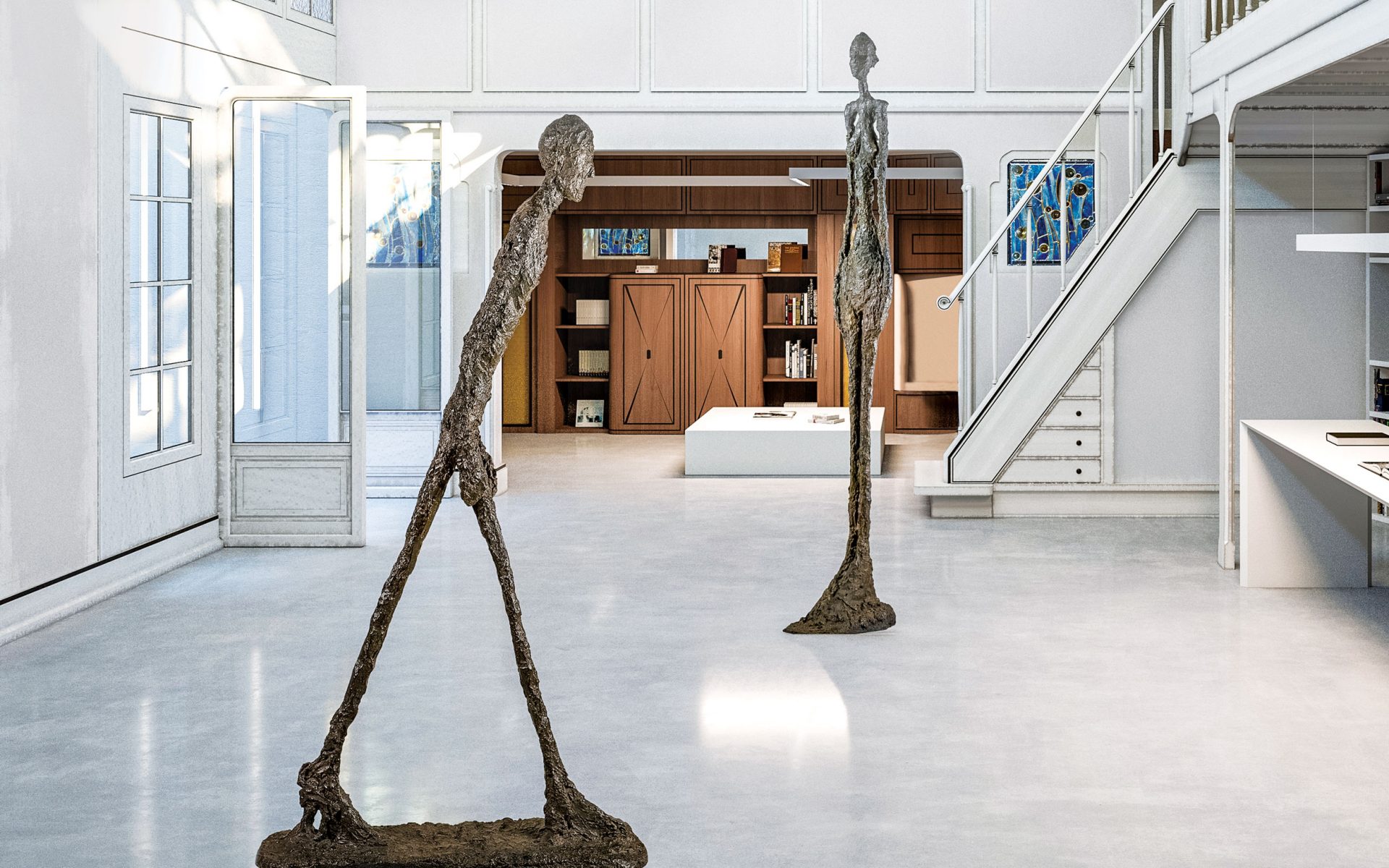 Alberto Giacometti's Paris Workspace is Gloriously Recreated
With the Guggenheim show opening June 8 and the Institute later this month, Giacometti is having a major moment
The tiny Paris studio was barely 250 square feet and had no running water until the late 1950s, yet Alberto Giacometti, one of the 20th century's greatest sculptors, hardly ever left after setting up shop in 1926. There, his psychologically charged, elongated figures proliferated, in paintings directly on the walls and sculptures across the cement floor, until his death in 1966.
The writer Jean Genet described the dust-coated space as Giacometti's "other self, the essence and ultimate residue of his artistic contribution." As Giacometti Foundation director Catherine Grenier explains: "It was a mythical place in Paris—everybody wanted to come to the studio."
When the Giacometti Institute—the foundation's first public space—opens on June 21 in a Montparnasse Art Deco mansion near where Giacometti worked and lived, everyone will be able to come at last.
Recommended: Ellsworth Kelly's Final Work Unveiled in Austin
The institution's centerpiece is the permanent reconstruction of the artist's unruly studio. It is packed with more than 70 bronze, plaster, and clay sculptures, most never before exhibited, as well as furniture and wall paintings excavated and conserved by his widow, Annette. Hundreds of photographs of the original studio, taken by such visitors as Robert Doisneau and Gordon Parks, were used to create the installation, visible through two glass walls.
Beyond hosting this extraordinary shrine, the 3,800-square-foot institute will serve as a study center and a space for exhibitions about Giacometti and artists with a relationship to him, with pieces drawn largely from the foundation's collection of the artist's work, which includes some 350 sculptures, 90 paintings, and more than 5,000 works on paper.
The inaugural show explores the friendship between Giacometti and Genet, whose book The Studio of Alberto Giacometti immortalized his creative process.
Recommended: Diego Giacometti's Red-Hot Market
The foundation has also collaborated on a major Giacometti retrospective that opens at the Guggenheim Museum in New York on June 8 and features an existential ensemble of oversize sculptures commissioned by Chase Manhattan Bank for its New York plaza, a project Giacometti abandoned after two years.
"It was the most important commission he ever had, but he thought it was a failure," Grenier explains. "He was never happy with his work—and those are now his icons."
A version of this article first appeared in print in our 2018 Summer Issue under the headline Studio Session. Subscribe to the magazine.
Next Post