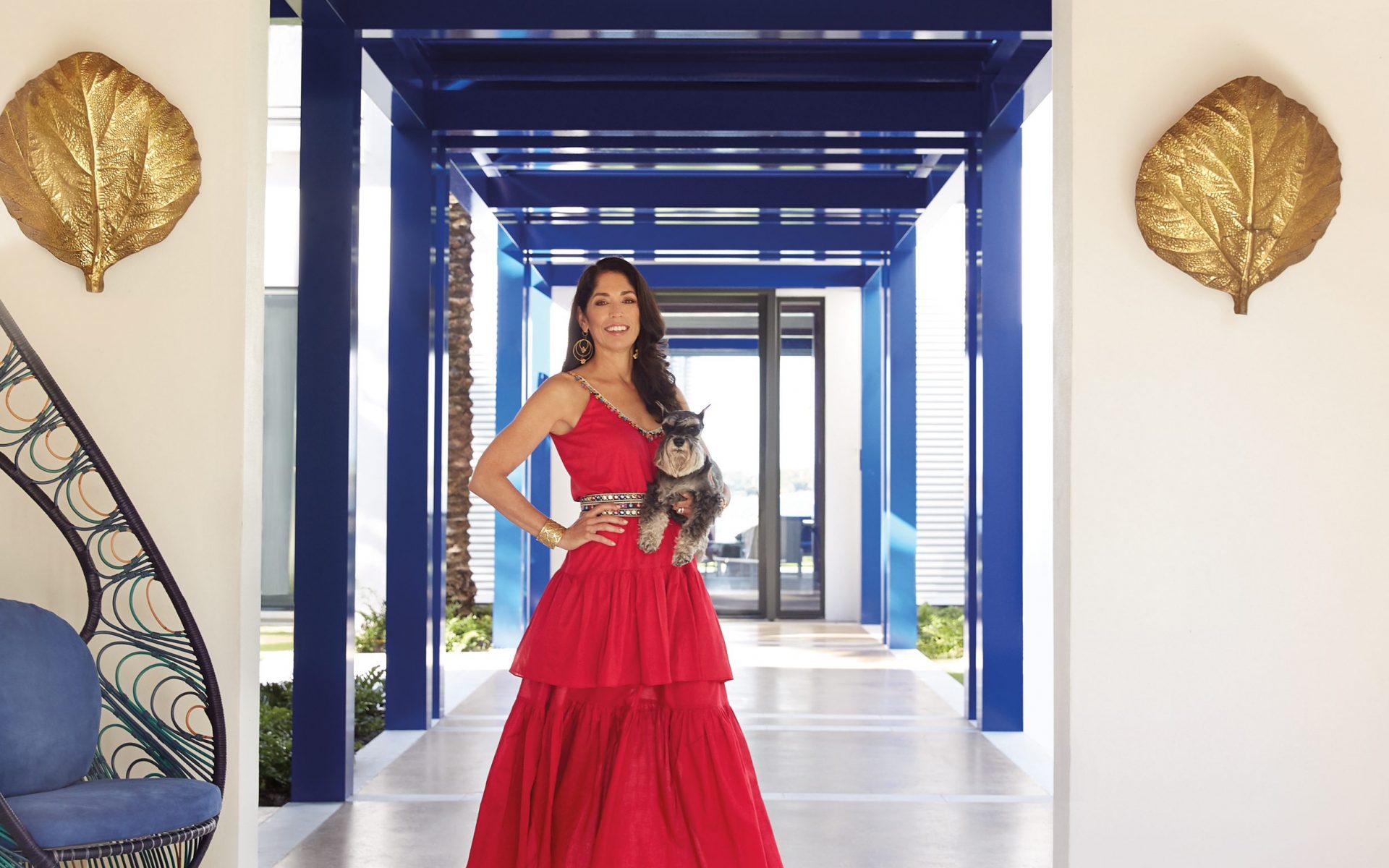 Designer Lillian Fernandez Creates Her Dream House in Palm Beach
This modern tropical residence shines with Art Deco treasures, bold artworks, and chic personal touches
Palm Beach native and interior designer Lillian Fernandez has always been disciplined, nonconformist, and faultlessly elegant. We became friends at age 12, and while our entire class swore by Lacoste polos and Sperry Topsiders, she had already moved on to sharkskin shorts and strappy sandals. At 22, while most of her friends (this writer included) were flailing our way through blind dates and first jobs, Fernandez displayed her signature self-assuredness, marrying Luis, her husband of more than 30 years, and landing a position with a commercial architect. "I wanted to be a designer, so I thought I should learn to read blueprints and know about building mechanics," she recalls.
When Fernandez built her forever house, it was hardly a surprise that she made an emphatic break from the Mediterranean styles typical of Palm Beach and instead conjured a modernist sanctuary that stands out gracefully among its lakefront neighbors. "My husband and I weren't really looking to move," she says, "but I had always dreamed of living on the lake." Lake Worth, the stretch of Florida's Intracoastal Waterway that separates Palm Beach from the mainland, was central to our lives growing up—its placid surface a place for boating, fishing, and waterskiing.
Recommended: Tour an Ultra-Luxurious Boeing 747 Crafted by Alberto Pinto Interior Design
Adding to the lake's appeal for Fernandez was the fact that each of her parents live along its shores. So when her sister, real-estate agent Crista Ryan, called to say a lot was available, Fernandez jumped at the chance to create from scratch her vision of a contemporary tropical residence.
Fernandez's architectural references were rooted in her childhood Palm Beach home, designed in a breezy Bermuda style by society architect John Volk and centered around a leafy courtyard.
But with the picturesque lakefront serving as the primary focal point for her new home, she sought additional inspiration from a modernist seaside villa designed by Hugh Newell Jacobsen in Casa de Campo, a secluded oasis in the Dominican Republic where her family has a retreat. "I absolutely loved the simplicity of that house and the way it flowed from the inside to the outdoors," Fernandez says.
[Slideshow: See more photos of Lillian Fernandez's Palm Beach home]
"The interiors were so pared down, it became all about the surroundings." To help realize her vision, she called upon local architects Stephen Roy and Virginia Dominicis and garden designer Fernando Wong, providing them with a succinct set of directives for an artful one-bedroom house, plus a separate guesthouse, emphasizing connections to the outdoors.
"People thought we were crazy to build a one-bedroom," Fernandez recounts, "but my sons are grown and we didn't want to walk past empty bedrooms." Together, the team conceived a series of peaked white-stucco volumes, arranging the main house and two-bedroom guesthouse around a courtyard with a narrow reflecting pool and covering terraces and walkways with steel trellises painted in an eye-catching blue inspired by Yves Klein.
Recommended: Get a Rare Glimpse of the Royal Family's Private Rooms at Buckingham Palace
The residence features generously scaled entertaining spaces, including the main house's living area—the home's true heart—where soaring windows flood the room with light and offer views of the gardens and lake beyond. "Each space, whether a breezeway, terrace, or garden, has its own relationship to the outdoors," says Dominicis.
Wong's elegantly spare landscaping defers to the architecture and enhances every exposure. The shape of the living room's picture windows mirrors the minimalist square swimming pool. Fernandez's office enjoys verdant views of an urn-shaped fountain set on a lawn of zoysia grass, clipped to the perfection of a PGA Tour putting green. A library window frames an enormous, sculptural banyan tree—the sunlight filtering through its glossy leaves. Fernandez's biggest challenge was the interiors.
"As a designer, I feel like I've used every fabric on earth for client projects, and I wanted something different," she says. "I hunted for original textiles, and if a pattern was meant to run vertical, I used it on the horizontal." While many of Fernandez's design projects call for expansive, overstffued sofas, here she opted for mostly clean-lined, low-back furnishings, in part to keep the focus on the views.
[Slideshow: See more photos of Lillian Fernandez's Palm Beach home]
Sprinkled throughout are Art Deco pieces that exude a modern elegance, plus select French and English antiques sourced from markets in London and Paris as well as shops along West Palm Beach's Dixie Highway. "I like to combine eras. I don't want any spaces to be one-note," the designer explains. When it came to the artwork—from one of Anish Kapoor's signature concave mirrors to a pair of Karen Knorr's surreal photographs of interiors with animals—Fernandez relied on the same instinct and conviction that have governed her since she was young.
"I don't decorate around the art or buy art to fit into the house," she says. "It just has to give me goose bumps." Almost immediately upon moving in, Fernandez's and Luis's habits began syncing with the house. Over morning coffee, they watch tarpon feeding and boats heading out to the Atlantic. Weekends are spent paddleboarding, diving, and fishing. Friends arrive by boat for a dinner of freshly caught mahi-mahi served at a table set on the dock—the lake gently lapping the seawall below. As the sun disappears and their villa glows with so light, the setting feels like perfection.
A version of this article first appeared in print in our 2018 Winter Issue under the headline Her Own Way. Subscribe to the magazine.
Next Post