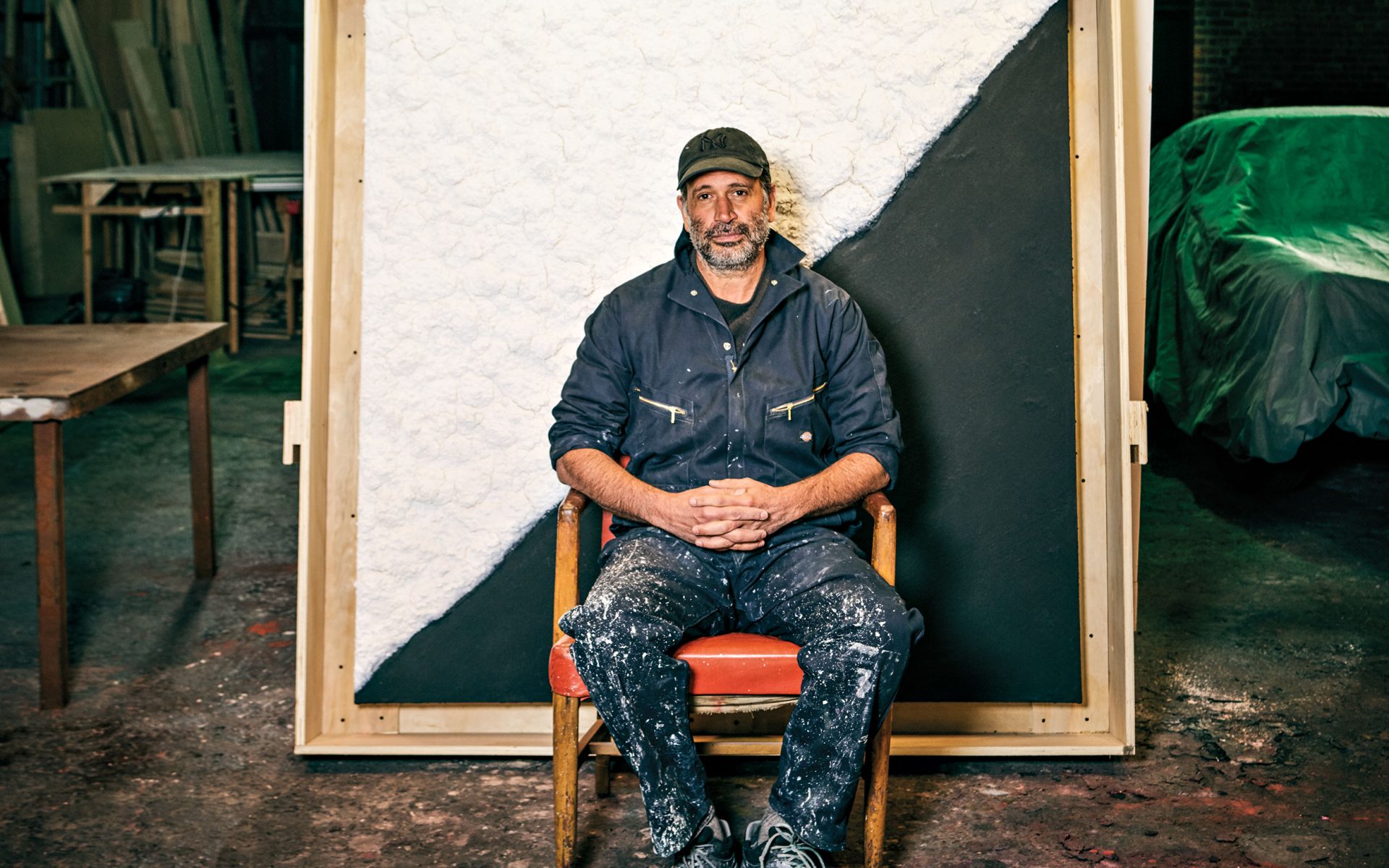 Inside Bosco Sodi's Sprawling Red Hook Studio
Galerie gets an exclusive look at the artist's space ahead of his new monumental new show at Casa Wabi in Mexico
When Hurricane Sandy barreled through New York City in 2012, few neighborhoods were hit as hard as Red Hook, on the Brooklyn waterfront. After the storm surge receded, the pier at the end of Van Brunt Street was stained scarlet, like the remnants of a brutal crime scene perhaps. And, indeed, the devastation that confronted the artists, nonprofits, and businesses occupying the pier's 1860s brick-and-stone warehouses was horrible. Bosco Sodi, whose washed-away cache of pigments was responsible for the red residue, lost 18 of the process-intensive paintings he is best known for—their cracked and densely encrusted surfaces calling to mind lava fields or desert landscapes, often in vivid monochrome hues. A year's worth of his work was gone.
"We were completely destroyed, so we had to renew totally," recounts the Mexican-born Sodi, who made New York his base a decade ago and lives in Red Hook with his wife, Lucia Corredor, owner of the vintage-furniture store Decada in Mexico City, and their three children, Bosco, Mariana, and Alvaro. He says it took around four months to clean up and renovate the sprawling space, which features 25-foot-high stone walls topped by a trussed timber ceiling: "During that time, I wasn't able to paint at all. Looking back, while it was obviously a disaster, it made me reflect and go more slowly, and that was ultimately a good thing."
After a brief pause and reset, Sodi has maintained a remarkably busy, border-hopping art practice that stands out even in today's globalized world. Represented by nine galleries, he maintains studios in three countries, each focused on specific aspects of his creative output. His New York and Barcelona spaces are devoted to painting. In Mexico City (his hometown), he transforms volcanic rocks into sculptural objects by coating them in eye-catching glazes—including a 17K-gold mixture—and firing them at extreme temperatures.
See Galerie's Video of Bosco Sodi Preparing His Work Here. 
And Puerto Escondido, on Mexico's Oaxacan coast, is where he works with clay, hand-molding cubes and bricks to create the minimalist stacks he calls "Caryatids" and "Atlantes" in reference to the female and male figures that decorate support columns in classical architecture.
But Puerto Escondido is more than just another home and workspace. There, Sodi has collaborated with several celebrated architects, including Tadao Ando, Kengo Kuma, and Álvaro Siza, to design an expansive oceanfront compound that also functions as a nonprofit arts center. Named Casa Wabi—after the Japanese aesthetic philosophy wabi-sabi, which prizes imperfection, rusticity, and simplicity—the complex features residences for visiting artists, exhibition spaces, a ceramics-teaching workshop, gardens for native flora, a mobile library, and programs for nearby schools.
The subject of a new book, Casa Wabi, published by Rizzoli, the five-year-old center continues to evolve. "We've already hosted more than 240 artists, and we have worked with more than 16,000 kids in the community," says Sodi. "But I wanted the foundation to be very wabi-sabi—very changeable and flexible—and we're working on making our social programs even stronger."
Recommended: Tour Larry Bell's Incredible Studio in Taos, New Mexico
Sodi entrusts the day-to-day running of Casa Wabi to his sister Carla Sodi Ambrosi, as he spends the majority of his time in New York. Days in his Red Hook studio tend to start early, and not infrequently he is alone, stretching his canvases and blending the mixture of pigment, sawdust, glue, and water that he uses to make his paintings. "I like to work by myself—for me, it's a very private moment," says Sodi, before adding, "Sometimes I'll let one of my kids help me."
To start, he lays his canvases—typically several feet or more across—atop plastic buckets so that the work surface is about a foot and a half off the floor. Working quickly with only his hands, he mounds and smears and flings the mixture onto the canvas with an almost performative physicality. (Years' worth of chromatic splatters encrust the studio floor, creating what is arguably the ultimate wabi-sabi painting.) While the works are left to dry—for three to five weeks—alchemy takes over, as their surfaces harden and crack in unpredictable ways that are influenced by factors such as temperature, humidity, and the pH of the water used.
"The work is about Bosco's relationship to the materials," says the artist's studio manager, John Rohrer, who occupies an office at the front of the warehouse, where there's a bar and vintage seating selected by Corredor for hosting visitors. "Everything he makes is an experimentation. He embraces all outcomes."
Sodi's latest paintings have taken a reflective—and muted—turn, brought on by a combination of factors, including the death of a beloved grandmother, which got him thinking more about his own life, getting older, and his family. He decided to create a series of paintings that combine areas of black and white as a way of addressing universal dualities: light and darkness, life and death, good and evil. The series, called "Genesis," debuted in the fall at his Berlin gallery, Galerie Eigen + Art. Additional works are on view at a pair of exhibitions, at Blain|Southern in London and Galería Hilario Galguera in Mexico City, through late March and early April, respectively.
Recommended: We Visit Kenny Scharf's Awe-Inspiring New Studio as He Readies for the Spotlight
"This is the first time I've mixed two colors. I like the elegance of black and white," says Sodi, adding with a laugh, "In the end, the hope is that the white, the good, will prevail."
White will also be prominent in his next paintings project—to be exhibited at Kasmin Gallery in New York in 2020—conceived as an homage to Spain, where he began his career. One specific inspiration is a triptych of white Joan Miró paintings, Pintura Sobre Fondo Blanco para la Celda de un Solitario (I,II,III), each with a single line gently wavering across its surface. Sodi plans to render that simple gesture as "a scratch, as if it was a very free line," he says.
Meanwhile, this spring will mark the official unveiling of Sodi's monumental Atlantes pavilion at Casa Wabi. More than two years in the making, the land-art-scaled installation features 64 equally spaced, seven-foot-tall cubic structures, each composed of 1,600 clay bricks. "They look like they are holding up the sky," the artist says of his Atlas-inspired cubes, noting that "they will change over time, as they get mold, turn green, and wildlife inhabits them."
And Sodi has continued making clay bricks for new iterations of his Muro, which began as a public art installation for New York's Washington Square Park in 2017 and has become the best-known work of his career. Standing more than 6 feet high and 26 feet across, the original wall was made of 1,600 bricks, which members of the public were invited to take away, slowly dismantling the structure.
It was a rare foray into politics for Sodi, who notes that the piece was not just about debates over immigration and border security but "a lot of walls that have to be broken down—economic, gender." He has since reprised Muro in Brexit-edgy London, in Antwerp, and most recently in Tampa, Florida, in January. "Even though I'm not a political artist, at times like this I think artists have an obligation if they see an opportunity to make a political statement," he says. "It's now or never."
Stepping outside Sodi's studio onto the pier, you find yourself staring directly at the Statue of Liberty, rising majestically in New York Harbor. The power of that symbol of freedom—which once greeted waves of immigrants entering America through Ellis Island—isn't lost on Sodi. "It is," he says, "an important reminder." 
A version of this article first appeared in print in our 2018 Winter Issue under the headline The Wabi-Sabi World of Bosco Sodi. Subscribe to the magazine.
Next Post