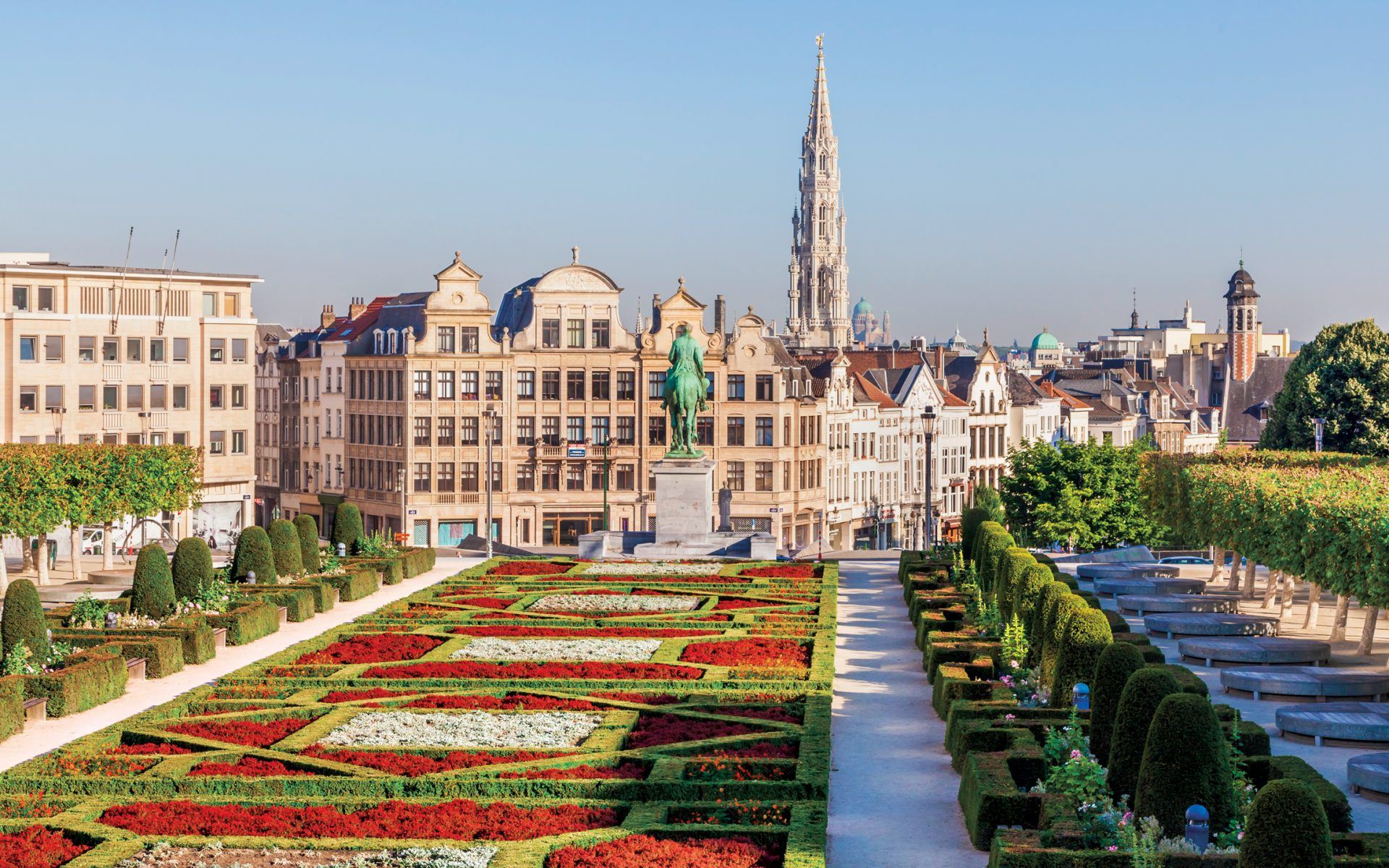 Why Brussels Is Experiencing a New Wave of Art Visitors
Belgium's capital artfully melds the old and new with a number of contemporary design fairs and museums dedicated to Old Masters
The alluringly off-center oddness of Brussels—the ancient town that is Belgium's capital, its largest city, and the centerpiece of the European Union—has always made it a creatively fruitful place for artists.
The celebrated Belgian Surrealist René Magritte worked a significant portion of his life here and much of his output is displayed in the permanent collection of the Musée Magritte Museum on the Place Royale. This hinge city between Latin and Germanic cultures was also exceptionally receptive to the sinuous Art Nouveau style of Victor Horta, one of the greatest Belgian architects and designers. The most perfect example of his genius was his own private residence and studio, which now house the Horta Museum.
Friendly, funky, and politely individualistic, Brussels endures as a cozy, walkable city of intriguingly diverse neighborhoods, ranging from its medieval core around the Grand Place to the elegant silk-stocking Avenue Louise. The chic central Sablon neighborhood has traditionally been the heart of Brussels's art world. Here, visitors will discover many outstanding galleries, including Jan Mot, Galerie Derom Patrick, Eric Gillis Fine Art, and Deletaille Gallery, as well as the city's most important museum complex, the Musées Royaux des Beaux-Arts de Belgique. A busy antiques market takes place in the Place du Grand Sablon every weekend.
The Ixelles and Saint-Gilles quarters are also bristling with world-class galleries, such as Xavier Hufkens, Rodolphe Janssen, and La Patinoire Royale. Almine Rech's powerhouse gallery in Ixelles is known for showing a range of talent, including Antoni Tàpies through March 28, followed by exhibitions of work by Sol LeWitt and Huang Yuxing.
Recommended: The Ultimate Art Insiders' Guide to Antwerp
Creative types are giving Saint-Gilles a stylish, urban edge with new shops, cafés, restaurants, and art spaces, but they're also moving into formerly working-class districts like Anderlecht and Molenbeek. "Brussels has always had a rich history of being a magnet for artists, galleries, and collectors," says Liv Vaisberg and Clélie Debehault, cofounders of Collectible, an innovative fair that showcases the best in collectible design today, highlighted by a curated array of unique and limited-edition works by talents from a mix of disciplines. "Independent institutions such as Wiels, the Boghossian Foundation, the recent creation of Kanal Pompidou, and the opening of international galleries such as Almine Rech, Gladstone, and Clearing have all shaped Brussels as an important global marketplace."
Molenbeek is also the location of Tour & Taxis, the magnificently renovated industrial compound where Art Brussels, one of the oldest art fairs in Europe, occurs every April. This year, the show runs April 23–26 and will include more than 150 galleries as exhibitors.
Another renovated and repurposed building, Brussels's striking modernist Espace Vanderborght, just a short walk from the Grand Place, hosts Collectible. This year's event takes place March 5–8, and among the designers to look out for are Carla Cascales Alimbau (Barcelona), Ksenia Emelianova (Rome), Charlotte Kidger (London), and Nathalie Campion (Paris), who will launch new pieces at the fair.
Visiting art lovers and collectors are spoiled for choice when it comes to hotels, but two of the city's best are the charming Hotel Amigo, just around the corner from the Grand Place, and the atmospheric Hotel des Galeries, which is located in the covered 19th-century passage known as the Galeries Royales Saint-Hubert. The city's food connoisseurs are equally presented with an embarrassment of riches. The Bruxellois crave the world's best beer—head for Moeder Lambic to sample some superb ales—as eagerly as they do its finest chocolates, such as those at Passion Chocolat at rue Bodenbroek 2/4. Great local comfort food like the boulettes (meatballs) served in tomato sauce with fries at Brasserie Ploegmans is devoured as hungrily as the delicious creative cuisine of chef Christophe Hardiquest at his Michelin two-star Bon Bon.
Ultimately, Brussels's new vocation as a major art and design center is not at all surprising, since the city itself is a work of art.
A version of this article first appeared in print in our 2020 Spring Issue under the headline "Time Transfixed." Subscribe to the magazine.
Next Post