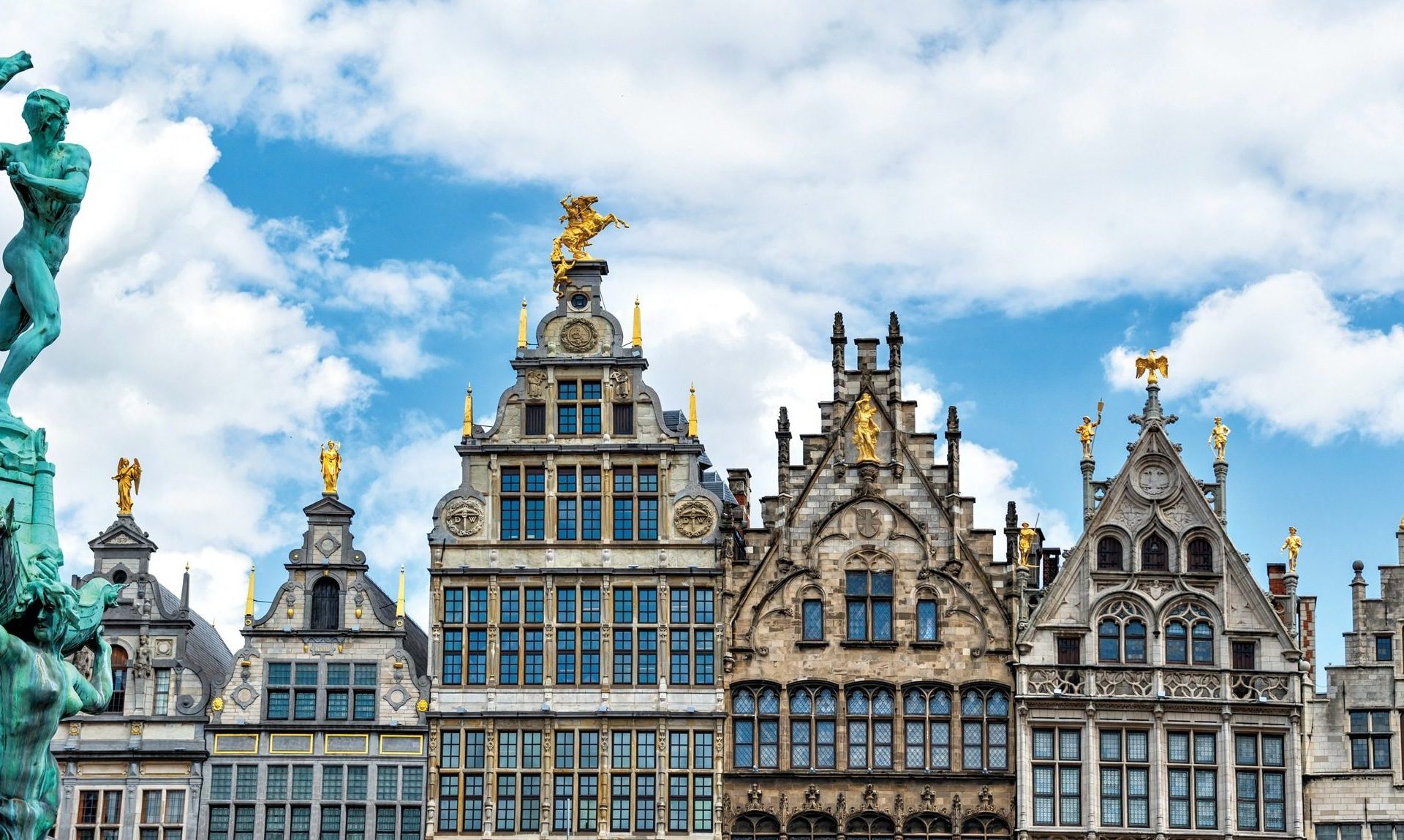 The Ultimate Art Insiders' Guide to Antwerp
A new generation of creative talent is reshaping the Belgian city into a fashion-forward cultural hub
In the 17th century, the Flemish Baroque painter Peter Paul Rubens was the prevailing artist of Antwerp, renowned for his portraits of the royals of his day. Antwerp's list of notable homegrown talent, however, is quickly expanding as a renewed artistic energy takes hold. The proliferation of independent artist-run galleries, project spaces, and pop-up exhibitions, as well as the reimagining of the city's architecture and design scene, is attracting more and more global collectors to the burgeoning cultural hub.
As the draw of Antwerp shifts from a celebration of its past to the allure of its future, new developments are taking shape. Internationally esteemed Belgian designer and antiques dealer Axel Vervoordt and his family envisioned a new multiuse cultural and residential development outside the city center on the Albert Canal. "We were inspired by the historic industrial character of the place, which was built in the 19th century as a distillery for gin and later turned into a malting complex by adding the concrete silos," says Vervoordt about Kanaal, a complex of brick buildings that now houses 98 apartments, 30 offices, a warehouse, a restaurant, an art foundation, and multiple exhibition spaces. "It's like a small city surrounded by green."
This spring Kanaal will present a solo show by Russian conceptual artists Ilya and Emilia Kabakov, "Unfinished Paintings: C. Rosenthal" (March 16–August 31), as well as "The Crime of Adolf Loos" (March 16–May 25), a group show assembled by curator Alistair Hicks. "The Vervoordts have created not just a project but also a habitat hosting a very refined lifestyle," says James Druckman, president and CEO of the New York Design Center, who made the pilgrimage last fall.
Vervoordt's imprint can also be felt at Diva, the newly reopened museum currently showcasing a contemporary Wunderkammer that features art he curated. "I went looking for very specific African pieces, to show that there is also something Buddhist, something very serene to African artworks," says Vervoordt of his selections, which include works by Ghanaian sculptor El Anatsui, cameo jewelry, beaded masks, fossils, and feather crowns, all exquisitely installed and on view until April 28. "I love to mix items from various periods and époques that bring a universal message. I'm interested in creating new dialogues."
The Museum of Contemporary Art Antwerp boasts a strong collection of post-1960s art, including pieces by Dan Flavin, Marlene Dumas, and Antwerp painter Luc Tuymans, who recently curated a show there juxtaposing the works of Baroque masters with contemporary art.
Recommended: The Ultimate Art Insider's Guide to Maastricht
"Many artists now have their own spaces and exclusively show their own work," says painter Viviane Klagsbrun, an Antwerp native. Klagsburn highlights Factor 44, one of the first artist-run independent spaces in Antwerp, as an early example. The gallery, launched in 1996, closed in 2006, but in its place Pinkie Bowtie, Souterrain, and C A S S T L—which Tuymans operates with his wife, the artist Carla Arocha, and Stéphane Schraenen—have popped up and offer those on the hunt for emerging talent a wealth of places to explore.
Most of these locations will open their doors alongside Antwerp's more established galleries—such as Galerie Annette De Keyser, Keteleer Gallery, and Galerie Verbeeck–Van Dyck—and museums during the fifth annual Antwerp Art Weekend (May 16–19).
Yet art isn't Antwerp's only cultural calling card. The mingling of architectural styles is integral to the city's DNA, with exquisite Art Nouveau townhouses in the Zurenborg neighborhood and historic squares like Grote Markt a reminder of the city's rich past. Architect Vincent van Duysen's namesake firm is responsible for a number of significant modernist buildings and interiors, including Graanmarkt 13, a concept store, restaurant, and apartment rolled into one.
His minimalist oeuvre can also be seen at Copyright Bookshop, an art and architecture bookstore, as well as at the new August hotel, scheduled to open this spring in a 19th-century military hospital. "You will feel the Flemish style of architecture," Van Duysen says about the 44-room property, which will include two gardens designed by Wirtz International. "It's very authentic—a preserved heritage building updated with new custom design pieces."
Since opening in 2016, Port House, one of the last projects realized by British-Iraqi architect Zaha Hadid, has helped turn the waterfront into an up-and-coming neighborhood. Nearby, Het Bos, a combined performance and exhibition space, café, and bar, has become the destination for the local art scene.
As in any creative hub, collaboration is in the air. From inside his stylish four-story home and studio, interior designer Gert Voorjans partners with another Antwerp resident, fashion designer Dries van Noten, on his modish, pattern-layered boutiques.
Recommended: 10 Fantastic Finds from Jewelry to Painting at TEFAF Maastricht 2019
But the city isn't just a feast for the eyes. To experience Antwerp's flourishing food scene, head to the Jane, designed by Piet Boon and launched with chefs Sergio Herman and Nick Bril. The restaurant earned two Michelin stars and is still the hottest table in town. The Michelin-starred Dôme is run by husband and wife Frederic and Evangeline Chabbert, who also operate the more casual Dôme sur Mer, an intimate modern seafood restaurant around the corner. "The food was fresh and excellent, as was the service," says Druckman, the globe-trotting CEO, of Dôme sur Mer. "It's an oasis of quiet chic in an otherwise very happening city." 
A version of this article first appeared in print in our 2019 Spring Issue under the headline Next Chapter. Subscribe to the magazine.
Next Post