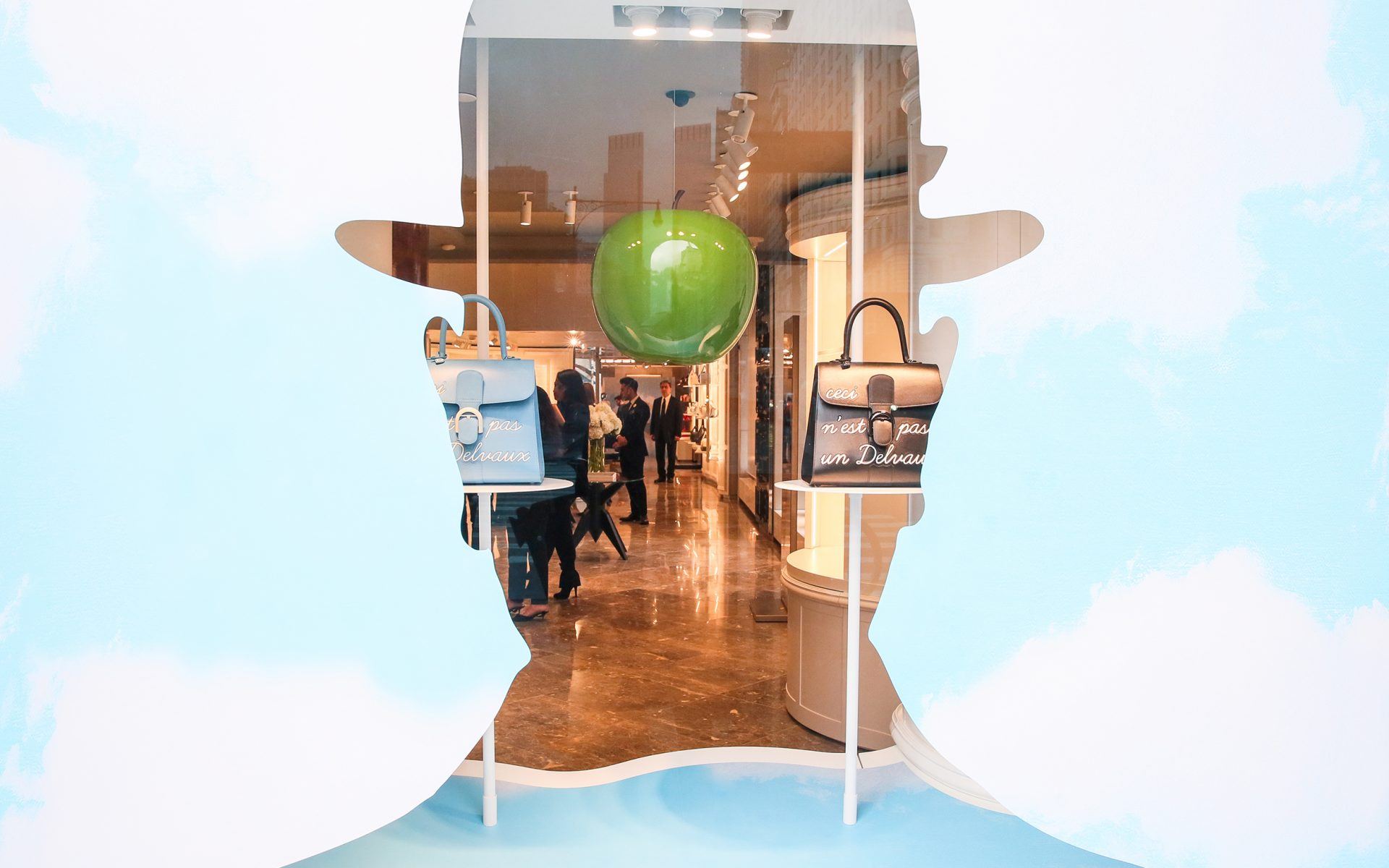 Delvaux Unveils Delightful Handbags Featuring Work of René Magritte
To help launch the Magritte collection, Delvaux is showcasing works by the famed Surrealist that have never been on display
A long-standing relationship with the Magritte Foundation has led luxury handbag purveyor Delvaux to introduce its newest collection, inspired by the work of famed Surrealist artist René Magritte. "Taking the colors and inspiration from Magritte's art and incorporating it into our piece—whether it is the cloud print on the interior of the handbags, the bowler hat, or the apple cutouts in our small leather goods—add something fresh and playful to our offerings while still maintaining our brand essence," Delvaux's CEO and chairman, Jean-Marc Loubier, tells Galerie. 
The Magritte Collection, which features over 20 pieces, including men's and women's bags as well as a limited selection of small leather goods, debuted in New York at an event attended by trendsetters such as Olivia Palermo, Jessica Joffe, and photographer Francesco Carrozzini. At the launch party were a number of works by Magritte that had never before been on display, including The Cut Glass Bath and The Treachery of Images. On loan from private collectors, the artworks are on view at Delvaux's Fifth Avenue flagship—the brand's first U.S. boutique, which opened earlier this year—through May 24.
"These works of art by René Magritte are meant to be seen in a public space—not in private viewing for a limited audience," says Loubier. "While working with the Magritte Foundation on this, we thought it would be best to showcase the works in our Fifth Avenue location to attract a wide audience. You are not only attracting people who are interested in our handbags, but also people who are interested in art and design as well."
Recommended: Dior Enlists 11 Women Artists to Create Chic New Handbag Collection
Delvaux's enduring relationship with the Magritte Foundation began in 2015 with the debut of a capsule collection. The following year, Delvaux supported Magritte's exhibition at the Centre Pompidou in Paris and the 2018 show "René Magritte: The Fifth Season" at the San Francisco Museum of Modern Art. The company has since signed an exclusive agreement with the Magritte Foundation with more collaborations to come.
"Aside from Delvaux and Magritte both being two emblematic Belgian figures, the partnership was very natural," says Loubier. "As a luxury brand in today's world, we are constantly having to find innovative ways to showcase not only our product, but our heritage and history as well. Partnering with the Magritte Foundation was an interesting way for us to bridge business with the meaning and heritage behind Delvaux."
Next Post