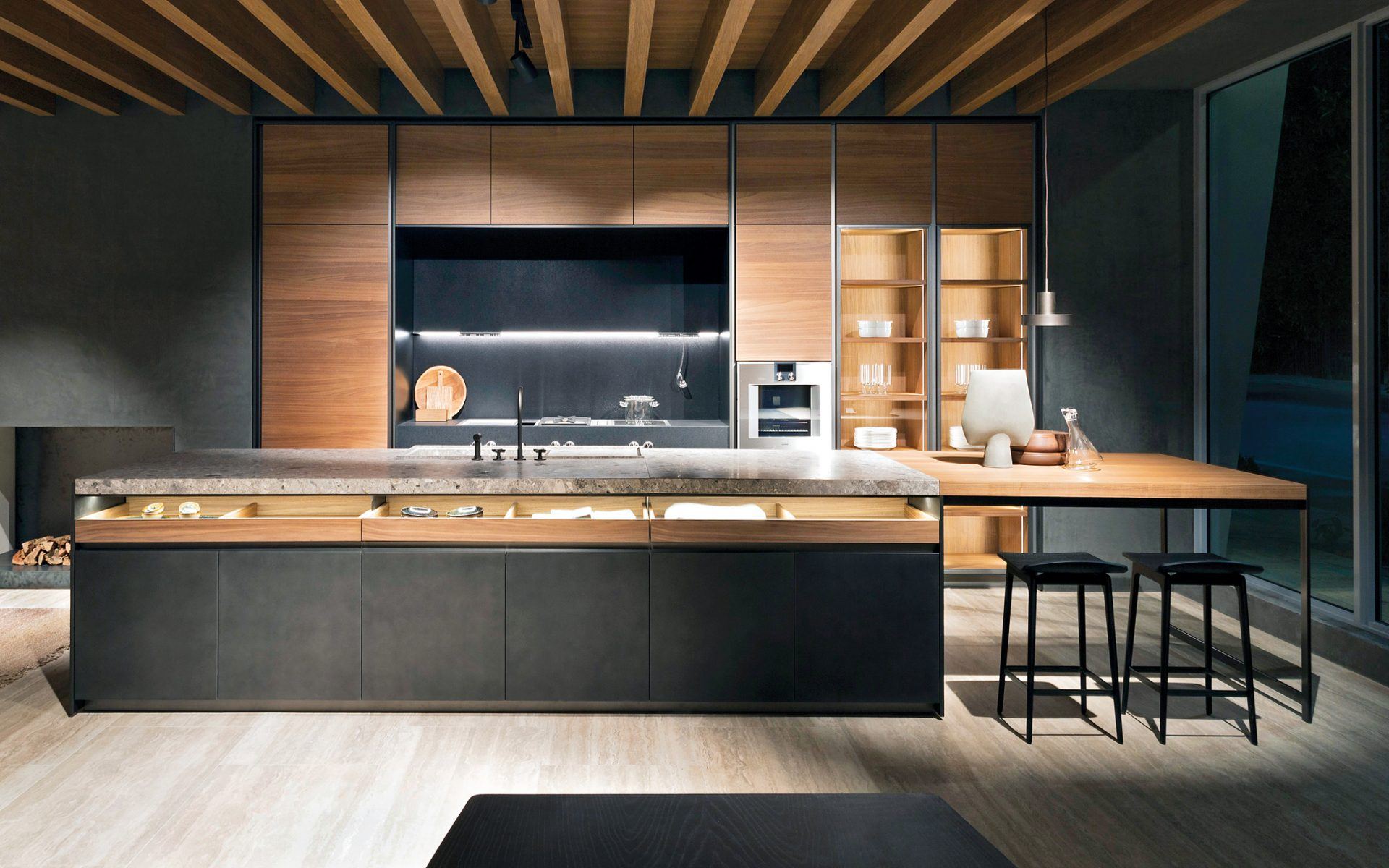 Architect Vincent Van Duysen Conjures Two Distinct Flagship Stores for Molteni
The Belgian architect created a warm yet sleek showroom in West Hollywood and a sunny, splashy space in Miami's Design District
For architect Vincent Van Duysen, the past three years have been nonstop and far-reaching. As the creative director for Italian furniture company Molteni Group, the Antwerp-based designer has helped reposition the 86-year-old brand by developing new showrooms in London, Seoul, and Dubai as well as most recently a Los Angeles location and a flagship in Miami.
In crafting these unique spaces, the architect chose to accentuate design details of each particular locale. "Los Angeles has a much more midcentury feel—it's more horizontal, sleeker, and edgier," says Van Duysen. "Miami is a little funkier, darker, and more tropical with a garden."
Located on West Hollywood's famed Robertson Boulevard, the over-7,600-square-foot West Coast flagship store includes a dramatic suspended ceiling of black oak beams, with walls finished in plaster and travertine. A joint venture with DDC Group, the two-story location showcases three Dada kitchens, along with Gregor, a new modular seating system, complemented by Molteni&C's noteworthy walk-in closets and wardrobes.
Across the country, the flagship in Miami's Design District made a splashy debut during Art Basel in Miami Beach. Spanning two levels and surrounded by local flora that peeks into light-dappled rooms, the environment keeps with Molteni's signature soft palette and its traditional combination of travertine, walnut, and plaster. "We never aim for an artificial, soulless showroom where it's only about showcasing the furniture," says Van Duysen.
Recommended: How Galileo Inspired Alison Berger's Radiant New Lighting Collection
The architect's symbiotic partnership with one of the few remaining Italian manufacturers that is still family-owned shows no sign of slowing down—there are more galleries to come, including a new outpost in Paris. Van Duysen, who was tapped to be Molteni's creative director in 2016, has also created new products for Molteni and several of its adjacent brands, such as kitchens for Dada and furniture for the office-forward company UniFor. "It's all about embracing the beauty, the art of living, comfort, and well-being," he says.
A version of this article first appeared in print in our 2020 Spring issue under the headline "Local Factor." Subscribe to the magazine.
Next Post