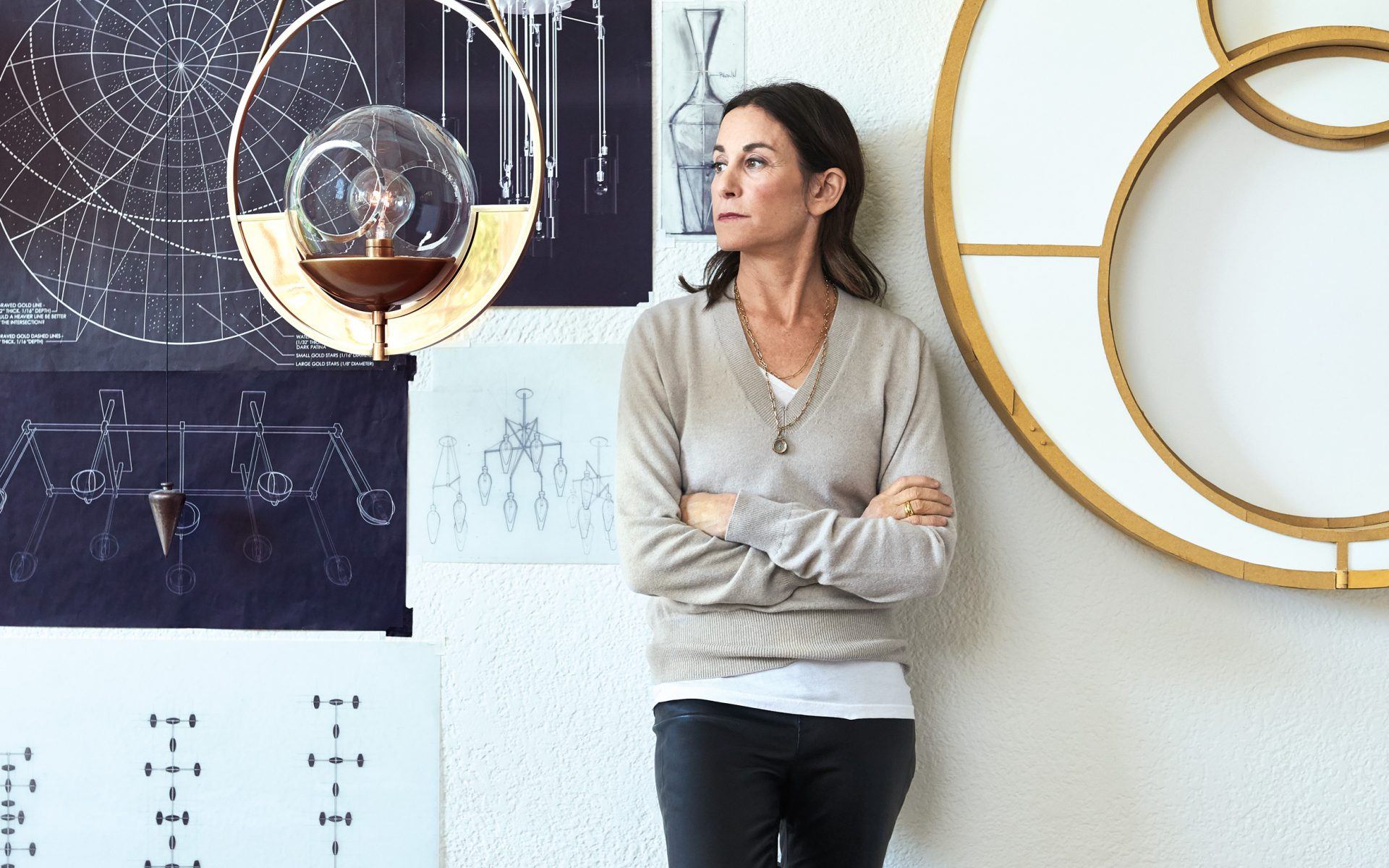 How Galileo Inspired Alison Berger's Radiant New Lighting Collection
The Los Angeles lighting designer unveils four gorgeous pieces for Holly Hunt
To create her majestic lighting, designer Alison Berger has found inspiration in the romance of a downpour at night and the nostalgia of fireflies captured in a Mason jar. But for her newest collection, her motivations were decidedly more scientific, looking to Galileo's study of the pendulum and the kinetic sculptures of George Rickey. Berger's modus operandi of crafting unseen layers of history, philosophy, science, and spirituality connects all four of the pieces in the collection, which debuted at Holly Hunt showrooms this winter. Her Medallion pendant features interlocking circles that read as fairly linear when viewed from one direction and more curvaceous from another. The design of the Golden Teardrop was influenced by a 16th-century theory of how the eye sees as it responds to light in a process similar to the aperture workings of a camera.
No matter the inspiration, quality of light remains first and foremost for the Los Angeles–based glass artist, who apprenticed with Dale Chihuly and briefly worked in Frank Gehry's office before opening her namesake glassworks in 1995. She even believes golden-amber light, which is a trademark of her lighting collections, has healing vibrations.
In recent years LEDs have dominated the industry, but Berger hasn't traditionally been a fan. "I can't bring a brass band to a chamber music concert," she explains. She spent over two years testing different configurations of LEDs before realizing her goal of an LED that's atmospheric, moody, and in line with her signature golden light and conceived two designs in the process.
Recommended: Lighting Designer Bec Brittain Unveils Her First Rug Collection
The new Pendulum chandelier boasts hand-formed crystals, each weighing over six pounds, suspended via cloth-covered cords from minimal bronze armature. Banding on each bulb radiates a striated effect akin to the threading detail on a fourth-century goblet and refracts the LED light in exactly the way Berger desired. The Body and Heart pendant is a deceptively minimalist design achieved using a complicated method of cold cutting the glass to form openings in the encasement. The solid-crystal heart houses an LED bulb inside. Berger describes the piece as speaking to the resilience of the human heart: "No matter what, it continues to shine."
A version of this article first appeared in print in our 2020 Spring issue under the headline "Crystal Clear." Subscribe to the magazine.
Next Post