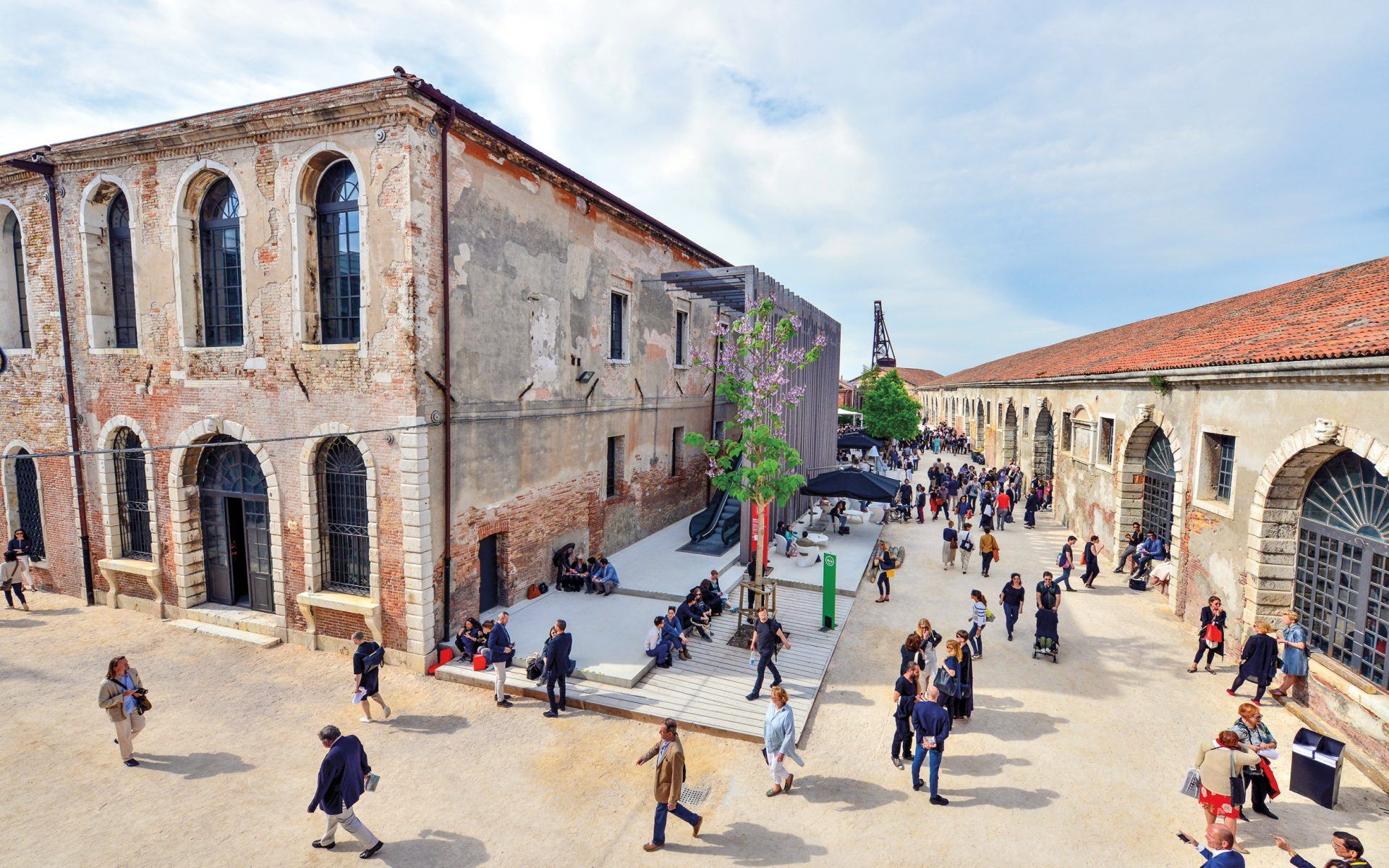 Galerie's Guide to the 2019 Venice Biennale
An inside look at the artists, pavilions, and installations everyone will be talking about
Approximately 250 art biennials are organized around the globe, from Albania to Vietnam, not to mention the countless annual fairs that keep art lovers crisscrossing continents. But there is only one international art event that draws the world to its waterfront with the twin guarantees of myriad artistic discoveries and old-world pleasures: the Venice Biennale.
The citywide event, taking place May 11 to November 24, encompasses curated exhibitions in the national pavilions along the verdant alleyways of the Giardini, Venice's public gardens, and related shows in the Arsenale shipyards, whose 12th-century industrial bones serve as a magnificent setting for contemporary art. Additionally, visitors can see incredible works at pop-up displays inside centuries-old churches, on the lagoon's neighboring islands, and in palazzi flanking the Grand Canal.
This year's theme, conceived by Ralph Rugoff, director of London's Hayward Gallery, is "May You Live in Interesting Times," ensuring an emphasis on incisive art. "Biennials like Venice are where art history is written, questioned, and redefined," says Klaus Biesenbach, director of Los Angeles's Museum of Contemporary Art. "I'm very curious to see how Ralph enables artists to visualize these times and the world we live in—and, of course, that is very exciting."
Recommended: Inside the New Valmont Art Foundation in Venice
For Ghana's inaugural participation, architect David Adjaye has designed an eloquent space in the Arsenale for works by artists such as El Anatsui and Lynette Yiadom-Boakye. Nearby, the dynamic curatorial duo Sam Bardaouil and Till Fellrath are collaborating with Emerati poet and filmmaker Nujoom Alghanem.
Iraq's pavilion, meanwhile, features a solo exhibition by artist Serwan Baran, who debuts a multidisciplinary project focusing on conflict in his home country. The British pavilion, which drew crowds in 2015 with Sarah Lucas's provocative nude sculptures, presents an installation by the prize-winning Irish sculptor and painter Cathy Wilkes. "Cathy's work is art that whispers rather than shouts, but she certainly is commanding," says Hayward Gallery's Zoé Whitley, the first African-American woman to curate the British pavilion.
The U.S. pavilion can always be counted on for a compelling exhibition. This year is no exception: Martin Puryear, the beloved 77-year-old sculptor known for crafting colossal works in humble materials, fills the exhibition space, inside and out, with new works, including a monumental outdoor piece for the pavilion's forecourt.
"Martin has been working since the late 1960s, and this exhibition is going to show us some of the most extraordinary work that he has realized," says the U.S. pavilion's curator, Brooke Kamin Rapaport, who, as deputy director of New York's Madison Square Park Conservancy, collaborated with Puryear on Big Bling, his 40-foot-high sculpture that recently spent a year in the public park. "He has always had a deeply thoughtful and searing perspective on history, and how the past can illuminate and complicate the present."
Recommended: Harold Ancart Transforms a Handball Court into a Work of Art
Elsewhere, the Basilica of San Giorgio Maggiore welcomes new works by the Irish abstract artist Sean Scully, who unveils an illuminated manuscript inspired by this majestic 16th-century Benedictine church. And the influential Belgian artist Luc Tuymans takes over the elegant Palazzo Grassi with his gorgeously painted, always relevant canvases.
Venice's most eye-catching event may be New York artist Melissa McGill's contribution: Red Regatta, 50 boats festooned with handmade red sails that will cruise the lagoon and canals for six months to celebrate the city's maritime history. "People might caricature the art world as jaded, but there are opportunities for genuine surprises and innovation," says Whitley. "Artists constantly bring their A game to the Venice Biennale. What's better than that?"
A version of this article first appeared in print in our 2019 Summer issue under the headline Making Waves. Subscribe to the magazine.
Next Post