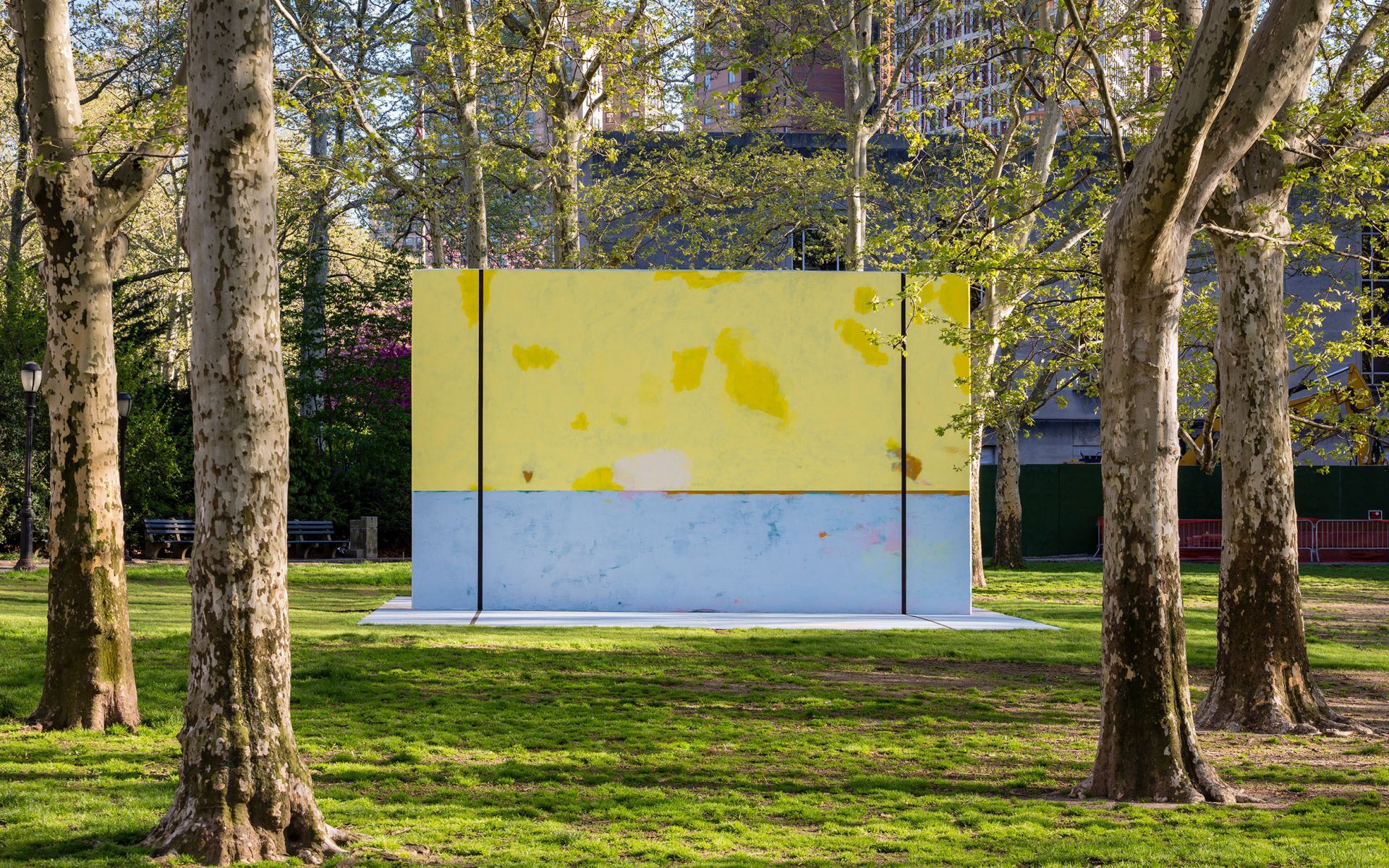 Harold Ancart Transforms a Handball Court into a Work of Art
The Belgian-born painter has just unveiled his first public art project in the U.S.
There are roughly 2,000 handball courts scattered throughout New York's five boroughs, some dating back almost a century to the Great Depression, when the game became a popular pastime for the working class and immigrants. But now there is one whose bright colors set it apart from all the others. Doubling as a work of art by Belgian-born artist Harold Ancart, a handball court at the north end of Cadman Park Plaza in Brooklyn has been transformed into a freestanding painting.
Subliminal Standard, which was commissioned by the Public Art Fund, is a handball court painted with Ancart's signature elements: cheerful colors that are slightly muddied, a flecked surface, and hard lines cleanly dividing the surface.
Ancart first noticed these courts while roaming the streets of Bushwick, where he lives and works. He found their accessibility and egalitarianism intriguing. With their multiple planes, the courts seemed the perfect model for an interactive art installation.
Recommended: Belgian Artist Harold Ancart Has a Buzzy Show Coming Up at David Zwirner
"I've always been interested in the playground and its relationship to abstraction," Ancart said at the public unveiling on April 30. "I'm also interested in the way they wear out."
During the preview, in an effort to invite interaction with the work, Ancart passed out rubber balls as he spoke, encouraging visitors to bounce them against the surface. He said he hopes that parkgoers will get a lot of use out of the court.
The idea first took root in a series of small sculptural plywood models that Ancart had meticulously constructed and painted for a future installation he hoped one day to realize. Those punchy models were displayed at Clearing's booth at Independent New York in 2018. Before long, however, he decided that so much planning was not necessary and ultimately improvised much of the composition on-site.
Recommended: Artist Alicja Kwade's Latest Installation Beguiles Crowds on the Met Rooftop
"I found that anything works with anything—you don't need to come up with a plan," explained Ancart, whose large-scale paintings were simultaneously on view over the weekend at David Zwirner's booth at Frieze. "I just went for it, knowing that, no matter how, it would work. When you paint, there are the things you know will happen, and there are an equal amount of things that some people might consider an accident, things you don't expect. Those things, I think, are equally interesting to observe within a practice as a painter because it's about what you don't know."
On the flip-side, Ancart carefully avoided creating something too abstract that would alienate visitors to the park—especially considering how large, and, as he describes it, "in your face," Subliminal Standard is. Intending the piece to be accessible and easy to interpret, he related the painting's palette to hues that occur naturally in the park.
"I came up with a color for the floor that's close to the sky," he said speaking over the sound of a light drizzle of rain. "When it's sunny, it becomes a super flashy blue. Right now, it's kind of gray. You have the yellow of the trees, too."
Then he added, "It's complicated to explain how I paint. I try not to think about it too much."
Subliminal Standard is on view at Cadman Plaza Park in Downtown Brooklyn through March 1, 2020. Park hours are 6 a.m.–1 a.m. daily.
Next Post