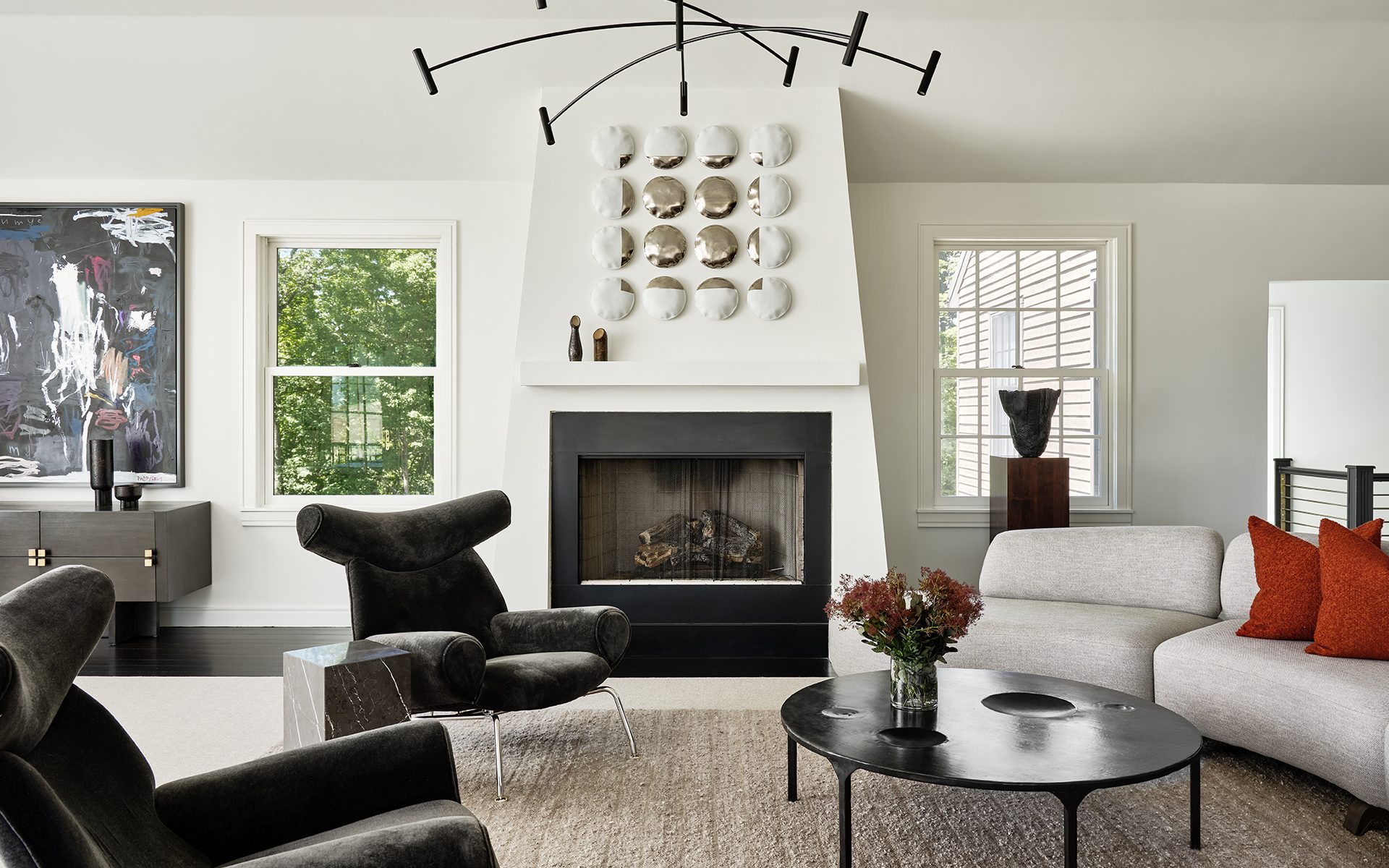 This Upstate New York Home Is the Perfect Lesson on How to Blend Past and Present
Situated on an expansive landscape of rolling hills, the weekend retreat designed by Todd Raymond features classic architecture, modern interiors, and punchy works of art
Clients often have to see it to believe it, which is how Todd Raymond came to be connected with a young couple who had recently purchased their first home in New York's Hudson Valley, perfectly sited on a large parcel of land that offered unobstructed views of verdant greenery and no sight lines to neighboring properties.
Overwhelmed by the buying process, they looked to some friends upstate who had recruited Raymond's namesake design studio to craft their modern-barn style residence that carefully melded rustic features, like textured beams and reclaimed wood, with industrial touches of polished concrete and blackened steel.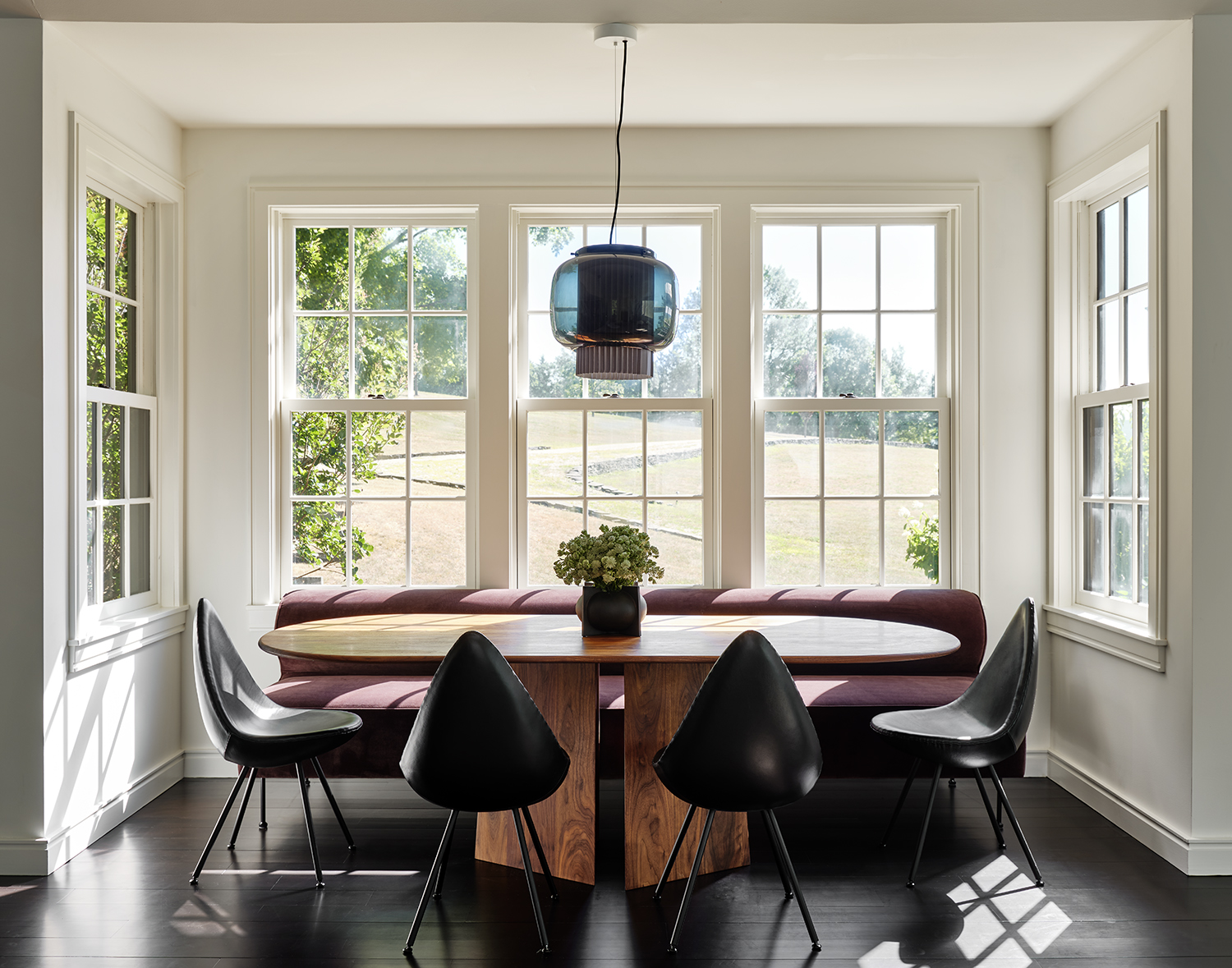 In their own Ancram, New York, property, the couple wanted a likeminded urban aesthetic wrapped in the shell of a country home. "They really gravitate towards a little bit more modern style when it comes to furniture," says Raymond. "We were tasked with how to marry the two."
The designer started by paring back the palette, repainting walls and trim a creamy winter white and the doors a deep black. Floors were stripped and re-stained a darker hue. A curved archway was transformed with a more angular shape. Dated millwork was scraped away for a clean slate. "We just softened things up and squared things off where we could to set the tone for a little bit of a sleeker look," says Raymond.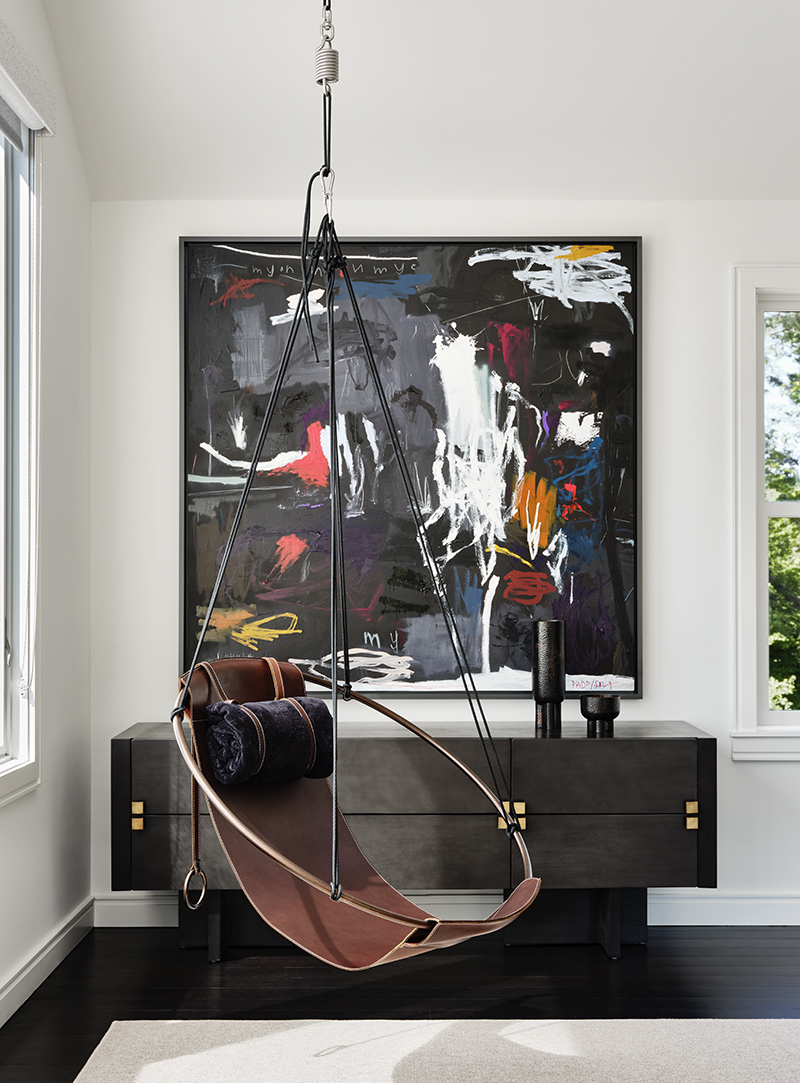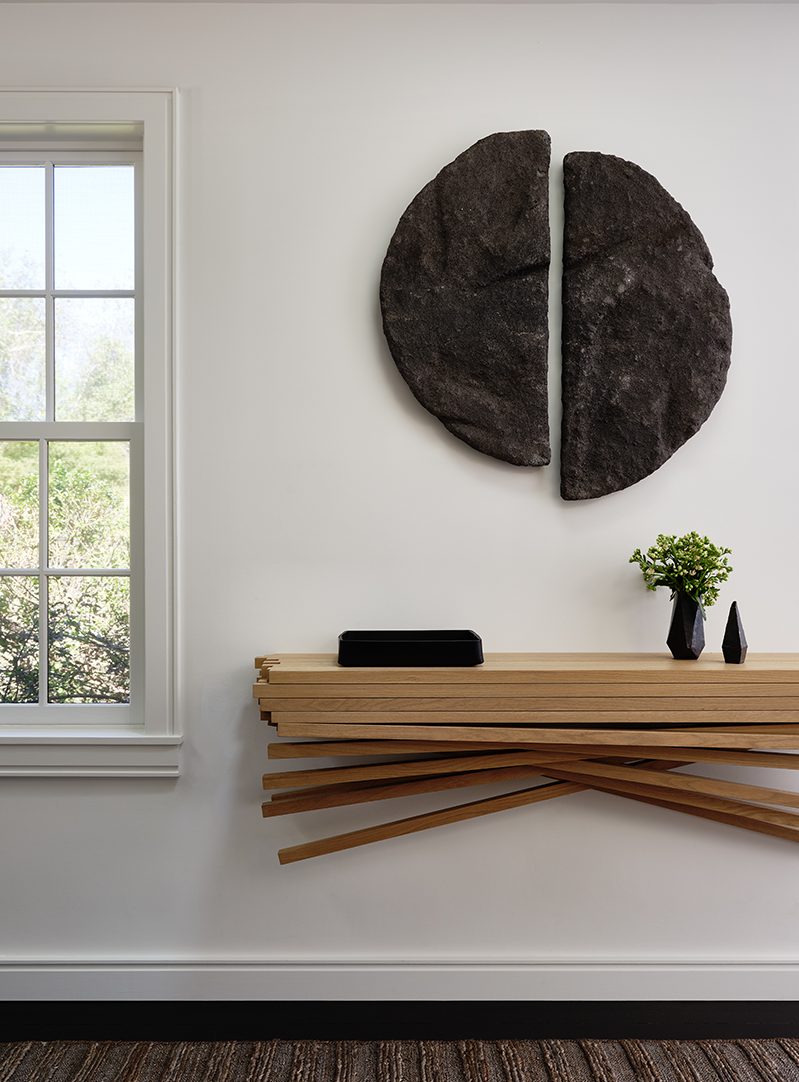 The home's original architecture was mostly preserved except for on the lower level, where the floor plan was reconfigured to create a media room and bar. On the main level, monumental windows flood the vast living space with natural light. A reimagined trapezoidal fireplace creates a chic focal point enhanced with a minimalist installation of porcelain disks.
By walking the clients through different scenarios of how they might utilize their home, Raymond was able to select furnishings that segregate the area into more convivial areas. "One of the things that we spent a long time on was how do we carve out this room to make it feel human scale," says Raymond, who installed sofas by Paolo Castelli, pairing one with two Hans Wegner Ox chairs upholstered in charcoal-color mohair in a vignette around the fireplace, and a jocular Studio Stirling swing from Sarza in a more secluded niche. "We really came up with a lot of different layouts to show them how they can use this space and how it doesn't have to be just one big room."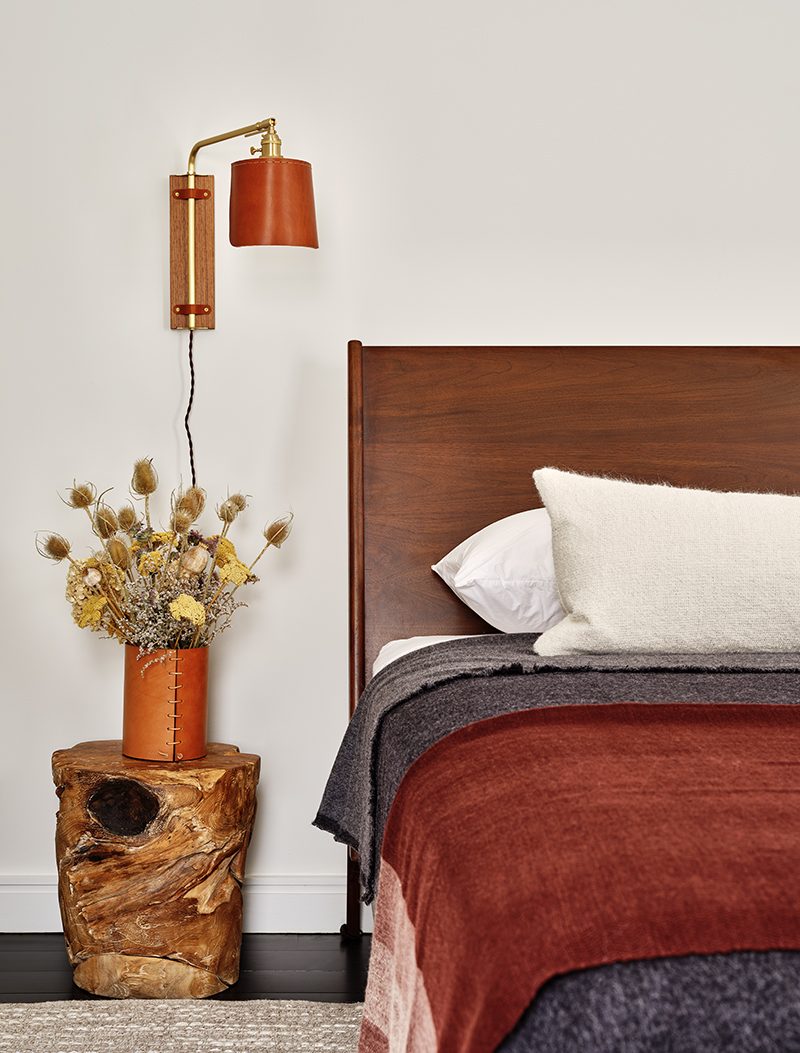 The couple looked to make the area welcoming for entertaining but also remain cozy when they were alone. Hence, the dining alcove features a custom banquette and table with room for many, while the dreamy smoke-color glass pendant with pleated detail gives the nook romantic glow when it's just dinner for two. "We really love playing with texture in a room," says the designer, who layered tactile materials such as mohair, jute, grasscloth, and alpaca, then juxtaposed those sumptuous items with more substantial pieces, including a custom J.M. Szymanski blackened and waxed steel cocktail table. "We love to add a little bit of bling to everything, but we wanted to restrain ourselves here because we knew it was the country and it couldn't be precious."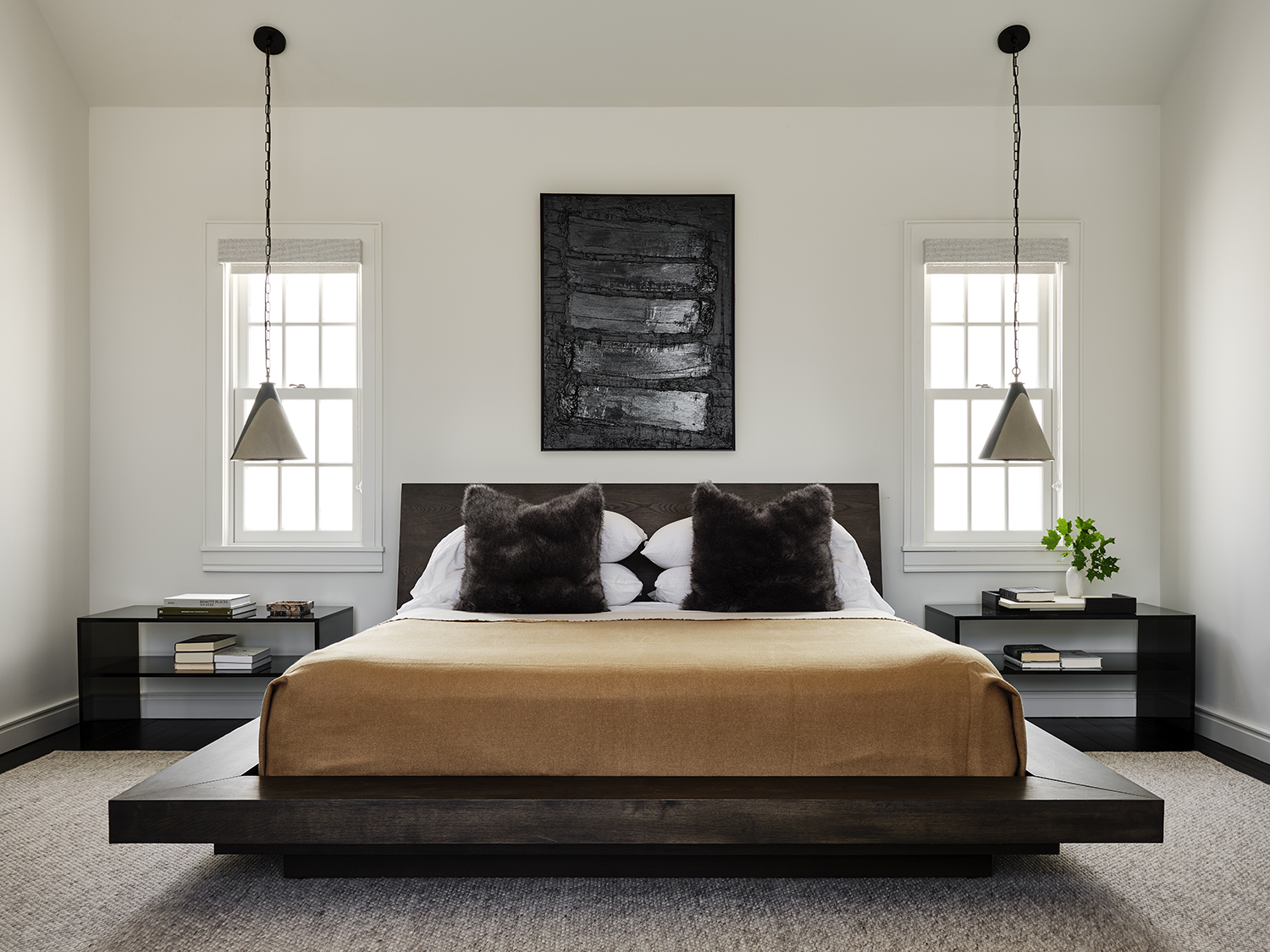 Adding a powerful punch was the homeowners' collection of contemporary art. For their weekend retreat, they opted not to relocate any works from their primary residence in Brooklyn, instead buying new pieces that contrasted the neutral furnishings. "They really like color," says Raymond who worked with his clients to select a frenetic canvas by Australian artist Nathan Paddison, a nod to the husband's home country, and sculptural wood installation by Kat Ramage that pays homage to the earthiness of the Hudson Valley. "Kat actually drove all the way up to the Hudson Valley and spent a couple hours with us installing this; there's a lot of cool, personal touches like that to the home that we liked."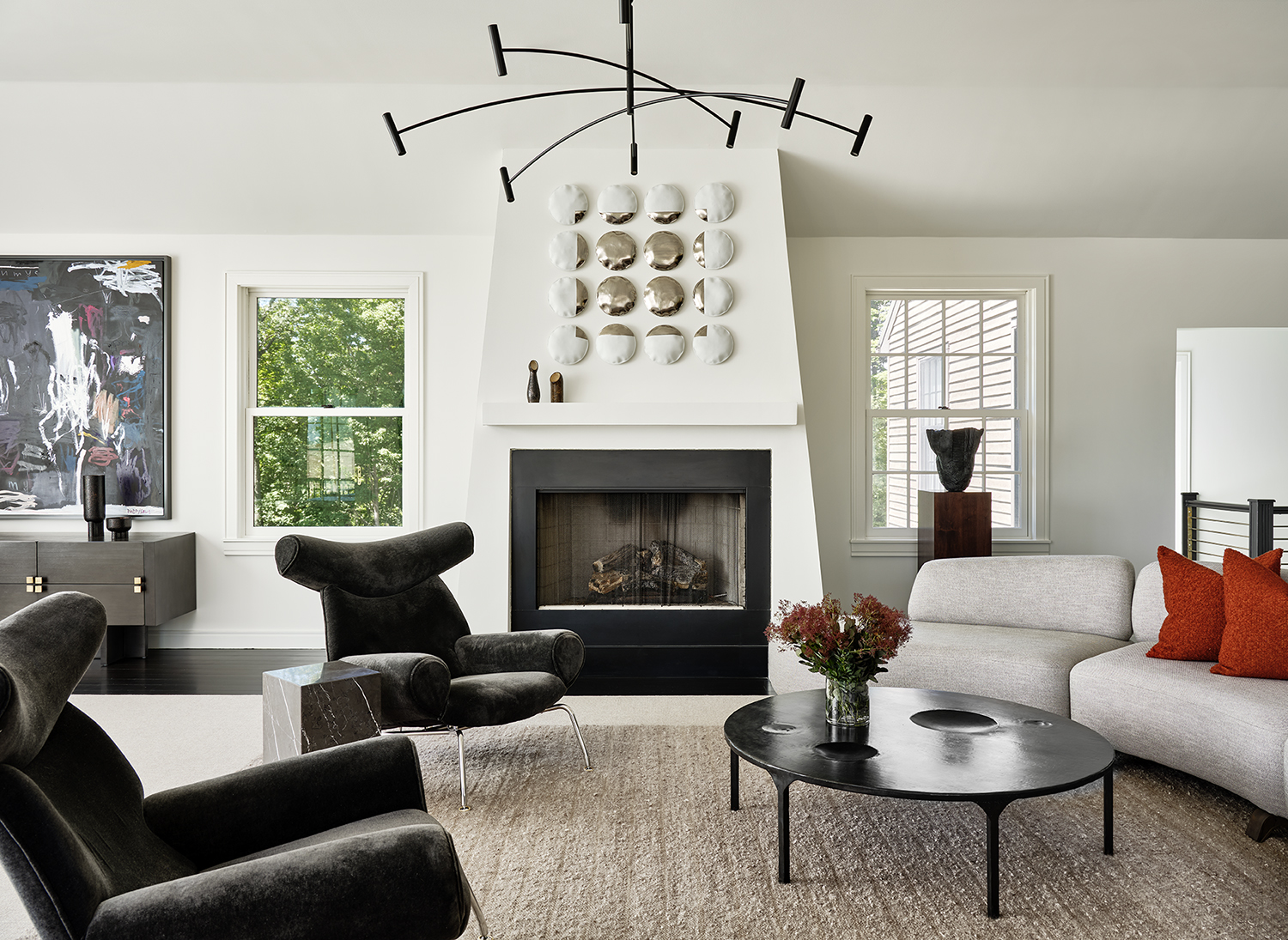 Those personal touches today dot every room, each of which feature a graceful compilation of sleek modernism with organic elements. Most notable is the main bedroom where the clients's only early purchase—a roomy platform bed from RH—now joins a pair of custom black acrylic bedside tables which are surmounted by two textural pendants from Dumais Made, the Litchfield, Connecticut studio of artisans Charlie and Kevin Dumais. "We like to hit a lot of notes in each space," reflects the designer, "And tell that story that way."
Next Post