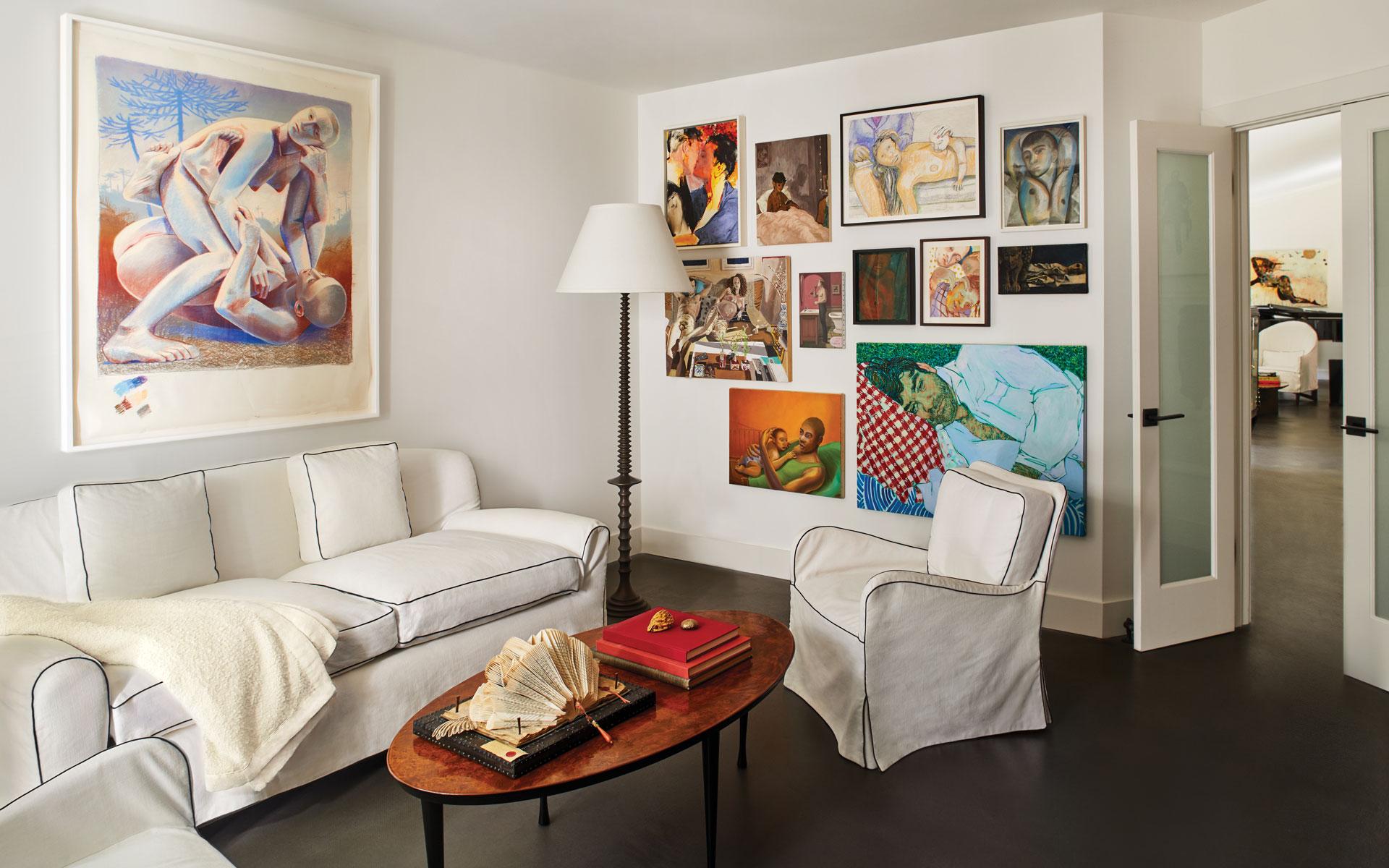 Tour Design Dealer Thomas Lavin's Gallery-Like Los Angeles Home
At his midcentury Hollywood Hills residence, Lavin, along with designer Gary Hutton, creates an understatedly dashing setting for his impressive collection of figurative art by emerging talents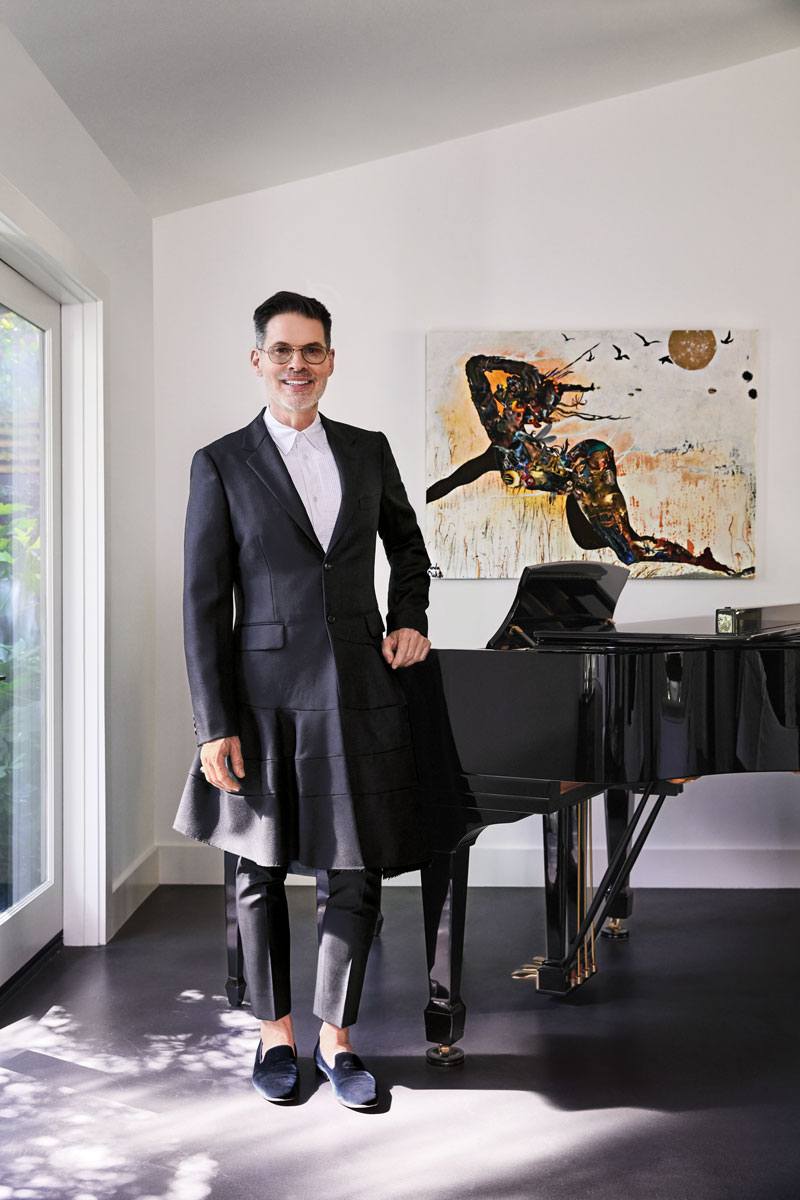 When Los Angeles design dealer Thomas Lavin was growing up in the Pacific Palisades, there was a local antiques shop he began frequenting when he was just 13 years old. It was the place where his passion for collecting fine art and objects first took hold. "As a teenager I had a part-time job at a knitting shop and saved $50 so I could buy one thing," he recalls. "I was the perfect gay kid, torn between the black satin fan and the Chinese export box with fake jade on it. I ended up choosing the box."
Lavin recounts this story in the living room of his art-packed 1958 Hollywood Hills home, seated—martini in hand—in a slipcovered armchair by Gary Hutton, one of the first designers he represented in the namesake showroom he founded 20 years ago. Today, his business occupies 17,000 square feet in West Hollywood's Pacific Design Center and has another 12,000 square feet at the Laguna Design Center in Orange County, catering to a devoted clientele of top decorators and collectors who admire Lavin's eye for spotting emerging and underrecognized talent in art as well as design.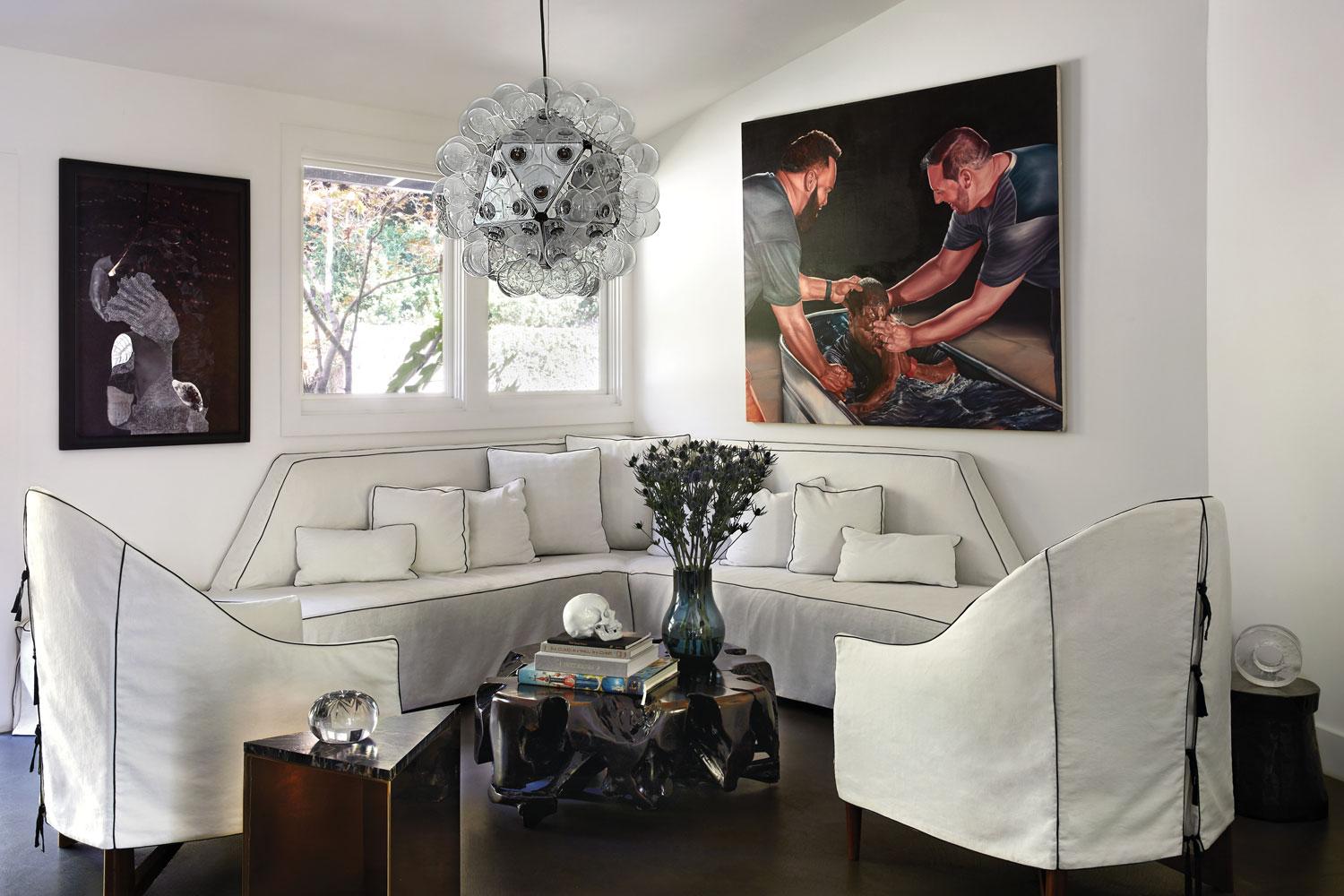 Before launching his business, Lavin was a self-described "stoned job-hopper" who worked in event planning and publicity and spent six years selling furniture at the L.A. showroom of Kneedler Fauchère. He opened his first space, on Beverly Boulevard, featuring furniture by Hutton and Jiun Ho—both of whom he still represents—alongside collections by Madeline Stuart, Rose Tarlow Melrose House, and Atelier Purcell.
At the outset, Lavin developed an art program with adviser Joanna Burke, offering consulting services as well as staging exhibitions and events, ranging from a show of photographs from L.A. dealer G. Ray Hawkins to artist Vahe Berberian's painting performance with nude models as brushes. "I remember one time Holly Hunt was standing barefoot in the parking lot with shoes over her shoulders," says Lavin, laughing. "The early days were insane. I didn't make any money, but the parties were extraordinary."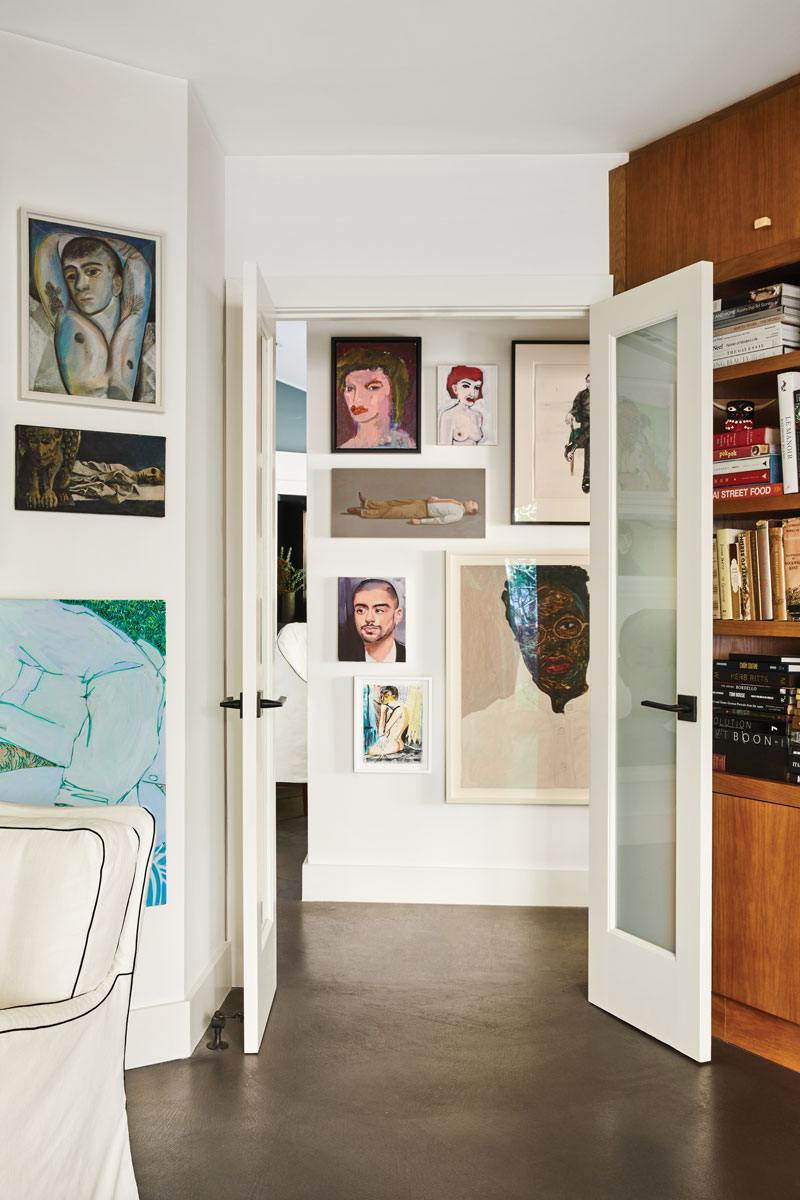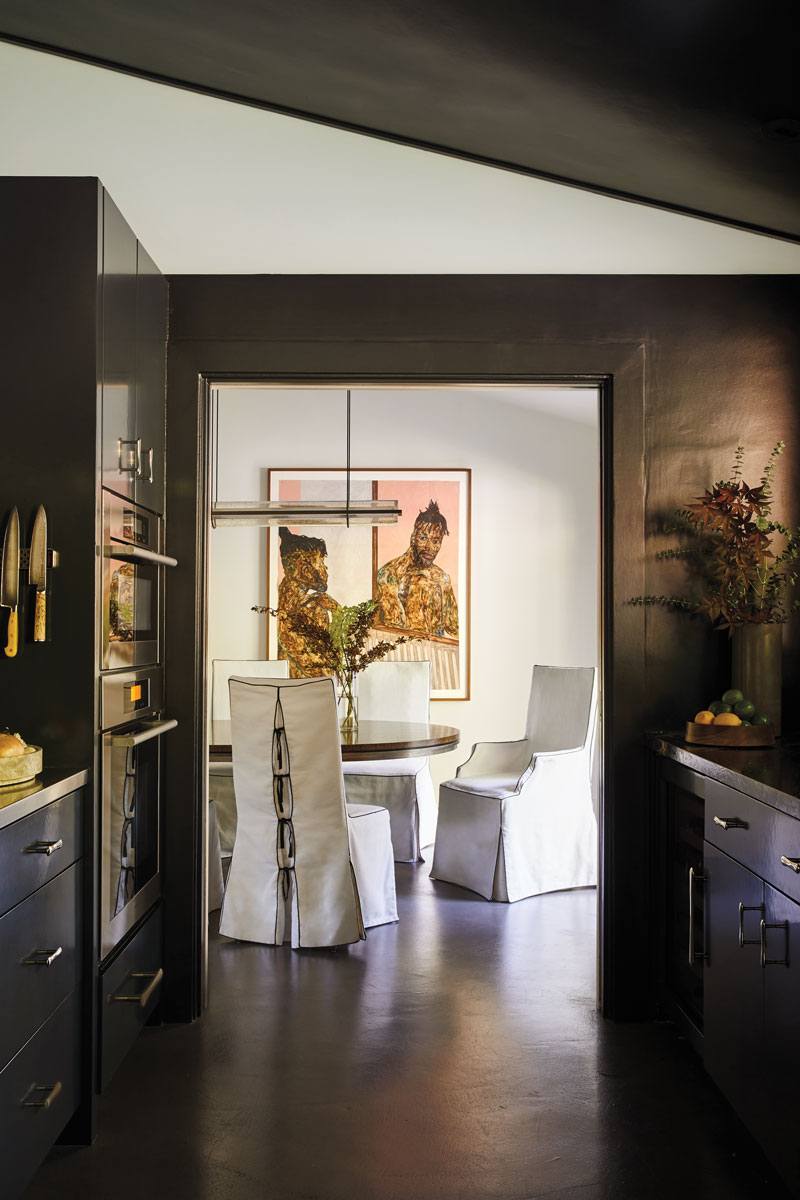 Lavin's own art collecting began in earnest a decade ago, around the time he bought his home in the Hollywood Hills. Inside the ranch structure, Lavin removed walls for a more open floor plan and introduced French doors to enhance flow to the outdoors. To give the interior a more contemporary vibe, he worked with interior designer Gary Hutton and added charcoal-gray concrete floors and whitewashed the walls.
Lavin's first acquisitions were mostly abstract and landscape works by artists such as Allison Miller, Miles Coolidge, Amir Zaki, and Cool School legend Joe Goode. One of his favorite local galleries was Acme, where amid a densely hung group show he was immediately drawn to a tiny study by Kurt Kauper, known for his classically styled, if cheeky, portraits. "It was singing to me from across the room, but I was still scared to buy figurative," says Lavin, who missed out on the study when it was sold to another client.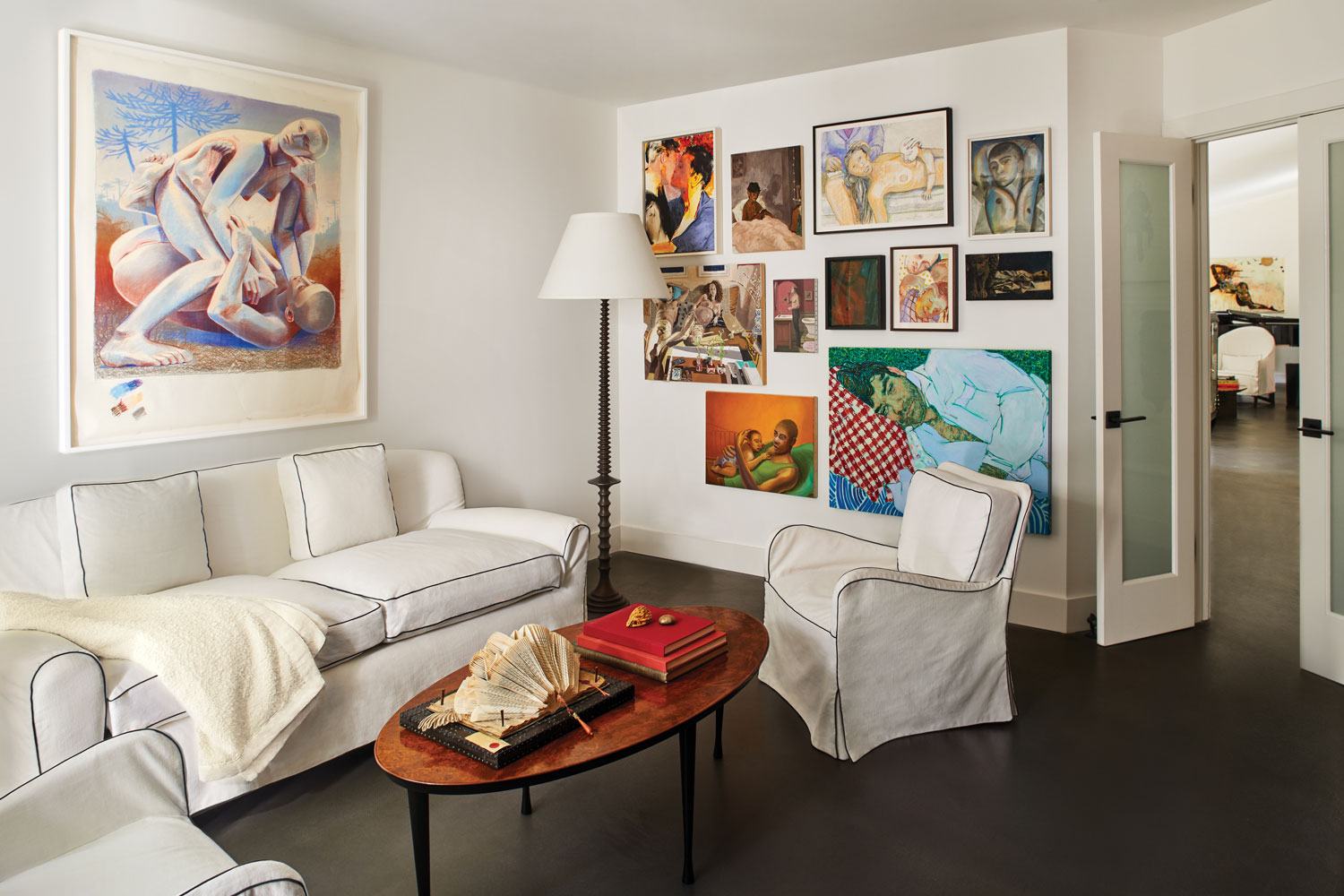 In an all's-well-that-ends-well twist, he wound up acquiring the final painting the artist made from that study, Man Lying Down, six months later. It was one of the keystone pieces that kick-started Lavin's shift toward figurative art, a focus that intensified under the influence of L.A. collector Robert Shiell. Another significant moment in his collecting evolution came during his first visit to Art Basel in Miami Beach five years ago, when he fell hard for but didn't pull the trigger on a Celia Paul self-portrait exhibited by Victoria Miro. "It was my first art fair, and it was so intense," says Lavin, who later bought a different Paul self-portrait that now hangs in the sitting room above a 1940s porcelain cockatoo lamp he inherited from his grandparents. "It was another catalyst," says Lavin, who likes to think of the work as "the mother of the collection."
"There's something compelling about figurative art that feels like I'm looking at a story"

Thomas Lavin
Since that time he has added works in ink, oil, collage, and photography from some of today's most exciting young talents, including Toyin Ojih Odutola, Salman Toor, Amoako Boafo, Sam McKinniss, Ramiro Gomez, and Raffi Kalenderian, whose portrait of Lavin hangs beside the Steinway & Sons piano in the living room. Notably, the careers of many of these artists have risen into the stratosphere—some beyond Lavin's reach. "I want to build my collection through conversations with my friends," says Lavin, whose pals include tastemaking artists, gallerists, and collectors. As for what's next, Lavin notes that he owns just two sculptures, pointing to one of them, a trio of clear urethane planks embedded with found objects by Jedediah Caesar, leaning against the foyer fireplace. "At this point," he says, "sculpture is probably the next frontier."
A version of this article first appeared in print in our 2020 Winter Issue under the headline "Bodies & Soul." Subscribe to the magazine.
Next Post