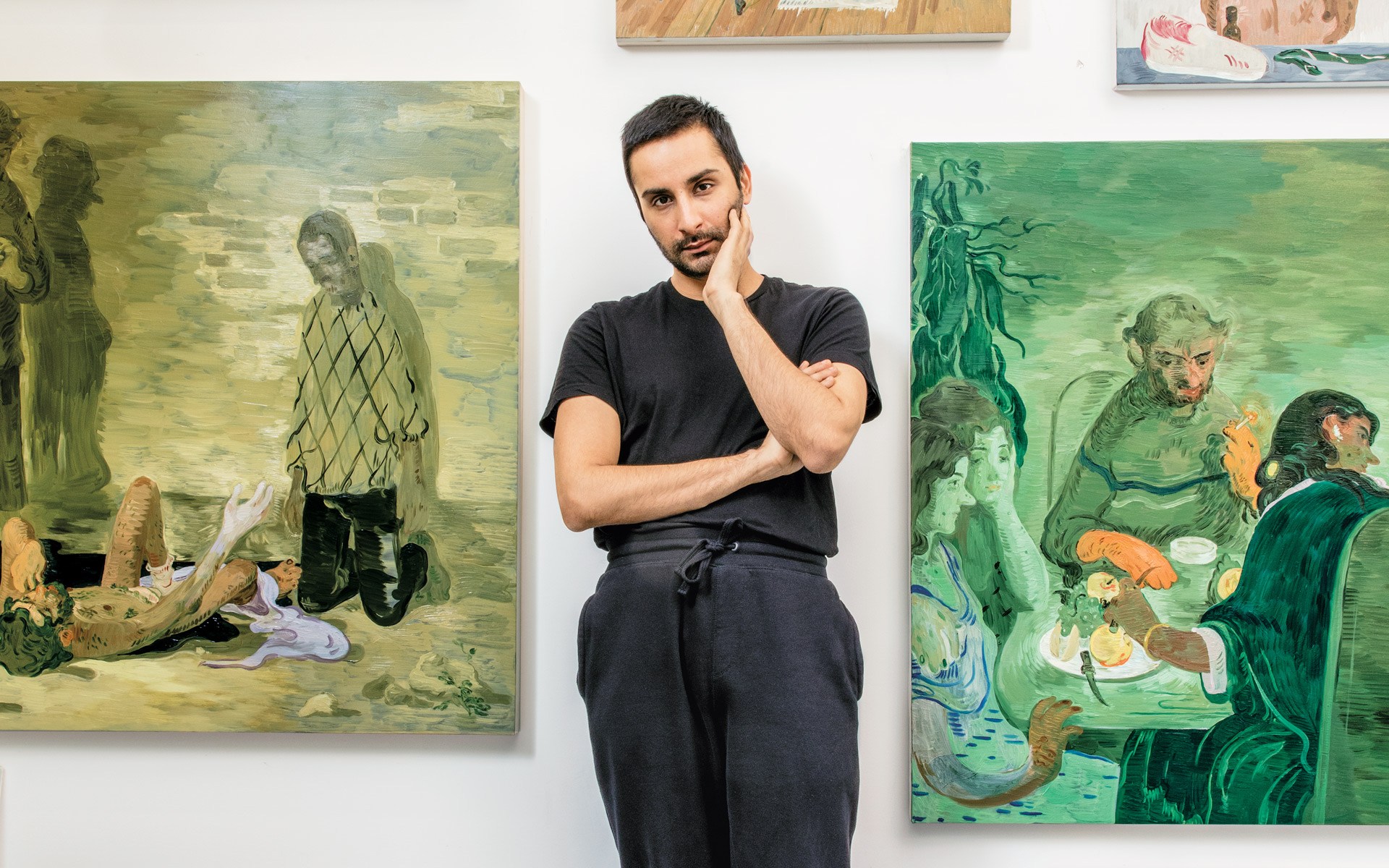 Salman Toor's Cinematic Canvases Are a Celebration of Queer Culture
The rising star has his first major solo exhibition at the Whitney Museum of American Art and a presentation at Luhring Augustine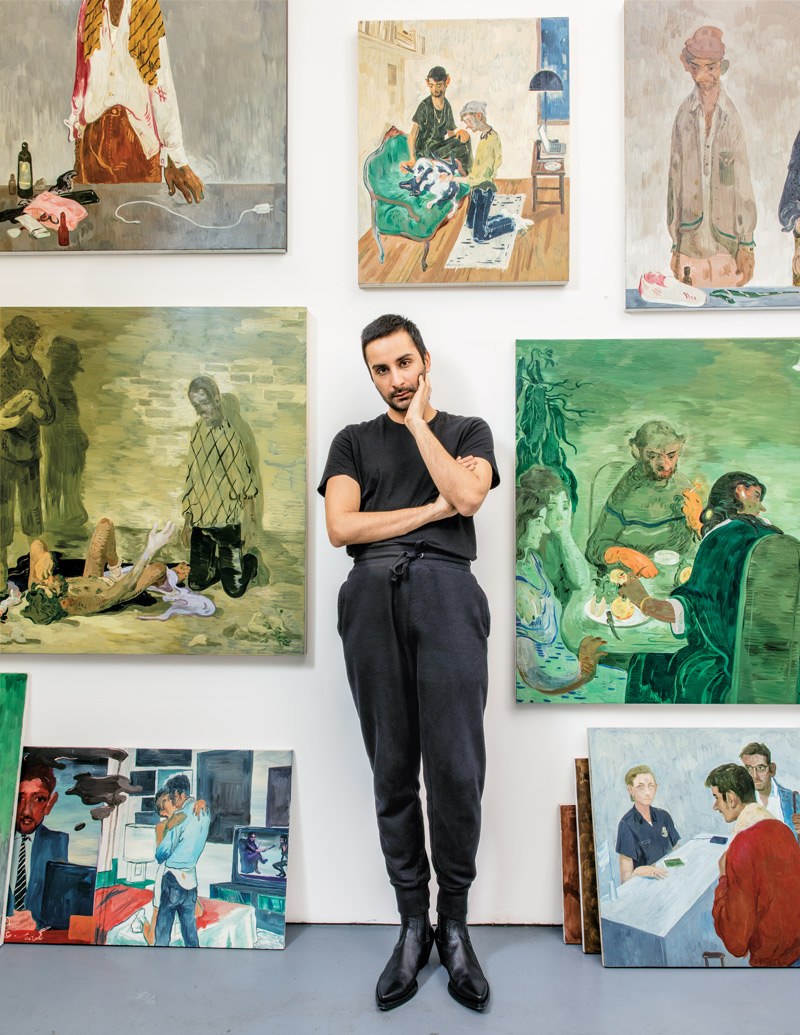 Salman Toor's lush, dreamy paintings are filled with beautiful brown queer men caught in moments of intimacy, camaraderie, and introspection. In some paintings, friends happily laze around in cozy, book-filled apartments, dance and drink in crowded bars, or gaze into smartphones, free from the realities of the outside world. In others, they are depicted in vulnerable situations, like waiting for customs clearance at the airport. During this time of isolation and fraught politics, these scenes take on a newfound poignancy.
"They are bookish, urban creatures that come from my imagination," says Toor, whose first-ever museum solo show opens at the Whitney Museum of American Art on November 13. Titled, "How Will I Know," the highly anticipated exhibition was postponed from the spring due to the pandemic. "They drink and argue about what the future of a multiethnic queer culture might look like and attempt to inhabit the freedom promised in an urban Western world—and try to find its costs."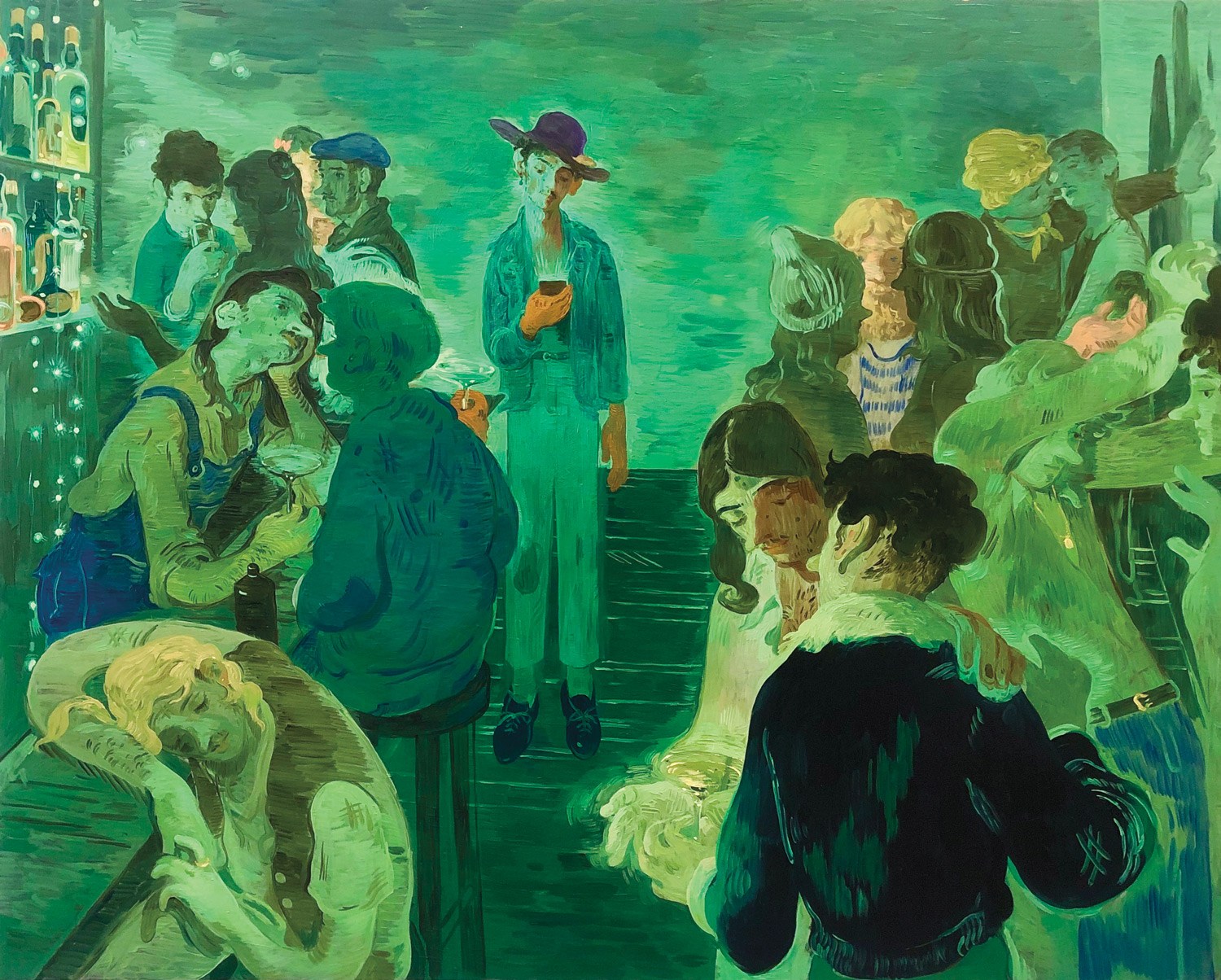 Art has always been a form of escape for Toor, who grew up in Lahore, Pakistan, before moving to the U.S. in 2002  and eventually settling in New York's Lower East Side.
"In a childhood that was otherwise filled with strange looks from elders and bullies at school, drawing was a way of inhabiting and claiming the empowerment and sensuality of my imaginary subjects," he says.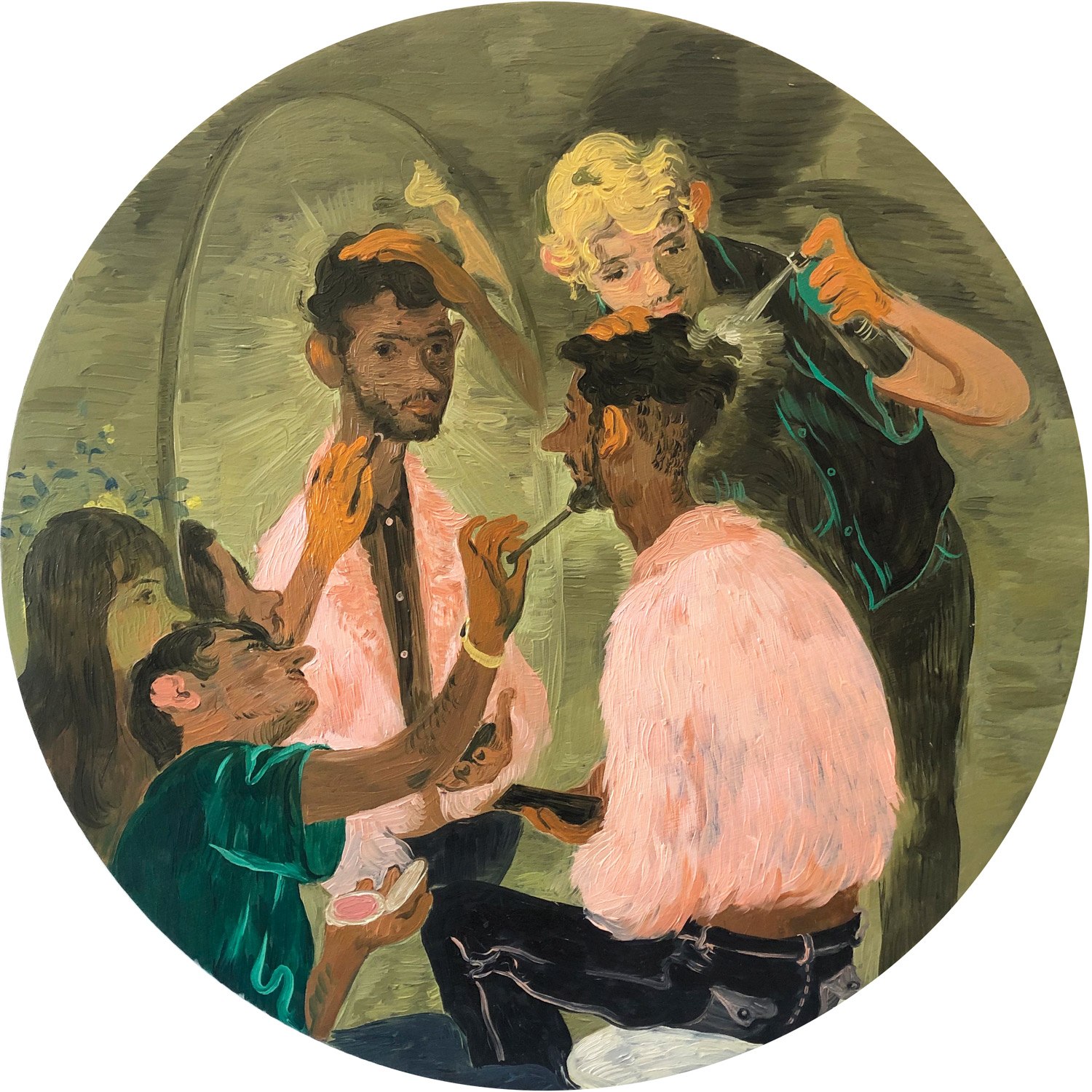 Sharing a sumptuous aesthetic with Baroque, Rococo, Romantic, and Impressionist masters, Toor playfully injects his own sense of fantasy and humor. "I'm interested in tropes and confusing them through costume or color," says the artist, who finds inspiration in everything from the 16th-century Carracci brothers to works by Anthony van Dyck, Édouard Manet, and Hungarian-Indian painter Amrita Sher-Gil. "I see myself as a weird mixture of cultures, so I'm drawn to the accoutrement of clichés, their powerful impact on the way we look at charm, familiarity, otherness."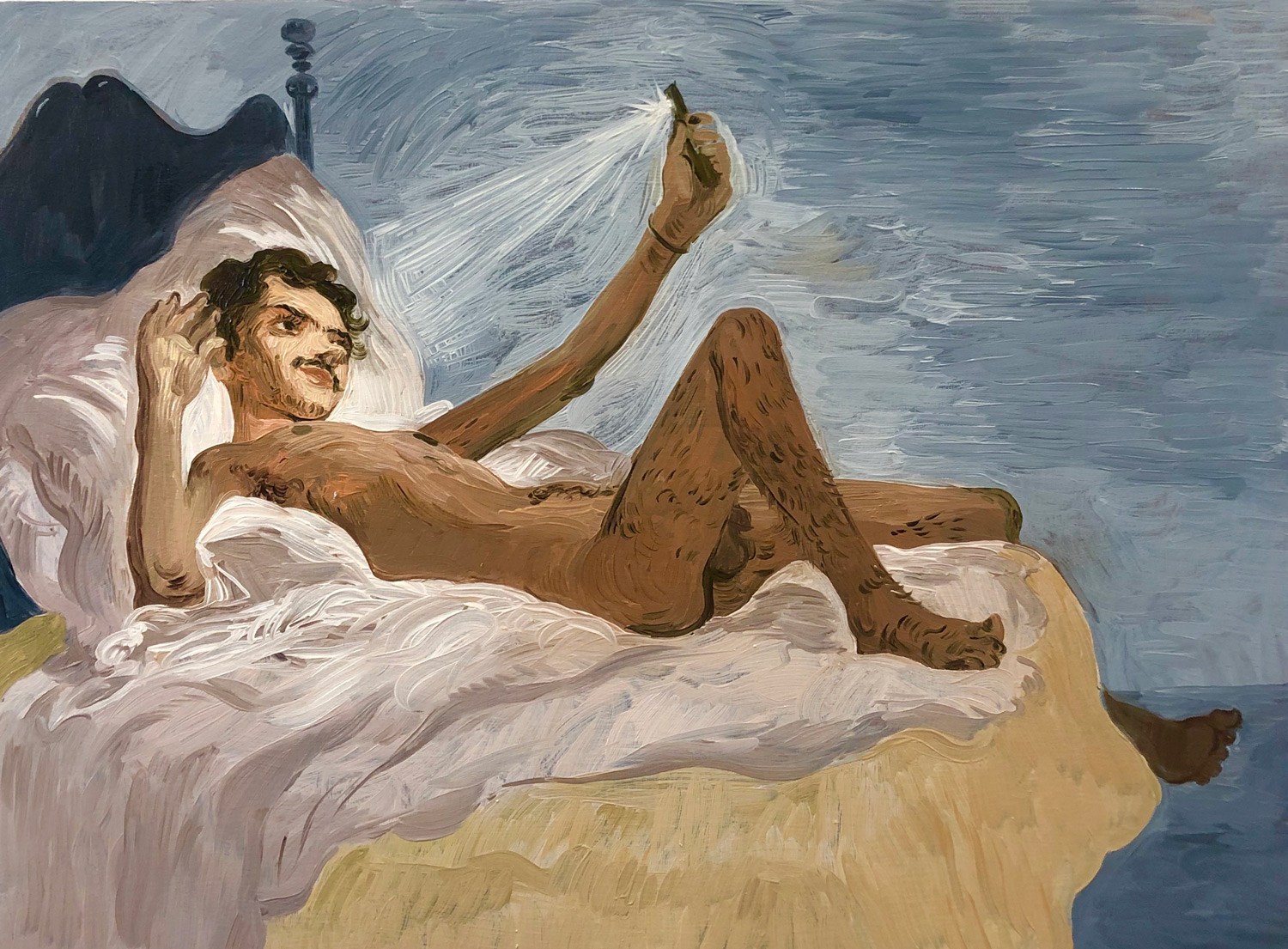 Returning to Brooklyn studio after months of lockdown at home, Toor spent time preparing works for his first show at his new gallery, Luhring Augustine, which just opened on March 4, after being postponed from January . Titled, "The Pleasure Pavilion," the unique group show at the gallery's Brooklyn location is a succession of three-week-long installations by seven Luhring Augustine artists arranged in conversation with a 19th-century Indian pleasure pavilion.
Employing an academic painting process, Toor begins each piece by priming the canvas, which he finds "deeply therapeutic, like doing the dishes," before sanding the surface and brushing on a dark acrylic base color of raw umber or burnt sienna. "I usually work from dark to light, in a classic Renaissance technique," he says. "I love painting faces the most, but they are also the most difficult part. The right face or person for me has to embody my favorite parts of art history and also destroy them somehow."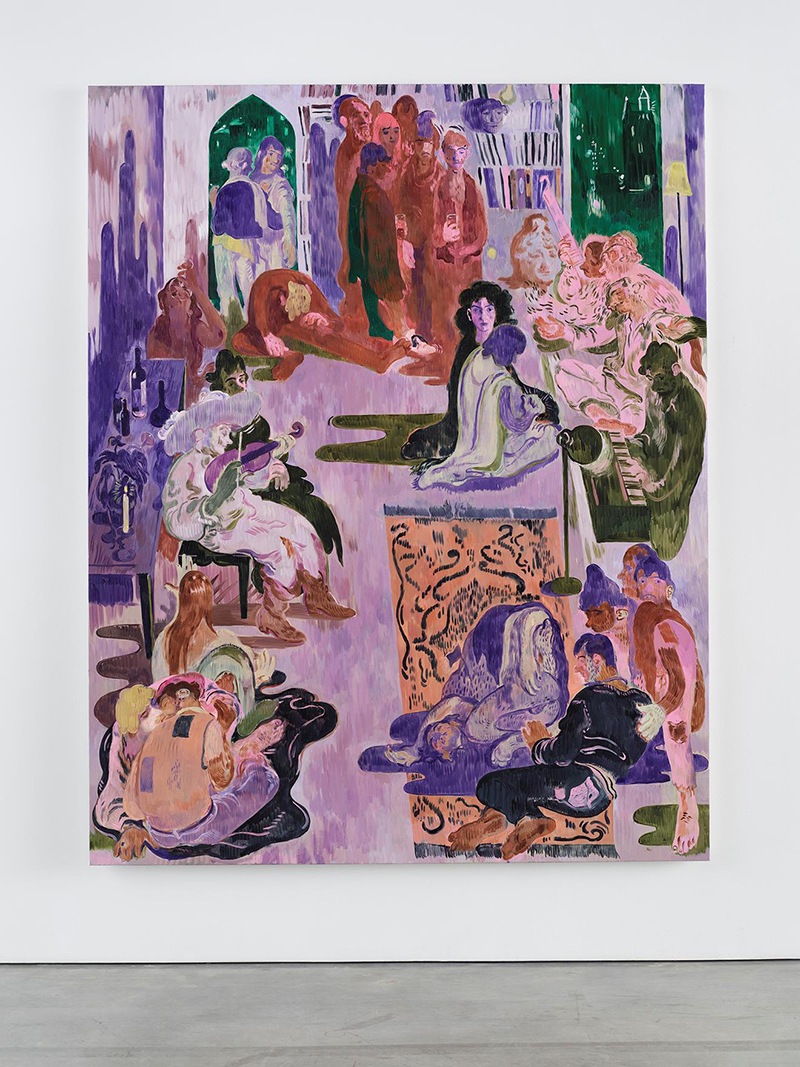 A version of this article first appeared in print in our 2020 Fall issue under the headline "Different Strokes." 
Next Post