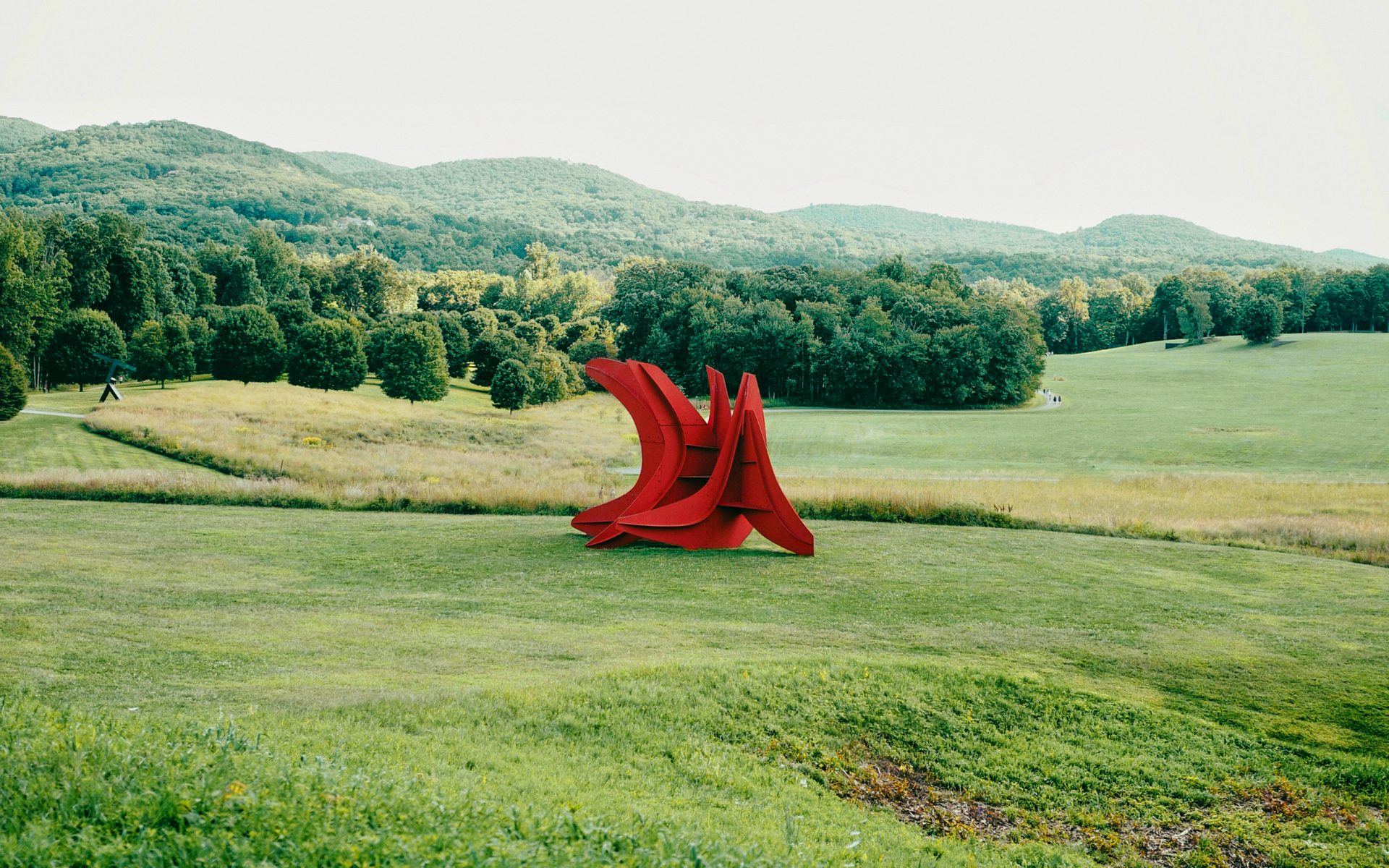 The World's 10 Most Beautiful Sculpture Parks
Our favorite museums without walls, whose locales range from Japan to the English countryside
Dynamic natural landscapes are made even more awe inspiring when monumental sculpture is added into the mix. Unconstrained by walls and ceilings, artists' larger-than-life visions can become realities in the great outdoors, which allow works to engage directly with the environment. Some of the world's most famous sculpture gardens and parks feature blue-chip names found in traditional institutions, but with more room to breathe. The combined effect is both serene and powerful, as well as contemplative and interactive. Below, we gathered ten green spaces fit for art's most ardent enthusiasts.
Storm King Art Center | Mountainville, New York 
Established in 1960 as a way to showcase the majestic paintings from the Hudson River School movement, Storm King Art Center has evolved into one of today's leading sculpture parks, with more than 100 contemporary works dotting a dramatic landscape of pastoral hills, breathtaking vistas, and tranquil ponds. An esteemed roster of artists—including Isamu Noguchi, Richard Serra, Maya Lin, Barbara Hepworth, and Alexander Liberman—all have pieces on the property, which is located an hour north of New York City, in the lower Hudson Valley. It's the perfect day trip for art and nature lovers alike. stormking.org 
The Sydney and Walda Besthoff Sculpture Garden at NOMA | New Orleans, Louisiana
Sprinkled with magnolia trees, winding pathways, and natural lagoons, this five-acre Louisiana compound boasts a world-class collection of over 60 modern and contemporary sculptures by top artists such as Henry Moore, Fernando Botero, and Antoine Bourdelle. Don't miss René Magritte's surrealist sculpture, The Labors of Alexander, a bronze tree stump with roots that seem to stitch an axe to the ground, as well as Jean-Michel Othoniel's Tree of Necklaces, a massive oak tree laden with oversized necklaces that hang among the moss. With landscaping designed by Sawyer | Berson and architectural elements by Lee Ledbetter & Associates, the exquisite garden is located next to the New Orleans Museum of Art. noma.org
Recommended: Architect Lee Ledbetter Reimagines a New Orleans Landmark in the French Quarter
Fran and Ray Stark Sculpture Garden | Los Angeles, California
In most cases, it's the landscape that inspires the sculptor. But at the Fran and Ray Stark Sculpture Garden—found near the entrance of the J. Paul Getty Center—it was the landscape architects who designed the garden for the art. Taking careful consideration of how the sculptures relate to their surroundings, OLIN Studio conjured a multi-layered wonderland, complete with secluded areas meant for inner contemplation and jaw-dropping city vistas. There are also stunning works by Noguchi, Peter Shelton, and Elisabeth Frink, among other contemporary artists. Notable is Henry Moore's Draped Reclining Mother and Baby, an undulating bronze with curves that echo the rolling hills of the surrounding area. getty.edu 
Cass Sculpture Foundation | Sussex, England 
At the Cass Sculpture Foundation, established in 1992 by Wilfred and Jeannette Cass, both new and established talents are being nurtured. From conception to fabrication, exhibition to sale, CASS supports its artists in all phases of their process and career. On the 26-acre woodland site, meandering paths lead to over 80 modernist works, all of which are for sale with proceeds going to both the artists and the foundation. One must-see work is Thomas Heatherwick's Pavillion, a glass structure with a distorted and curved roof that at once seems open and unavailable to visitors, as well as Zhang Ruyi's tiny sculptural installations of cement electrical sockets tacked onto trees throughout the park. sculpture.org
Recommended: Beyond Central Park: Three Idyllic Landscapes by Frederick Law Olmsted
Hakone Open-Air Museum | Hakone-machi, Japan 
Opened in 1969, the Hakone Open-Air Museum is Japan's first outdoor museum and intends to create a harmonious dialogue between art and nature. The grounds are expansive, offering stunning views, monumental works, and exhibitions in seemingly every direction. One of the most visually impressive displays is Tezuka Architects and Toshiko Horiuchi's Woods of Net, an all-wooden pavilion in which Horiuchi installed a colorful knitted structure where children can climb, crawl, and jump. Gabriel Loire's Symphonic Sculpture, a steel and stain glass tower with a spiral staircase in the center, can also be entered and climbed, offering an exceptional observation point at the apex. And after journeying through the park, visitors can treat themselves to the museum's steaming footbath for the ultimate form of post-art relaxation. An 85-minute train ride from Tokyo, the museum is open year-round to the public and worthy of a day trip (or two)! jnto.go.jp
Le Domaine du Muy | Le Muy, France
Opened in 2015 in the South of France, Le Domaine du Muy was a lifelong dream of founder and former art-dealer Jean-Gabriel Mitterrand, who opened the park with the help of his son Edward. The gated estate—which is open to the public by appointment—strives to present monumental works in a setting of untouched nature. With pieces by talents such as Louis Benech, Simon Lamunière, and India Mahdavi, the park has an architectural theme, and each piece is carefully selected for how it fits with the environment. Don't miss Yayoi Kusama's Narcissus Garden, comprising 1,600 stainless-steel spheres floating on the surface of a shallow pond, as well as emerging Swiss talent Claudia Comte's nearly 20-foot wide painting, 128 squares and their demonstration, a geometric work that plays with perceived flatness and depth. domainedumuy.com
Ekebergparken | Oslo, Norway 
Spectacular lookout points, a variety of natural features, and arresting sculptures by Dalí, Rodin, Renoir, amongst others, make Ekebergparken attractive to nature lovers and art enthusiasts alike. Opened by Christian Ringnes in 2013, the green space occupies 25 wooded acres in southeast Oslo and is open to the public free of charge. The park prides itself on having more than 40 species of nesting birds, farm, and wild animals, a rare trees and plants, and fascinating geological formations. And among all this, a truly exquisite selection of sculptures: Salvador Dalí's Vénus de Milo aux tiroirs, for example, a surrealist work of a bronze Venus with drawers place at various parts of the body, as well as two Renoir sculptures, La Grande Laveuse, a woman washing clothes, and Venus Victrix, the goddess of love. ekebergparken.com
Recommended: Tour Russell Page's Most Magnificent Gardens, from England to Italy
Inhotim | Brumadinho, Brazil 
Bernardo Paz, the ambitious creator of Inhotim, sees his creation as not solely a park or a museum but rather as a way of life. Notable as the only Brazilian institution with a world-class contemporary art collection continuously on display, Inhotim strives to bring the public into contact simultaneously with art and nature. On site are a beautiful botanical garden and rare plants. Exciting pieces on view include works by Anish Kapoor, Tunga, and George Miller. Perhaps one of the most stunning views of the garden can be seen through Danish artist Olafur Eliasson's Viewing Machine, an open kaleidoscopic tunnel of mirrors that emphasizes the lush and ever-extending nature of the landscape. inhotim.org.br
Kröller-Müller Museum | Otterlo, The Netherlands  
With one of Europe's largest collections of sculptures, the Kröller-Müller Museum's sculpture garden contains over 160 works by luminaries such as Aristide Maillol, Jean Dubuffet, Marta Pan, and Pierre Huyghe. The natural wonderland is open to the public year round, with each season bringing a different experience. In the garden, patrons can find Richard Serra's cylindrical sculpture, One, at the end of a long sloping staircase amidst trees, as well as Mark di Suervo's K Piece, a bright red steel sculpture with a rigid shape befitting its name. Be sure to check out the adjacent brick-and-mortar museum, which contains the world's second-largest trove of van Gogh paintings. krollermuller.nl
Chianti Sculpture Park | Tuscany, Italy 
At the Chianti Sculpture Park, the landscape inspires the artists. Since its inception, artists were invited to visit the forest, choose a space, and make a specific piece of art for a location of their choice, leading to a the work's permanent exhibition. The Chianti Sculpture Park is the brainchild of Rosalba and Piero Giadrossi, and it expands across 17 acres of ilex and oak trees. See works including architect Jeff Saward's Glass Labyrinth, a spiraling arrangement of green glass walls through which visitors can walk, as well as Costas Varotsos' Energy, a monumental stacked glass sculpture that changes its appearance depending on the light. chiantisculpturepark.it 
A version of this story was originally published in 2017 and has since been updated.
Next Post