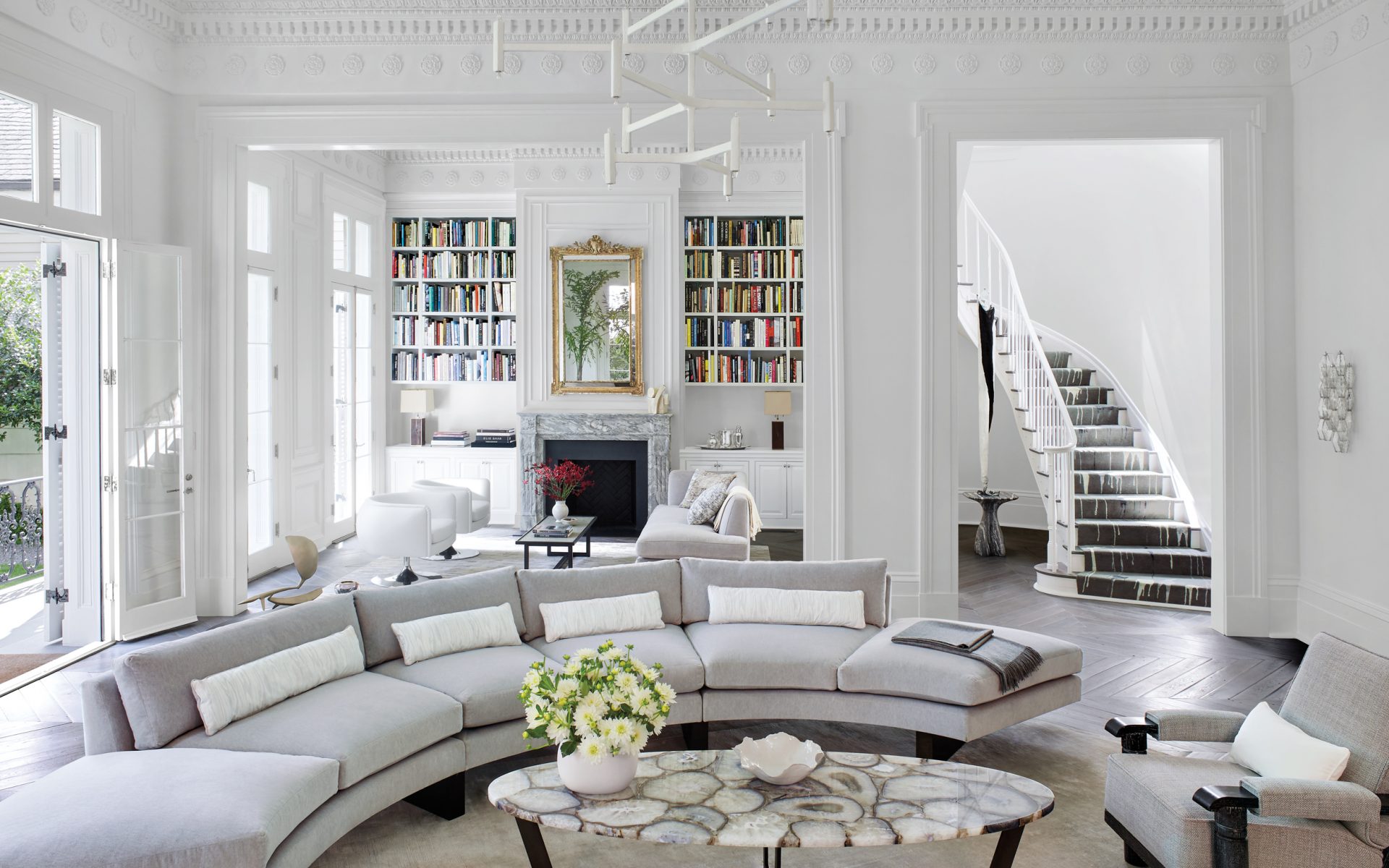 Architect Lee Ledbetter Reimagines a New Orleans Landmark in the French Quarter
The 1865 Italianate mansion gets a modern makeover to accommodate Sidney Torres IV and his family
Out on the edge of the French Quarter in New Orleans, blocks past the grande dame restaurants and all-night bars, lies a tight-knit community of remarkable, Tennessee Williams–worthy characters living in architecturally distinguished homes. Though the colorful personalities generally announce themselves without too much prompting, the residences remain more elusive, tucked behind dense tropical thickets of banana leaves. Of all of these, the Fisk-Hopkins House might be the most secluded. Set far back from the street behind a high fence, the two-story Italianate mansion presides over an oasis that extends an unheard-of full city block.
When the house came on the market several years ago, Sidney Torres IV, the serial entrepreneur and New Orleans native, wanted to be the first to get a look inside. The star of CNBC's New Orleans house-flipping reality show, The Deed, he knows as much as anyone about real-estate opportunities in the city. And his own Greek Revival home, a few blocks away, was next door to a bar that had turned a little too raucous for an expanding family that included his girlfriend, former model Selina White, and their young daughter, Sefina. But schedules interfered, and he found himself away at his Bahamas resort, the Cove, in Eleuthera. Knowing he needed to act fast, he phoned architect Lee Ledbetter, who had done a masterful renovation of his current residence, and asked him to assess the potential.
"I had been to the house and spent Thanksgiving there ages ago," Ledbetter says of the property, which belonged to the late artist Eugenie "Ersy" Schwartz and had been in her family since 1925. "It's the greatest house in the French Quarter, no doubt," says Ledbetter. "It's not the largest but the best."
[See more photos of Sidney Torres IV's home]
The history of the Fisk-Hopkins House actually stretches back to 1860, when it was built as a kind of proto–man cave, serving as a library and billiards hall for the men of a family that lived next door. In 1871, it was purchased by Aristide Hopkins, an agent to the Baroness de Pontalba, who added a second story to transform it into a proper home.
Before Torres finalized the purchase, Ledbetter drew up plans to ensure they could make it work. It didn't take long for Torres to be convinced. The most dramatic change was adding an infinity-edge pool on the front lawn, and getting the notoriously stringent Vieux Carré Commission to sign off on it was a major coup. Inside, Ledbetter opened things up by removing walls and eliminating mazes of tiny rooms. Though he lowered the ceilings in some places to install much-needed air-conditioning, they were still a staggering 15 feet high.
Recommended: Jacques Grange Designs a Fifth Avenue Apartment for Collector Stacey Bronfman
One space that required no expanding was the living room, which came adorned with a symphony of plasterwork moldings. "That room is what sold me," says Torres. The space had so much architectural detailing, layered over time, that the architect was able to repurpose a set of moldings as window casements for the master bedroom.
To bring the house into the present while maintaining a strong sense of place, Ledbetter—whose first monograph, The Art of Place: Architecture and Interiors, is being published by Rizzoli this spring—collaborated with Torres on the mix of vintage furniture and works by regional artists. Ledbetter is well-connected in the local art world, having designed projects such as a home and studio for legendary painter George Dunbar, the artists' studio building at the Joan Mitchell Center, and the New Orleans Museum of Art's sculpture garden, where he oversaw a six-acre expansion that is being unveiled this spring.
For the living room, Ledbetter and Torres commissioned John Folsom to create one of his large-scale photographic works, a watery landscape embellished with paint and coated in wax. "I love the idea of being in this beautiful room and having the Louisiana landscape right in front of me," says Torres. "It reminds me of going to the bayou with my grandfather when I was a kid."
[See more photos of Sidney Torres IV's home]
The home features several works by Dunbar and of-the-moment New Orleans talent Dawn DeDeaux, whose ghostly image of a figure in a floral space suit hangs above the bed. "I love how ethereal and spiritual it is," says White. For Torres, it's easy to identify his favorites. The wall of black-and-white photographs in the family room represents everything he loves about the city and its musical heritage. "There's Trombone Shorty, Louis Armstrong, Preservation Hall, and several shots by jazz photographer Herman Leonard," he points out.
The choices of furniture combine past and present: a bronze table in the living room by Hervé Van der Straeten mixes with a trumeau mirror original to the house, while custom pieces designed by Ledbetter join 1940s French armchairs. Everything exudes a sophisticated modernity that lacks formality. In many ways, the home reflects the revitalized spirit of New Orleans—steeped in tradition while looking toward the future—which also feels just right for Torres, who has been a catalyst for new businesses that support the city's infrastructure while tapping into its creative spirit in fresh ways. "It's almost impossible not to have this house look New Orleans," says Ledbetter. "The trick is having it reflect the character and the spirit of the city today."
A version of this article first appeared in print in our 2019 Spring Issue under the headline Faithful Adaptation. Subscribe to the magazine.
Next Post