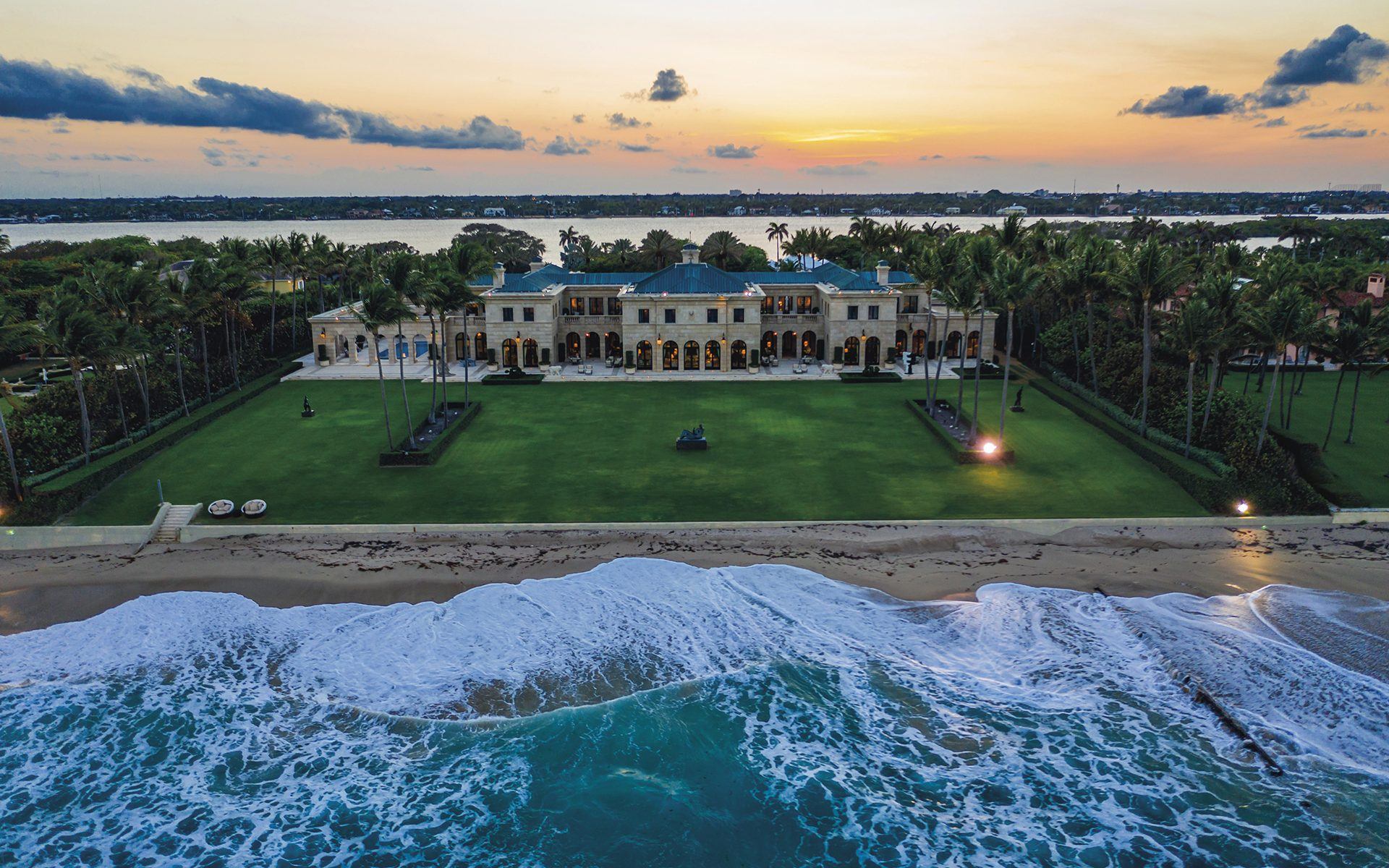 Beauty Mogul Sydell Miller's Legendary Collection Brings More than $46 Million at Auction
Christie's June 10 sale of art and furniture from the Peter Marino–designed estate in Palm Beach, including works by François-Xavier Lalanne, Jean Dubuffet, and Joan Miró, set three new auction records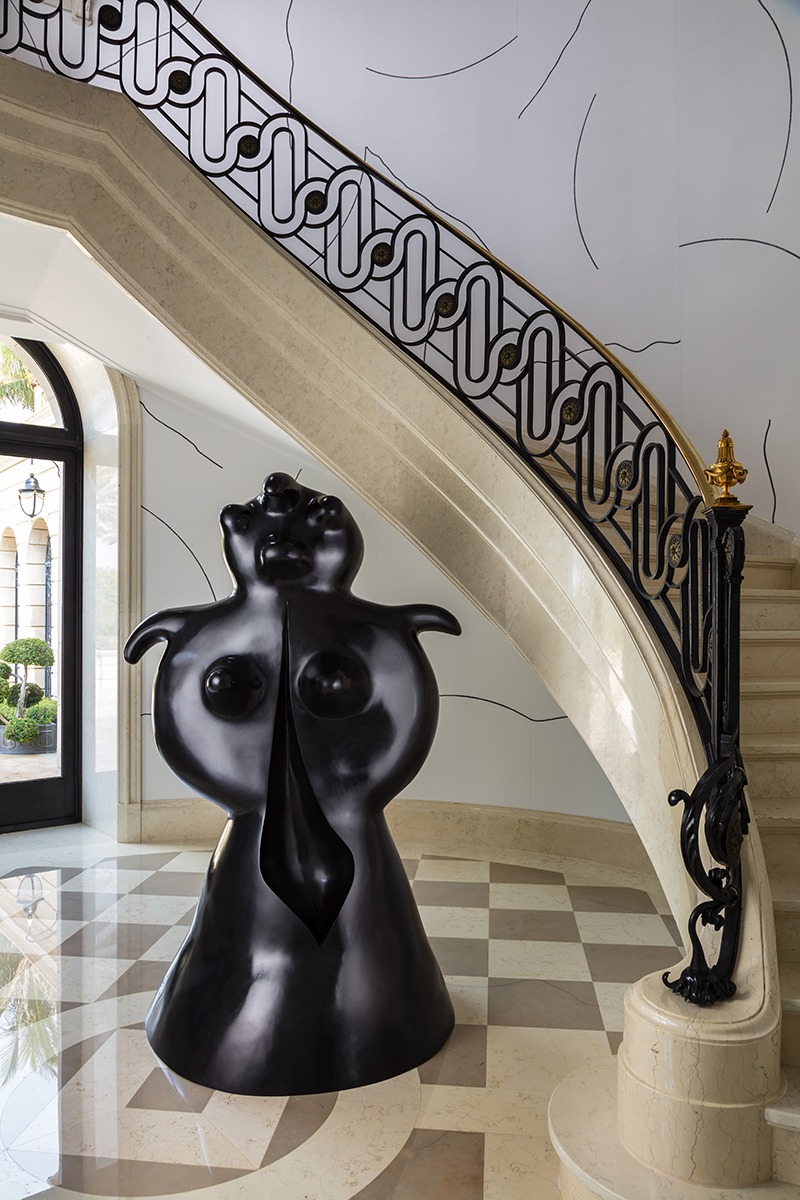 Located on Palm Beach's Billionaires Row, La Rêverie set a local real estate record when it sold for a staggering $105 million in the summer of 2019. The seller, Sydell Miller, who cofounded the beauty brand Matrix Essentials with her late husband, Arnold Miller, was reportedly parting with the legendary French-style residence—which clocks in at nearly 85,000 square feet—so she could relocate to a new luxury condominium tower nearby.
In downsizing from the massive oceanfront estate, Miller sold 20 paintings and sculptures at Christie's in May, while her 18th-century French furniture collection hit the block in a June 10 live auction. That sale, which featured a remarkable table by François-Xavier Lalanne, a Diego Giacometti table, and several distinguished circa 1700s cabinets sent prices soaring, far exceeding their pre-sale estimates and setting three new auction records.
"La Rêverie is gobsmacking," Jonathan Rendell, Deputy Chairman and Senior Advisor of Christie's America, tells Galerie. "It's so beautiful—every single thing thought through and maintained through a level of perfection. It's just extraordinary."
Built over four years, La Rêverie was completed in 2001, at which time Miller retained Peter Marino to cultivate the striking interiors. Across the ten-bedroom home's three stories, the famed architect and designer blended an insightful array of decorative arts with a museum-quality trove of art.
"As a collector, Sydell Miller has demonstrated that she has amazing taste and is willing to indulge it," says Rendell. "Things were placed very, very carefully, so that you really get slices of the collection everywhere you look. You don't just see a thing, you see two or three things, you see a conversation, you see why things were put in conversation with each other. And in the decorative arts, you see this very clever use of the idea of avant garde."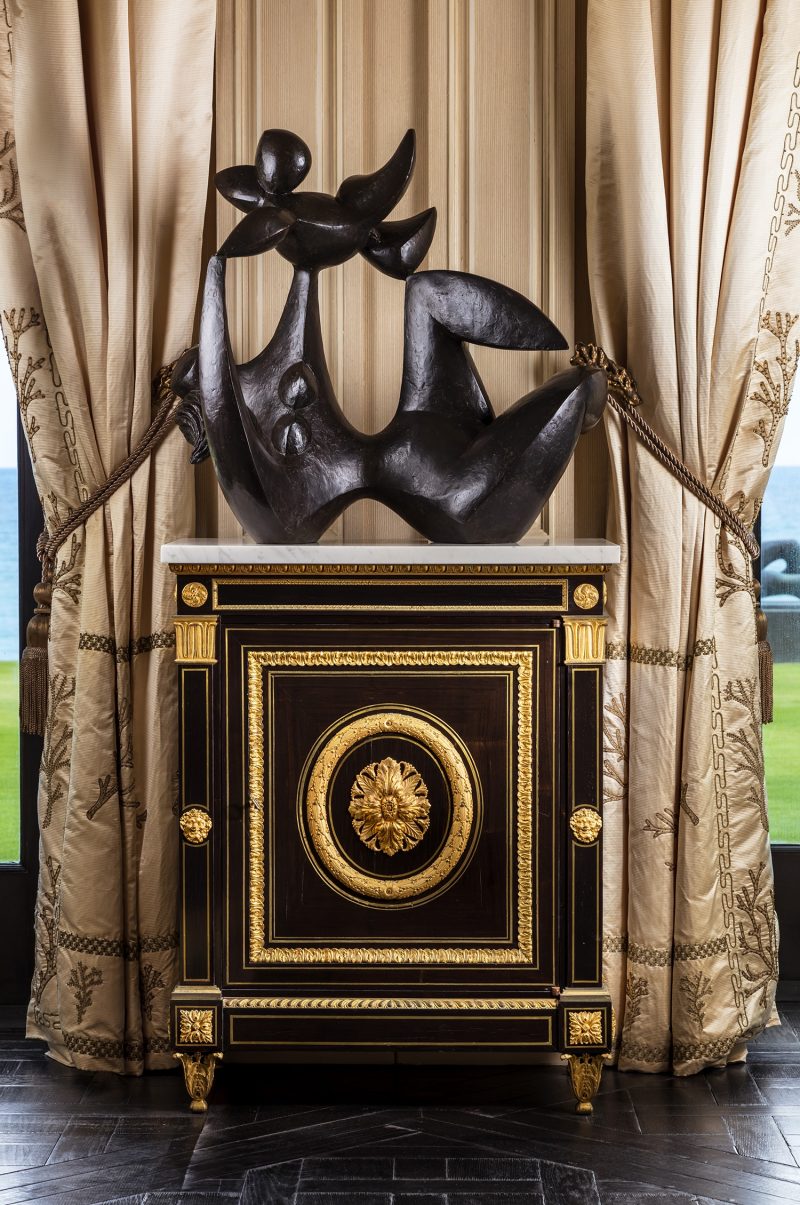 The installation of "gutsy" 18th-century decorative arts, as Rendell describes them, informs the residence's palette of cream and black, punctuated with bold pops of bronze. In the grand living space overlooking the water, Marino and Miller mixed dynamic items, including a pair of circa-1790 brass-inlaid ebony meubles d'appui by Etienne Levasseur. Contemporary pieces by François-Xavier Lalanne sit in tandem with other items from the Art Deco or Louis XV periods.
Two Lalanne works were some of the sale's biggest lots, including François-Xavier Lalanne's Troupeau d'Élephants dans les Arbres table, which achieved $6,630,000 in the sale, surpassing it's $1,000,000 to $1,500,000 estimate. Additionally a pair of Sphinx sculptures by Claude Lalanne realized $725,000 during the auction, also topping its $600,000 to $800,000 estimate.
"There are these quite formal rooms that are 'intake of breath' rooms—you walk in and you think, 'Wow, this is magical.' But not very far away, there is somewhere you can put your feet up and where her grandchildren could be," Rendell says. "It was a very much a family home as well as a formal entertaining space."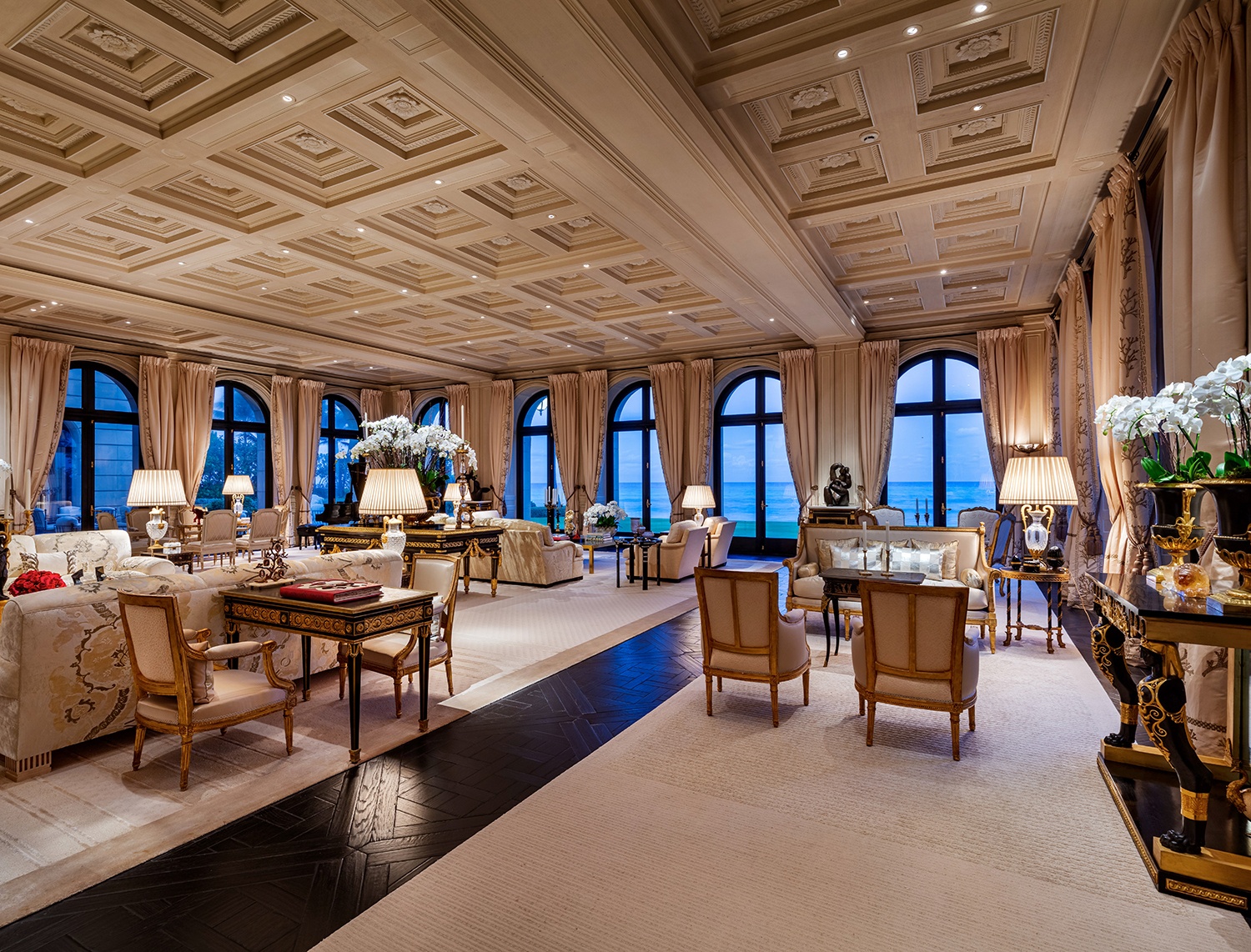 "There are some things with the most exquisite upholstery that will make you gasp—like chairs in couture"

Jonathan Rendell, Christie's America
Several sculptures, displayed outdoors at La Rêverie, set new world auction records during the June 10 event: Leon Bronstein's We waste no time at all brought $112,500, while Jacques Le Bescond's Claire obscure sold for $75,000 and Peter Schlesinger's Four columns achieving $45,000, the latter smashing a pre-sale estimate of $4,000 to $6,000.
Additionally a number of Peter Marino designs, customized for La Rêverie, were also be on the block, including a striking center table estimated to fetch between $10,000 and $15,000 saw the hammer drop at $200,000. "He himself is a great collector of Baroque bronzes," Rendell says of Marino. "His interest in surface, in finish, all of those things really come to maturity in the interior of La Rêverie. There are some things with the most exquisite upholstery that will make you gasp—like chairs in couture."
Adding to the prestige of each and every room was an unparalleled assortment of art. A number of great works came to market in Christie's 20th Century Art Evening Sale on May 11, with additional lots offered in the Impressionist & Modern Art Day Sale and Post-War & Contemporary Art Day and Morning Sales. Included in the lots were be Joan Miró's 1969 bronze sculpture Femme (Femme debout) which realized $4,110,000 million. Other notable pieces included in sale were Jean Dubuffet's large-scale painting Baigneuses (1950) and Joan Mitchell's 1989 painting Rain.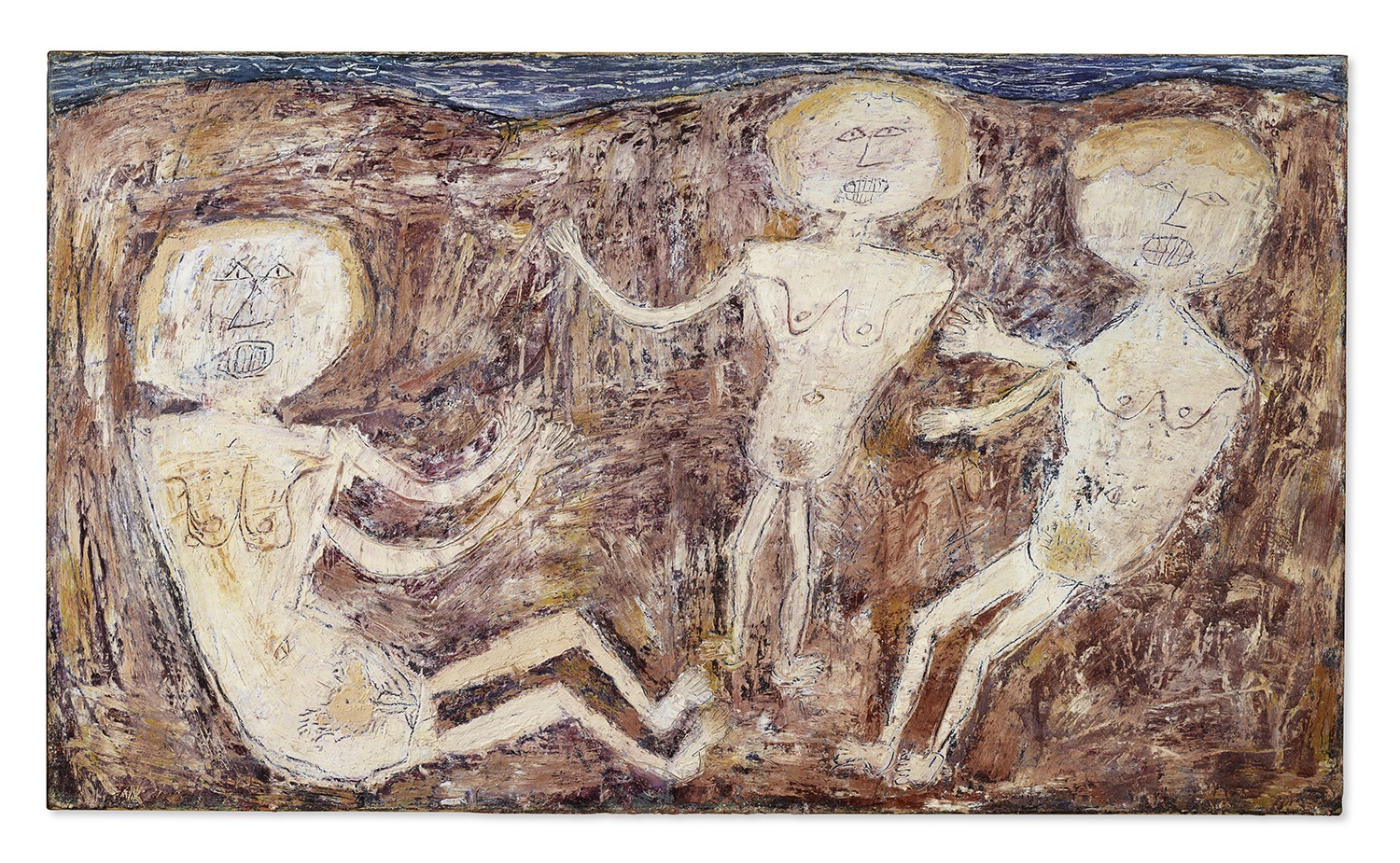 This isn't the first time pieces from Miller's vast holdings have come to market at Christie's. In May 2017, the house hosted an auction of property from the Cleveland Clinic and Miller, who underwent major heart surgery at the hospital, donated eight works to the sale. The pieces by Louise Bourgeois, Marc Chagall, Jean Dubuffet, Max Ernst, Alberto Giacometti, Roy Lichtenstein, Marino Marini, and Pablo Picasso garnered $67,220,000. It was just one of many major contributions Miller has made to the hospital, which today includes the Sydell and Arnold Miller Family Pavilion as well as the Sydell and Arnold Miller Family Heart & Vascular Institute.
This latest auction is just the next step as Miller transitions into a remarkable new home. "It's a very admirable spirit of moving on and moving up," Rendell says of the upcoming sales. "There's a bit of glamour for everybody. It's a fun way of changing the way you live. You can't wear the outfit, but you can outfit the house."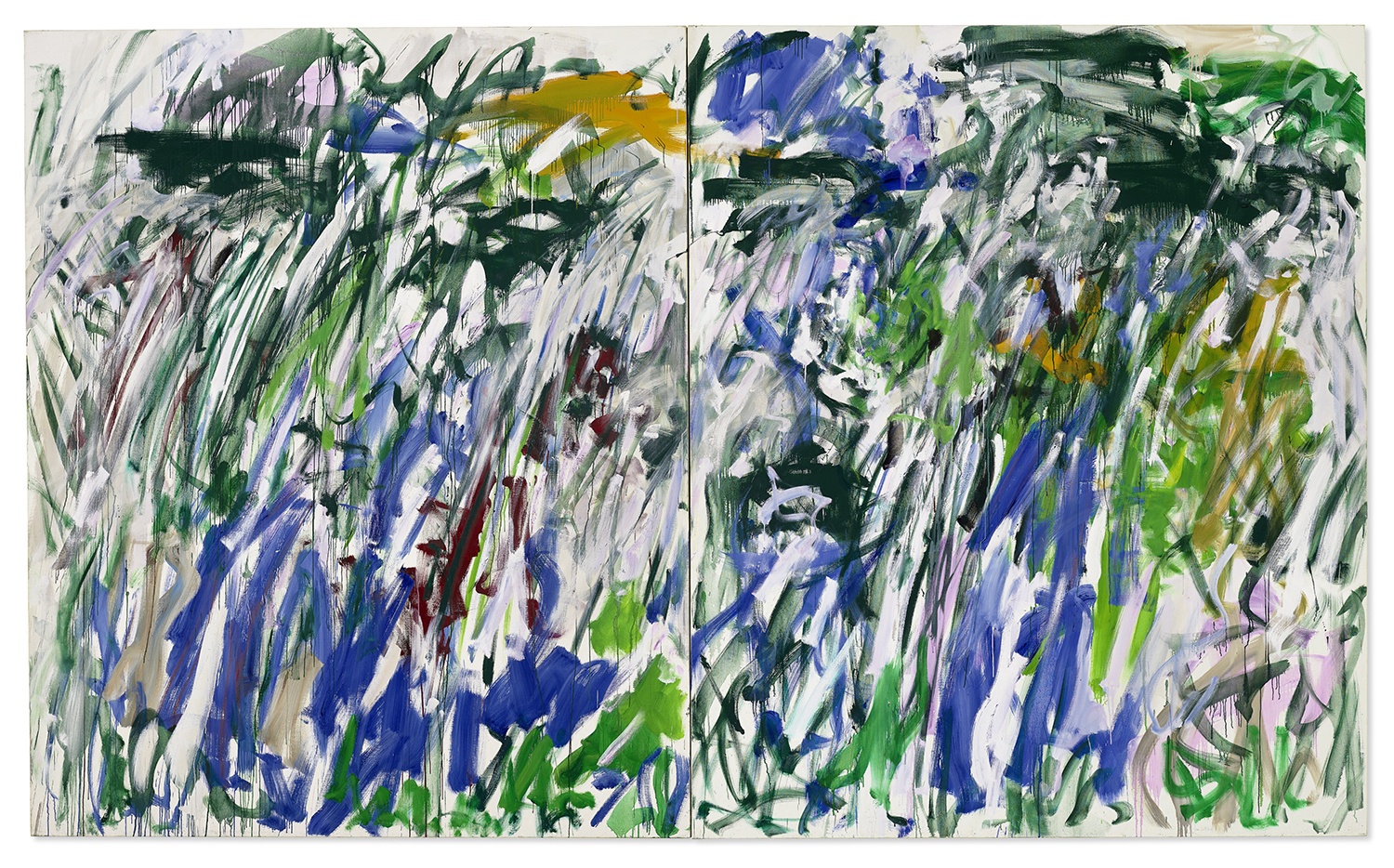 Next Post