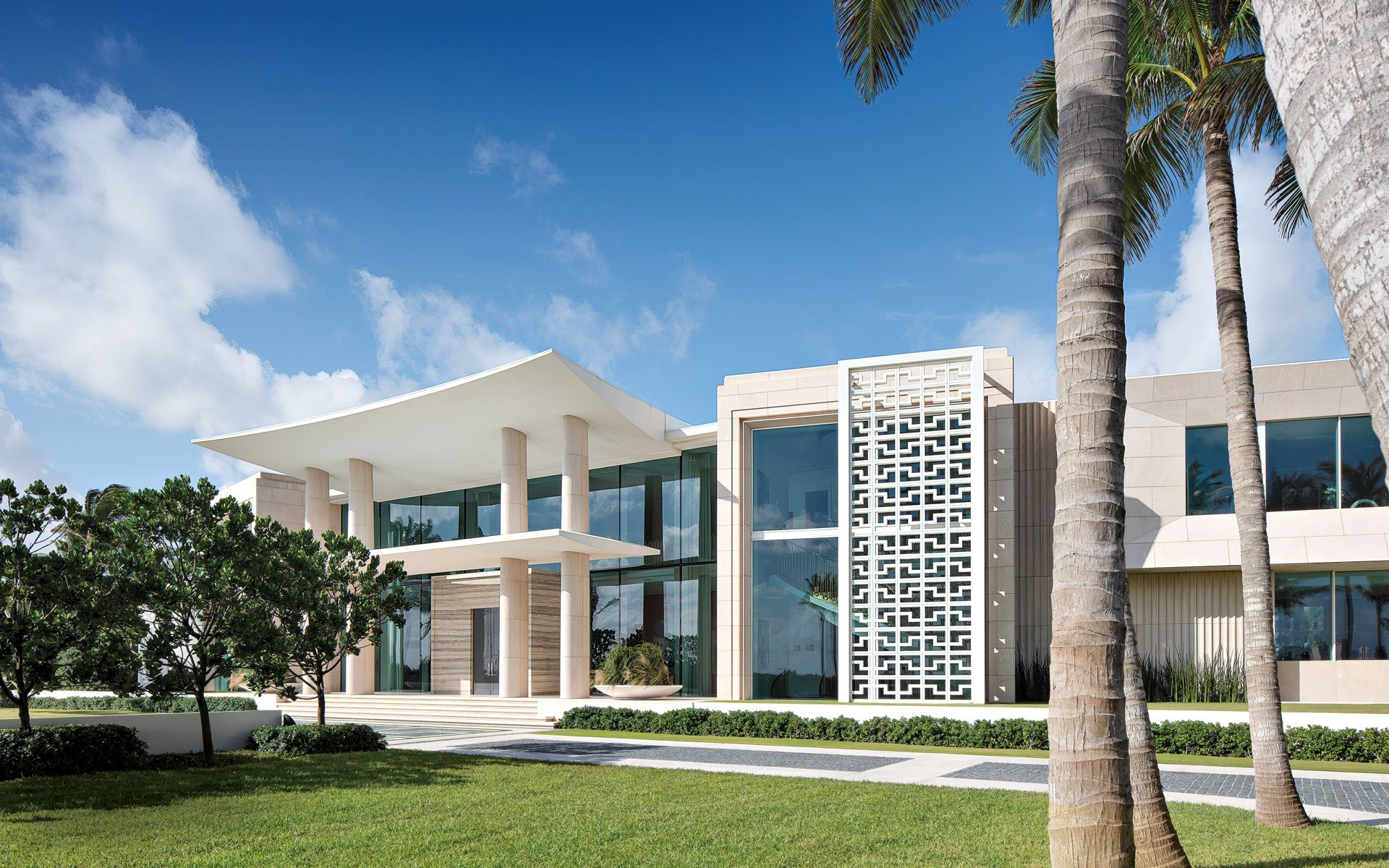 Stonefox Constructs a Striking Modern Residence for Art-World Power Couple Amy and John Phelan
The art-centric architecture firm and adventurous collectors team up to devise a breathtaking home that breaks the Palm Beach mold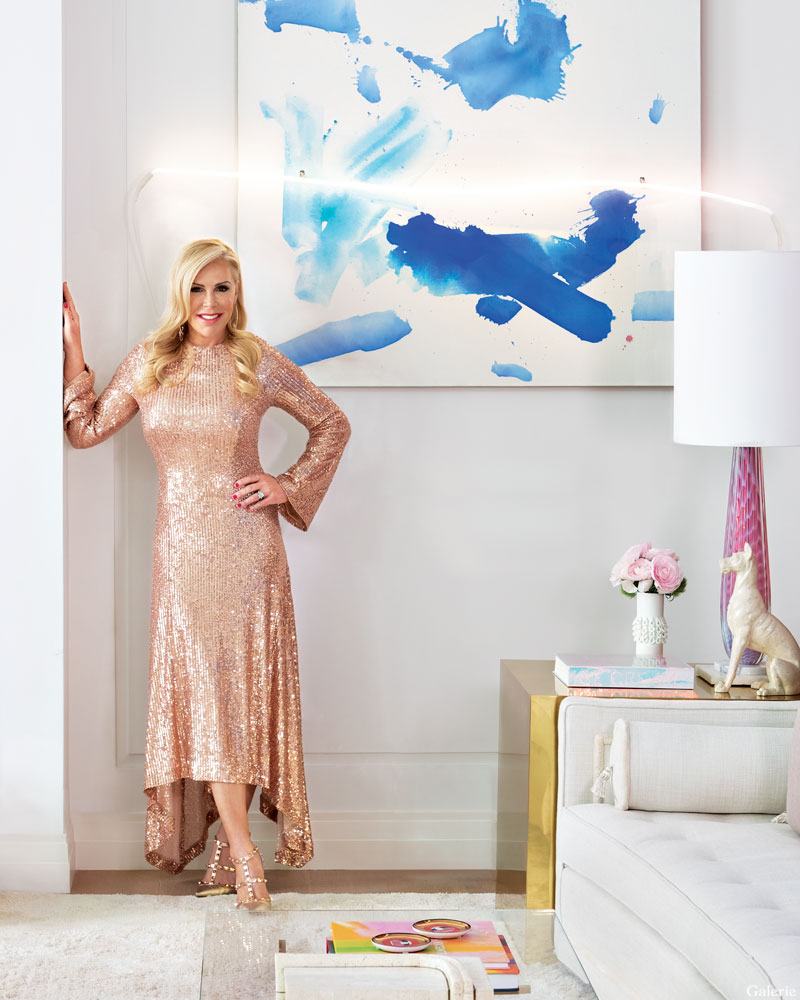 Sprawling Jazz Age mansions boasting grand monikers like El Solano, Casa Nana, and Il Palmetto famously line Palm Beach's South Ocean Boulevard like imperial ladies on a royal receiving line. For decades the majesty of these Italianate and Spanish-style estates remained uncontested. But recently an ultramodern villa, boldly breaking from convention on this storied barrier island strip, has made a serious play for the spotlight. Designed and built over the course of six years by art collectors Amy and John Phelan, the residence is the product of a collaboration with architects Christopher Stone and David Fox, who channeled the couple's eclectic tastes into a distinctive design statement that occupies a world all its own.
The opportunity to build from scratch presented itself about eight years ago, when the Phelans, who own multiple residences, including one in Aspen, where they spend part of the year, were hunting for a warm-weather base. A real estate agent suggested they look at a vacant grassy lot perched between the ocean and the Intracoastal Waterway on Palm Beach's South End. For one thing, it meant being able to mastermind their own dream house to showcase art from their renowned collection. But equally important, it gave the Phelans a chance to work again with the duo behind Stonefox, the New York firm that transformed the couple's Aspen digs from a mishmash of chalet clichés into a harmonious modernist oasis. "They are so talented and never shy away from a challenge," says Amy. "And they are two of my favorite people in the world."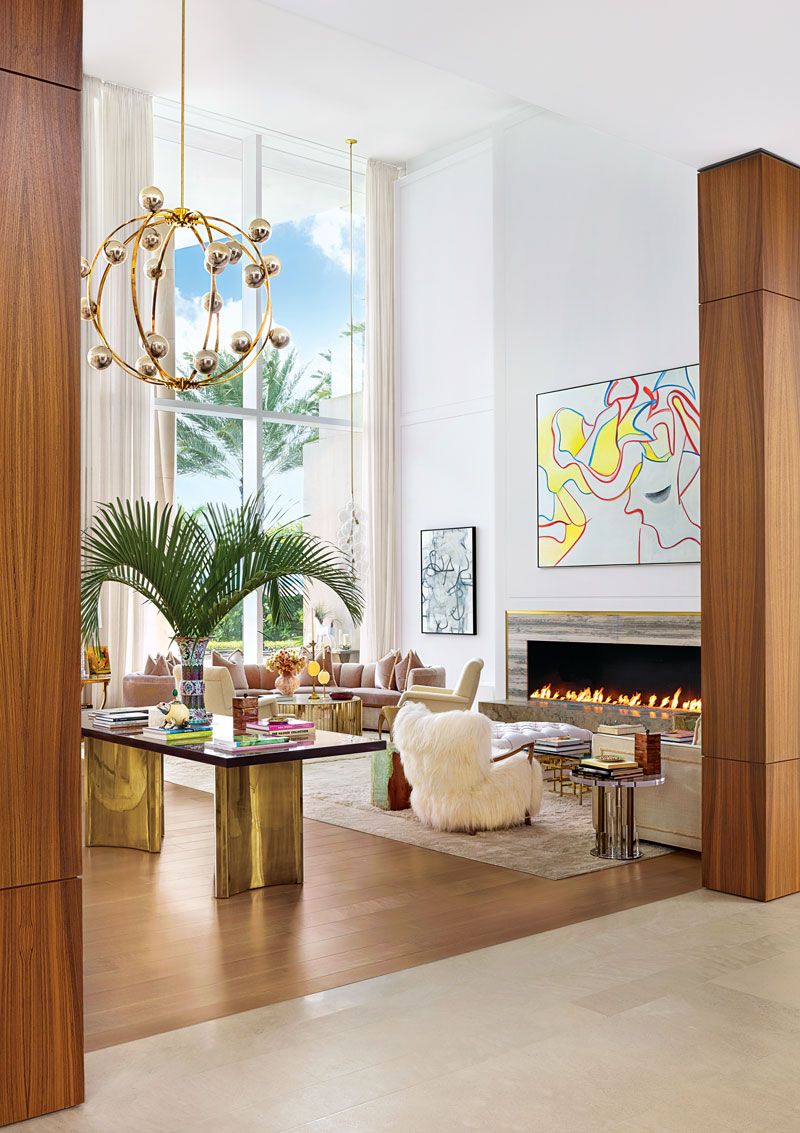 Stone and Fox, for their part, saw a golden opportunity: working with a blank slate, supported by engaged and adventurous clients. "The joy of designing someone's residence is understanding what's interesting to them," says Fox. Adds Stone, "John and Amy have amazing aesthetic dexterity—they appreciate such a wide variety of art and design. During our initial discussions, really everything was on the table."
"John and Amy have amazing aesthetic dexterity. They appreciate such a wide variety of art and design"

Christopher Stone
In the end, the architects came up with a strikingly modern plan with historical references that speak to an admiration for design spanning centuries and continents. For the exterior they chose cream Portuguese limestone, which nods to Palm Beach's ubiquitous Mediterranean architecture and gives the house a particular warmth and richness. "It has a buttery texture, but it also stands up to the salty air," Fox says.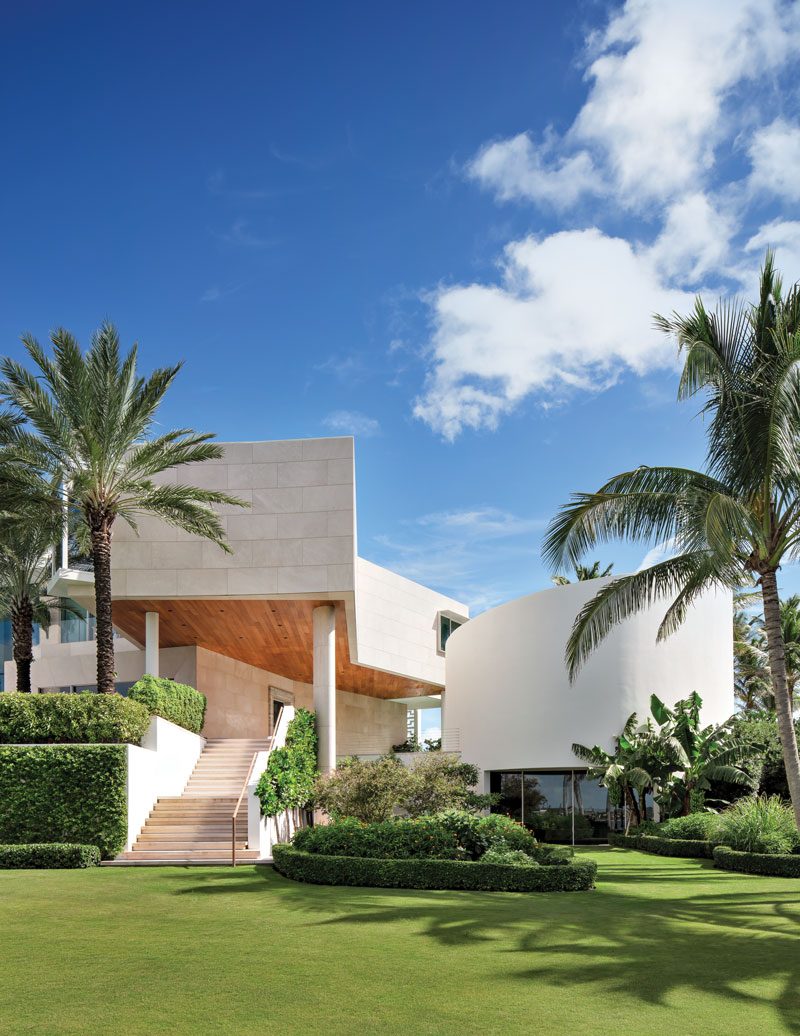 Enormous cast-concrete brise-soleil screens filter harsh sunlight while breaking up the solid cubic volumes with an eye-catching pattern. And limestone columns supporting dramatically cantilevered concrete canopies at the entrance and on the rear pool terrace incorporate the ancient Greek technique of entasis. Spreading out beyond the infinity-edge swimming pool are a vast lawn and gardens designed by Jorge Sánchez and Brian Vertesch, partners in SMI Landscape Architecture. In addition to soaring coconut palms and tropical fruit trees, the duo installed a giant rubber fig tree that was imported in eight pieces and reconstructed on the site.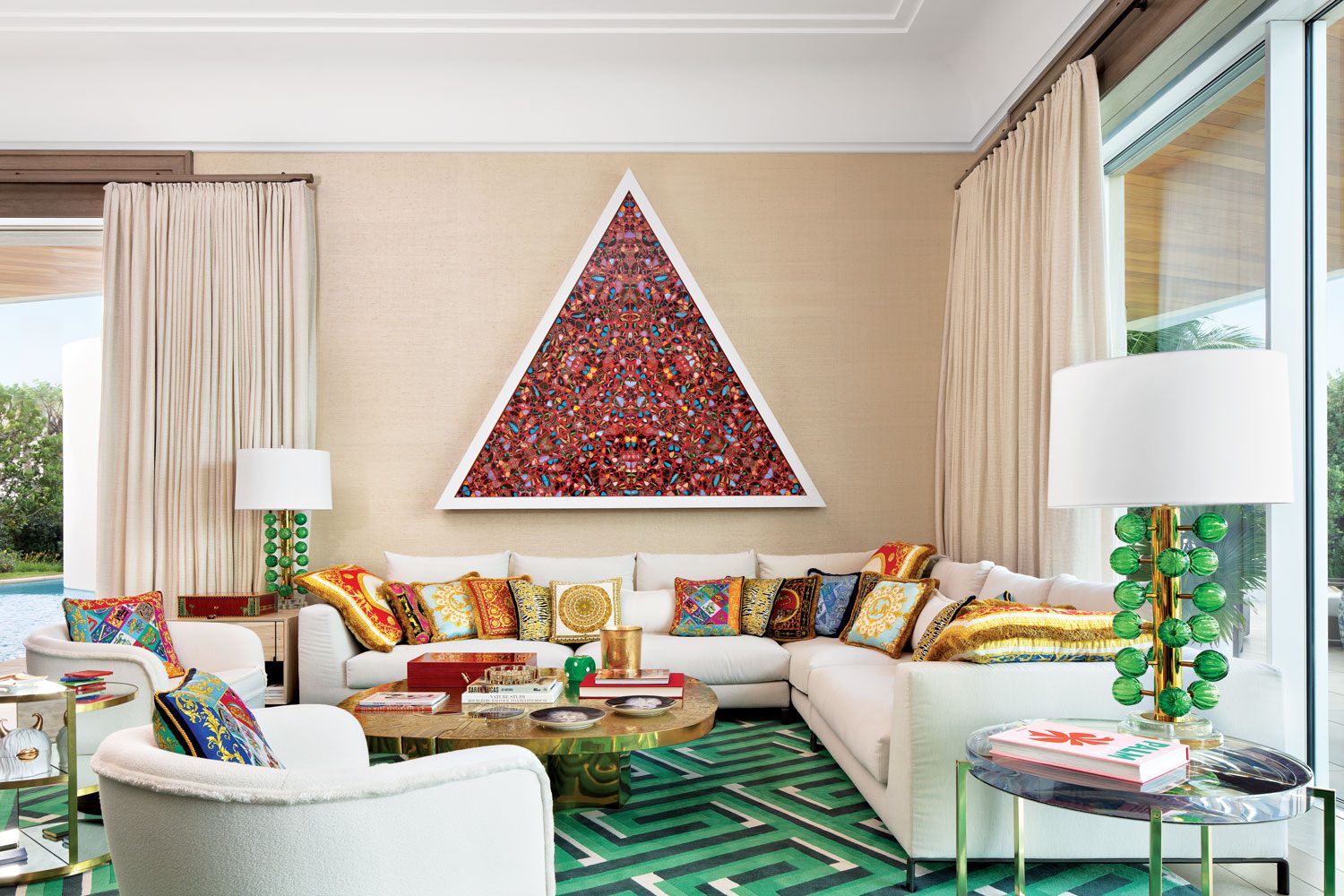 Inside, one is immediately struck by the expansive views of the ocean to the east and the Intracoastal to the west. Sunlight reflects softly off the neutral tones the Stonefox team used throughout, not least in the entrance gallery and living room, which features soaring 28-foot ceilings and glamorous midcentury and Deco-inflected furnishings. Partially dividing the two spaces are walls of richly grained Indian rosewood hung with large-scale works by Ellsworth Kelly, Marilyn Minter, and Jeff Koons.
"If there is a thread to the collection, it would be a happy quality"

Amy Phelan
"We've always purchased things that moved us and that we wanted to live with," says Amy, who began collecting with her husband almost 20 years ago. Their first memorable piece was a Damien Hirst "Butterfly" painting, and since then their collection has grown to include works by Takashi Murakami, Cindy Sherman, Richard Prince, and Ed Ruscha, to name a few. "We cross all mediums," says Amy. "If there is a thread to the collection, it would be a happy quality. If works are sometimes dark, it's often with a funny twist or provocative in ways that make you think."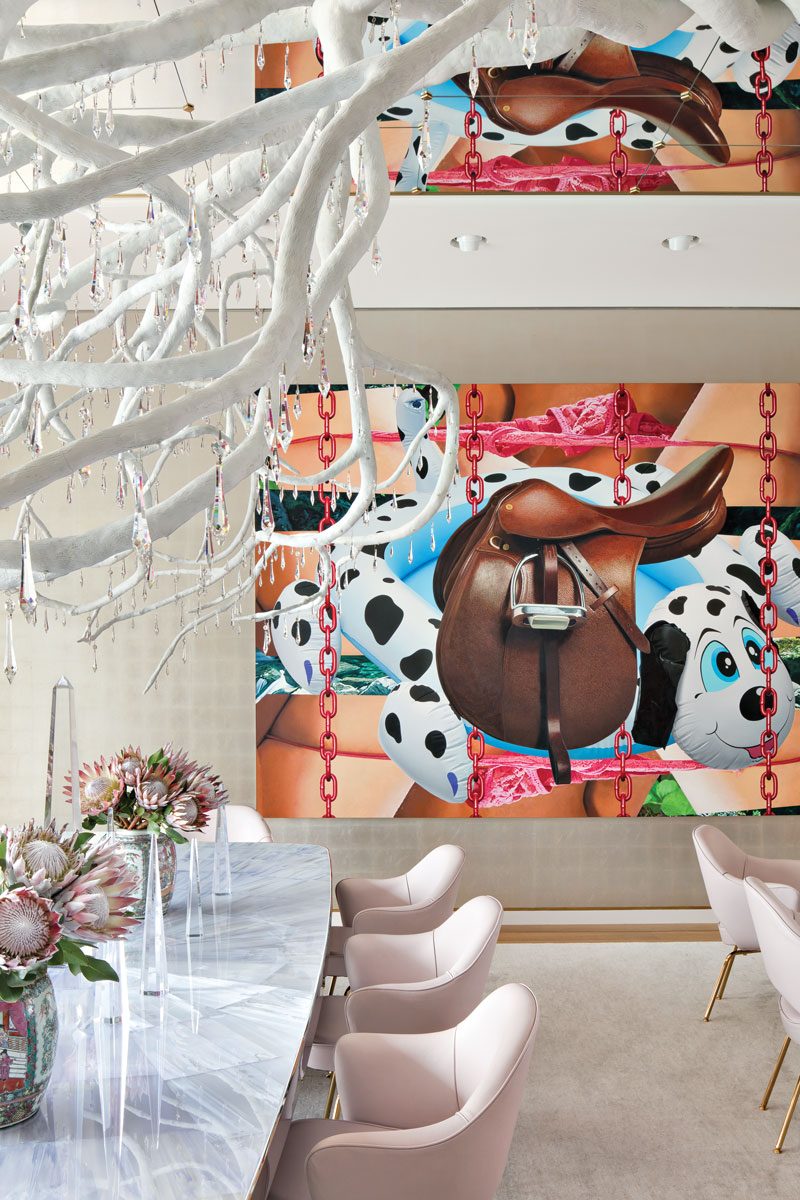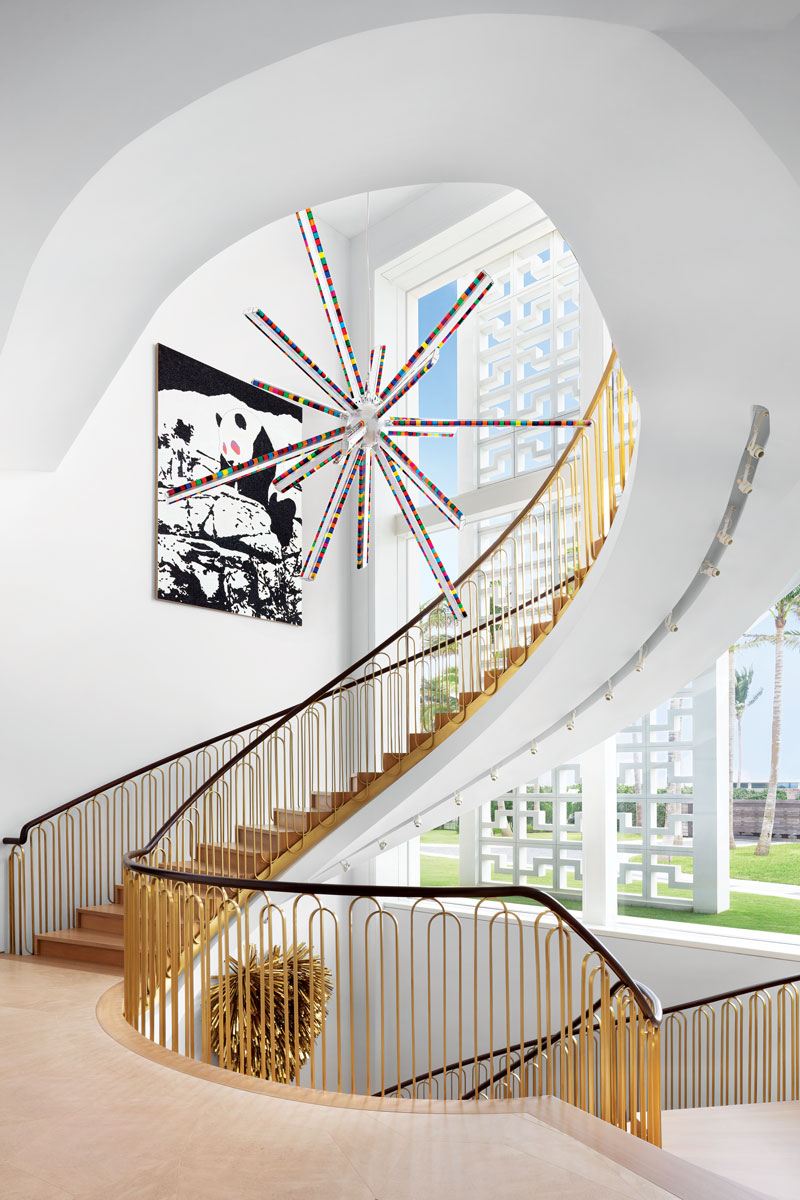 The couple's engagement with the art world goes well beyond their own acquisitions. John is the chairman of the board of trustees at the Aspen Art Museum, where Amy is a national council member. Since moving to Palm Beach, she has cochaired the Norton Museum of Art's annual fundraiser and the couple has flung open their doors to the local art community. With entertaining in mind, they even had Stonefox create a stand-alone disco lounge. The space can be seen as a contemporary version of the ballrooms Addison Mizner and Maurice Fatio often incorporated into their designs for Palm Beach's prewar mansions. But it's a safe bet that none of those rooms has a 30-inch diameter disco ball or a bar made with glowing, backlit Cristallo quartzite. "John and I love to have friends over," says Amy. "We like to have a good time."
A version of this article first appeared in print in our 2020 Winter issue under the headline "True Original." Subscribe to the magazine.
Next Post