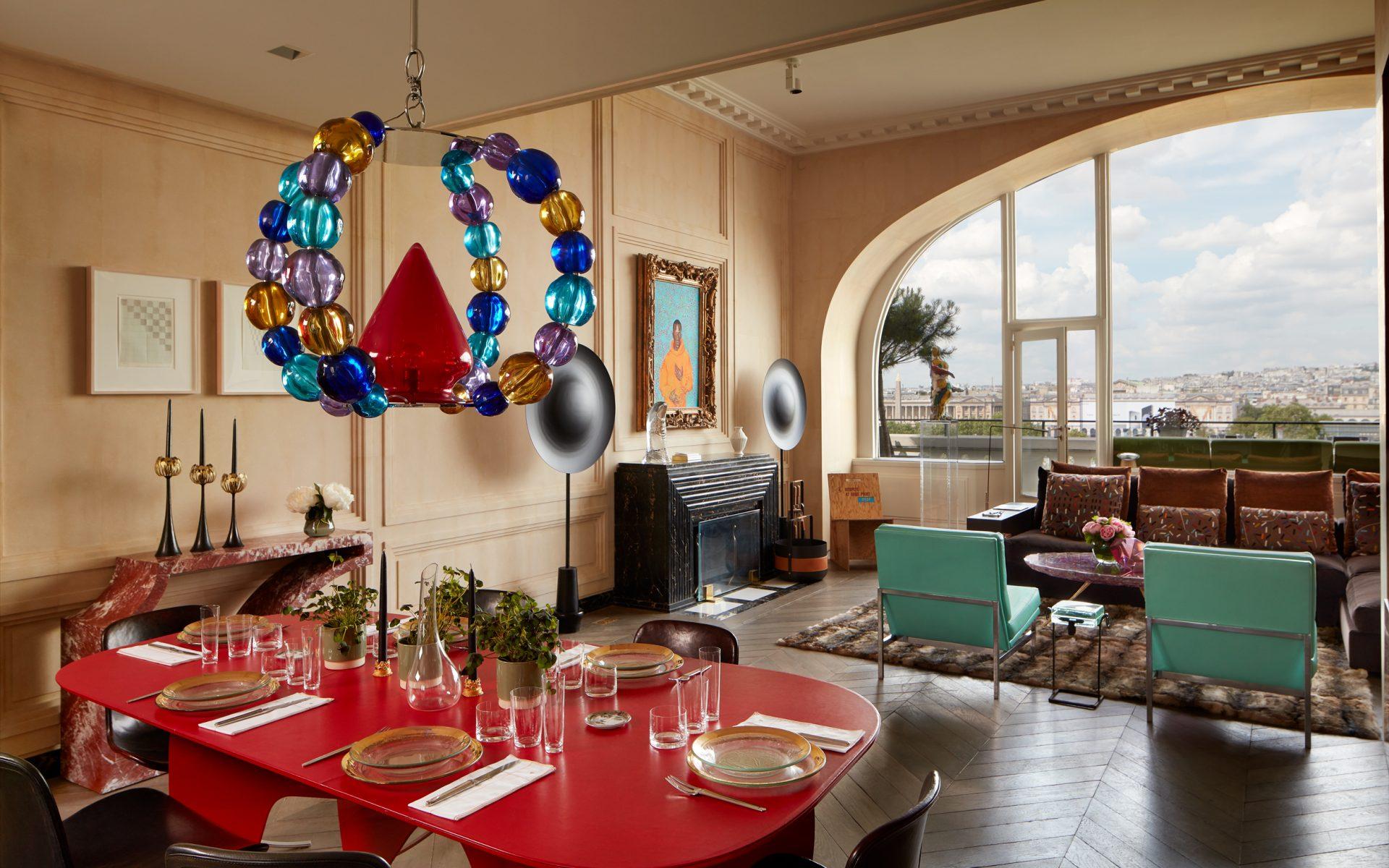 Designer Alvise Orsini Crafts a Stunning Art-Filled Penthouse in Paris
Art collector Chad Leat's apartment dazzles with sweeping views and blue-chip art
Everyone I meet in Paris has a story about this apartment," rejoices its American owner, Chad Leat, a retired Wall Street executive. Some claim the French writer Françoise Sagan used it as the setting for a chapter in one of her novels. Others refer to a movie in which actress Catherine Deneuve's character looks up at the top-floor residence and asks her lover, "Mais qui habite là?" ("But who lives there?")
The apartment may even have been the scene of a murder, at least according to rumor. Yet what really makes it iconic are its huge arched window and its location on the Left Bank of the Seine directly opposite the Tuileries Gardens, offering a picture-postcard view that stretches all the way to Sacré-Cœur. "You could spend most of your day just taking it in," says Alvise Orsini, the decorator Leat hired to revamp the residence.
Recommended: Pierre Yovanovitch Transforms a Brussels Townhouse for Major Collectors
Leat acquired the two-bedroom flat from a friend who had renovated it twice with esteemed architect and designer Joseph Dirand, who employed an aesthetic that was too austere for the new American owner's taste. "I didn't want to mess with the layout or architecture, because it's perfection in my view," says Leat. "But I found the stark decor a little dated." So he enlisted Orsini—whom he'd met through the designer's husband, the Belgian-born fashion executive Geoffroy van Raemdonck—to make the apartment "warmer and with more Parisian flair," as Leat puts it.
But turning to Orsini for a quintessential French look might, at first glance, seem paradoxical. After all, he's about as Italian as they come. His family's history in Italy can be traced back to the 11th century and includes three popes. Orsini himself was brought up in a lavish family palazzo near St. Mark's Square in Venice and initially trained in architecture before turning his hand to interiors and launching his own firm in 2008.
Click here to view more photos of the home.
For the past five years, Orsini has also served as head of design for Jacques Garcia, the celebrated French architect and decorator he calls a friend and a mentor. Among the projects they've worked on together are the Louis XV Château de Villette outside Paris and a seven-story Swiss chalet with such luxurious touches as living room walls wrapped in mink. "Jacques is one of the geniuses of our time," says Orsini. "I'm fascinated by his level of culture and knowledge."
With Van Raemdonck having been recently appointed CEO of the Dallas-based Neiman Marcus Group, Orsini plans to spend most of his time in the U.S., focusing on expanding his own practice. It will also be an opportunity to stretch more creatively for the designer, who says his forte is really period interiors. His most significant solo project to date is his former London apartment in a Robert Adam house in Marylebone. "It was the one that really defined me and my taste," he says. His exquisite renovation included a bath clad in antique mirror from Baccarat's former Paris headquarters and a guest bedroom decorated with a fanciful 18th-century Chinese wallpaper.
Leat's flat, which Orsini completed last year, gave the designer a chance to show his hand in a more contemporary style. He provided warmth and depth by giving the walls a faux-parchment finish and introducing animating bursts of color, notably the scarlet-red dining table, the living room's sea-foam-green slipper chairs, and the master bedroom's teal platform bed. He also brought in a host of blue-chip contemporary furnishings by designers like Hervé Van der Straeten and Eric Schmitt. "I wanted to show what can be done today in Paris at the top level," Orsini asserts.
Recommended: Laurent Champeau and Kelli Wilde Fashion a Perfect Paris Retreat
Leat, for his part, is particularly taken with the pair of Pierre Gonalons pink marble consoles installed in the dining area. "I love that they are made from the same stone as the Petit Trianon at Versailles," he says. Most of the contemporary artworks on display were drawn from Leat's extensive collection, though a few pieces were acquired specifically for the apartment, including the elaborately framed painting by Kehinde Wiley that takes pride of place above the mantelpiece. "He depicts African-American street kids but frames them as if they were European royalty," Leat says of Wiley, who attained a new level of celebrity earlier this year for painting Barack Obama's presidential portrait.
Since Leat's apartment was finished, Orsini has been focusing his attention on a pair of new homes for himself, Van Raemdonck, and their two-year-old twins, Charles and Hadrian. One is a 1930s Italianate villa in Dallas and the other an apartment in a town-
house on East 73rd Street in Manhattan. The latter will serve not only as a home but also as a showcase for his personal style and the fine French craftsman-ship he deeply admires.
"It's going to be a place where I'll invite my clients so they can experience my life and taste," says Orsini, clearly excited about developing his business in New York. "I love the city's energy and endless opportunities. It's very much me right now—it's where I feel at home."
Click here to view more photos of the home.
A version of this article first appeared in print in our 2018 Fall Issue under the headline View from the Top. Subscribe to the magazine.
Next Post