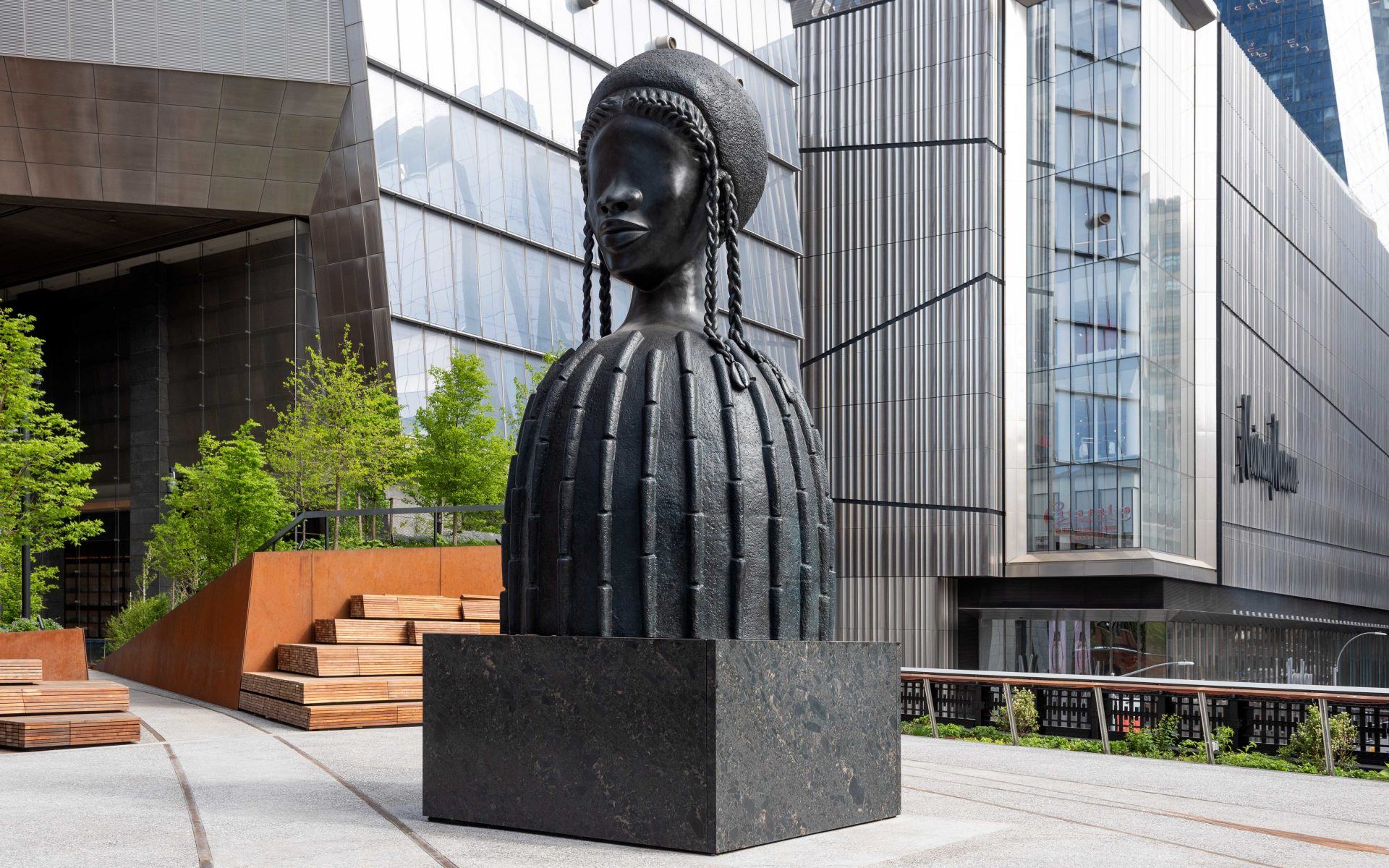 6 Stunning Public Art Installations to See in New York This Summer
Whether venturing to Madison Square Park or simply meandering through the Lower East Side, there are plenty of art installations and sculptures to discover
There's no better time to explore New York City's fun and vibrant neighborhoods than on a blissful sunny summer day. Luckily, the city is brimming with breathtaking public works of art that are guaranteed to perk up any afternoon stroll. Don't miss these six major installations that not only employ exotic mediums but also challenge onlookers to view the world through unique and innovative lenses.
1. Simone Leigh: Brick House
The High Line
Inaugurating the High Line's final phase, nicknamed the Spur, Brick House by Simone Leigh stands in stark contrast against the soaring glass edifices of its Hudson Yards surroundings. Emblematic of black female beauty, the 16-foot-tall bronze bust references the architectural structures and cultural traditions of West African and Southern American women. Brick House is without eyes, negating any essence of individualism, but revealing her to be an emblem of a broad and complex identity. The Spur is exclusively devoted to featuring contemporary artworks and will unveil new installations every 18 months.
Where: The High Line, 30th Street and 10th Avenue
When: Through September 2020
2. The New York Artists' Memorial Garden
Jackson Square Park
Created as an addition to the NYC Parks' "Adopt-A-Bench" memorial initiative, 34 artists, commissioned by the Art Production Fund and White Columns Alternative Art Space, each dedicated a park bench to an individual or organization that proved meaningful to their lives. Artists, including Alex Katz, Yoko Ono, and Hans Haacke, have transformed Jackson Square Park into a space for reflective meditation, honoring fellow artists as well as life and business partners. This project further represents the artistic community that White Columns has nurtured since its founding in 1970.
Recommended: 8 Must-See Public Art Projects Enlivening Art Basel
Where: Jackson Square Park, 8th Avenue and Greenwich Avenue
When: Through December 19
3. Leonardo Drew: City in the Grass
Madison Square Park
City in the Grass is a topographical abstraction of New York City that coaxes viewers to interact with others and immerse themselves within a work of art. As the 38th commission of the Madison Square Park Conservancy, this installation represents New York–based artist Leonardo Drew's interest in assemblage and scale. Drew utilizes natural materials that overlap and converge onto one another, consequently forming a dynamic composition. In a statement, Brooke Kamin Rapaport, exhibition curator and deputy director, described Drew's goal as "to bring people close in to his work, to study the swells and folds of his cityscape, and to locate a personal place within the purposeful voids in the work."
Where: Madison Square Park
When: Through December 15
4. Portia Munson: Pink Projects
Rockefeller Center
New York artist Portia Munson examines the socioeconomic implications of the color pink in her new "Art in Focus" series, commissioned by the Art Production Fund. Concentrating on how producers and consumers use the vibrant hue to cater toward female identity and consumerism, Munson's series is displayed through table arrangements and pink items layered in glass coffins. This installation also includes remnants of the "pink bedroom" installation exhibited at the FLAG Art Foundation in 2018.
Where: 45 Rockefeller Plaza
When: Through July 14
5. Felix Gonzalez-Torres: "Untitled," 1989
Public Art Fund
Felix Gonzalez-Torres petitioned for gay liberation by generating art that responded to the HIV/AIDS crisis. Originally constructed in 1989, two decades after the Stonewall Rebellion, the black-and-white billboard lists the names of LGBTQ activists juxtaposed with subsequent combative political happenings in America. Around 100,000–200,000 participants in the 1989 Gay and Lesbian Liberation Day Parade passed by "Untitled" unsure if the billboard was art or an advertisement, but moved by the rebellious and empowering nature of the work. Presentation in accordance with the 50th anniversary of the Stonewall Riots, "Untitled" becomes a timeless form of art and activism that continues to resonate with us.
Where: 1 Sheridan Square in Greenwich Village, New York
When: Through June 30
Recommended: This Long-Overdue Exhibition Marks 50 Years Since the Stonewall Uprising
6. En Plein Air
The High Line
"En Plein Air" features works by Ei Arakawa, Firelei Báez, Daniel Buren, Sam Falls, Lubaina Himid, Lara Schnitger, Ryan Sullivan, and Vivian Suter. Translated as "in the open air," the term was first coined in mid-19th century France, when paint became readily accessible to artists who were keen on capturing a quickly industrializing world. The High Line's current principal exhibition references this art-historical expression in response to the continual industrial development of New York City. Eight artists utilize organic forms to illustrate the growing contrast between urban life and nature. Ryan Sullivan, for example, balances contrasting elements of tradition and modernity with nature and urbanity by employing paint to depict abstract visions of wildlife.
Where: The High Line, various locations
When: Through March 2020
Next Post