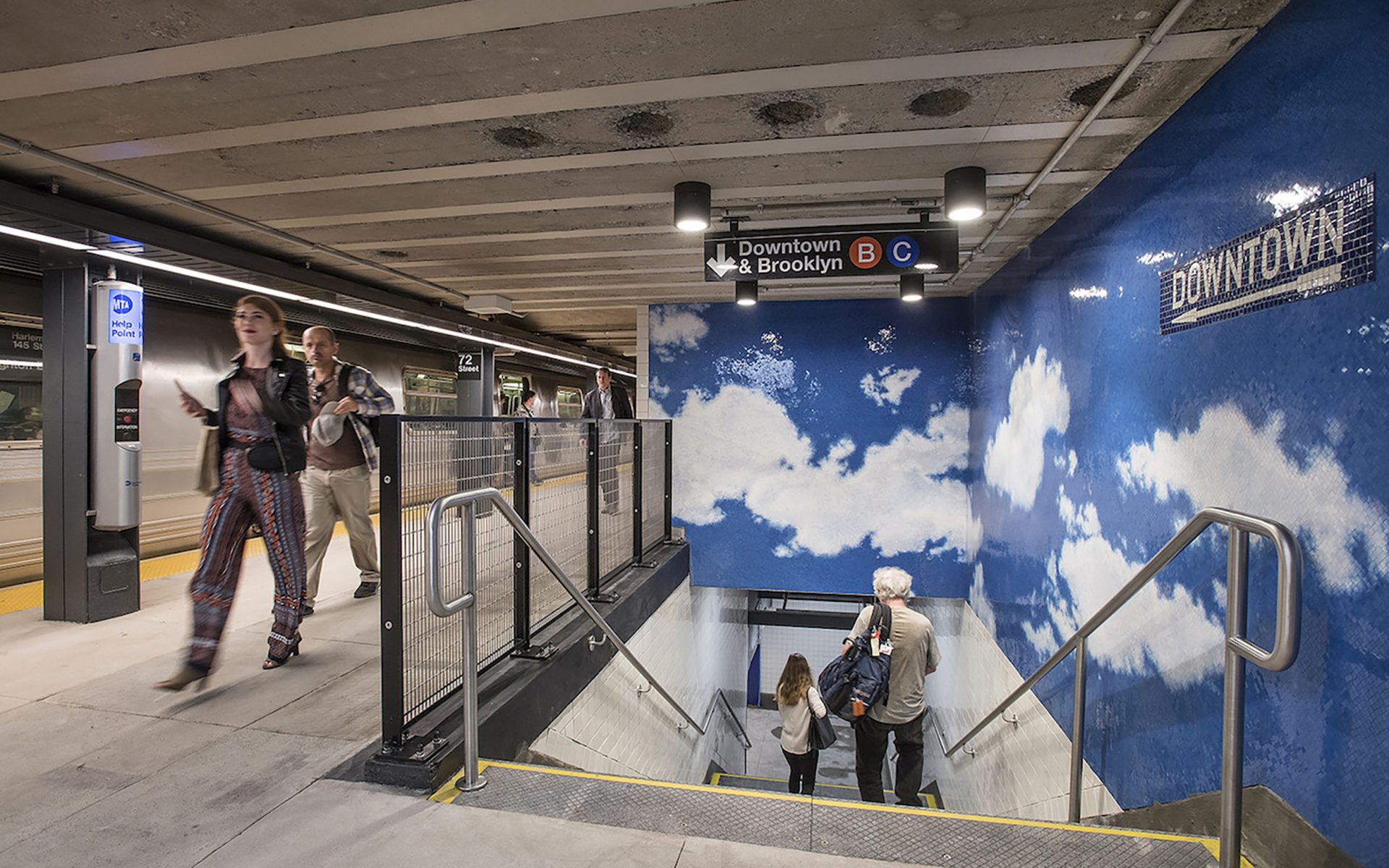 Yoko Ono Unveils Six Beautiful Mosaics Near New York's Strawberry Fields
The artist created the murals for the 72nd Street station, steps away from the Central Park memorial
After $28 million in renovations, the 72nd Street subway stop on New York's Upper West Side has reopened with a beautiful new series of murals by Yoko Ono gracing the walls.
The station sits under the Dakota, the famed Gothic building where the artist lived with her late husband, John Lennon, and where she continues to live today. (The station is also across the street from Strawberry Fields, Central Park's permanent public memorial to Lennon.) The artist's six murals, collectively called "SKY," comprise 973 square feet of ceramic mosaics that create visions of bright blue skies, dotted with puffy clouds. Positive messages are scattered throughout the murals, such as "Imagine Peace" and "Remember Love."
"I'm thrilled that my new work, 'SKY,' will be opening at the 72 Street subway station just steps from my home and Strawberry Fields, which I created in memory of my late husband," Ono said in a statement. "It will bring the sky underground, so it's always with us. I hope this will bring peace and joy to my fellow New Yorkers for many years to come."
Recommended: Bradley Cooper Purchases $13.5-Million Townhouse in the West Village
The murals, which Ono based off photographs of the sky, are designed to look slightly different based on the angle of the viewer, shifting with their perspective to mimic the movement of real clouds in the sky.
Four of the six murals have been installed at the station, which reopened last week at 72nd Street and Central Park West. Two more will be unveiled by the end of October.
Ono applied to an open call from the Metropolitan Transit Authority Arts and Design department in May.
"I can't imagine anything better than seeing someone who lives close by, who has the ability to speak around the world, to give such respect to the subway by bringing her work into it," Sandra Bloodworth, director of the public art program at MTA Arts and Design, told NY1. "We are the most public museum there is, I believe, on earth."
Next Post