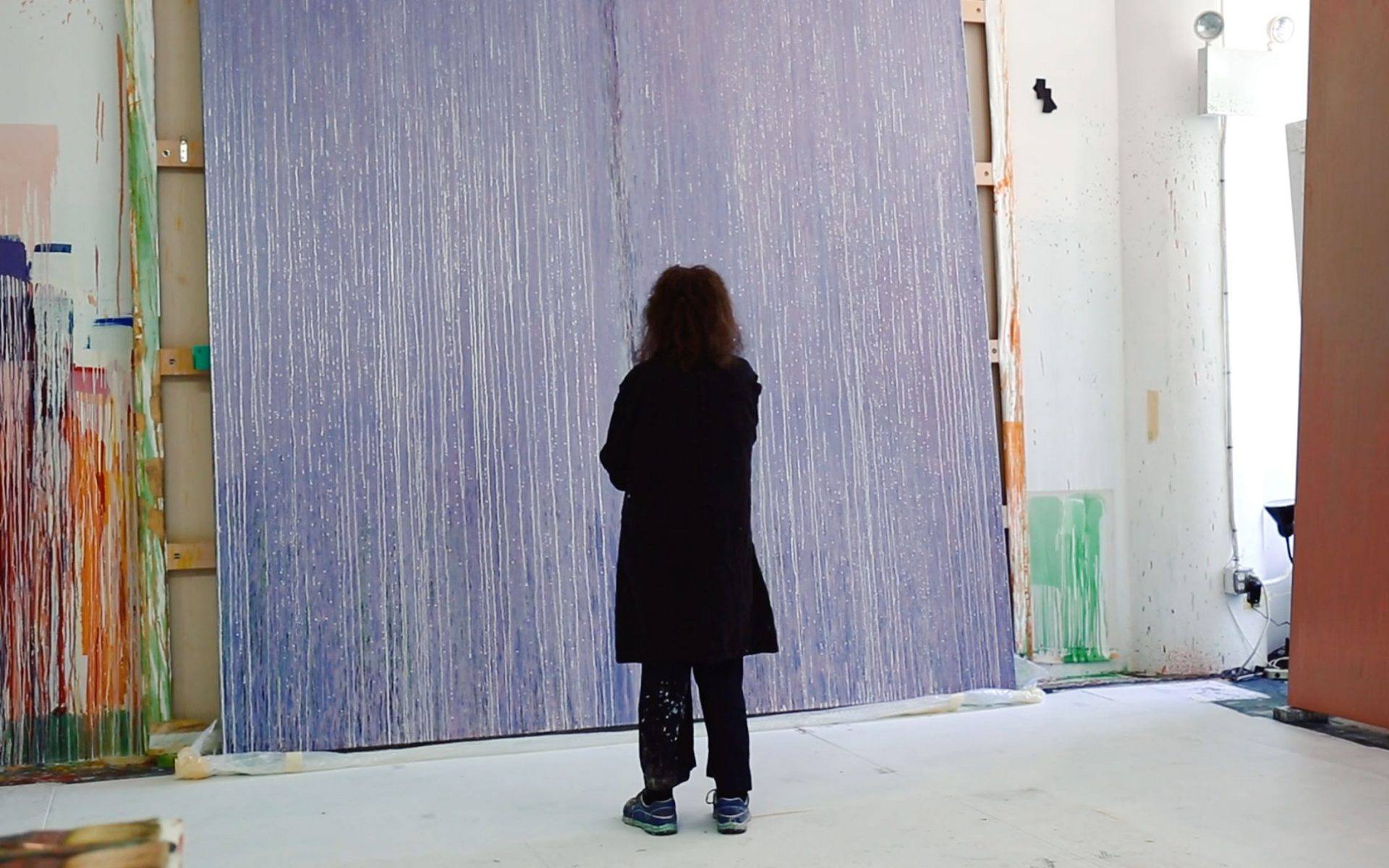 Meditative and Empowering, This Pat Steir Documentary Is a Must-See
The artist's candid quips on ageism and gender inequalities that still plague the industry are on full display
Having confronted the industry's aversion to female artists head on for more than half a century, Pat Steir has no intention of stopping now. "My feminist statement is surviving," she says in Pat Steir: Artist, both Steir's and director Veronica Gonzalez Peña's documentary debut.
Now 80, Steir recently erected Color Wheel, her largest painting installation ever, at the Hirshhorn Museum and Sculpture Garden in Washington, D.C. (the show is extended through June 2021); plus, two major exhibitions are planned for later this year in France and China. Reflecting Steir's lifetime of pioneering work in Conceptual Abstraction, the documentary officially premiered in January 2019. Thanks to independent film distributor Giant Pictures, it will be made widely available on June 9 through Apple TV, Prime Video, and other digital platforms, as well as on DVD.
After meeting at a reading for a mutual friend, poet Mei-mei Berssenbrugge, Steir and Mexican novelist and filmmaker Gonzalez Peña swiftly discovered they were kindred spirits united by a passion for artistic advocacy in its written and visual forms. Steir was a founding board member of New York's Printed Matter bookshop and feminist journal Heresies, as well as an editor for semiotext(e) magazine, which is the publisher of Gonzalez Peña's novels. Reflecting the types of intimate discussions through which their friendship blossomed, Pat Steir: Artist is comprised of three years of on-screen conversations between the two.
The Power in Vulnerability
Rather than featuring talking heads, Gonzalez Peña approached the documentary as she would a book with a strong, first-person point of view and gradual character reveal. "Often when people are interviewed they hold back. They present a persona of how they want to be seen," Steir tells Galerie. "I just presented as direct answers to the questions that Veronica asked me as humanly as possible, as though I was talking to a baby. You should never lie to a baby."
Filmed largely in her Greenwich Village townhouse in MacDougal-Sullivan Gardens, as well as her Chelsea studio, it features Steir opening up about her complex family dynamic while growing up in Newark, New Jersey, fending for herself personally and professionally, the tough choice between pursuing poetry or fine art, and healing through therapy. "Pat was so brave to be that open and vulnerable," Gonzalez Peña tells Galerie. "It's a really emotional thing for people to get that kind of intimacy from A) someone so wise, and B) such an incredible artist."
Recommended: Look Inside Artist Pat Steir's Treasure-Filled Townhouse in Greenwich Village
Her Inspiration and Process
The documentary's most visually meditative moments are undeniably watching Steir create her signature "Waterfall" paintings. Pouring thinned paint from the top of her gargantuan canvases—and occasionally throwing paint across them—Steir relinquishes control to gravity and time. "I try to let the painting become itself and then be affected by it," the artist says in the film. Later, while proudly standing in awe of an orange and brass-cum-aluminum "Split" canvas whose green undertones were naturally exposed, Steir claims, "I never could have done that if I planned it. The mistake makes the painting."
When not surrounded by art in her home or studio, Steir is seen supporting her friends at readings and exhibition openings, as well as the many gatherings she hosts. She graciously expresses how John Cage taught her that chance cannot be choreographed; Sol LeWitt inspired her to place one color she loves next to another; and from Agnes Martin, she learned to allow herself freedom within a contained space.
Recommended: 5 Key Works from Pat Steir's Remarkable Career
On Feminism, Ageism, and the State of the World
The artist has experienced ebbs and flows of success, and is especially candid when discussing hard truths about ageism and gender inequality. "After the suffragettes, the next feminist movement was in the late '60s, early '70s, where I was one of about 20 women painters," Steir recalls. When she got her start, the common belief was that women could not be abstract painters. Male dealers would even purchase their art because it was "like finding hidden treasure at bargain prices." She tells Galerie, "How many of those women painters do you know now? How many could really sustain the struggle? And then to think, how many men could?"
Emphasizing how female artists are judged differently, she continues: "I think to be seen as powerful is more difficult for a woman, even when the opportunity rears its head." Believing it is easier for society to accept women artists as they get older, she delivers one of the documentary's most powerful lines: "Now that I'm over 70,  I'm like an honorary man." Gonzalez Peña adds that often female artists cannot maintain the same productivity that Steir has in her later years: "Many can't hang on until their sixties, when the gaze may start looking in their direction. That's a cultural loss."
Recommended: Artists Take to Instagram to Respond to Racial Injustice with Powerful Artworks
While there is still significant progress to be made for women artists, Steir acknowledges that they are not the only group deserving more attention. "Especially now, look at all the trouble we are in. It's like a return to the Dark Ages," she tells Galerie in reference to the world simultaneously battling a pandemic and mounting social unrest. "What kind of room there will be for art is in question." Offering one solution, Steir believes togetherness is more important than ever. "I hope group projects will reemerge. This is the time for that to happen."
Pat Steir: Artist is available on Apple TV, Prime Video, and other digital platforms from June 9  
Next Post