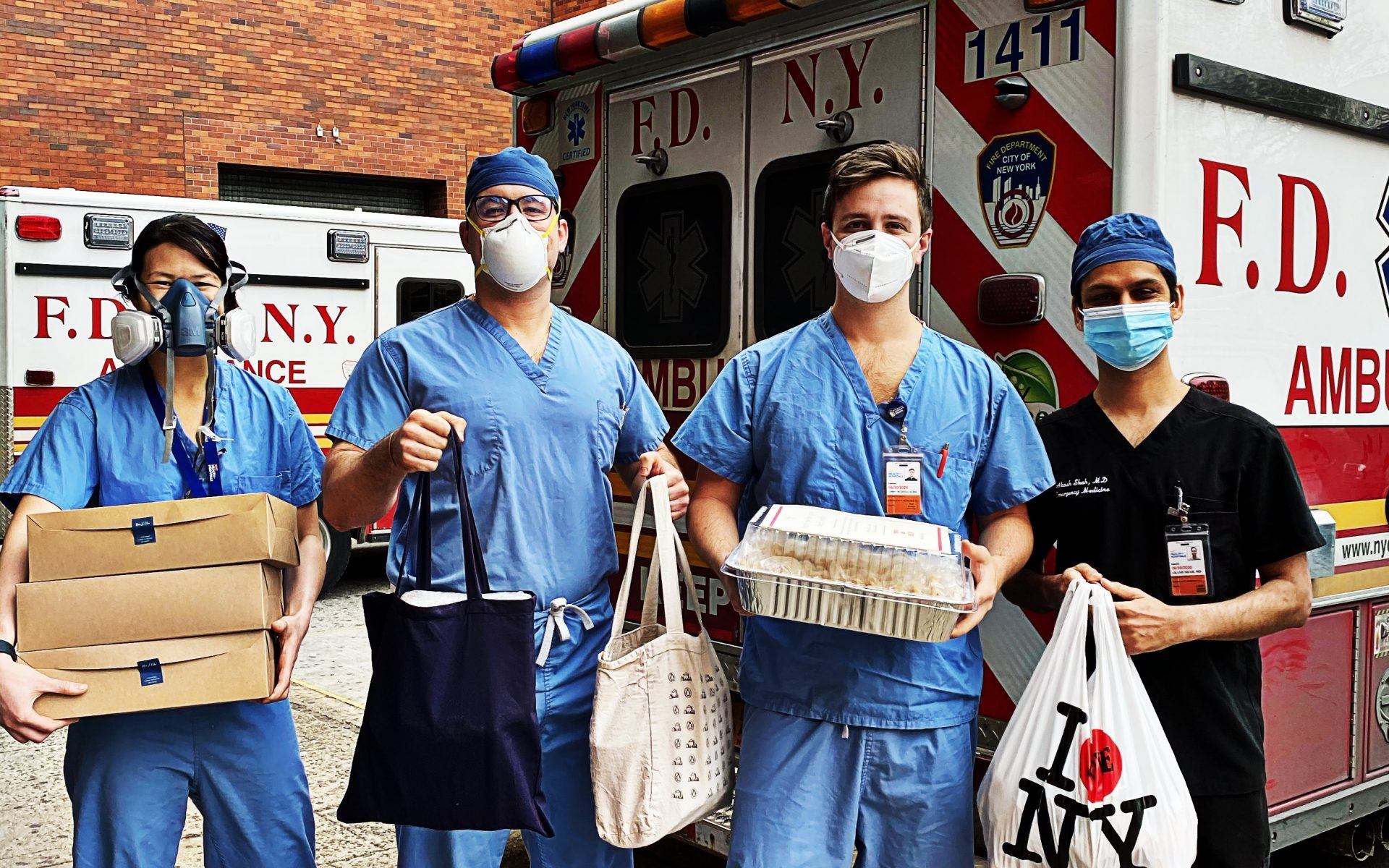 Treats Help Gives Medical Workers Sweets from New York's Best Bakeries
Photographer Melanie Dunea shares the story behind the new initiative and a flourless cake recipe from Mah-Ze-Dahr
Portrait photography is about connection. Watching people closely. Looking into their eyes—yes, those windows. Talking and sometimes even touching them. Click.
Now we are forced to pause. It's been 53 days since I took a photograph without a mask and gloves on. It's been over 53 days since I had an assignment. Now I take pictures of empty streets, closed restaurants, and masked people. I search for new ways to channel my energy and creativity. That's how Treats Help was born with actress Stephanie March, food personality Gail Simmons, writer Anjali Kumar, and restaurateur Judi Wong. The goal was to celebrate our frontline workers and support local bakeries and food makers.
Using money from donations, we ask four local bakeries to create 200 individual treats, which we hand-deliver to emergency rooms in hospitals all over the five boroughs of New York City each week. Since our launch on April 1, we've worked with 28 bakeries, including Levain, Shake Shack, Ovenly, Empire Bakery, and Thomas Raquel from Le Bernardin, and have made 51 deliveries. Each baker's creation is based on which ingredients they can get access to at the moment.
Umber Ahmad, from the award-winning West Village bakery Mah-Ze-Dahr, has collaborated with Treats Help for several deliveries. Her ethos is that baked goods should take one on a journey of mystery and desire while making you want more. One week she baked us chocolate sable cookies and shortbread biscuits and another week her signature chocolate brownies. They were so delicious that the doctors from Lincoln Hospital in Harlem asked us for a repeat visit.
Recommended: 9 Recipes from Famous Artists That You Can Make at Home
Since flour is in short supply in New York City, Ahmad has created this flourless chocolate cake recipe for us to make as we shelter in place and if you can't find flour right now. If you do care to venture out this week Mah-Ze-Dahr is hosting a pop-up May 7 to 10 for pickup or delivery.
To donate, visit the Treats Help GoFundMe page.
Flourless Chocolate Cake 
3 tbsp salted butter
5 oz semisweet or bittersweet chocolate, chopped up
1/2 tsp vanilla extract
3 large eggs, separated
1/4 cup granulated sugar
Confectioners' sugar, for dusting
1. Preheat oven to 275ºF; position the rack in the center. Generously butter 4 individual ramekins.
2. Place butter and chocolate in a large bowl. Microwave in 30-second increments, stirring each time, until melted. Let the mixture cool for about five minutes. Stir in the vanilla extract and then whisk in the egg yolks.
3. In the bowl of a stand mixer fitted with the whisk attachment (or in a medium-size mixing bowl using a handheld mixer or by hand with a whisk), beat egg whites to soft peaks.  You want the texture of the egg whites to lift with the whisk and then droop slightly afterward. Gradually add sugar and beat until stiff and glossy.
4. Whisk 1/4 of the whipped egg whites into the chocolate mixture. Then gently fold that mixture into remaining egg whites.
5. Pour the batter into the prepared ramekins, smoothing the tops with a knife or offset spatula. Bake until the cakes pull away from sides of the ramekins and is just set in the center, 30 to 40 minutes.
6. Cool completely on a wire rack. Serve dusted with confectioners' sugar, and top with fresh strawberries and lightly sweetened whipped cream.
Next Post