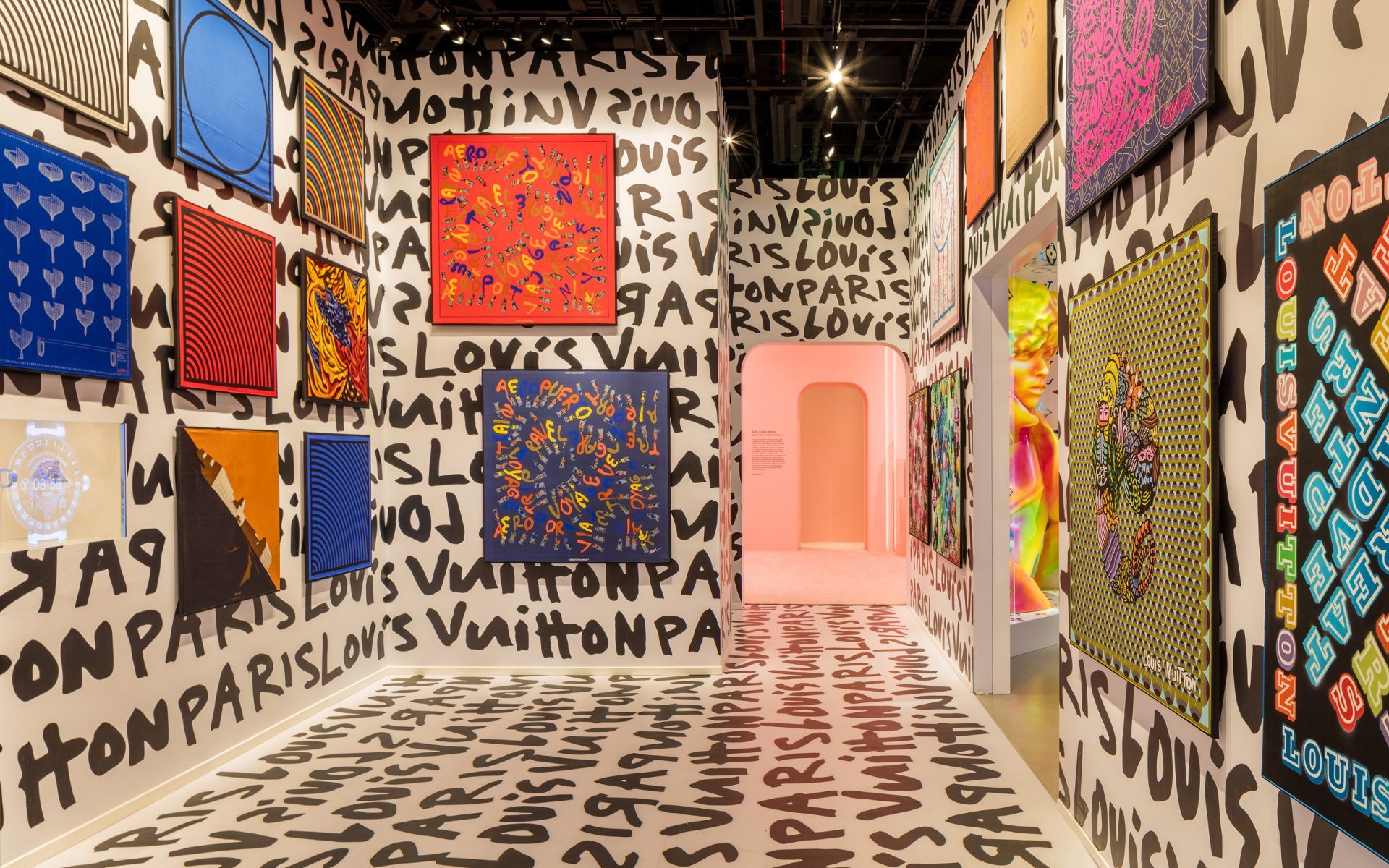 At a New Exhibition, Louis Vuitton's Artistic Collaborations Are Front and Center
The show will debut the limited-edition Artycapucines collection, the maison's top-handle bags reimagined by artists including Alex Israel and Tschabalala Self
Since 2000, when Marc Jacobs launched a collection with Stephen Sprouse reimagining the Louis Vuitton monogram, the fashion house has continued its foray into artist collaborations with the likes of Takashi Murakami, Yayoi Kusama, and more recently Jeff Koons, whose images from his "Masters" series of paintings based on works from Leonardo da Vinci to Gaugin adorned myriad bags and accessories.
Now Louis Vuitton has unveiled a blockbuster exhibition in Beverly Hills exploring the Maison's 160 years of creative collaborations. Housed in the former Brooks Brothers flagship, purchased last September by LVMH for $245 million, the exhibition, titled "Louis Vuitton X," takes over 10 rooms across two floors showcasing over 180 pieces from the brand's archives and contemporary partnerships.
Among the highlights of the exhibition are window displays commissioned and designed by Gaston-Louis (Louis Vuitton's grandson), early twentieth-century special-order trunks, and Monogram bags re-envisioned by artists and designers including Cindy Sherman, Karl Lagerfeld, Koons, Rei Kawakubo, and Frank Gehry along with collaborations by Kusama, Richard Prince, and Zaha Hadid.
The final room in the space will debut Louis Vuitton's latest artistic pursuit Artycapucines, which features the reimagining of the Capucines top-handle bag by six contemporary artists: Sam Falls, Urs Fischer, Nicholas Hlobo, Alex Israel, Tschabalala Self, and Jonas Wood.
Undoubtably "Louis Vuitton X" will attract crowds akin to their previous grand exhibition "Volez, Voguez, Voyagez" that surveyed the Maison's history of travel with automotives, cruises, trains, and aviation through immersive rooms, which was on view in multiple cities including Paris, Tokyo, Seoul, New York, and Shanghai.
Recommended: 7 Fashion Notables Share Their Summer Plans
And if looking is not enough, a selection of Louis Vuitton Women's ready-to-wear, leather goods, accessories, shoes, fragrances, Objet Nomades, and books will be displayed in a pop-up store that will be open for the duration of the exhibition.
Louis Vuitton X is open through September 15th and admission is free to the public.
Next Post