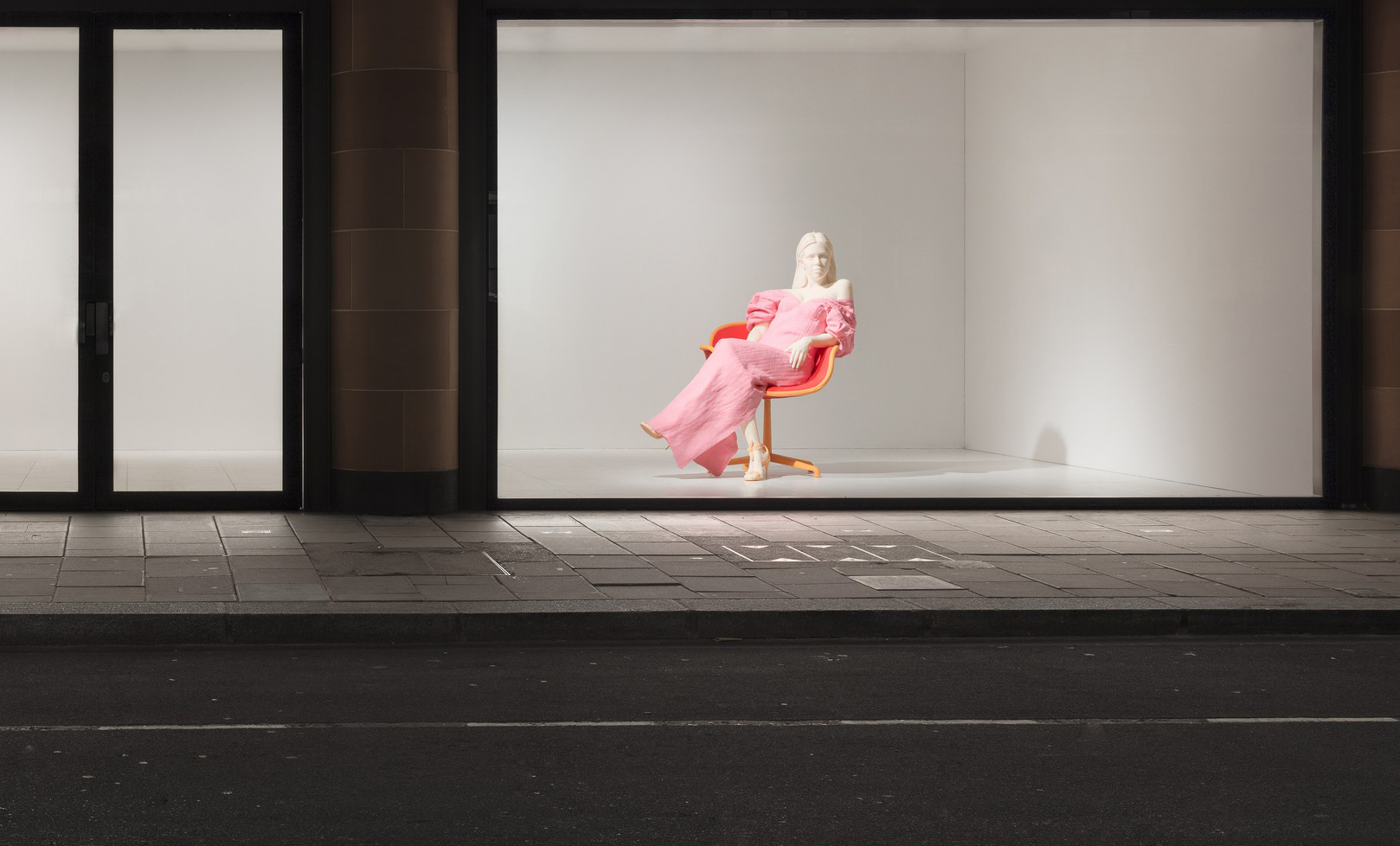 Artist Urs Fischer Creates Wax Candle of Museum Founder Dasha Zhukova
The Swiss contemporary artist has created a life-size wax sculpture at Gagosian's London Gallery
This week, Dasha Zhukova, Russia's most well-known art collector and the founder of Moscow's Garage Museum of Contemporary, is going to be set alight by Urs Fischer—sort of. Zhukova's likeness has been used to create a cast-wax candle, the latest in Fischer's series of wax artworks—or monumental life-size candles—where the figure is lit at the top to then burn down in a dramatic fashion over the course of weeks or even months.
The waxwork image of  Zhukova will sit in the window of Gagosian Gallery's Davies Street space in London's Mayfair from September 12 to November 3.
Zhukova, a close friend of Fischer's, lounges coolly in a resplendent bubblegum-pink, off-the-shoulder gown. Her skin and hair are rendered in smooth white, transforming her into a pristine marble sculpture. Toward the end of the exhibition's six-week duration, visitors will find her reduced to a waxy shapeless lump.
Recommended: Thinking Pink at the Museum at FIT's New Exhibition
The daughter of a Russian oil, metal, and banking magnate, Zhukova founded Garage, a major nonprofit organization that opened its doors in 2008 with a mission to change the cultural landscape in Russia by supporting the next generation of contemporary Russian artists. In 2015, she and her now estranged husband, Roman Abramovich (owner of the Chelsea Football Club), launched the $27 million, Rem Koolhaas–designed Garage Museum of Contemporary Art in Moscow and the New Holland Island cultural center in Saint Petersburg, along with amassing a major private contemporary art collection of their own.
Fischer's wax installations captivate for not only their incredible technical mastery and realism, but for their poetic meditations on time, gravity, and cycles of life and death. The concept began in the early 2000s, with a series of clumpy, crudely rendered nudes, and have gone on to more and more elaborate sculptures.
Take, for example, the almost perfect replica of the Italo-Flemish Giambologna's 16th-century sculpture The Rape of the Sabine Women, which was installed at the 54th Venice Biennale in 2011. The twisted, contorted figures dripped and melted for three months—limbs dropping to the floor.
Fischer has cast his friends before too. In 2014, artist-curator Julian Schnabel was depicted as a godlike totem on the second floor of the Whitney Museum in New York.
"Dasha" runs through November 13 at Gagosian Gallery, London. 
Next Post