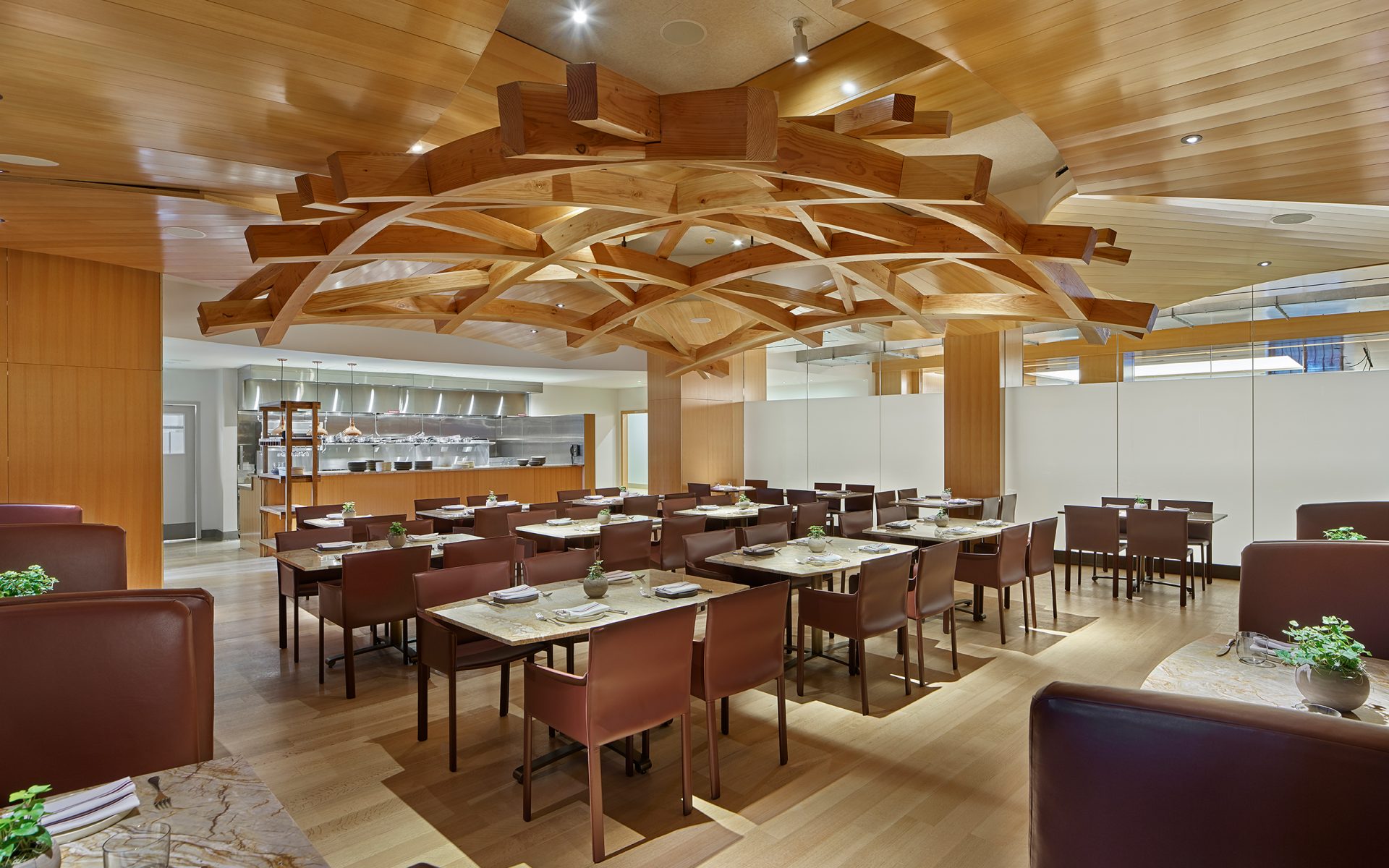 Inside Frank Gehry's Striking New Restaurant at the Philadelphia Museum of Art
The eatery is the first completed portion of the institution's $196 million renovation
Frank Gehry has brought his signature brand of shape-shifting architecture to Philadelphia with the recent opening of Stir. Located within the Philadelphia Museum of Art, the 76-seat eatery—and adjoining cafeteria—is the first piece of the institution's $196 million overhaul to be completed, an undertaking that was masterminded by Gehry Partners and is slated to wrap up in 2020.
"Our goal from the start has been to show great care and respect for this amazing building," Meaghan Lloyd, a partner at the firm, tells Galerie, referencing the institution's 1928 Greek Revival edifice. "We wanted to create a warm and friendly environment, one that took advantage of the wonderful natural daylight that comes in through the existing windows of the space."
To that end, the team kept the material palette fairly straightforward, using frosted glass and Douglas fir for the walls and lining the floors with wide red-oak planks. The most eye-catching feature looms above the center of the room: a sculptural web of wooden beams referred to as the "nest." "The shape," says Lloyd, "is a reference to the design of the future phase galleries that are planned for under the east terrace."
Recommended: Designs for the New V&A East Have Just Been Revealed
As for the furnishings, the leather dining chairs were designed by Studio Grassi + Bianchi, but Gehry Partners created the rest, including the handsome banquettes and stone-topped tables. "The wood and the leather work well together to create that inviting atmosphere," says Lloyd. "We wanted the tables to add a bit of sparkle, which the quartzite does in a very subtle way."
Presiding over the kitchen is Mark Tropea, who previously worked as a chef for residents at the ritzy 15 Central Park West tower in Manhattan. The menu focuses on locally sourced and seasonal ingredients, with current dishes such as kabocha squash cavatelli and herb-roasted salmon with honey-crisp apples.
Adjoining the restaurant is a completely renovated cafeteria, which runs the width of the museum and can seat up to 160 people. It's a more casual setting than Stir, with stations for handmade sandwiches, a rotating selection of salads, brick-oven pizza, and specialty coffee.
Coming early next year is a new espresso bar in the building's vaulted underground walkway, which has long been closed to visitors. It's all part of a holistic plan to increase access to the landmark. Says Lloyd, "Our designs are meant to be in the service of the museum, facilitating more and better access to this great institution."
Stir is open for lunch Tuesday through Saturday; brunch is offered on Sunday. The Philadelphia Museum of Art, 2600 Benjamin Franklin Parkway, Philadelphia.
Next Post