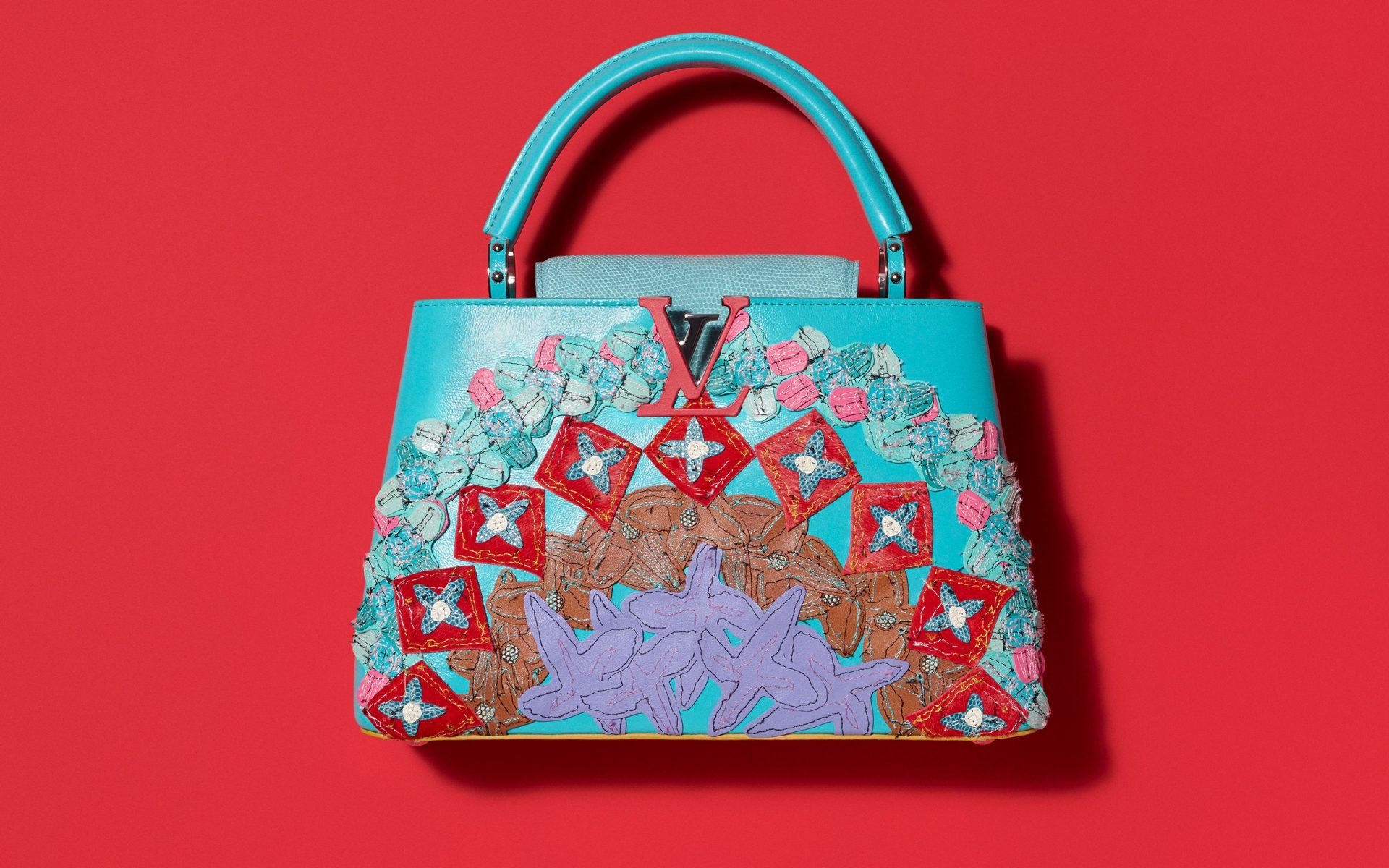 6 Major Artists Reimagine Louis Vuitton's Classic Capucines Bag
Sam Falls, Urs Fischer, Nicholas Hlobo, Alex Israel, Tschabalala Self, and Jonas Wood all put their own spin on the iconic accessory
A group show with original pieces by buzzworthy artists Sam Falls, Urs Fischer, Nicholas Hlobo, Alex Israel, Tschabalala Self, and Jonas Wood would light the art world on fire. Luckily, such an assemblage exists, not at any gallery or museum but at Louis Vuitton. The six are the first to tackle a reimagining of the atelier's signature Capucines top-handle bag for the collection, dubbed Artycapucines.
For Self that translated into layering an assortment of pieces shaped like the brand's diamonds, flowers, and monogram. "I approached the project through the idea of deconstruction and reconstruction, which is fundamental to my practice," says Self, who created a vibrant turquoise satchel. "The most challenging part of making the bag was choosing the base color—I wanted to find something iconic that could go with anything."
The Artycapucines is the latest in Louis Vuitton's longstanding tradition of working with artists. In recent years, such notables as Stephen Sprouse, Richard Prince, Cindy Sherman, and Yayoi Kusama have all created limited-edition bags for the atelier.
Recommended: At a New Exhibition, Louis Vuitton's Artistic Collaborations Are Front and Center
"When Louis Vuitton approached me about the collaboration, I was working on my 'Wave' paintings," says Israel, whose bag is awash in sherbet shades and accessorized with surfboard fins that double as a comb and a mirror. "It was a completely natural transferal of motif from the walls of my studio right onto the bag; adding the surfboard fins and altering the bag's silhouette were key to shaking things up."
A version of this article first appeared in print in our 2019 Fall Issue under the headline "Canvas to Couture." Subscribe to the magazine.
Next Post