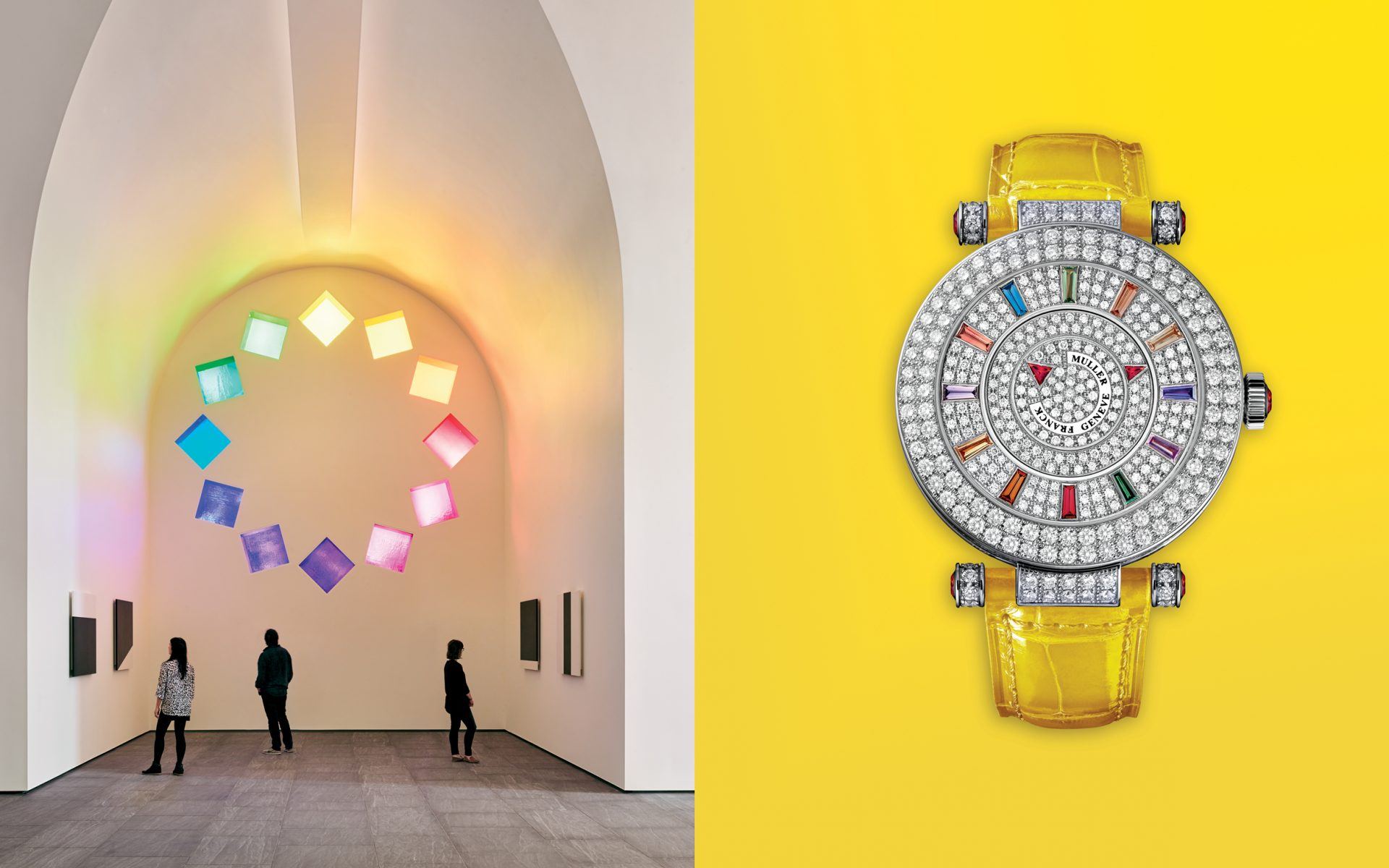 Life Imitates Art: 4 Colorful Examples
From Ellsworth Kelly and Franck Muller to Vincent van Gogh and Giorgio Armani, these pairings exemplify how art, design, and fashion converge in the most spectacular ways
Left: Contemporary photographer Sara Cwynar's highly stylized pictures reinterpret the glamour and sentimentality of classic images. In her work Red Rose (2017), a blossom's lush petals become otherworldly when displayed against an artificial felt background. Her first East Coast solo show at the Aldrich Contemporary Art Museum in Ridgefield, Connecticut, ran through November 10. Right: Prada creative director Miuccia Prada found inspiration in Romantic motifs from Mary Shelley's Frankenstein for the atelier's fall/winter 2019 collection, which reimagines the text through the symbolic feminine floral prints and larger-than-life adornments.
Left: At Ellsworth Kelly's Austin, the American artist's last work and the only building he designed, a wreath of stained-glass windows floods the interior with prismatic hues as the sun sweeps through the sky. Right: A rainbow of colorful sapphire baguettes punctuates rows of white diamonds on Franck Muller's Double Mystery Color Dream women's watch, a limited-edition piece available at Saks Fifth Avenue's The Vault.
Recommended: Life Imitates Art: 8 Striking Examples
Left: A. Rudin's fourth-generation leaders, brothers Spencer and Evan Rudin, are setting an audacious course with their first codesigned piece, the retro-future-inspired 798 chair, complete with rich paldao wood, custom black cotton bouclé, and antique bronze details. Right: Before unveiling massive mirrored works, such as the roving 100-foot-tall hot-air balloon or the site-specific house for Desert X, multidisciplinary artist Doug Aitken used boldly graphic text sculptures like BAD (2014) to draw attention to how one navigates the world.
Left: With seven exhibitions of Vincent van Gogh's work slated for 2019, the artist's adoration shows no sign of slowing. Arguably one of his most iconic paintings, The Starry Night, which is in the permanent collection of New York's Museum of Modern Art, depicts the view outside the artist's window at the Saint-Paul asylum in Saint-Rémy with a cascade of whirling forms and dancing nebulae. Right: Meticulously tailored suiting in elegant fabrications, enhanced with textures, patterns, and embroideries in shades from cerulean to midnight, electrified the runway of Giorgio Armani's fall/winter 2019 presentation "Rhapsody in Blue."  
A version of this article first appeared in print in our 2019 Late Fall Issue in the section called Life Imitates Art. Subscribe to the magazine.
Next Post