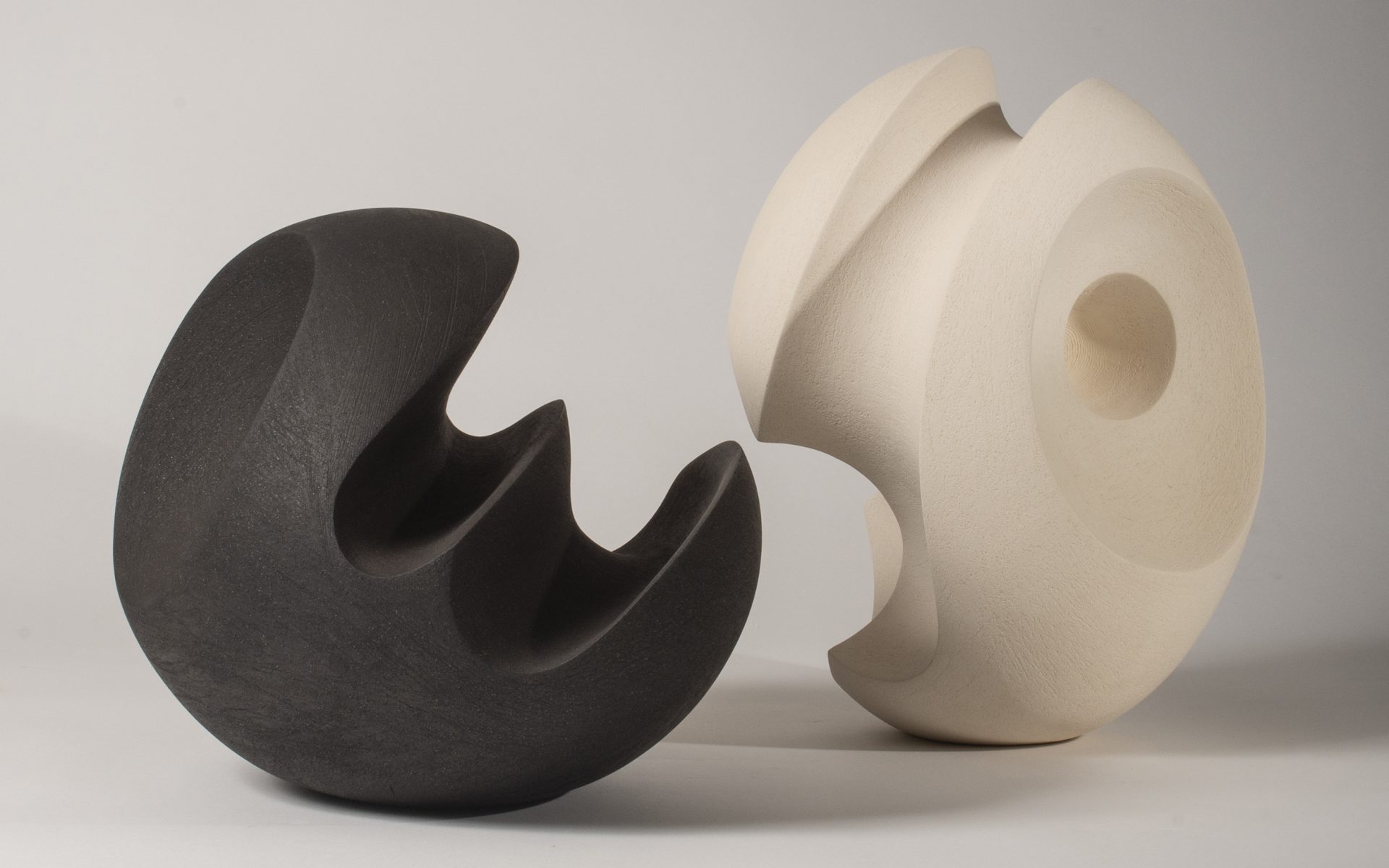 Liaigre Showcases Stunning Ceramic Sculptures by James Oughtibridge
The exhibition spotlights the brand's mission to live artfully—and offers a moment of serenity during Miami Art Week
British ceramic artist James Oughtibridge's striking large-scale sculptures are the subject of a new exhibition at Liaigre in the Miami Design District. Masterfully hand-built using a slab construction technique, the monochromatic forms have textured surfaces and undulating lines that perfectly harmonize with the minimalist chic aesthetic of the storied French furnishings company.
Dotted throughout the showroom, the works command attention—and not only for their sheer scale. Inspired by the valleys, hills, and mountains found in the Yorkshire landscape of Northern England, where Oughtibridge lives and works, the artist imbues his work with the beauty of nature. "The contours of this scenery are ever present and always inspiring," he tells Galerie from his studio. "When mist and fog descend—often!—it transforms the curves and valleys of the land into a monochrome, textured palette. The texture, beauty, and form found in these natural elements are what I want to convey."
The collection, named Ebb and Flow, also marks an exciting new direction for Oughtibridge. Best known for creating vessels, Oughtibridge's practice took a shift in direction a few years ago when he began to make enclosed forms with no opening—and dramatically increased their scale.
The sculptures, some of which reach four feet in height, are formed using multiple curved sections of clay that are bonded together in stages. He first creates soft slabs that are then formed into curves and air-dried to a consistency where the clay is still pliable. The interiors—particularly with the large-scale works—are complex and require internal bracing and the use of clay ribs for strength.
"I have always strived to create dramatic and enigmatic work that leaves the viewer wondering what it is made of and how it was made," he says. Each piece takes hours to build, but it's the slow drying and firing process that is most time consuming, with some pieces taking up to several months to complete before they're fired in a large trolley kiln to around 2,200 degrees.
Recommended: The Ultimate Art Insiders' Guide to Miami
Oughtibridge cites the world-renowned ceramic artist and raku specialist David Roberts as one of his biggest inspirations."The precision and the beauty of his work is breathtaking," he says of Roberts, who was at one time his tutor and remains a friend to this day.
Oughtibridge was also drawn to the U.K. artist Martin Smith for the way he treats the surface of clay like stone, with several days spent grinding and polishing the fired ceramic. And growing up near the Yorkshire Sculpture Park, which encompasses some sculptures by the world's most important modern and contemporary artists, including Barbara Hepworth and Henry Moore, also made a big impact. "It's been a gift and an education from a very young age," says the artist of the works that are nestled among 500 acres of grassland and formal gardens. "The aesthetic of Barbara Hepworth's work is almost ingrained in me, as though it were the basis of my consciousness of beautiful texture, proportion, line, and form."
Recommended: Liaigre Debuts Elegant Flagship in the Heart of Paris's Most Fashionable District
The exhibition is part of Liaigre's vision to spotlight on-the-rise talents and present a more holistic experience of living artfully under the direction of Christian Liaigre's successor, Frauke Meyer. Last year during Miami Art Week, visitors were invited to spend time inside a special site-specific commission by the Paris artist Pierre Bonnefille dubbed the "Meditation Room." As part of his exhibition, titled "Reflections," a temporary room entirely coated in layers of glistening gold created a spiritual, templelike experience.
At the brand's recently opened Paris flagship at 77 rue du Faubourg Saint-Honoré—in the former outpost of the late French antiques dealer Bernard Steinitz—the showroom goes beyond the traditional retail experience by hosting rotating art exhibitions and installations overseen by an in-house curator, in partnership with leading art galleries.
Currently on display, for example, is a collaboration with the Paris- and New York–based Galerie LeLong, which co-commissioned the exhibition of 20 pieces from masters of the 20th and 21st centuries, such as Louise Bourgeois and Joan Miró. Next up is an exhibition of ten sculptures from Antique Roma, loaned by the esteemed Galerie Chenel. Even within the private Parisian headquarters, artworks are exhibited on a rotating basis simply for inspiration.
Recommended: Liaigre's President Reveals Why Opening the Brand's New Flagship Was the Best Move
"Liaigre has always remained humble in its relationship with art. Our purpose is to create a rewarding and harmonious dialogue between decorative arts and fine art, where they respond to each other," Liaigre's CEO, Thais Roda, tells Galerie. "Unlike the way art is treated by and large in the luxury sector today, art has always been at the root of Liaigre's creative process. It is not a commercial pretext or a source of activity or decoration; it is a major part of the creation itself."
As for Oughtibridge's show, Roda and Meyer were drawn to the pureness of his materials and the shapes he creates. "The works create a sincere feeling of serenity and peacefulness," reflects Roda. "During the hectic time of Art Basel, the exhibition offers a moment of silence and solitude."
"James Oughtibridge: Ebb and Flow"  is on view at Liaigre in the Miami Design District through March. 
A version of this article first appeared in print in our 2018 Winter issue under the title "Set in Stone." Subscribe to the magazine.
Next Post