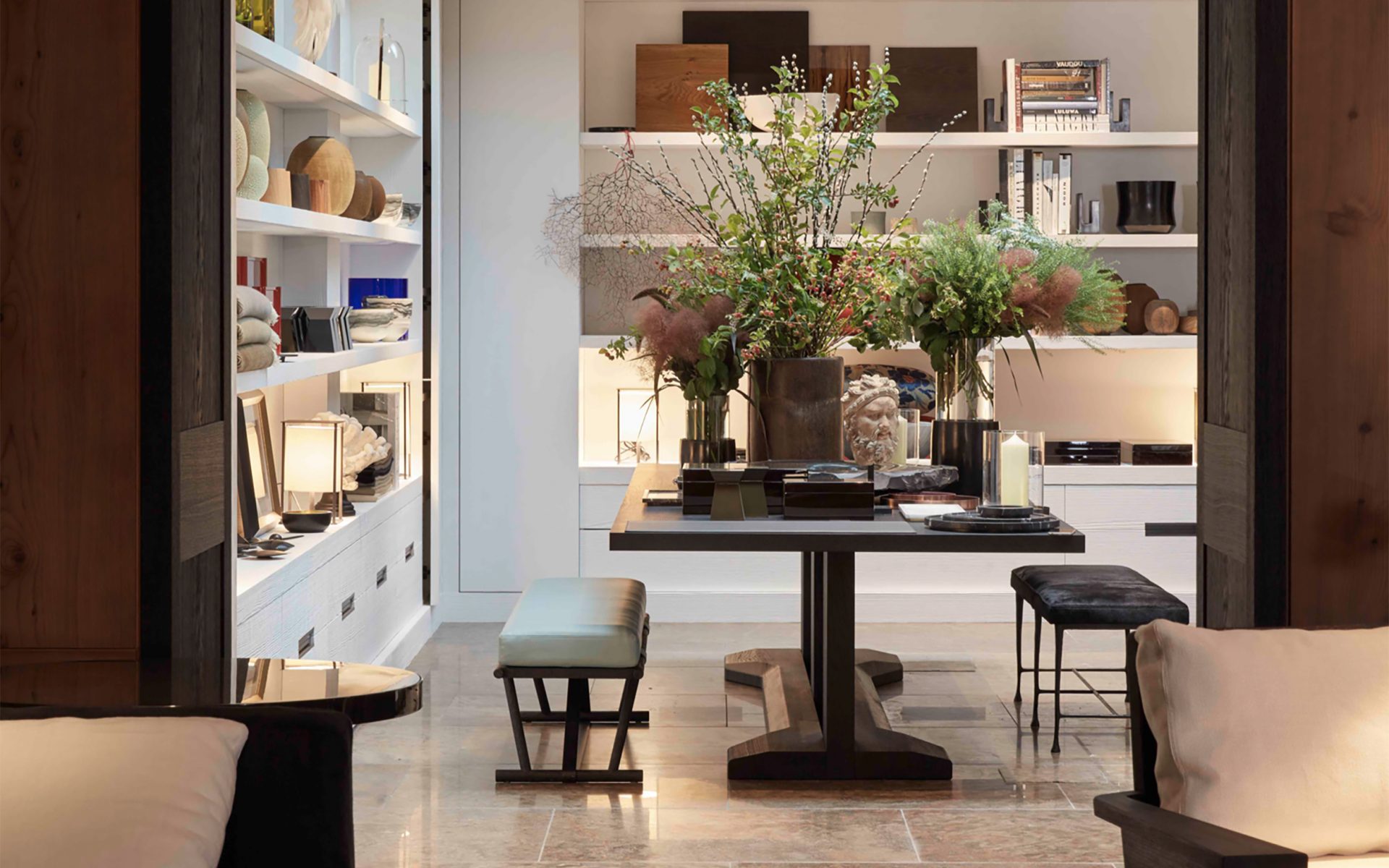 Liaigre Debuts Elegant Flagship in the Heart of Paris's Most Fashionable District
The new store on Faubourg Saint-Honoré reflects the luxury furniture brand's own philosophy of living
Liaigre, the upscale, contemporary French furniture line, has just opened an 8,600-square-foot flagship in Paris. The massive new store sits on the Rive Droite and on the very fashionable rue du Faubourg Saint-Honoré, a few steps from the Elysée Palace, at the heart of a district that includes art galleries and prestigious auction houses.
"The new flagship showroom reflects the deep, grounded, and global approach Liaigre has in its own philosophy of living and additionally shares part of who we are and what we love," Frauke Meyer, the company's creative director, tells Galerie.
The new showroom is located in a building that initially housed the antiques dealer Steinitz, well-known among connoisseurs of 18th-century furnishings and decorative arts.
Originally created as a residential building, 77 Faubourg Saint-Honoré is a unique space that allows the showroom to be spread over four levels. The flagship was conceived as a place for living, discovery, and exhibitions, and goes well beyond the typical showroom experience.
Recommended: Liaigre's President Reveals Why Opening the Brand's New Flagship Was the Best Move
The new space is set up much like a townhouse would be. Each floor is designed as part of a private home: a living room, dining room, library, and garden terrace on the first floor; a family room, bedroom, and dressing room on the second floor; and on the third floor there's the decoration and styling department and a materials library as well as an artist's studio conceived as a place to present thematic exhibitions and exceptional unique pieces.
Each element at 77 Faubourg Saint-Honoré was initially drawn by hand in the Liaigre studio, then created by artisans (decorators, cabinetmakers, bronzesmiths, saddlemakers, and painting experts) who have inspired the line since its beginnings.
Wishing to make the flagship a true part of the community, Liaigre is collaborating with local modern and contemporary art galleries to showcase artwork in the store. The inaugural partnership is with Galerie Lelong.
Since Christian Liaigre's departure from the brand in 2016, the company has been under the creative direction of Meyer. The new store embodies Meyer's vision for the brand, which is one of elegance and a rich attention to detail.
"I hope that the result will show that our identity still pulls from the same timeless and essential values of functionality, rigor in proportions, and attention to detail, combining elegance, quality, comfort, and durability," says Meyer, "but with a twist, bringing in the fresh, the unexpected, the freedom, the irregular, and a certain experimentation."
Next Post